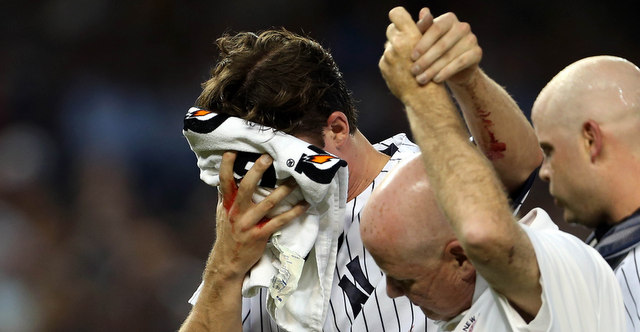 8:00pm ET: Scary moment Monday night. Bryan Mitchell left tonight's game in the second inning after being hit by a line drive in the face. It looked as though he was able to turn away at the last moment to avoid a direct shot, but it still hit him and deflected far into the outfield. Maybe it got him in the cheek or nose? Hopefully not the eye.
Here's the play:
Mitchell was on the ground for a few moments but was eventually able to walk off the field with help from the trainer. He was bleeding quite heavily though and had a towel to his face. The Yankees have not yet given any updates on Mitchell but I'm sure one is coming soon enough. That was really scary. Hopefully it's just a flesh wound.
Update (8:45pm ET): The Yankees announced Mitchell was taken to the hospital for a "full evaluation" but did not say where exactly the ball hit him. I'm sure he's undergoing x-rays, concussion tests, the whole nine.
Update (10:05pm ET): Mitchell suffered a small nasal fracture and has been released from the hospital, the Yankees announced. He will be monitored for concussion symptoms going forward. All things considered, good news.