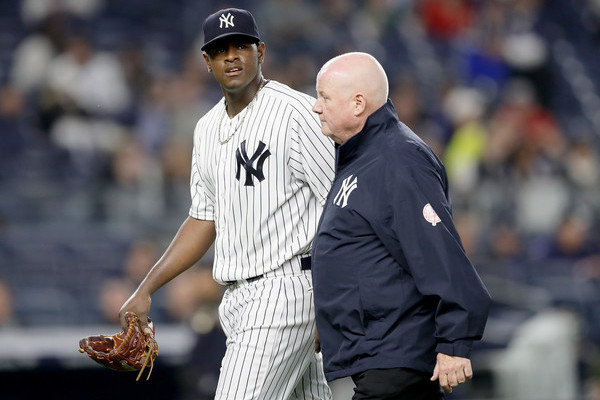 Let's get straight to the point: the Yankees were counting on Luis Severino to be really good this season. Everyone from Joe Girardi to Brian Cashman to Hal Steinbrenner said one of the reasons they expected the 2016 Yankees to be better than the 2015 Yankees was Severino. They were going to have him for a full season after his strong eleven-start debut a year ago.
Folks were calling Severino the ace of staff before the season got underway and there was even talk about starting him on Opening Day ahead of Masahiro Tanaka. I always thought the instant ace stuff was too much, too soon. Young players often go through growing pains and expecting a 22-year-old with minimal experience to lead the staff of a team trying to contend was very optimistic. Not everyone is Clayton Kershaw.
That doesn't mean I expected Severino to be bad. In fact, I expected him to be pretty darn good, albeit with some inevitable bumps in the road along the way. ZiPS pegged Severino as a true talent 3.80 ERA (3.85 FIP) pitcher coming into 2016 and that sounded pretty good to me. I probably would have signed up for 175 innings of that before the season. A 22-year-old pitching his home games in Yankee Stadium? That works.
I certainly didn't expect Severino to pitch this poorly. Not even the most pessimistic folks could have imagined this. One hundred and twenty nine pitchers have thrown at least 30 innings this season, and Severino ranks 127th in ERA (7.46) and 116th in FIP (5.48). Cashman said a demotion to Triple-A was on the table — the Yankees shuffled their Triple-A rotation to make sure Luis Cessa and Severino were on the same schedule — but, before that could happen, Severino got hurt. He left Friday's start with a triceps strain.
Injuries often explain poor performance and in a weird way Severino's injury felt like a bit of a relief. It was a possible explanation for his problems. Cashman shot that down though. Following the injury, the GM offered a brutally honest assessment of Severino's season to date. From Justin Tasch:
"No, no, no," Cashman said. "His stuff's not there, bottom line. His arm strength is there, but his stuff is not there. He doesn't have command of his fastball. He doesn't have command of his secondary pitches. His changeup and slider have been inconsistent. It's not health related."
Cashman confirmed Severino will make a rehab start but would not commit to him stepping right back into the rotation once healthy, and that's smart. Even if he didn't leave Friday's start with an injury, a demotion to Triple-A felt inevitable. It would have been very hard to justify continuing to send the kid out there every fifth day to take a beating.
Severino grabbed at his elbow on the mound Friday and that was scary as hell. These days it's easy to assume the worst, meaning ligament damage. A triceps strain is not as severe as ligament damage but it's still not good. Justin Verlander missed two months with a triceps strain just last year. Severino's strain was termed "mild," though who knows what that means. Chances are this won't be a 15-day stint on the DL. Let's put it that way.
What the injury does is buy the Yankees and Severino some time. Yes, it would be far more preferable to have him healthy and able to pitch, but that's not an option. Severino has a chance to clear his head a bit — he'll be shut down a week before picking up a ball anyway — and then be brought back slowly with a throwing program. It's an opportunity to get back to the basics and fix whatever is wrong.
That "fix whatever is wrong" part is very important. I don't think Severino should return to the big leagues until those command issues are solved and he's having more success locating his slider and changeup. If that means he has to go to Triple-A for a few weeks once he's healthy, fine. I think it's reached that point with Severino. The Yankees will be getting CC Sabathia back Friday and they have decent enough depth in Cessa and Chad Green.
Teams always have to balance the short-term with the long-term, though the Yankees have been focused more on the short-term over the last 20 years or so. In Severino's case, they have to take the long-term view and do what's best for him as a player, because that's what's best for the organization. Bringing him back once he's healthy just because he's healthy is a wrong move. There has to be improvement in the secondary pitches and command first.
Many young pitchers have gotten lit up early in their careers before finally finding what works for them. Go look at what Roy Halladay and Johan Santana and Zack Greinke did in their first few seasons as a big leaguer. It was ugly. That isn't to say Severino will become those guys one day, it just means getting there isn't always easy. Severino is obviously very talented, but right now he has some real flaws, and he shouldn't return to the big leagues until he shows improvement.