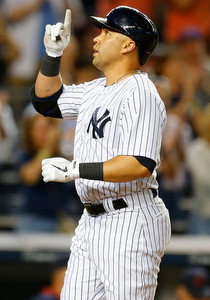 Not long before last night's win over the Rays, the Yankees had to scratch Carlos Beltran from the starting lineup because of soreness in his right elbow. He has a bone spur in the elbow, as you know, and he's been nursing the injury since early-May. It has limited him to mostly DH duty and last night was not the first time lingering soreness forced him to skip a game. As someone who's dealt with a bone spur, I know they can be far from comfortable.
Both the Yankees and Beltran have said he will have surgery to remove the bone spur immediately after the season, though he has played through it these last few months in an effort to help the team remain in the postseason race. That hasn't happened though. The Yankees have faded out of the postseason picture — FanGraphs puts their postseason odds at a 1.6% right now — and it will take a historic run to win a wildcard spot at this point. It's not gonna happen.
Because the Yankees are a long shot to play October baseball, they should get a head start on the offseason and send Beltran for his surgery right now. They've said he will need two months of rest before he can resume baseball activities, which won't interfere with his usual offseason routine, but we've seen CC Sabathia (elbow) and Derek Jeter (ankle) have offseason surgery in recent years only to need more time to recover than expected. Beltran is 37 years old, remember. A setback or a slow recovery wouldn't be the most surprising thing in the world.
Now, this is not the same situation as Masahiro Tanaka. We already know Beltran is having surgery. It's going to happen as soon as the season ends. The Yankees and Tanaka are actively trying to avoid his elbow surgery though, a surgery that is much more serious than what Beltran will go through. If Tanaka was definitely going to have his surgery, then yeah, I'd be all for sending him for it right now. That's not the case though. It is the case with Beltran. We know he's having the procedure. There's a different dynamic.
In hindsight, the Yankees should have just sent Beltran for the surgery when he initially got hurt. Word got out that he had the bone spur on May 13th, and he hit a weak .192/.252/.365 (68 wRC+) over the next two months, the time he would have missed during his rehab. The Yankees wouldn't have missed his bat at all and they would have had a healthy Beltran for the second half. Obviously it doesn't work exactly like that — who knows how long it would have taken Beltran to get his timing back, etc. — but playing through the injury didn't exactly help.
Between Brett Gardner (abdomen) and Martin Prado (hamstring), the Yankees are already short two regular position players. Beltran would make it three but that's a minor issue at this point. Rosters are expanded and their postseason odds are remote. Chris Young and Ichiro Suzuki would get a few extra at-bats and maybe Antoan Richardson would get a start. Who cares. Ending Beltran's season 19 games early won't mean much of anything to the 2014 Yankees.
Joe Girardi told reporters last night that the team is considering shutting Beltran down for the season and sending him for the surgery, but they're going to wait two of three days before making a final decision. That's fine. Two or three days isn't a big deal. I'm just happy they're considering the option and not stubbornly looking to keep him in the lineup and in an effort to feign contention. Shutting Beltran down now won't change anything with regards to where the team sits in the standings, but getting the two-week head start on the surgery would help put him in the best possible position to help the team in early-2015.