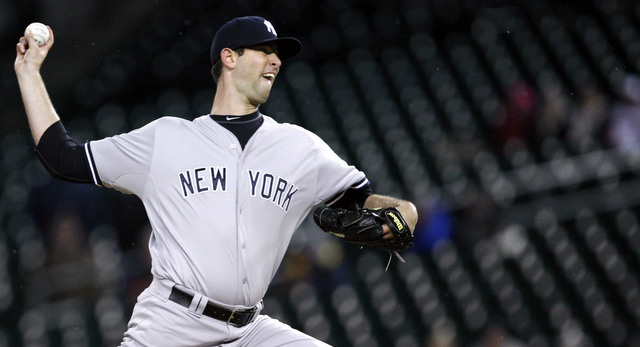 The Yankees have placed right-hander Chris Martin on the 15-day DL with right elbow tendinitis, the team announced. The move was made before this afternoon's game. Fellow righty Branden Pinder was called up to replace Martin on the roster.
Martin, 28, has a 3.55 ERA (2.05 FIP) in 12.2 innings this season, though he's struggled his last three times out and it could be related to the elbow issue. Martin missed some time with elbow inflammation in Spring Training last year and had major shoulder surgery years and years ago. Martin's velocity has been fine recently, no red flags there.
The Yankees didn't give a timetable for Martin's return. Pinder gets the first opportunity to replace him, but the team could also turn to Jacob Lindgren, Danny Burawa, Jose Ramirez, or a few others. Chris Capuano is also close to returning from a quad injury, which would lead to Chase Whitley or Adam Warren moving to the bullpen.
Update: Following this afternoon's game, Martin told reporters he first felt discomfort after the series with the Rays last week. So yeah, the timing of the injury coincides perfectly with his recent struggles.