The Yankees continue their Grapefruit League schedule against the Braves this afternoon, and YES has picked the game up, so hooray for that. It wasn't on the original broadcast schedule. Here are some links to help you pass the time until first pitch.
Stottlemyre's health improving
Let's start with some good news. According to John Harper, former Yankees pitcher and coach Mel Stottlemyre is improving as he fights blood cancer. "This is the best I've been in some time. I'm doing a lot better than when people saw me in New York," he said. "I'm doing so well that the doctor told me I can pretty much live normally again. I'm going to get out and do more fishing again. I might even try to play golf again too."
Stottlemyre, now 74, was able to travel to New York for Old Timers' Day last summer. There had been some concern he wouldn't be healthy enough to do so. The Yankees surprised Stottlemyre with a plaque in Monument Park and he gave a very touching speech. It was one of the best moments of the season, hands down. Glad to hear Mel is doing better. He's had a lot of impact on the Yankees in his life, both as a player and as a coach.
FanGraphs evaluates Yankees prospects
Dan Farnsworth at FanGraphs recently posted his massive look at the Yankees' farm system. It's different, I'll say that much, but different doesn't automatically mean bad. Most of Farnsworth's team lists have been off the beaten path. He has SS Jorge Mateo as the No. 1 prospect, which makes sense, but then has RHP Domingo Acevedo as No. 2. Give the post a look over if you're a fan of divergent opinions. Here is my Preseason Top 30 Prospects List for comparison.
Teixeira wants to get to 500 homers
By almost any objective measure, Mark Teixeira is one of the best switch-hitting power hitters in baseball history. He ranks fourth all-time among switch-hitters with 394 homers, behind only Mickey Mantle (536), Eddie Murray (504), and Chipper Jones (468). (Carlos Beltran is fifth with 392 dingers.) Teixeira ranks seventh in OPS+ (129) and fourth in SLG (.518) among switch-hitters with 3,000 career plate appearances.
A few weeks ago Teixeira said he wants to play five more seasons, and more recently he told Ryan Hatch he would like to reach 500 home runs. "I think if I play long enough I'll get there. God willing I'll play four, five more years and that'd be a nice number," he said. Teixeira is 106 homers shy and about to enter his age 36 season. Only 27 players in history have hit 106 homers after turning 36, though most have done it within the last 30 years so. The big thing is health. Teixeira hit 31 homers in only 111 games last year. As long as he stays on the field, he could get to 500 within three or four years. Doable? Yes. Likely? Probably not.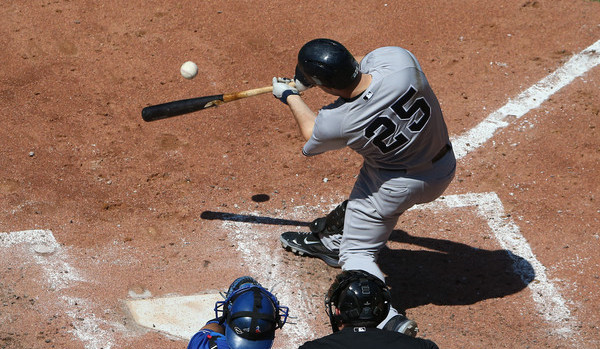 MLB, KBO working on new posting agreement
According to Jee-Ho Yoo, Major League Baseball and the Korea Baseball Organization are currently in the process of negotiating a new posting agreement. The current posting agreement between MLB and KBO is the same as the old posting process for Japanese players, so teams submit a blind bid, then the high bidder wins a 30-day negotiating window with the player.
Under the current MLB-NPB agreement, Japanese players are free to negotiate with any team during a 30-day window, and the team that signs the player pays his former team a release fee. The release fee is set by the NPB team and capped at $20M. Yoo indicated MLB and KBO are talking about a similar system, except MLB wants to limit the max posting fee to only $8M.
Three notable Korean players have come to MLB through the posting process in recent years: Hyun-Jin Ryu ($25.7M bid), Byung-Ho Park ($12.85M), and Jung-Ho Kang ($5M). The bids are only going to increase though, especially if Park has success right away with the Twins the same way Kang did with the Pirates. It's no surprise MLB is trying to keep costs down. That's what they do.
Yankees encouraging players to quit chewing tobacco
At the behest on MLB, the Yankees are encouraging their players to quit chewing tobacco. The team is offering "Nicotine Replacement Therapy Supplies" such as gum and patches, according to sign posted in the clubhouse in Tampa. Of course, chewing tobacco may soon be illegal at Yankee Stadium. The New York City Council is expected to approve a ban on smokeless tobacco at all sporting venues in the city, according to Adam Rubin. The vote is Tuesday.
Chicago, San Francisco, Boston, and Los Angeles have already passed similar bans on chewing tobacco, and it's only a matter of time until other cities follow suit. Tony Gwynn passed away following a battle with salivary gland cancer, which may have been the result of his smokeless tobacco use as a player. Curt Schilling has mouth cancer and has said many times he blames it on his use of chewing tobacco. I am generally pro "do whatever you want with your body," but I can understand why the city wants to ban chewing tobacco at sporting events. They don't want kids to watch and pick it up.