Ten questions in the mailbag this week. You know, only one more mailbag after this one before the first Spring Training game. Can't wait. Send your questions to RABmailbag (at) gmail (dot) com and I'll get to as many as I can each week.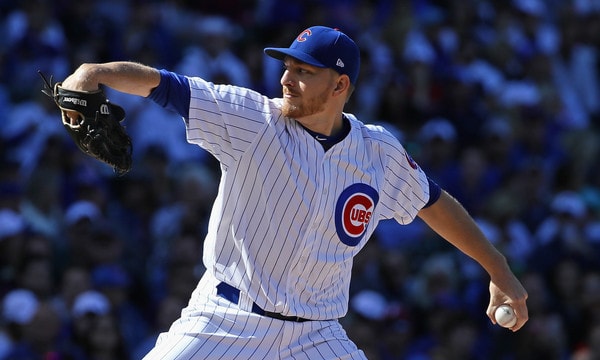 Alessandro asks: With Darvish signing with the Cubs, some people speculate Mike Montgomery could become available. Is he a fit for the Yankees? What would a package for him look like?
Montgomery is probably the best sixth starter in baseball and I don't buy any of the talk that the Cubs might trade him now. He's a great fit in their swingman role and they're trying to win the World Series, so I imagine the Cubs will keep him. The goal was to add Darvish to the current team. Not have him replace Montgomery.
Anyway, in this hypothetical, sure Montgomery is a fit for the Yankees. In the same swingman role he works for the Cubs. Last season he had a 3.38 ERA (4.07 FIP) in 130.2 innings across 14 starts and 30 relief appearances, which is pretty great. The Cubs originally traded Dan Vogelbach, a meh DH prospect, to the Mariners for Montgomery, which was a heist. Since Montgomery has four years of control remaining, I could see the Cubs asking for Chance Adams and more. Not an unreasonable request in my opinion.
John asks (short version): In an effort to help the situation and prevent the train-wreck that we can all see coming down the pike; can the commissioner do something unilaterally this year to avert a future work stoppage? For instance, could he raise this year's luxury tax threshold from $197 million to $206 million (next year's number) to open the owner's checkbooks and break the logjam of unsigned players?
Not unilaterally, but there is precedent for opening up the Collective Bargaining Agreement and making changes in the middle of the term. MLB and MLBPA have done it several times over the years, usually to make performance-enhancing drug suspensions harsher. They've never opened it up to raise the luxury tax threshold or otherwise funnel money from the owners to the players (or vice versa). I have a hard time thinking the owners would agree to such a thing. They could easily — and rightly — sit back and say the union agreed to the CBA, so too bad. Yes, it is possible for MLB to extend an olive branch by opening up the CBA and raising the luxury tax threshold or the league minimum or whatever. I have zero expectation of that actually happening.
Rich asks: This doesn't apply to the Yankees this year, but a tweet by Jon Heyman made me wonder: What do we know about the arbitration hearing process? Does the same panel hear every case or is there more than one? Is it really necessary to delay the results of one case so as not to affect another? Seems like Bauer's outcome should absolutely be a factor in other cases at the same time, just like each trade or signing affects subsequent ones.
No, the same panel doesn't hear every arbitration case. I went through the Associated Press reports of this year's arbitration hearing decisions and found ten different panel members, though a few of them have heard multiple cases. There will probably be more panel members when it's all said and done. The three-person panel includes one MLB representative, one MLBPA representative, and one independent. The independent breaks the tie, basically.
Apparently the ruling on Trevor Bauer's hearing won't be announced until hearings for other starting pitchers are completed. They don't want it influencing decisions. I don't ever remember that happening before — it is entirely possible, if not likely, it has happened and I'm just not aware of it — but it makes sense. Each year's hearings and rulings should be made independent of each other year. The Rays and Jake Odorizzi's people didn't have Bauer's ruling when they filed their salary figures. It could've changed their argument, you know?
Kevin asks: Reading between the lines of your top 30 prospects and not top 30 prospects articles I'm thinking there could be 9 players needing to be added next winter – skipping Vargas: 3 x SS (Castillo, Park, Holder), 2 x OF (Olivares, Florial), and 4 x SP (Tate, Perez, Adams and Sheffield). Given that, and assuming no major trades that add to the 40-man roster in the meantime (unrealistic, I know, but let's play the cards we can see for now), who do you think the Yankees lose to make room for them?
Apparently Estevan Florial and Freicer Perez will not be Rule 5 Draft eligible after the season because they signed later in the 2014-15 international signing period. I haven't been able to confirm that, however. Needless to say, it would be a nice break if the Yankees didn't have to protect those two next winter. Leaves two 40-man roster spots for other players.
Lots can and will change between now and Rule 5 Draft protection day in November — no one was thinking about Jonathan Loaisiga as a 40-man roster player at this time last year, for example — but right now, I'd say the only locks to be protected next year are Adams, Dillon Tate, and Justus Sheffield. And Florial and Perez, if necessary. Kyle Holder is on the bubble. Younger guys like Diego Castillo, Hoy Jun Park, Dermis Garcia, and especially Pablo Olivares will need to have great years to garner 40-man consideration.
CC Sabathia, David Robertson, and Adam Warren will be free agents after the season, opening three 40-man roster spots. Declining Brett Gardner's option would clear a fourth. Among the other guys on the 40-man roster, I'd say Jabari Blash, Chasen Shreve, Jake Cave, and Tyler Austin are most at risk of losing their 40-man spot at some point this year, though not necessarily in that order. Billy McKinney too. Doesn't mean the Yankees will give those guys away. But I could see them going in minor trades to clear spots.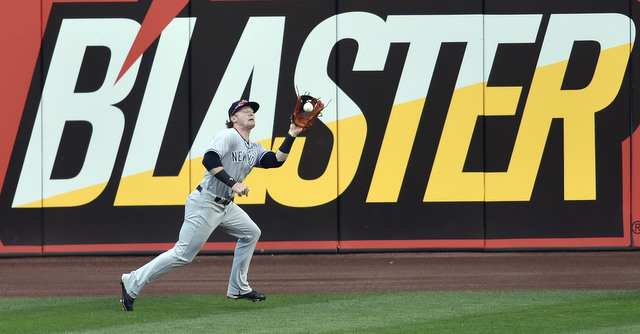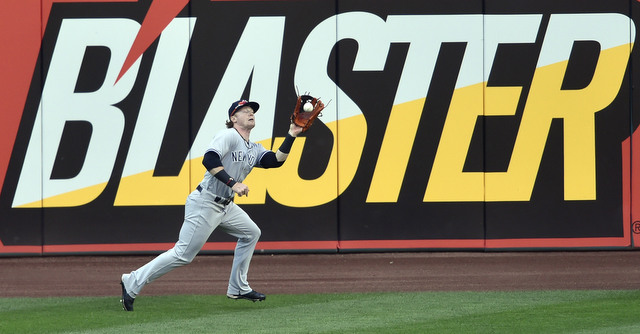 Frank asks: Clint Frazier is one player I'd like to see a lot more of, but he looks like the odd man out until another outfielder goes down. Does he start the year on the 25-man roster and do you see him getting 350+ at bats?
No and no. I can't see any way Frazier cracks the Opening Day roster by design, and heck, it might take two injuries to get him on the roster. As for 350+ at-bats, that's a ton of playing time, and it'll take an injury (or injuries) for Frazier to see that much playing time in the Bronx. I suppose the Yankees could salary dump Jacoby Ellsbury and open a spot a roster spot that way, but it seems unlikely. Otherwise I think they'd rather have Frazier playing everyday in Triple-A than on sitting on the MLB bench.
Sending Frazier back to Triple-A isn't the end of the world. Not by any means. I'm not sure he needs to spend the entire season down there, I'm of the belief Frazier is at the point where he needs to face MLB caliber pitching to get better, but it might happen. It's not an ideal situation. What can you do though? You can't say no to that Giancarlo Stanton trade, and Ellsbury is unmovable. My guess is Frazier will go up-and-down a bunch this season. At some point the Yankees will need a spare outfielder and Frazier should be at the front of the call-up line.
John asks: Curious as to what the difference a few spots in the batting order would mean for total at bats at the end of the year? I get not wanting to waste power in the leadoff spot, but if the difference between batting, let's say Gary Sanchez 5th verse leadoff is 80 at bats I'd have to think long and hard at it.
Eighty is a pretty good guess! Last season the leadoff spot got 82 more plate appearances than the No. 5 spot for the Yankees. They had a pretty good offense last season, and here's how many more plate appearances each of their previous lineup spots received:
Most plate appearances (duh)
21 fewer than the leadoff hitter
19 fewer than the No. 2 hitter
26 fewer than the No. 3 hitter
16 fewer than the No. 4 hitter
14 fewer than the No. 5 hitter
23 fewer than the No. 6 hitter
19 fewer than the No. 7 hitter
12 fewer than the No. 8 hitter
So the answer is about 20 fewer at-bats between lineup spots. Batting one spot lower in the order means roughly 20 fewer plate appearances during the course of a 162-game season. It's not much overall, but the lineup could make a huge different in an individual game. Batting Sanchez fifth instead of fourth means he might be left standing on deck when the game ends.
Henry asks: Tanking worked well for the Astros and Cubs. What i dont see is how 9 different clubs think they can all do it at the same time. One team wont be able to concentrate so many of the top of the 1st picks under one roof any more. Its likely to end in long term disaster for all 9 extending to potentially a decade. Thoughts?
Well, all the rebuilding teams in baseball are at different points in their rebuild. The Tigers and Marlins are just starting theirs. The Phillies and Braves are about to enter the "graduate prospects to MLB" phase. The Brewers and Twins are in the "okay, the kids have graduated, time to get some veterans to help" phase. It's not like all the rebuilding teams are shooting for the No. 1 pick next year. I absolutely think having this may rebuilding teams at once is bad for baseball. And in a few years, after like six of these teams botch their rebuilds, it'll look even worse. Baseball has to come up with a way to discourage tanking. Something more than a draft lottery.
James asks: It seems like the Patrick Corbin rumors have faded, but with reports on the D-Backs trying to work out a way to keep JD Martinez, what is the likelihood that the Yankees could them clear some payroll with a trade?
I wrote a CBS post about the Diamondbacks and Martinez the other day. They really should bite the bullet and re-sign him. Their window to win won't be open for forever and the Red Sox seem to be dragging their feet. Swoop him and get him, and try to win before Paul Goldschmidt becomes a free agent in two years.
Anyway, signing Martinez and trading Corbin to offset cost definitely seems like something that could happen. Corbin will make $7.5M this season, so while it's not huge savings, it is real money. Signing Martinez, then trading Corbin for a younger and cheaper player with more long-term control seems possible to me. The Yankees have gobs of prospects. They can offer the D'Backs basically anything except a catcher. Upper level, lower level, pitcher, position player, whatever.
Brent asks: I saw Boone's press conference and my main take away was this guy is never going to get tossed during a game. I love manager flip outs. Do you think he'll get ejected more than once?
Oh sure. Joe Torre was as laid back as it gets, and he got tossed plenty of times. Instant replay gives managers fewer opportunities to get ejected these days, but it still happens. Usually when the strike zone is really bad. Maybe there will be some issues with the new pitch clock and mound visit rules this year, assuming they're implemented? Boone will get tossed at some point though. It's inevitable.
Joe asks: Who do you think the top 10 players in baseball are right now? It's something I like to re-evaluate each offseason and I wonder what your opinion is. Thanks.
Fun question, as always. You can see the top ten I put together last offseason right here. Here are my top ten players heading into the 2018 season:
Mike Trout
Carlos Correa
Kris Bryant
Aaron Judge
Jose Altuve
Giancarlo Stanton
Bryce Harper
Francisco Lindor
Corey Seager
Clayton Kershaw
Nolan Arenado, Corey Kluber, Max Scherzer, Joey Votto, and Chris Sale are my next five in some order. I'd probably have Gary Sanchez in the top 25 somewhere. I'd take Gary over any other catcher in baseball for the next five years, no questions asked. Anyway, emphasis on elite position players because pitchers break, even the great ones. I went into this exercise expecting to have Arenado in the top ten, but hope, he was squeezed out. Two Yankees in the top six is pretty cool though.