We've got ten questions in the mailbag this week. RABmailbag (at) gmail (dot) com is where you can send all your questions and comments and concerns.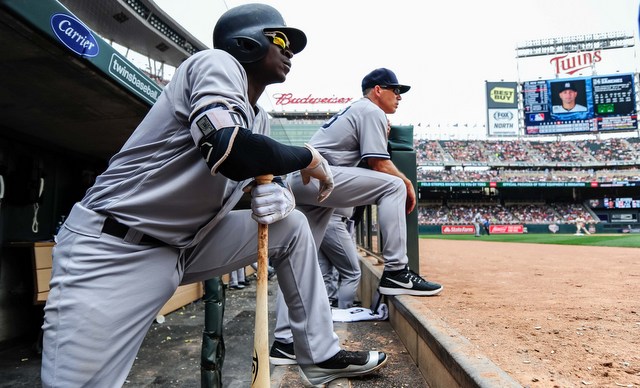 Dan asks: John Sterling just said that he thinks Didi is the best short stop in the game. Mike has said that he is found of Lindor, but realistically, where does Didi fit into leagues best short stops?
The best shortstop in the game is a bit of a stretch, though I don't think it would be unreasonable to call Didi Gregorius one of the five best shortstops in baseball right now. My top five, in no particular order, are Gregorius, Carlos Correa, Francisco Lindor, Corey Seager, and Andrelton Simmons. Simmons is having an unreal season. The shortstop WAR leaderboard:
Corey Seager, Dodgers: +5.1 WAR
Andrelton Simmons, Angels: +4.4 WAR
Carlos Correa, Astros: +3.9 WAR
Didi Gregorius, Yankees: +3.5 WAR
Elvis Andrus, Rangers: +3.3 WAR
Lindor is right behind Andrus (+3.1 WAR). Gregorius is fourth among shortstops in WAR despite missing a month — Correa has missed more than a month with his thumb injury himself — so had he not missed April, he'd probably be third on that list. Maybe even second.
The only three shortstops I would unquestionably take over Gregorius for the next, say, four years are Seager, Correa, and Lindor. I'm not sure whether Simmons or Andrus will keep up this pace offensively — to be fair, the same goes for Didi — and Xander Bogaerts … I dunno. I have no idea what's going on there. He should be sooo much better than he really is. Must be infuriating for Red Sox fans. Long story short: Didi is awesome, though calling him the best shortstop in the game is a real stretch.
Ed asks: Will the injury to Clint Frazier allow him to retain rookie eligibility for 2018?
MLB's rookie limits: 50 innings for pitchers, 130 at-bats for positions players, and 45 days of service time outside September for everyone. Exceed any of those and you're no longer a rookie. Why is it roughly 25% of a season for a pitcher and 20% of a season for a position player? Who knows. Frazier is at 111 at-bats right now, so if returns in September and bats 20 more times, he will no longer be rookie (or prospect) eligible.
The service time criteria is another matter. I didn't realize this, but apparently time on the disabled list doesn't count against those 45 days for rookie status. I feel like I should've known that. Frazier was called up on July 1st and placed on the disabled list August 9th, so he picked up 40 days of service time before getting hurt. As long as he's activated no early than August 26th (five days before September 1st), he won't lose rookie eligibility through his service time.
I should note Frazier still gets credit for the service time. Same with Dustin Fowler. He got hurt in his first big league game and has been on the MLB disabled list since, so he's racking up that sweet, sweet service time. It does not, however, count against his rookie eligibility. Frazier's oblique injury was said to be minor, so I expect him to be back at some point. I bet they hold him back until rosters expand. We'll see. Anyway, I bet he gets those 20 at-bats before the end of the season and loses his rookie eligibility.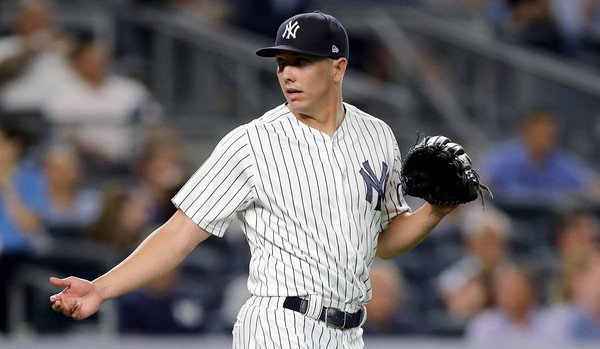 Carlo asks: What do you think of Chad Green's usage? Since June (when Green started to pitch with regularity), he's made 21 relief appearances (through Monday). Thirteen of them have started before the 7th inning, 17 have lasted more than 3 outs, and only once has he pitched on consecutive days. Is using Green for multiple innings (followed by multiple days of rest) and often during the middle innings the most effective way to utilize him? Is his usage pattern simply the result of the SuperPen and other relievers having longer track records?
Bullpens are a weird thing. Every once in a while teams stubble upon a guy like Green, who is so dominant and can pitch multiple innings, and they immediately move him into a strict one-inning setup or closer role. They take this guy who is so valuable, and they use him less. It makes no sense, but it happens all the time. Even Chris Devenski is only throwing an inning at a time these days.
I like the way Green has been used, and it's important to note it works because the Yankees have other good relievers. Joe Girardi can use Green for two or three innings, then let him rest two or three days knowing he has David Robertson and Dellin Betances and others. That's quite the luxury. Using Green for multiple innings one day only to rely on, say, Jonathan Holder and Tyler Clippard to set up the other days maybe doesn't work as well.
I do think that, if the Yankees hadn't brought in Robertson and Tommy Kahnle, we'd see Green work in shorter bursts and pitch more days. He'd probably be working one inning at a time as the seventh inning guy by now, right? Probably. I'm not sure there is a correct answer to the "is this the best way to use him?" question. It really depends on the rest of the bullpen and whether or not the pitcher can throw multiple innings and remain effective. I like the way the Yankees have been using Green. Nice having that multi-inning weapon.
Ed asks: I must be missing something on why Torres would need to be protected this year. According to the MLB website, a player that was 19 or older when he signs to play pro ball in the US has to wait 4 years before he's eligible to be picked in the Rule 5 Draft. Players 18 or younger have to wait 5 years before they can be drafted. Torres is 20 now, 21 in December. His first year in the US was 2014 (at 16 years old), so this is his 4 the season stateside. Why would he have to be protected this year? What am I missing??

The Rule 5 Draft eligibility rules are written in a confusing way. Players who sign at 18 or younger are eligible to be picked in the Rule 5 Draft for their fifth pro season, not after their fifth pro season. Similarly, players who sign at 19+ can be picked for their fourth pro season. This is Gleyber Torres' fourth pro season. He's been playing games since 2014, making next year his fifth pro season, hence his eligibility for this winter's Rule 5 Draft.
Things can be confusing with the Rule 5 Draft and international players. Torres signed with the Cubs on July 2nd, 2013, though he signed a 2014 contract. That's typical. Players who sign right after the signing period opens sign contracts that begin the following season. They go bide their time and work out in the complex the rest of the year rather than burn one of their pre-Rule 5 Draft years to play maybe a month's worth of games.
Update: I'm wrong, disregard. I've been told players who sign at 18 or younger do get five years in the minors before being Rule 5 Draft eligible, however that first partial season counts even if the player didn't play. Torres signed in July 2013, so his five years are 2013, 2014, 2015, 2016, and 2017. The same is true for guys who sign at 19 or older. They get four years in the minors, though that first partial season counts. My bad.
If you're still in doubt, just use another player as a reference point. The Mets sign Amed Rosario on July 2nd, 2012, and added him to their 40-man this past winter to protect him from the Rule 5 Draft. The Cubs signed Torres on July 2nd, 2013, so the Yankees will have to add him to their 40-man this offseason. Lots and lots of international players are rushed to the big leagues because they're Rule 5 Draft eligible and on the 40-man at such a young age. It's a bit of a problem. I'd like to see MLB maybe create a uniform Rule 5 Draft eligibility age. Maybe 23?
Anonymous asks: Mike, if Bird returns and reclaims first base would they cut ties with T. Frazier..??
No way. Todd Frazier has come through with some pretty big hits (and sac flies) the last few weeks, but overall, he's pretty underwhelming offensively. Lots of popups. Lots and lots and lots of popups. That's why I don't expect his .224 BABIP to climb all that much, if at all. All those popups are easy outs. Still though, rosters expand two weeks from today, so pretty soon there will be no roster crunch. We have no idea what Greg Bird will do once healthy, so cutting ties with a big league caliber bat to make room for him doesn't make sense. Send down Tyler Austin when Bird returns, then rotate Bird and Frazier and Chase Headley at first base, third base, and DH for the time being. Once September 1st rolls around, there will be room for everyone.
Robert asks: Feel like every fan of every team would say this, but are the Yankees hitting an inordinate amount of solo homers? How do they compare to the league?
Quite the opposite. They are dead last in solo home run percentage this season. Going into last night's game the Yankees led MLB with 83 home runs with men on base, and ranked 14th with 89 solo home runs. So 51.7% of their home runs have been solo home runs this season, lowest in baseball. The MLB average is 58.9%. Here are the top and bottom five:
| Lowest Solo Home Run Rate | Highest Solo Home Run Rate |
| --- | --- |
| Yankees (51.7%) | Giants (68.8%) |
| Rockies (52.8%) | Mets (67.6%) |
| Nationals (52.8%) | Padres (64.7%) |
| Tigers (53.6%) | Rays (62.9%) |
| Braves (54.6%) | Orioles (62.9%) |
The Yankees rank fourth with a team .336 OBP this season, so they have more men on base then most teams, hence fewer solo homers. I think? I dunno, maybe that makes sense. Anyway, no, the Yankees do not hit an inordinate number of solo home runs. They hit fewer than any other team relative to their overall home run total.
Vincent asks: Out of curiosity, why do you direct us to the ESPN website for box score and standings in the post-game write-up rather than another website? Do you favor the layout or added information they provide?
Both, the layout and information. ESPN gives you each player's updated AVG/OBP/SLG line and, once the game is over, it provides first pitch strike, swing-and-miss, and foul ball totals for the pitchers. I also find it easy to switch back and forth between the box score and play-by-play, which I use to write game recaps. MLB.com's Gameday/box score setup is kinda clunky, so I've been using ESPN basically as long as I've been on the internet.
Paul asks: If the Yankees are somehow in a 13-2 game or something like that and then bullpen is taxed, which position player pitches? Hicks has a cannon arm but for some reason I'd just love to see Toe toe the rubber.
It won't and shouldn't be a regular. I know Aaron Hicks has a rocket arm and he did pitch in high school, but you can't risk injury with such an important player. Ronald Torreyes seems like a good bet to be the designated position player who pitches. Maybe Austin instead? The Yankees are pretty short on infielders at the moment, but they have some first base depth, so maybe Austin makes more sense. Yeah, Austin. I think it would be Austin. If you're interested in such things, here's the list of position players to pitch for the Yankees. The last was Brendan Ryan in 2015. He threw two innings!
Eric asks: Where is Jeter's baby? Hannah Jeter was due in June. Any news?
Hannah looked ready to pop at Derek Jeter's number retirement ceremony in May. Apparently she hasn't had the baby yet though. Bob Nightengale says Jeter was not at the quarterly owners meetings this week to move forward with the sale of the Marlins because Hannah is due to give birth any day now. So there's your Baby Jeter update.
Bart asks (short version): Pure speculation question; 2013 draft, let's say the Yankees didn't have 3 picks in Round 1, do you think they take only Jagielo at #26? They eventually took Judge at #32 and Clarkin #33 but do you think they would have chosen the order differently if they only had 1 or 2 picks or was Jagielo clearly the best option?
It's impossible to say, though my hunch is the Yankees still would have taken Eric Jagielo with that 26th overall pick because they loved his left-handed power bat. Back then, the consensus was Jagielo and Ian Clarkin were no-doubt first round talents, and Aaron Judge was on the bubble. Their pre-draft Baseball America rankings:
Eric Jagielo: 16th
Ian Clarkin: 17th
Aaron Judge: 30th
Judge was, understandably, considered quite risky. He swung and missed a bunch in college and no one knew whether he'd be able to tap into his power at the next level. Judge is basically hitting on the best case scenario right now. It's awesome.
Back in 2013, I think the Yankees were willing to roll the dice on Judge because they knew they'd already landed two true first round talents in Jagielo and Clarkin, so why not shoot for the moon with that third pick? (They picked Judge before Clarkin, but they were back-to-back picks.) Figures Judge worked out and the other two haven't so far. At least they've been useful as trade chips.