We've got nine questions in this week's mailbag. And later tonight, the Yankees will look to clinch the American League pennant. Amazing. Anyway, RABmailbag (at) gmail (dot) com is where you can send us any questions.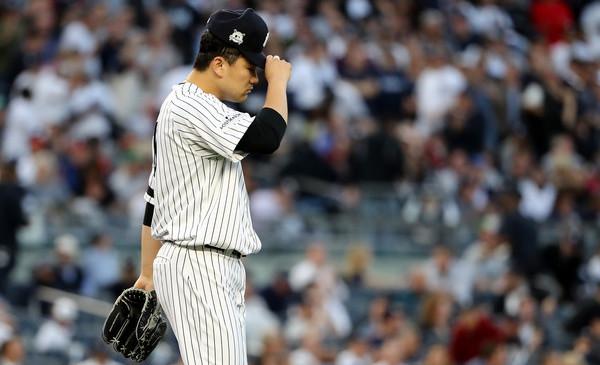 Many asks: Does Tanaka's great postseason make him more likely to opt-out?
It could, sure. That said, teams have shown they won't overreact to good (or bad) postseason performance. They don't pay players based on October. They pay them based on their entire body of work and expected production going forward. Is Tanaka any different right now than he was three weeks ago? No, not really. We all knew he could have starts like this. We've seen him do it before. We knew it was in there.
I've said all season I think the chances of Tanaka opting out are pretty darn high, like 80/20. Either opting out or leveraging the opt-out into a contract extension like CC Sabathia did way back when. I don't think anything has changed. The great postseason surely won't hurt Tanaka's earning potential in a few weeks. I just don't think it'll make a big difference either way. Teams have shown they won't get caught up in the postseason and make an emotional decision, and I assume the same is true of Tanaka when it comes time to use that opt-out.
Jason asks: Do you think the Marlins gig will hurt Jeter's legacy with the Yankees? He will probably have to detach himself from NYY team events and may find himself in direct conflict with the team at times. He was already very reserved and a bit disconnected, so he is starting from a difficult position to begin with.
Nah. Derek Jeter is a Yankees icon and he'll always be a Yankees icon. Did Andy Pettitte signing with the Astros, or Don Mattingly leaving to manage the Dodgers hurt their legacies? I don't think so. No matter what he does with the Marlins in Miami, Jeter will always be remembered as a Yankees legend, first and foremost. He hasn't been around the team much anyway since retiring — Jeter has been back for number retirements and various ceremonies, that's it — so it's not like we'll even notice he's gone. I don't think hooking on with the Marlins will change his legacy at all. Derek is a legacy Yankee, now and forever.
Evan asks: Did you catch A-Rod post game 5 giving a lot of the credit to Rob Thomson as the glue between the player and Girardi and management and saying he expects him to get a job as a manager soon? Any thoughts on him to the Marlins or being a Girardi replacement (recent article saying Joe might be getting tired and his family moved to Florida)?
Joe Girardi brought up Thomson prior to Game Five when asked about Aaron Judge, completely unprompted. "He's a complete player. He's a great defender. He's a great baserunner. And he does so many things right at an early age on a big stage, and just the way he handles all the attention simply amazes me. It's as good as it gets … That goes back to our minor league system, the way they've raised him. And Rob Thomson, he stays on these guys all the time to make sure they're in the right place and ready to go," said Joe.
Thomson has been with the Yankees forever. Since 1990, when he was named third base coach for High-A Fort Lauderdale. That was before the Yankees moved their operations to Tampa. Since then, Thomson has served as a minor league coach, field coordinator, director of player development, vice president of minor league development, first base coach, third base coach, and bench coach (two stints). He interviewed with the Blue Jays about their managerial opening back in 2010. (Thomson grew up outside Toronto.)
I don't know anything about Thomson's relationship with Jeter, so I'm not sure if he's a candidate to head to the Marlins. Jeter has a very small circle and Gary Denbo was in that circle. I'm not sure whether Thomson is. If Girardi does leave to spend more time with his family after the season, I have to think Thomson would at least be considered for the manager's job. Heck, the Yankees might look at him as a potential Denbo replacement. You don't stick with one team for nearly three decades without having a lot to offer.
A few people asked: Why didn't Sanchez have to throw to first on the strikeout to end the ALDS???
That was an interesting play, wasn't it? Aroldis Chapman struck out Austin Jackson looking to end the ALDS, but Gary Sanchez dropped the pitch behind the plate. Here's the play:
Jackson could've gone to first base and forced Sanchez to make the throw for the out. From what I've been told, the throw was not necessary because the home plate umpire determined Jackson made no attempt at the base. He stood there arguing the called strike three instead. Jackson had to go for first base basically right away.
Here's the interesting thing: Sanchez put the ball in his back pocket. That could've been declared a dead ball and Jackson awarded two bases. The umpire did not signal Jackson was out for not attempting to take first base prior to Gary putting the ball in the pocket, at least not with his hands. He might've called him out verbally. Terry Francona could've argued the ball was in Sanchez's pocket before Jackson was deemed to have not made an attempt for first base, but geez, that would've been tough to prove.
Ray asks: Does the Yankees win in the ALDS have a side benefit of making this young, exciting team more attractive to Shohei Otani?
Sure, it could. Ultimately, none of us have any idea what Otani will prioritize when picking a team. Money? Location? Chance to win? Weather? I would imagine the Yankees being an up-and-coming team with a lot of young players who are ready to win now — and showing they can win right now — makes them awfully attractive to any free agent. Plus there's the whole New York thing. I think that's pretty cool. It makes for a mighty long trip to Japan, however. I don't think I'm being a raging homer when I say the Yankees figure to be a premier free agent destination going forward. They have money, they have talent, and they're ready to win. What more could anyone want?
Brian asks: Way too early prediction, what do you think the chances of Gleyber making the team out of ST are? I'd guess very low even if he rakes in ST they'd send him down and call him up in early-mid May.
Tiny. The kid just missed half a season with a serious elbow injury and he'll just be getting back on the field in Spring Training. Gleyber Torres played only 23 Triple-A games before the injury, remember. He didn't even have 100 plate appearances. Even if he lights it up in Spring Training (again), I have to think the Yankees will send Torres to Triple-A for a few weeks to make sure he plays everyday and gets back on track following surgery. As an added benefit, it'll delay his free agency one year. I expect Torres to arrive at midseason next year, and once he's up, I think he'll be up for good.
Nick asks: Is there a way to see all of called strikes on Judge this postseason? It'd be interesting to know how much of his struggles are related to calls out of the zone, and how much is just good pitching and dotting the corners.
FOX Sports 1 has to get rid of the strike zone overlay. I adds nothing to the broadcast. Actually, it does worse than add nothing because it creates confusion. The strike zone overlay doesn't seem particularly accurate, especially on the edges of the zone. Here are all the called strikes against Judge this postseason, via Baseball Savant: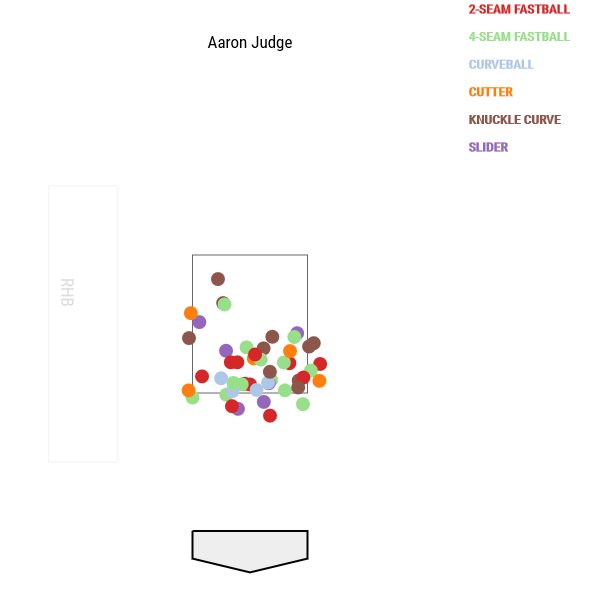 The bottom of the zone is a big problem for Judge. Well, no, it's an umpire problem, not a Judge problem, but he's the one who has to deal with the ramifications. That's been a problem all season and I hope the Yankees get on MLB's case about it this winter. Judge's strike zone is not the standard strike zone, and the umpires have to adjust because the rulebook says a 6-foot-7 player is not subject to same bottom of the zone as a 6-foot-2 player.
As for the edges of the zone, there have been some pitches off the plate called strikes against Judge this postseason, though not a ton. Not more than I'd expect in a random eleven-game sample, really. The pitch down below the zone getting called a strike against Judge is a legitimate problem. The FOX Sports 1 strike zone overlay makes the pitches off the plate in or out look worse than they really are.
Ray asks: I've seen/heard mention of how significant it was that the Yankees elected to play the infield in during the second inning of game 5 in the ALCS. With me not being incredibly versed in baseball defensive strategy, can you explain to me why that was a big deal? If playing the infield in is the best way to limit the opposing team from scoring runs in that situation, why would the inning matter? Why would it not be the defensive strategy all the time regardless of inning?
Playing the infield in improves your chances of either throwing the runner out at the plate, or forcing him to hold at third, which is what happened in Game Five. The runner held on the ball right to Starlin Castro. The downside is fielders have less time to react to a batted ball, so a grounder is more likely to get through the infield and become a hit, which could lead to a big inning. You're banking on the ball being hit right at an infielder, basically.
Generally speaking, teams only play the infield in in close games, where one run makes a big difference. Playing the infield in in the second inning the other day tells us Girardi wasn't expecting the Yankees to score many runs, and hey, who could blame him given Dallas Keuchel's history against the Yankees? He felt every single run was imperative, enough that he was willing to risk a potentially bigger inning in exchange for improved odds of preventing that run from scoring, and it worked. Usually you only see the infield in in the late innings of a close game. Second inning is pretty rare because it's still so early in the game and so much can happen. You don't want to give the other team a better chance to get a grounder through, because that leads to another set of problems.
Matt asks: Obviously a lot of it will depend upon game situation, but what is your optimal bullpen strategy for Game 6? Do you go whole hog and ride Kahnle, Green, Robertson, Chapman for 5-7 innings total if the game is up for grabs? Or do you save a few bullets for a potential Game 7 against a starter who is definitively more beatable than Justin Verlander?
Treat it like a Game Seven and go all out to win. Now, if Luis Severino gets knocked out after two innings and the Yankees are down eight runs, then no, don't go to the top relievers. That's obvious. But if the game is winnable — as far as I'm concerned, being down three runs counts as winnable against Houston's bullpen — go with the top guys and put yourself in the best position to win the game. And if the Yankees have a lead, absolutely go hard with the top relievers. Get this series over with. Ride the top relievers as long as possible, avoid Game Seven, and enjoy the extra day of rest afterwards.