Eleven questions and ten answers for you in this week's mailbag. Use the "For The Mailbag" form in the sidebar to send us anything at any time. Also, the more succinct your question, the better. I find myself steering clear of the wordy ones for whatever reason.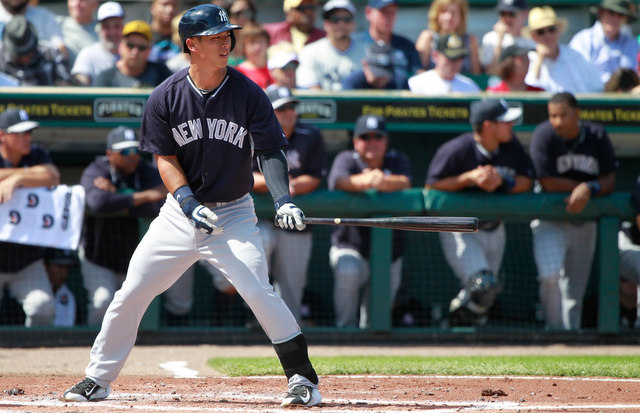 Frank asks: Rob Refsynder's bat looks legit, so, in your opinion, how long do the Yanks give him at 2b before he is moved back to the OF?
I'd say at least two more years of regular playing time, more if he makes some real improvement and is moving in the right direction. Refsnyder would lose a lot of his appeal if he has to move to a corner outfield spot. His bat is just ordinary there, not above-average like it would be at second base. He's just another guy in right or left field. Refsnyder has only been a second baseman for two years, remember. I don't think the Yankees should pull the plug after only two or three years.
Eric asks: What do you think of all these articles from NY writers about the Mets taking back New York? Not sure what that really means except the casual fan will favor one team or the other given how well they are doing — is it a mindless exercise by tabloid sportswriters?
Yeah, mostly. The media seems more obsessed with it than the players and we've been hearing this is the year the Mets take over New York for a few years now. Remember when the Mets swept the Yankees in the Subway Series two years ago and that was supposed to be some kind of statement? Yeah, no. The Mets might have a better record than the Yankees this season, but what does it matter? Aare more people going to walk around New York with Mets hats or something? I really doubt that. If the media (and Mets fans) want to focus on "taking New York" from the Yankees, whatever. Let them. It means nothing.
M. Greene asks: Do you think that a combination of Ramon Flores/Chris Young/Carlos Beltran is stronger than Beltran/AROD in RF and at DH?
Yeah probably, but not substantially so. The Flores/Young duo will be a million times better defensively in right field than Beltran, but I'm not sure they could match Alex Rodriguez offensively right now, as skeptical I am of Alex's bat at this point of his career. (Yeah, he's looked good in camp, but let's see what happens during the regular season.) Young is a guy who can get exposed pretty quickly at the plate if he plays too much, and while Flores has looked impressive in camp, it's still just Spring Training. I'm not going to pencil him for league average production just yet.
Daniel asks: Thinking ahead a few years, what do you think about the chances the Yankees make necessary preparations to sign Bryce Harper? Bryce has made it clear the Yankees are his favorite non-Nats team, and there will certainly be a need in a couple years for a plays of his caliber and position. It may be another obstacle between the Yankees and 189 but what do we care.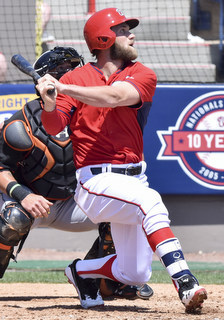 There should be no "necessary preparations" to sign someone like Harper, who will hit free agency at age 26 following the 2018 season. These are the Yankees. They have the money to sign absolutely anyone. If Harper develops as expected, he's going to be a superstar and a guy the Yankees should go all out to sign. He might even be the first $400M player in history. (That seems unlikely in only four years, but who knows.) I totally understand wanting to avoid long-term contracts for players over 30, but Harper will be 26. He's the kind of guy the Yankees can and should go absolutely bonkers to sign. There's no such thing as bad $/WAR with players of that caliber, whose value to the franchise transcends what they do on the field.
Vinny asks: Joe Girardi will defer to the veterans, but if Chase Headley's hot spring continues into the season and Beltran/Mark Teixeira struggles, do you see Joe putting Headley into the 3rd spot in the lineup?
Vinny asks: If A-Rod somehow manages to be the best hitter on the team as the season moves along, do you think Girardi would move him up in the batting order?
Might as well lump Vinny's questions together. Yes, I definitely see Girardi moving Headley or A-Rod or whoever up in the lineup if they're producing and the regular middle of the order guys are not. He moved Robinson Cano up and Teixeira down when the time came. He moved Brett Gardner up when he forced the issue. I don't think he'd hesitate to move A-Rod or Headley up either. The Derek Jeter situation last year was a special case. If a player needs to be moved down in the lineup and there is someone deserving to replace him, Girardi has shown he will make the move.
Dan asks: Do you think that Montreal will ever get a MLB club again? Why or why not?
Yes but not anytime soon. Montreal showed very recently it is not a baseball town, and no, attendance for two dinky little exhibition games each March is not evidence the city will support an MLB franchise year round. The Expos stunk in their final season (2004) but were in the race for much of the summer in 2002 and 2003, yet they averaged less than 13,000 fans per game. Maybe down the line Montreal would make sense. In a decade or three. Right now though, I have no reason to think the city will support a team. They had their chance and didn't.
Paul asks: With a fair amount of development of the Int'l signings, could the Yankees minor leagues break the top 10 next year?
Absolutely. You can say that about most teams — "if their young low level guys develop, they'll be a top system" — but I think the Yankees have more growth potential than most other clubs because of last summer's international spending spree. They don't figure to graduate any of their top prospects to MLB this season either, guys like Aaron Judge and Luis Severino, so the system won't take a hit that way. (They might graduate guys like Refsnyder and Jacob Lindgren, who won't drastically change the farm system ranking.) With some strong pro debuts from last year's international class as well as continued development from guys like Jorge Mateo, Miguel Andujar, Domingo Acevedo, and Ian Clarkin, the system could take a very big step forward this year.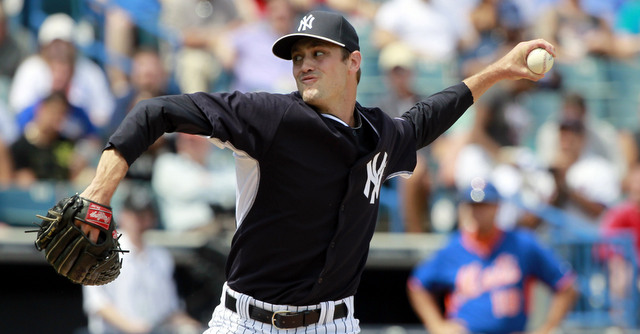 Dan asks: Is there any significant downside to having 3 or 4 lefty relievers in a bullpen if those guys are the best that you have?
Nope. The best pitchers are the best pitchers, regardless of what arm they throw with. It looks like the Yankees will have three left-handers in their Opening Day bullpen but at least two of them (Andrew Miller and Justin Wilson) can face both righties and lefties without an issue. Chasen Shreve might be able to do that as well. Now, if you have three lefty specialists in your bullpen, that's a problem. Not much flexibility there. Though I guess if three of your seven best relievers are lefty specialists, you've got much bigger roster issues.
Gus asks: Do you think that if Hal Steinbrenner could get a do-over, he'd have signed Yoan Moncada as to make his narrative appeal more authentic?
I think Steinbrenner and the Yankees would do it over because they realize losing out on such a talented player over such a relatively small amount of money was a really terrible decision. The spin on this has been incredible — everyone in the organization seems to be blaming someone else for missing out on Moncada — and I think it kind of dawned on them that they really screwed up and missed an opportunity. I honestly don't think Hal cares about sounding authentic (when does he?) or getting ripped in the media. I think he cares about having talented young players and realizes having Moncada would give the team a better chance of achieving his precious goal of getting under the luxury tax threshold in two years.
Gerry asks: With Brady Aiken undergoing TJS, would this put him in play for the Yanks at either 16 or 30 in the upcoming draft (should he decide to declare)? This is definitely the type of talent the Yankees often don't get a chance to pick up (albeit with the risk involved).
Yes, Aiken should be in the play for the Yankees. They have the draft pool space ($7.885M) to pay him a substantial overslot bonus — Aiken reportedly turned down a last minute $5M offer from the Astros last year, but would he take the same amount from the Yankees, would won't treat him like garbage? — though they'd have to go cheap elsewhere in the draft. That's fine though. They could do what the Royals did in 2013, when they took Hunter Dozier eighth overall and the injured Sean Manaea 34th overall. Dozier signed below-slot to give them money for Manaea, though by taking him first and Manaea second, they would have lost much less draft pool space had Manaea decided not to sign. Maybe the Yankees take someone they know they can sign cheap with the 16th pick then roll the dice on Aiken (or Duke RHP Mike Matuella, another top draft prospect who recently had Tommy John surgery) with the 30th pick.