We've got 14 questions in the mailbag this week. Remember to use the RABmailbag (at) gmail (dot) com email address to send us any questions or comments.
Mark asks (short version): Should the Yankees fire Brian Cashman?
I am on the fence about this and right now I lean towards no. Cashman has been the best big market GM in baseball over the last two decades — teams like the Phillies, Angels, and Red Sox have shown it takes a lot more than a big payroll to be successful — and he's spent most of his time operating under the "World Series or bust" mandate. That's tough.
Cashman has his flaws like everyone else. The Jacoby Ellsbury and Chase Headley contracts are disasters, though every big market team has bad contracts on the books. You can't run a payroll over $170M+ without spending big on free agents, and sometimes those deals go wrong. That's baseball. The bigger issue is the team's lack of success with their high draft picks, particularly the first rounders.
The Yankees have mitigated those problems by having success in the mid-to-late rounds of the draft, hitting on other free agent signings (Andrew Miller, Brian McCann, etc.), and almost never making a trade they regret. The last trade that is a clear loss for the Yankees is what, Tyler Clippard for Jonathan Albaladejo? I guess Mark Melancon (and Jimmy Paredes) for Lance Berkman is more recent. Cashman's trade track record speaks for itself.
That said, the Yankees stink, and ultimately the blame falls on the shoulders of the GM. Cashman said so himself the other day. He's been at this a long time and eventually you get to the point where a new set of eyes with a fresh set of ideas becomes necessary. I am a proponent of total overhauls. If you're going to fire the GM, fire everyone and start over with a new regime. After all, the GM is only a manager. The people who work under him do the leg work.
Cashman has been a very success big market GM and the Yankees have a ton of money coming off the books in the near future, and you can see the next core beginning to take shape in Starlin Castro, Luis Severino, Aaron Judge, Greg Bird, and Gary Sanchez. There are a lot of questions there, sure. There are going to be questions with every rebuild though. Those guys are all either at Triple-A or in the show, so they're close to having an impact and there's less guesswork involved.
The 2003 Tigers were the worst team I've seen, and yet, three years later, the 2006 Tigers won the pennant. It's possible to rebuild quickly and I do think Cashman can do that. I understand wanting a new GM, I totally get it. I guess I just have no idea who would be better. And I'm worried ownership will bring in a figurehead GM they can push around and effectively take over the baseball decisions.
David asks: Any chance Gene Michael can get involved to turn things around? Letting CANO go, instead signing Ellsbury, not trying for Scherzer or Zimmerman. Hard to believe Girardi's really that optimistic-this is a bad team. Do the Steinbrenners want to win or just get under $200 million?
Gene Michael is involved. He's one of Cashman's special advisors. It was reportedly Michael who pushed to acquire Didi Gregorius, for example. I'm also pretty sure he was the main front office voice pushing to trade Phil Hughes for Johan Santana back in the day. Michael is 77 years old and it's been more than 20 years since he's been a GM. He's not going to step in and fix everything just because he led the rebuild while George Steinbrenner was suspended in the early-1990s.
Arjun asks: Assuming the shift works as intended and BABIP has remained steady as you pointed out, are strikeouts the main reason that offense has declined? If the shift wasn't around, do you think we would see mid-00 level offense today given the BABIP would probably increase?
I don't think it's one specific reason. Strikeouts are a part of it for sure. Ten years ago the league average strikeout rate was 17.1%. This year it's 21.3% in the early going. There are roughly 76 plate appearances per game these days, so right now we're seeing roughly 3.2 more strikeouts per game than we were ten years ago. That's a lot, isn't it? Fewer balls in play overall means less runs are scoring, absolutely.
There are other factors though. Shifts are one of them, as are improved scouting reports, more specialized relievers, and harder throwing pitchers. Throwing hard doesn't automatically mean blowing it by someone. The extra velocity could mean weak contact instead of a pitch being squared up. The league average soft contact rate right now is 19.1%. Ten years ago it was 18.2%. I also think teams may be calling up position players before they're fully ready too. That has always happened, but it may be happening more often nowadays. I have nothing to prove that. Just a guess.
I think it's only a matter of time until MLB lowers the mound again. I have no idea how much they would lower it or how long they'll wait to lower it, but it seems inevitable. Expansion does not seem imminent — historically there is an offensive spike in expansion years — so lowering the mound figures to happen before more teams are added to the league. Eliminating the shift would increase offense to some degree. That's not the only reason scoring is down though.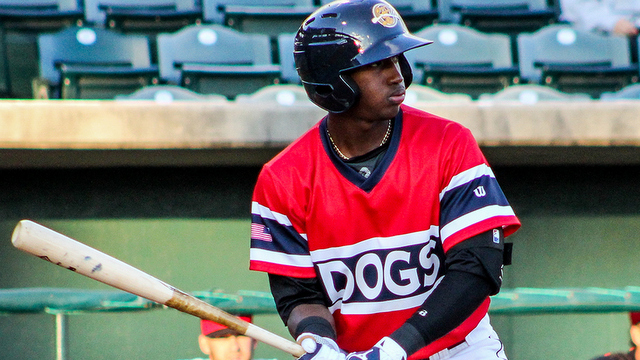 Nicholas asks: Without checking the stats (which is easy enough to do, I know), it sure appears like Mateo is both running less and running with less success (more pickoffs and CSs) than last year. Any chance all the notoriety has led to opponents better understanding his tendencies, etc. and it's unlikely we'll see the overwhelming base stealing success we saw last year (perhaps itself an unfair expectation)?
He is running less. Mateo is 8-for-16 in stolen base attempts through 25 games this year after going 82-for-99 (83%) last year, including 21-for-26 (81%) in his first 25 games. I never really expected the 82 steals thing to happen again — that's a huge number and no one does it annually anymore — but I didn't expect Mateo to scale back this much. It could be the result of the other teams focusing on him more, though minor rosters and coaching staffs change so much year-to-year that I don't think that's what's happening here.
It's possible the Yankees told Mateo to relax a bit and not steal each time he reaches base as a way of keeping him healthy and fresh in the second half. Stealing bases can wear players down and it's dangerous too. It's real easy to jam fingers and wrists and get stepped on and all that. This is just a theory. I'm not sure if this is actually what happened. I'm not too worried about it though. As long as he still has the 80 raw speed and is now adding power to his game, I'm happy.
Matt asks: Let's add another ugly contract to the list to swap Ellsbury for, how about Justin Verlander? He's owed a ton of money, and Gose/Maybin isn't exactly inspiring out there in Detroit. Gotta think Detroit wants out of that one, no?
I expected Verlander to have a big rebound season this year, and, well, he has a 6.49 ERA (4.92 FIP) in 34.2 innings. So much for that. The future Mr. Kate Upton is owed $112M through 2019, so he's owed basically the same money as Ellsbury, only with one fewer year on the contract. The Tigers could use a center fielder and leadoff hitter, and the Yankees could use pitching in the way every team could use pitching.
The problem with an Ellsbury-for-Verlander trade is Verlander's status as a legacy Detroit Tiger. They're going to retire his number and stick his name up on a wall somewhere when it's all said and done. That has value to the Tigers in terms of ticket sales and marketing and merchandise and all that. Ellsbury offers none of that. I do expect Ellsbury to perform better than Verlander going forward, but I can't imagine the Tigers would trade away one of their biggest stars and most marketable players in a bad contract for bad contract deal.
Andrew asks: If Pineda continues to pitch this poorly is there any chance the Yankees do not offer him arbitration at the end of the year and let him walk as a free agent? I apologize for the wording I used. I'm not 100% on how this situation works out while a player is under team control.
Nah. I can't imagine the Yankees would non-tender Michael Pineda after the season, not unless he suffers a major injury that would sideline him for all of 2017. There's no sense keeping him in that case because he would qualify for free agency after 2017 anyway, so you'd be paying him a year to sit out, basically. Pineda is only making $4.3M this season, so his salary next year will be in the $7M range, and that's nothing. That's broken down Doug Fister money. If anything, the Yankees would offer Pineda arbitration and trade him rather than non-tender him and let him walk as a free agent.
Bruce asks: Do the Yankees have any recourse to keep Chapman inactive past the 30 day deadline, killing his free agency? Similar to what the Cubs did with Bryant to gain the extra year of control and with the Yankees playing so bad, I imagine his trade value would skyrocket even more if they had the power to hold him down just a little longer.
Nope. He has to be activated as soon as the suspension is over, and because Aroldis Chapman has more than five years of service time, he can refuse an assignment to the minors. There's nothing the Yankees can do to delay his free agency. The only way Chapman's free agency can be delayed now is with another suspension, and that's another problem entirely. The extra year of team control would definitely increase his trade value. The Yankees knew coming in this was a one-year thing though.
Pounder asks: Is it time to take another peek at acquiring Mark Reynolds? What would the Rockies want in return, perhaps a change of scenery would be beneficial for Headley.
Reynolds is the very definition of a replacement level player these days. He hits the occasional home run and can stand at first base and maybe third base, and that's about it. No way would I a) give up something of value to get him, or b) stick him at third base full-time even with Headley struggling so much. Reynolds strikes me as the type of player you pick up for cash or a player to be forgotten later in the season, once the Rockies decide to sell. Go with Rob Refsnyder at third before Reynolds.
Chris asks: Lets say the losing goes on for another month or so. Do you think the fans could handle a Fire sale? If so could we start a petition?
Casual fans still dominate the market, and most casual fans hate the idea of a fire sale and being bad on purpose even if it is in the team's best interests. They usually complain about losing seasons and think the solution is signing the best free agents. It's not just Yankees fans, it's fans of every team in every sport. I think the RAB community would handle a fire sale just fine, but we're in the minority among fans.
Chris asks: How likely is the complete black hole we call the Yankees offense attributable to the loss of Kevin Long? The Mets were 8th in HRs last year and are 4th this year.
I'm one of those folks who doesn't think the hitting coach has nearly as much impact as many seem to think. Are they important? Sure. Is firing one and hiring another the cure for the offense? Nope. It never is. Long has a history of getting players to tap into their power potential — he did it with Robinson Cano and Curtis Granderson, most notably — and he's done exactly that in Flushing with guys like Michael Conforto and Daniel Murphy. Murphy's power was up big time late last year and it's carried over to this year. Conforto's hitting for more power than expected too.
I would be a lot more excited about the long-term offensive outlook of some of the Yankees' young players (Castro, Judge, Sanchez, Gregorius, Aaron Hicks, etc.) if they had kept Long around, but I don't think the offense stinks because he's gone. I think it stinks because the veteran regulars are up there in age and are seeing their production slip. It happens. I didn't think Long should have been fired two years ago, but the Yankees needed a scapegoat, and when the offense stalls out, the hitting coach usually gets the axe.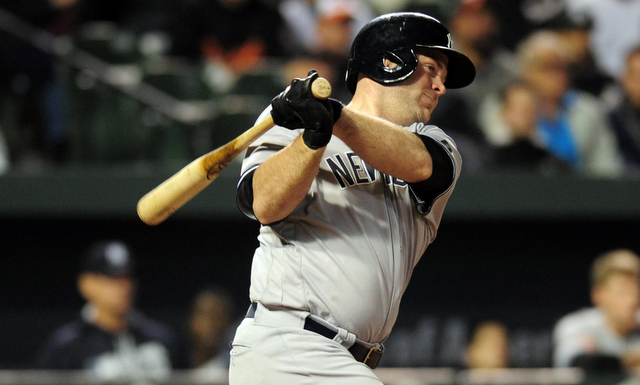 George asks: Is McCann's contract tradeable? Do you think the Yankees would even look to trade him?
I think McCann as a player is very valuable, even with his flaws as a hitter. He still has power and will draw walks, and his defense behind the plate remains solid. He'd be an upgrade behind the plate for what, 25 teams in the league? How many teams can afford a $17M a year catcher though? That's a sticking point. The Rangers seems like an obvious fit, and maybe the Tigers and Nationals too. I don't think the Yankees would be opposed to trading McCann at all. I think they'd set the price fairly high though, perhaps too high given his salary. Quality catching is very hard to find these days.
Jordan asks: When is it time to call up Gary Sanchez? He's been hitting at AAA and any sort of offensive boost would be welcome right about now. If Sanchez hits, it would allow McCann to take a day off (or, with A-Rod out, a half-day off) without the offense taking too much of a hit.
Assuming I counted right, Sanchez's 35th day in the minors will be Sunday, meaning the Yankees could call him up Monday and have his free agency pushed back a year. He's having a typical Gary Sanchez offensive year in Triple-A (.271/.326/.506, 144 wRC+) and I'm pretty sure he'd out-hit Austin Romine in the big leagues right now. The Alex Rodriguez injury also opens some DH at-bats too.
McCann slumped hard for a few weeks after taking that foul pitch to the toe, though he's come on of late, and he's going to get most of the playing time behind the plate. Is it better to let Sanchez play two or three times a week in the show or everyday in Triple-A? I think you can make an argument both ways. Now, if the Yankees do continue to fall out of the race, they should absolutely call Sanchez up and play him regularly in the second half. Let him split time with McCann behind the plate and grab a few DH starts too. They're not at that point yet though.
Ruby asks: The rotation is exasperating, the bullpen doesn't (really) need another stud reliever, Chapman has 3 plus plus pitches and has the physique of a workhorse starter. Why not put Chapman in the rotation? The Yankees are in last place and have nothing to lose. His fastball velocity would drop to what? 98? It could be electric and fill those empty seats at the Stadium.
Some Reds fans I know are still upset the Reds never gave Chapman a chance to start in the big leagues. He did start in the minors, though he came down with a shoulder issue and that more or less put an end to that. Chapman is never going to start a game but I do think he has the stuff to do it if given the chance. My only concern is the walks. The guy has a career 12.2% walk rate out of the bullpen. Between the strikeouts and walks, his pitch count will get up there in a hurry, so he might be a five and fly pitcher. I think Chapman could do it though. It's just never going to happen. Not in New York and not anywhere else. The suspension would have been the perfect time to stretch him out, right?
Marc asks: You had mentioned Big Papi as a pick for the HOF, yet Sheffield is getting no love. Careers are remarkably similar. What is the deal?
Let's start with a side-by-side comparison of their stats:
| | PA | AVG/OBP/SLG | wRC+ | HR | RBI | fWAR | bWAR |
| --- | --- | --- | --- | --- | --- | --- | --- |
| Ortiz | 9,569 | .285/.378/.548 | 139 | 509 | 1,663 | 47.2 | 51.6 |
| Sheffield | 10,947 | .292/.393/.514 | 141 | 509 | 1,676 | 62.1 | 60.3 |
At his peak, Gary Sheffield was more a devastating hitter than David Ortiz. Sheffield's seven-year peak was a 160 wRC+ from 1995-2001. Ortiz's is a 144 wRC+ from 2005-11. Sheffield did give a lot of value back defensive, it should be noted. Ortiz doesn't have that problem.
The difference between the two comes down to Ortiz's clutch reputation and his persona. People love him. Also, he had a hand in breaking the Red Sox's curse and won some other World Series titles too. Sheffield was a bit of a grump who was a jerk to many of the Hall of Fame voters, and that will work against him.
If you sat down with someone who knew nothing about baseball and told them the history of the game, you could skip right over Sheffield. You can's skip over Ortiz. They might be statistically similar, but the reputation and general likeability of Ortiz is going to get him into the Hall of Fame.