Pretty big mailbag this week. Twelve questions and some of the answers are longer than usual too. You can email us questions, comments, links, guest post pitches, or anything else at RABmailbag (at) gmail (dot) com.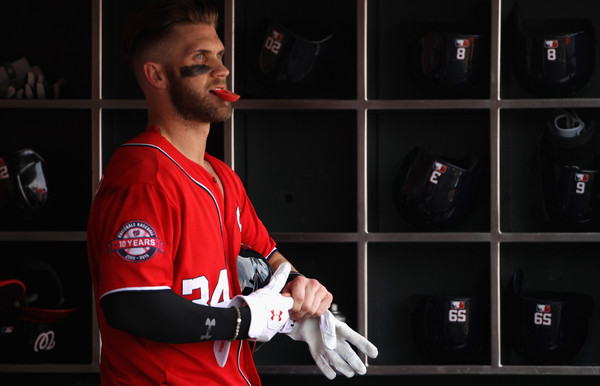 Many asked: What would it take to acquire Bryce Harper?
I had a feeling this was coming after the Harper-Jonathan Papelbon spat. The Nationals are a total mess right now and I can't imagine Harper's recent comments are sitting well with the brain trust — "I've got three more years to play at Nationals Park," he said to Chase Hughes before saving himself with "and hopefully many more" — but they'd be stupid to trade him. Harper can't request a trade either. He has no recourse.
Anyway, let's answer this as a hypothetical. Harper will turn 23 later this month and he's wrapping up one of the best offensive seasons in history. The kid went into last night's game hitting .331/.463/.649 (197 wRC+) with 41 home runs. I mean, good grief. Harper also grades out as a strong defender, and although the Nationals have done their best to sully his reputation, Harper plays extremely hard. (Jeff Passan recently dug into Statcast data to show Harper has one of the fastest average times to first base, so yes, he does hustle.) He plays too hard, if anything. He's hurt himself with aggressive slides and crashing into walls.
Even though he's only 23, Harper is wrapping up his fourth MLB season and will be a free agent after 2018. You're acquiring three years of him. Agent Scott Boras surely wants to get Harper out onto the open market at age 26 so he can smash contract records. What are three years of a soon-to-be 23-year-old megastar worth? There actually is a trade we can reference: Miguel Cabrera. Cabrera was about to turn 25 and also three years from free agency when he was traded from the Marlins to the Tigers. Not an exact comparison but close enough.
To get Cabrera, the Tigers gave up two top ten prospects in Andrew Miller and Cameron Maybin — that's top ten in all of baseball, not just the organization — and four other prospects, plus they took on the expensive years of declining Dontrelle Willis. There is some precedent for a young player this good being traded, but the key difference between Harper and Miggy is their team. The Nationals are not looking to shed money like the Marlins were. There's no urgency to move him.
I'm not sure the Yankees can out together a package good enough to get Harper. Luis Severino plus Aaron Judge plus Dellin Betances ain't gonna get it done. Who else can they add to sweeten that pot? Didi Gregorius? Michael Pineda? If the Nationals put Harper out there, they'd get better offers, I'm sure. Would the Dodgers say no to Corey Seager and Julio Urias plus other stuff? I doubt it. Harper is truly a once in a generation talent.
Jonathan asks: Assuming the Yankees at the very least have a second wildcard spot, do you think we should consider this an extremely successful year? Considering the age of the team, the injury risks, I did not think this was a potential playoff team. Do you think the Yankees fan base, at the end of the year, can finally be happy about a team that didn't win the World Series?
Nah, Yankees fans are never happy unless they win the World Series. Fans of every team are like that, really. I didn't expect the Yankees to contend coming into the season — I thought they were more likely to devolve into major ugliness on the field than contend — yet here they are. So yes, they have exceeded expectations. At the same time, blowing a seven-game lead in the AL East is very disappointing. Success is relative. I'd consider this season a success based on preseason expectations but I can also see the other side of the argument too.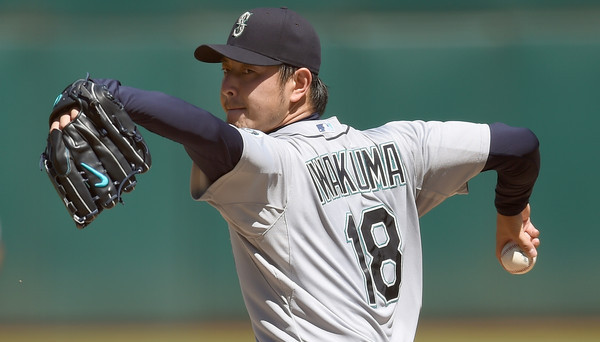 Dean asks: Aside from Davis Price, how about other free agent options, like Jordan Zimmerman (likely gets qualifying offer) or Hisashi Iwakuma? Less cash outlay, but less pitcher.
Zimmermann's definitely getting a qualifying offer but that's no big deal. He's very good — a 3.66 ERA (3.76 FIP) in 201.2 innings this season is considered a down year for Zimmermann — and giving up a first round pick for a pitcher of his caliber is no problem. Zimmermann seems headed for five years and $100M+. For some reason I think he winds up somewhere unexpected, with the Brewers or Mariners or something. No idea why, just a hunch. Either way, I don't expect the Yankees to shell out $20M+ annually for a pitcher on a long-term deal this winter.
Iwakuma is a different story and I think the Yankees could make a serious run at him. He turns 35 in April, so he won't require a long-term deal, and he has a 3.22 ERA (3.54 FIP) in 106.1 innings since coming back from his lat strain. That's right in line with last year (3.52 ERA and 3.25 FIP). Iwakuma has three things the Yankees love: a swing-and-miss pitch (splitter), a super low walk rate (career 4.9%), and Grade-A competitiveness. The scouting reports on Iwakuma coming out of Japan said he was a total bulldog, and we've seen that in his time here.
Convincing Iwakuma to come to the East Coast might not be easy — those trips home to Japan are much quicker from Seattle than they would be from New York — especially since new Mariners GM Jerry Dipoto has said keeping Iwakuma is a top priority. I could see the Yankees going after Iwakuma and looking to overpay on a one or two-year deal. Say $18M annually or so. That's basically what they did with Hiroki Kuroda. That's the kind of pitching deal I think they're pursue this winter.
Mark asks: Do you think the Yankees will erect a monument to Yogi Berra next season? Seems like a fitting tribute to an American icon who transcended baseball with his heroic service in WWII and countless charitable acts. I know he already has a plaque in Monument Park, but it seems to me he deserves special recognition as a legend among legends.
Yes, I believe it's very possible. There are six monuments in Monument Park: Miller Huggins, Babe Ruth, Lou Gehrig, Joe DiMaggio, Mickey Mantle, and George Steinbrenner. All of them were decided posthumously within a year of their death except for Huggins, the first monument. His came three years later. Yogi is one of the best players in franchise history, one of the best catchers in baseball history, and someone who used his fame for the betterment of others. That's monument worthy for me. Berra is an all-time great both on and off the field. Those guys gets monuments.
Joe asks: Would you pitch CC Sabathia who has been pitching great since coming off the DL in the one game wild card game so that you have Masahiro Tanaka for two games in the ALDS?
Sabathia is forever cool with me but no way. I know Tanaka had a rough first inning the other night, but I chalk that up to rust. He's the guy I want on the mound in the winner-take-all game. It has nothing to do with his contract at all. I trust Tanaka more than anyone on the staff. Severino's been great! But he's also 21 years old with ten starts under his belt. I know Sabathia pitched well last night and since coming off the DL, but I don't want him on the mound in a must win game if Tanaka is available.
Brandon asks: Do you ever see the MLB changing their trading of all draft picks policy, and if so do you think the Yankees would be one of the teams more willing to move draft picks or less willing? For example would they have considered trading their first round pick this year instead of a Severino or Bird?
I do see it changing eventually. I'm not sure if they'll allow pick trading in the next Collective Bargaining Agreement (expires after 2016), but I think it'll happen at some point. Right now only the Competitive Balance Lottery picks can be traded. I think eventually MLB will realize pick trading will create more interest in the draft and come up with a system. Make only the top two or three rounds tradeable. Something like that.
The Competitive Balance picks seem to have little trade value. They've been dealt for middle relievers or kicked in as the third piece in a multi-player package. I absolutely think the Yankees would have been more willing to trade their first rounder than a prospect like Severino or Greg Bird, who were close to MLB at the time of the trade deadline. The pick is effectively a low level prospect still several years away from the show, and a lot can go wrong between now and then. Severino and Bird have way more trade value given their proximity to MLB. My guess is a bunch of first round picks would be traded each year. Actual players already in your system are more valuable.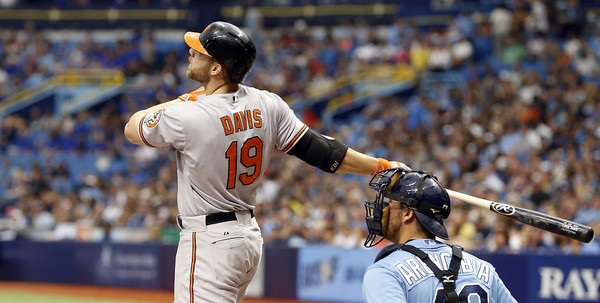 Nathan asks: Would you try and sign Chris Davis this offseason? I know there is no position for him and he may not age well, but isn't the possibility of 40-50 HRs worth a possible 3-4 deal?
The no position thing is kind of a big deal, right? Davis couldn't play first (Mark Teixeira and Bird), couldn't DH (Alex Rodriguez, Carlos Beltran, Teixeira, Bird), and couldn't even play right field (Beltran). I guess the Yankees could stick him at third base — Davis has started 85 career games at the hot corner — but that seems … unwise. Davis can hit 40+ homers anywhere with his power. Yankee Stadium might not help him much because most of his homers are bombs. Davis is going to get paid. He's another $20M+ a year guy. I think people are going to end up shocked at Davis' contract come this winter. Power pays. I just can't see the Yankees spending big for another first base/DH type.
Owen asks: Given Aaron Judge's struggles at AAA, would it be more realistic to see him called up around July rather than April next year?
Yes, definitely. Had Judge mashed at Triple-A this year, we'd be wondering how they get him in the lineup next year. That didn't happen though, so another couple hundred at-bats in Triple-A are in the cards. No big deal. Development isn't linear. Let him go back to Triple-A, make some adjustments, and if he earns a midseason call-up, great. That plan works for me.
Jacob asks: Should the Yanks go after Greg Holland if the Royals non tender him? What kind of contract would he get?
In a weird way the Royals are probably slightly relieved Holland got hurt. They can't afford two $8M+ relievers given their modest payroll, so chances are they were going to have move either Holland or Wade Davis this winter. Holland's injury makes it an easy call. Don't get me wrong, they'd rather have Holland healthy for the postseason, but that's not possible.
Anyway, the Royals will non-tender Holland this winter and I think he'll re-sign with the team on a small-ish two-year deal. He's having his Tommy John surgery today, so even if Holland comes back ahead of schedule next year, you're still only getting a handful of innings. You have to lock him up for 2017 as well to get some kind of return. (Holland will qualify for free agency after 2016, so a one-year deal means he's gone next winter.)
I could see something like two years and $8M working for Holland. Give him $2M next season while he rehabs, then $6M in 2017. Throw in a bunch of incentives too. If the Yankees can get Holland on a deal like that this offseason, great, go for it. Relatively low-risk move. Holland probably ends up staying with the Royals if he agrees to a deal like that though. That's the only organization he's ever known.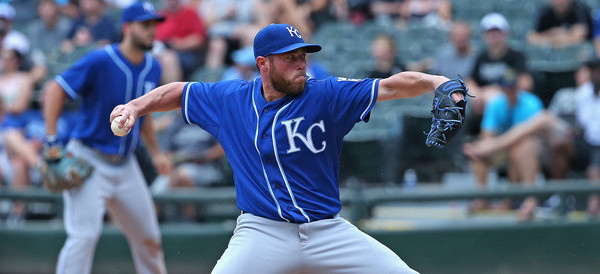 Dana asks: What do you think about the Yankees signing Doug Fister in the offseason? His price will be reasonable after a down year, and he has a history of success. I trust him more than I do Ivan Nova.
Coming into the season, I thought the Yankees were going to be all over Fister this offseason. He's been really good over the years, he's super tall (6-foot-8), and the Yankees drafted him once upon a time (sixth round in 2005), so he might still has some fans in the organization. Fister was so bad this year he had to be moved to the bullpen (4.60 ERA and 4.64 FIP in 15 starts), and there's also this: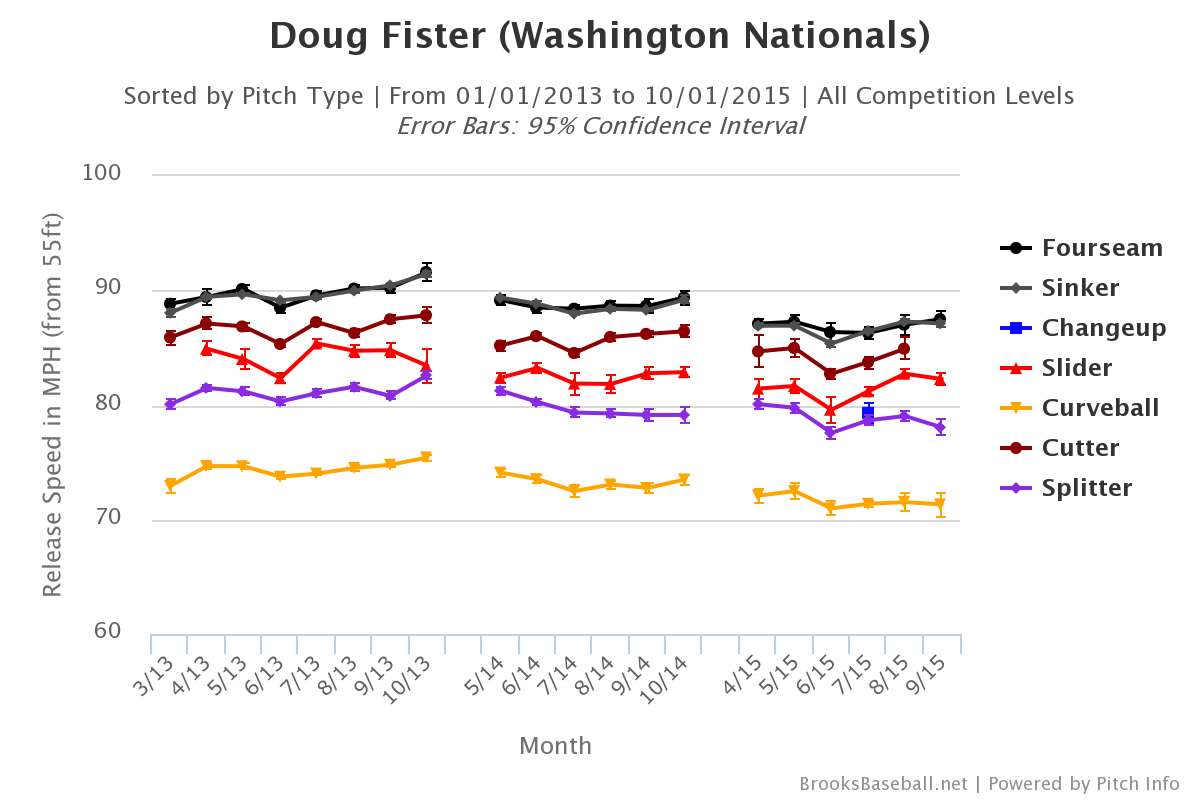 Fister was never a big stuff guy, he succeeded with location and a deep arsenal, but he's now living in the 86-88 mph range with his heater. That's not good. Velocity isn't everything but it's not nothing either. It's not a coincidence Fister's gotten smacked around this year. He has less margin for error.
Whether it's age-related decline (he'll be 32 in February) or something else (injury?), that's a worrisome trend, and I don't think it's a guarantee Fister returns to being even league average without finding some more velocity. He seems to be headed for the Justin Masterson contract. A one-year, $9M-ish he can't possibly be that bad again deal. Fister is worth a longer post in the offseason. My abbreviated mailbag answer is stay away.
Bill asks: Say in the wildcard game the yanks face a tough lefty like Keuchel, you think Joe Girardi goes with Young over Ellsbury or Gardner? Young hasn't hit lefties much lately and can't imagine sitting either one of Brett or Jacoby in a winner take all.
No. I think Girardi will go with his best lineup in the wildcard game regardless of who is on the mound. That means both Jacoby Ellsbury and Brett Gardner, Brian McCann instead of John Ryan Murphy, and Dustin Ackley over Rob Refsnyder. All things considered, Chris Young did a great job as the fourth outfielder this year. Murphy and Refsnyder have fared well while getting the platoon advantage all the damn time. I just think in a winner-take-all game, you have to go with your best players, and I think Girardi feels the same way as well.
Travis asks: Could a case be made to protect Dietrich Enns (a LHP with good MiLB numbers who could possibly stick as a LOOGY in MLB), Chaz Hebert (a LHP who had success in a SSS of 3 starts at AAA, but otherwise hasnt pitched above A+) and Rookie Davis (a hard throwing RHP who ended in AA).
All three players are Rule 5 Draft eligible and Davis will definitely be added to the 40-man roster. He's one of the organization's top pitching prospects, and his fastball/curveball/improved command combo gives him a chance to stick in MLB as a reliever in 2016 should the Yankees leave him unprotected. Enns and Hebert are probably going to get lost in the numbers crunch. (Hebert is going to the Arizona Fall League, so maybe the Yankees are considering adding him to the 40-man and want a longer look. Or maybe they're auditioning him for a trade.) Spots on the 40-man will be at a premium this year and I think those two are on the outside looking in. The Yankees figure to lose a decent player or two in the Rule 5 Draft this winter. So it goes. You can't keep everyone.