We have 13 questions in the mailbag this week. Remember when these things used to only have four or five questions? What the hell happened. Anyway, use the RABmailbag (at) gmail (dot) com email address to send us anything at anytime.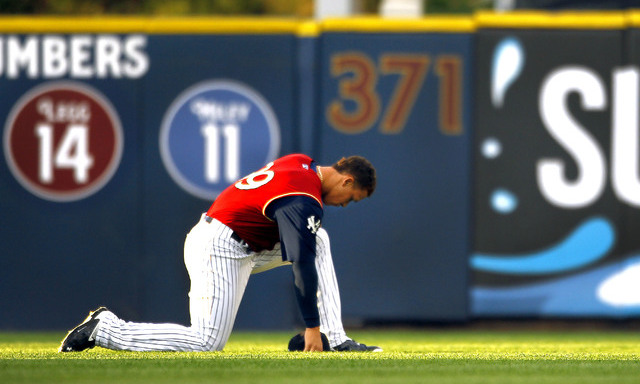 Nick asks: Is Aaron Judge broken? At what point do we start to worry?
Judge went into last night's game hitting .224/.286/.378 (91 wRC+) with seven homers, a 7.4% walk rate, and a 26.3% strikeout rate in 217 plate appearances on the season. He hit .224/.308/.373 (98 wRC+) with eight homers, an 11.2% walk rate, and a 28.5% strikeout rate in 260 plate appearances at Triple-A last year, so the numbers are pretty similar. Judge actually started this season well (123 wRC+ in April) before falling into a 9-for-64 (.141) skid with 22 strikeouts over the last three weeks.
On a scale of 1-10 with one being no concern and ten being outright panic, I'd say I'm at a seven. Judge was always a high risk prospect because he's so damn big. It's hard to be a successful hitter at 6-foot-7. There's a reason there are so few of them in MLB history. Oddly enough, his weakness is pitches away. Tall hitters usually have trouble with inside pitches because their arms are so long. Judge can get to the inside pitch. The outside pitch gives him problems.
Judge reworked his swing mechanics a bit in the offseason, specifically by incorporating a bigger leg kick and changing his hand position, and that was always going to take a bit of an adjustment. I think we're probably beyond the point where his struggles can be attributed to the new setup at the plate though. Judge does not yet have a full season's worth of at-bats in Triple-A, which is not insignificant. It's not like he's been there for two full years and is still struggling.
I'd be lying if I said I wasn't concerned about Judge's performance this year. The athleticism and raw power and overall skill set is there. That's not the question. There are some approach issues to deal with, and also his size is an obstacle that isn't going away. Judge just turned 24 and for some reason that is freaking people out. Who cares? They don't check IDs on the field. The Yankees have the luxury of time here. Judge isn't even on the 40-man roster yet, so they can let him work through things.
Phil asks: Josh Reddick. If his injury hurts his value as a big FA, can we look to sign him to a pillow contract next season (assuming we'd deal Gardner)? Instant short-term upgrade. He's hit 30+ in YS.
Reddick's not going to have to settle for a pillow contract even with the thumb injury. He's expected back in about a month and that gives him the entire second half to show what he's got. Reddick has made himself into a very good hitter — he's hit .277/.337/.452 (121 wRC+) with an 8.3% walk rate and a 13.0% strikeout rate since 2014 — and he's a fantastic defender in right field. That kind of two-way play is highly valuable and will get Reddick paid. The Alex Gordon contract (four years, $72M) seems reasonable to me.
Hey, if Reddick wants to build value in a left-handed hitter friendly ballpark on a one-year deal, sign him up. Even if the Yankees do take the plunge and decide to sell off parts and rebuild, Reddick would be one heck of a trade asset on a one-year contract. I can't see it happening though. He'll be back in a few weeks and he'll get paid handsomely after the season.
Anonymous asks: Read one of your articles today saying league wide batting average is down about 10 points in the past 8-10 years. I believe lowering the mound 1 inch would put more offense back into baseball. What are your thoughts on this?
I don't think it's imminent, but I do believe MLB will seriously consider lowering the mound if offense continues to drop. Commissioner Rob Manfred has shown that he is very thorough and wants as much information as possible before making a decision, so I assume he'll want several years of data before making a change that significant. I have no idea if one inch is the solution. It might be one and one-third of an inch or something weird like that. My guess is Manfred will have his people look into it and come up with a number rather than arbitrarily pick a nice round number like one or two inches.
Steve asks: As a west coast fan, I hate to admit it but I rarely get to catch many games live and thus catch up with most of my Yankee news with your site (thanks by the way) and video highlights. As someone who watches a lot of baseball, how has Castro looked at second? I've seen him make spectacular plays and I've seen him make some bone head plays … Overall though, are you happy with his D? (That's what she said!) Has the trade been worth it so far?
I think the best way to describe Starlin Castro's defense is that he almost makes a lot of plays. Balls seem to find a way to be just out of his reach. His double play pivots have been noticeably slow at times too. Castro is relatively new to the position, so we should definitely cut him some slack. Overall he's been fine defensively. Not great, not awful. He makes most of the plays he should make, will occasionally make a spectacular play, and will also occasionally let a ball get by that shouldn't get by. Starlin hasn't hit much at all since the Astros series and that's pretty annoying. My early evaluation of the trade: meh. Not sure what else there is to say at this point.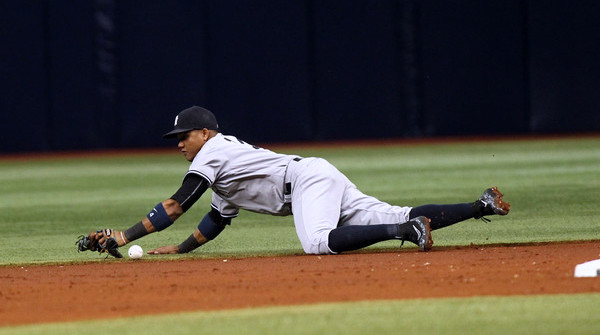 David asks: Forgetting about the probability of it but is it technically possible for the Yankees to get under the cap this year if they were able to trade a whole bunch of folks? I imagine timing might be everything as I assume the cap is based on salaries actually paid so every day that goes by makes it less and less likely.
Sure, it's technically possible. The Yankees opened the season with a $228M payroll, so they'd need to shed about $40M in payroll to get under the $189M luxury tax threshold. Trading Alex Rodriguez ($18.4M), Mark Teixeira ($15.1), and Jacoby Ellsbury ($14.6M) right now at the one-third point of the season would accomplish that easily. The team would shed two-thirds of the average annual value of their contracts against the luxury tax payroll. The problem is those guys are basically untradeable, at least if the expectation is shedding their entire salary. So yes, it's possible to get under the luxury tax by trading people, but no, it's not happening.
Paul asks: Who is CC competing against for comeback player of the year?
The first name that immediately jumped to mind was Yu Darvish, who made his first start back from Tommy John surgery a few days ago. If he pitches at an ace-level for 20 starts, it'll be hard to give it to someone else. Here are some other candidates:
Marcus Stroman: Limited to four starts (and three more in the postseason) last year by a torn ACL. Can you be the Comeback Player of the Year when it's only your second full season?
Michael Saunders: Played only nine games last season due to knee problems, mashing this year.
Rich Hill: Can you be the Comeback Player of the Year when you were never great to start with?
The Comeback Player of the Year award generally goes to players who missed a big chunk of time due to injury. CC Sabathia was mostly healthy last season. He missed two weeks with the knee problem and that was it. Sabathia just didn't pitch all that well. That might work against him. If he keeps this up all season, then yeah, Sabathia will have to be a serious Comeback Player of the Year candidate. Let's revisit in a few months.
Mike asks: Big Mike reaches his 5 year service time in 2 weeks; so the yanks will need his approval, if they want to send him to the minors.If Pineda doesn't show improvement over his next two starts, do the Yankees send him to the minors, before he has a say? And who replaces him?
Yes, definitely. The exact date is June 14th, so that is only eleven days away now. On June 14th Michael Pineda will hit five years of service time and be able to refuse any assignment to the minors. Pineda will make two more starts before June 14th. If he doesn't show significant improvement, send him down and give the rotation spot to … someone. Luis Cessa, Chad Green, Luis Severino, whoever happens to be pitching the best at the time.
Pineda would have to remain in the minors the rest of the regular season to push his free agency back — the Yankees actually pushed it back when they optioned him down in 2013 following his shoulder rehab, he should have been a free agent after this season — but the goal of sending him down is to get him on track. Even if you look at this season as a lost cause, Pineda has very little trade value right now. If a stint in the minors gets him on track, it'll boost his trade value for the offseason. Pineda's been arguably the worst starter in baseball this season. That usually results in a trip to Triple-A. Reassess after these next two starts.
What is Dan asks: Didi's advanced fielding metrics from this year look terrible (-7 DRS, -4.5 UZR). Any idea why these numbers are so low? This doesn't seem to match the eye test.
I wouldn't look too closely at defensive stats one-third of the way into the season, but I do think Didi Gregorius' defense has slipped a bit since last season. He's still making spectacular plays, but he seems to be botching routine-ish plays more often. Joe Girardi even called him out on it a week ago, at least as much as Girardi will call out a player.
"He needs to improve on it, that's what has to happen. He's a better fielder than what he has showed these first two months," said the skipper to Ryan Hatch. It doesn't seem like Gregorius has lost athleticism or anything like that. He looks like the same old Didi. It just seems like he's misplaying some balls, particularly those hit one step or two in either direction. It could just be a slump. Defense is like anything else in baseball. Slumps happen. I'm curious to see whether Didi can shore up his glovework going forward.
C.J. asks: Mike, Is there a match with the Diamondbacks to potentially move Peter O'Brien back to the Yankees to be a backup 1B/OF, 3rd catcher? He strikes out a ton, but he's young and he's got a whole lot of RH power. He doesn't have a position in AZ and he'd be a better option than Ackley (injured), Parmalee, or Swisher.
O'Brien could be a fit, sure. He'd give the team a true backup first baseman who can also play some left field and even step in as the emergency third catcher. Plus he still has that huge right-handed power.
Power was never the question with O'Brien. The question is whether his lack of plate discipline — he has a 28.9% strikeout rate and a 3.2% walk rate in Triple-A this season — would allow him to use that power at the MLB level. O'Brien can hammer a mistake pitch. Can he do enough other things to be a net positive?
The Yankees could use some right-handed power and a backup first baseman. My trade proposal sucks, but what about Rob Refsnyder for O'Brien, straight up? The Diamondbacks need middle infield help — Jean Segura has been fine but Nick Ahmed can't hit all, so they could stick Refsnyder at second and Segura at short — and also some outfield depth, two positions Refsnyder can play.
My guess is the D'Backs would want quite a bit more. They consider O'Brien one of their best prospects. At the same time, they're not oblivious to the fact they have no place to play him. Paul Goldschmidt is entrenched at first and they have Yasmany Tomas making big bucks in left field. O'Brien could be a good fit for New York's roster as kind of the a Dustin Ackley, the part-time player who sees time at first, a corner outfield, and DH.
Ariel asks: I know this is more of a question of one's loyalty and dedication to his team than a regular ol' baseball question, but am I a bad fan for rooting for the Yankees to lose on a consistent basis? Just so they have to trade away the three headed monster in the bullpen and guys like Teixeira and Beltran (if they waive their no-trade clause).
Nah, that doesn't make you a bad fan. I can't think of any reason to consider someone a bad fan. Maybe rooting against the team or a player just to prove you were right about something? The best thing for the Yankees right now could very well be losing and losing a lot, since it would presumably force the brain trust's hands into beginning a rebuild. If you believe that is the best thing for the team long-term — at that is a 100% percent reasonable stance at this point in time — then how could anyone blame you for rooting for it? We all want the Yankees to win first and foremost. That doesn't seem to be much of an option right now though.
Stephen asks: Is there any precedent to trading two elite relievers as part of the same deal? What could the Yankees get if they packaged two – or even all three! – of their big three relievers in a trade?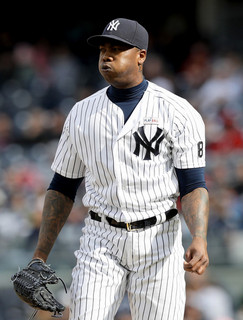 I haven't found any such precedent at all. The closet thing I can find is the Jeff Samardzija/Jason Hammel trade a few years ago. Samardzija and Hammel were two of the best available starting pitchers at the 2014 deadline, and the Athletics acquired them both in the same trade. They had to give up Addison Russell to do it though. Hammel was rental while Samardzija had one year of control left.
If the Yankees do decide to take the plunge and sell, they should absolutely be open to the possibility of a package deal with their relievers. I'm sure the Dodgers would love to get their hands on both Andrew Miller and Dellin Betances, for example. What team wouldn't? Can they get more if they move them individually than they would as a package deal? I can't really answer that. My guess is they would end up with more total pieces if they shop them individually but perhaps get the best true impact player if they move them together.
Mark asks: I was wondering what you think the chances are that we may start to see language in contracts regarding failed drug tests and resulting suspensions… I know the suspensions are without pay, but I wonder if teams may eventually want to use such an event to get out of contracts altogether. Love the site and thanks for all your hard work.
Oh I'm sure owners would love to make contracts voidable due to a performance enhancing drug suspension. (But only the bad contracts, right?) I don't think the MLBPA ever will (or should) agree to that. Giving owners a way to void contracts is a precedent the union does not want to set. The Joint Drug Agreement is by far the best PED testing program in pro sports and the penalties are harsh.
Making contracts voidable gives teams a reason to look the other way, which is the opposite of what should happen. It could create a distrust between the player and team because the team would have some incentive for a player to fail a drug test. Would the Yankees be heartbroken if Alex Rodriguez accidentally took a tainted B-12 shot? Nope. Not at all. Unless the player admits it, it's pretty much impossible to prove whether he took a banned substance intentionally.
Want to improve the system? It would help by making the team accountable in some way, perhaps by having them donate the player's forfeited salary to charity. No one really thinks teams are oblivious as to which of their players may be using PEDs, right? There aren't many secrets in this game. The program is working. Players are getting caught. That's what supposed to happen. No positive tests doesn't mean no one is using.
John asks: How do you view Didi and Starlin? Do you think that they're our long-term solutions up the middle, or are they good, short-term pieces until the farm delivers some of the guys at A and AA? If you think the minors guys are that good, who do you see starting at short and second in, say, 2019?
Closer to short-term fill-in pieces until someone better comes along than long-term solutions. I think Gregorius is closer to being a long-term solution at short than Castro is at second. Their bats are closer than most may realize — Starlin has more power and that's about it — but Didi is the far better defender at the tougher position. I think it's harder to find a shortstop like Gregorius than it is a second baseman like Castro, basically.
Jorge Mateo will hopefully fit into the middle infield picture somewhere within a year or two. He's the obvious internal candidate to assume a long-term middle infield position. The Yankees have a ton of infield prospects but, aside from Tyler Wade, none are particularly close to MLB right now, so it'll be Castro and Gregorius for a while. My guess is when the team is ready to be a true championship contender again, they'll have a different double play combination than the one they have right now.