I've got eleven questions in this week's mailbag, and some of the answers are pretty long too. As always, you can email us questions at RABmailbag (at) gmail (dot) com.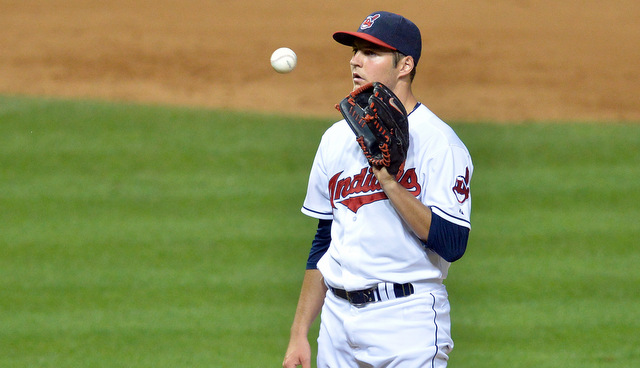 Bryan asks: Trevor Bauer seems like the kind of pitcher Larry Rothschild could turn around. He's young, throws mid-90s heat but has control problems. Since the Indians put him in the bullpen would he make sense in a trade for the Yankees as a starter? Something like Nova and Heathcott for Bauer seems reasonable.
Bryan, I'm sorry, but I have to slap a "your trade proposal sucks" on you. Ivan Nova and Slade Heathcott have negligible trade value. The Indians are not trading five years of Bauer — he somehow still has fewer than two full years of service time — for one year of six starter and six years of a sixth outfielder, even with all their outfield injuries. Bauer's not great or anything, but nope. Not happening. The Yankees would do that in a heartbeat.
Now, that said, I could see the Yankees showing interest in Bauer because he is young (25), he is under team control for a while, and he does strike out a ton of batters. He's settled into the 91-95 mph range with his fastball and he throws a little of everything. Two-seamers, four-seamers, cutters, sliders, curveballs, changeups, whatever. I see strikeouts on four-seamers, two-seamers, curveballs, and changeups in this video:
Bauer does walk a ton of guys — his 10.6% walk rate was the highest among all qualified starters last year — and the Yankees usually don't go for that. One of the reasons they targeted guys like
Michael Pineda
and
Nathan Eovaldi
was their low walk rates. Also, Bauer has some unique training methods, and he's butted heads with some coaches over the years. I'm not saying that's a deal-breaker, just a factor to be considered.
The Indians were open to trading a starter all winter — they reportedly talked to the Yankees about a starter for outfielder trade — and Bauer is the obvious target now that he's been squeezed out of the rotation. He absolutely fits the "talented young player who is (or may be) falling out of favor with his current team" mold, and those are the types of players the Yankees have been targeting in trades. I am intrigued. I wonder what it would cost.
Patrick asks: The Yanks get a lot of grief for their talent development, out of curiosity, I tried to put a starting team together the players that they drafted/signed and developed? While this team clearly doesn't win any division, is it competitive at least?
Here is Patrick's team. He said he stuck to players who spent the "majority" of their minor league time with the Yankees, so guys like Gerrit Cole and Yangervis Solarte don't count.
C: Francisco Cervelli
1B: Greg Bird, Jesus Montero
2B: Robinson Cano
SS: Eduardo Nunez
3B: Jimmy Paredes (maybe John Ryan Murphy?)
LF: Brett Gardner
CF: Austin Jackson
RF: Melky Cabrera
SP: Ian Kennedy, Phil Hughes, David Phelps, Adam Warren, Luis Severino
RP: David Robertson, Dellin Betances, Mark Melancon, Zach McAllister, George Kontos, Tyler Clippard, Chase Whitley
Paredes actually spent more time in the minors with the Astros than the Yankees in terms of plate appearances, so he can't be the third baseman. I'm willing to fudge a little and use him though. I won't tell if you won't.
You have to add Nova to the pitching staff somewhere — I'd put him in the rotation and Phelps in the bullpen — and also Mike Dunn too. Dunn has carved out a nice little career for himself as a lefty reliever since being included Javy Vazquez/Boone Logan trade. Arodys Vizcaino, who was also in that trade, spent most of his minor league career with the Braves.
Jose Quintana technically meets the criteria — he threw way more minor league innings with the Yankees (246) than he did with the Mets and White Sox combined (54) — so I guess we have to include him too. He'd be the staff ace. That said, the Yankees didn't sign Quintana as an amateur. They picked him up after the Mets released him years ago. Letting him go was clearly a mistake. So it goes.
Aside from them, you have spare part players like Ramon Flores and Phil Coke lying around. That's about it. Manny Banuelos keeps having elbow problems — he was recently shut down with more discomfort — so I'm not sure how you'd put him on the pitching staff. The left side of the infield is weak, but you've got a star in Cano, a legit big league outfield, a solid rotation, and a great bullpen. Not too shabby. That team wouldn't be a pushover.
Jeremy asks: I think it's pretty obvious that the Yankees "won" the Montero for Pineda deal since Jesus has only played badly when he's been on the field. But given his prospect value at the time, is Pineda the best we could've gotten for Montero? I'm just curious who else you think we might've been able to get for Jesus.
It's really tough to say. The Yankees offered Montero for Roy Halladay back in the day, and the Blue Jays said no, so he wasn't going to fetch a true ace. Here's a really quick look at the top pitchers age 25 and under in 2011, the season immediately prior to the Michael Pineda/Montero trade:
Clayton Kershaw (6.5 WAR): He had just won his first Cy Young. No chance at a trade.
Gio Gonzalez (4.3 WAR): Was traded to the Nationals that offseason. I think the A's would have seriously considered a Montero-led package. Gio had four years of team control remaining.
Matt Harrison (4.0 WAR): Harrison finally had a breakout year in 2011 and helped the Rangers get to the World Series. Not sure Texas goes for Montero with Mike Napoli at catcher, Mitch Moreland at first, and Michael Young at DH.
Jeremy Hellickson (3.8 WAR): I can't imagine the Rays would trade the reigning Rookie of the Year to a division rival.
After those four you have guys like Pineda, Jhoulys Chacin, Vance Worley, Jair Jurrjens, and Trevor Cahill, plus a bunch of others who were presumably off-limits (David Price, Felix Hernandez, Chris Sale, Jordan Zimmermann). Sees like Gio was the best case scenario.
Pineda was a really good haul for Montero. He had a fantastic rookie season — Pineda is still the only starter in history to post a 9.0+ K/9 and a sub-3.0 BB/9 as a rookie — and five years of team control remaining. Pineda got hurt and it sucks. That's baseball. The Yankees still managed to come out ahead in the trade.
Many asked: Would it be crazy to make Bryan Mitchell the fifth starter?
(This question — these questions really, since a few people asked — was sent in before Mitchell broke this toe, but I'm going to answer it anyway because I think it's a good one.)
I think it would be crazy. I like Mitchell a lot — there's a reason I had him as the team's No. 7 prospect coming into the season — but he still doesn't have a changeup and his command still isn't even average. That didn't change in Spring Training. As good as he looked in camp, I am not at all convinced Mitchell is ready to outperform CC Sabathia and Nova as starting pitchers right now. Let him start in the bullpen and force the issue, the old school way.
Chris asks: Do you guys think the Yankees are screwing up another prospect with Refsnyder just like they did Joba? Of course they are not the same beast but it appears the development of both has been grossly mishandled. Hey Rob, come to spring training and fight for a job…oh yeah, that job isn't second anymore it's third…oh yeah and you have to hit the snot out of the ball too.
I don't think there's anything wrong with asking a player to try another position when they're blocked at the MLB level, and Rob Refsnyder is indeed blocked by Starlin Castro. The Red Sox moved Mookie Betts from second base to center field because of Dustin Pedroia. Manny Machado moved to third because of J.J. Hardy. Daniel Murphy moved to second because of David Wright. Chase Headley, who has been a great defensive third baseman throughout his career, used to play left field in deference to Kevin friggin' Kouzmanoff. This stuff happens all the time.
At some point the onus falls on Refsnyder. The Yankees gave him a chance to make the team. Putting him at third base was about finding a way to get him on the roster, not screwing up his development. And yes, he had to hit in Spring Training. It's common for young players to be asked to perform before giving them a job. I'm not saying Refsnyder wasn't put in a difficult position. He was. But the Yankees asked Ronald Torreyes — who is a year and a half younger than Refsnyder, by the way — to do the same thing this spring and he did it, so he got the job.
Many asked: What about Nick Swisher?
I don't see where he fits. Not only has he hit .204/.291/.326 (75 wRC+) the last two years, but where would the Yankees play Swisher? He'd have to be the backup first baseman and fifth outfielder — a fifth outfielder with two bad knees at that — which is Dustin Ackley's job. Ackley is seven years younger, able to play second base, and probably the better hitter at this point as well. I guess the Yankees could stash Swisher in Triple-A as first base depth instead of Chris Parmelee, but eh. Swisher was awesome for the Yankees from 2009-12. Brian Cashman knocked it out of the park with that trade. I don't see any room for 35-year-old Nick Swisher on the 2016 Yankees though.
Josh asks: I saw your update that no news about Betances was good news about Betances, however I was wondering how his workload has been this spring and how it compared to last year? He got off to a slow start last year and some theorized that it was due to not having thrown enough innings during spring training. Did the Yankees run him out there more? Or is the mentality for late inning guys still in the Mo-Mold of six drive-by innings?
Here are Dellin Betances' official Grapefruit League inning totals over the last three years:
2014: 12.1
2015: 8.1
2016: 6.0
That does not include minor league game appearances, and who knows what those numbers are. (Dellin threw an inning in a minor league game earlier this week.) Betances is probably going to throw one more inning this spring — I'm guessing it'll be tonight, so then he has two days off before Opening Day — and finish the spring with eight innings when you count that one minor league game inning we know about.
So, anyway, that all means Dellin's workload this spring was basically the same as last year. He's getting the veteran treatment. Betances did change his offseason routine — he said he gave himself a few extra weeks to rest before throwing again — which may have helped him this spring. Whatever he's been doing this year, it's worked so far. No issues whatsoever with Betances this spring.
David asks: I had a question about streaming, the answer to which I cannot find anywhere. I know that the Yankees are supposed to be covered by MLB's new in-market streaming deal with FOX, but I haven't really seen any follow-up on that since November. Google is surprisingly unhelpful. Do we know for sure that this is happening? I've only been able to stream spring training games via MLB.tv, leading to my concern.
The in-market streaming is definitely happening, though it won't work the way I thought it would. I thought it would be as simple as paying for the service, authenticating your credentials, then firing up MLB.tv. Apparently it won't work that way. Maury Brown has some more details:
Those that have ditched their televisions in favor of going with just internet content will be in a lurch if they wish to take advantage of getting games in their local markets. Users will need get the games streamed through FOX Sports Go, or FOX distribution points online. Like the MLB All-Star Game, users will have to authenticate to show which FOX regional sports network is part of their TV carrier's package. Games will not be streamed as part of MLB.TV Premium, which includes the league's popular At Bat for mobile devices.
You will still need to subscribe to YES through your cable provider, though it doesn't seem as though there will be any additional fees. (A few years ago the Yankees on YES in-market streaming package was an extra $50.) So you'll subscribe to YES, sign into the FOX Sports Go app, then provide your cable provider details for authentication. I thought it would be built right into MLB.tv. Lame. Still better than nothing though. Hope that helps.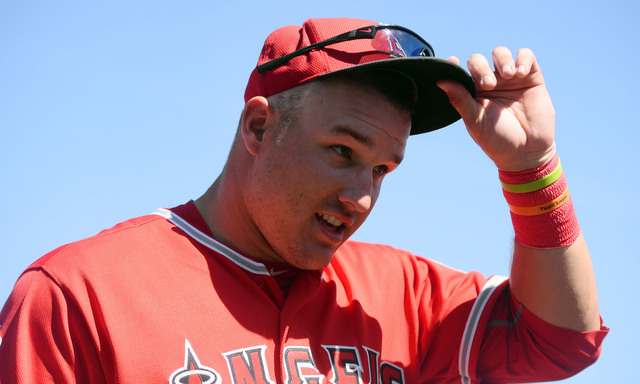 James asks: To my furthest knowledge teams are willing to play between 6-8 million a year per 1 win( going off war). So with that math: if mike trout were to hit free agency right now mathematically how much would he get?
These days it's closer to $8M per WAR, but that's the league average. Every team is different. One win is worth more to the Yankees given their spot on the playoff bubble than it is to, say, the Phillies. The Yankees might be willing to pay $12M for that one additional win. Anyway, assuming $8M per WAR and the fact Trout is only 24 and his worst big league season was +8 WAR, his true on-field value is north of $64M per year. It's probably closer to $80M. I could see him easily getting $40M per season if he were a free agent right now, maybe even $45M, but baseball is not at the point where a player is going to make $60M+ per season. I truly despise $/WAR analysis though. I understand the concept and it is important, but it's become such a lazy crutch. Wins have different values to different teams at different points in time.
Jonathan asks: I'm wondering if you, or any other Yankee fans are feeling a bit disenfranchised by the Yankees PR and moves this off season? From the stub hub elitist comments, to the Chapman trade (essentially taking advantage of the market value of a player due to a domestic violence case). However as a lifelong fan, it's not like I can just stop being a fan. But I can't say my morale with this team has me proud to be a fan. Just wondering if you, or any of the other die hards feel the same?
Oh yeah, I definitely feel the same way and I'm sure others do as well. I've made it clear I did not like the Aroldis Chapman trade because of the domestic violence incident. When someone allegedly chokes and pushes their girlfriend, and shoots a gun in their house, the reaction shouldn't be "how can this benefit us?" The StubHub thing was so ridiculous it almost felt intentional. Maybe it was part of some big social experiment or something. The fan experience at Yankee Stadium is pretty lame — why are the concessions so bad? even the new stuff they added this year is all gimmicky — and then you've got Hal Steinbrenner talking about his desire to cut payroll every chance he gets. It's hard to just stop being a fan, but man, the Yankees have been pretty terrible at fostering positive PR recently.
Sam asks: You brought up that Girardi has been the manager for 9 years now in your coach post, could you do a 25 man roster of the best players from those 9 years based on each player's best season?
A 25-man roster is a bit excessive. I'm going to pass on that. I will put together a roster of the best seasons at each position during the Joe Girardi era, however. I'm going to list two teams. The first team will be off the top of my head to see how the ol' memory is working. The second team will be listed by WAR, the boring way. Here are the teams:
Mike's Memory Team
WAR's Team
C
2009 Jorge Posada
2015 Brian McCann (2.8)
1B
2009 Mark Teixeira
 2009 Teixeira (5.3)
2B
2012 Robinson Cano
 2012 Cano (8.4)
SS
2009 Derek Jeter
 2009 Jeter (6.5)
3B
2009 Alex Rodriguez
 2008 A-Rod (6.8)
LF
2011 Brett Gardner
 2010 Gardner (7.3)
CF
2011 Curtis Granderson
 2011 Granderson (5.7)
RF
2012 Nick Swisher
 2012 Swisher (3.8)
DH
2009 Hideki Matsui
 2015 A-Rod (3.1)
SP
2011 CC Sabathia
2009 CC Sabathia
2008 Mike Mussina
2011 Sabathia (7.5)
2009 Sabathia (6.2)
2012 Hiroki Kuroda (5.5)
RP
2008 Mariano Rivera
2014 Dellin Betances
2015 Dellin Betances
2008 Rivera (4.8)
2011 David Robertson (4.0)
2014 & 2015 Dellin (both 3.7)
Hey, I did pretty good! I was way off on catcher — 2009 Posada is fifth behind two McCann seasons and two Russell Martin seasons by WAR — and I made the mistake of not picking the only year A-Rod played a full healthy season at third base under Girardi. I had the wrong year on Gardner. I thought 2010 was his big breakout year, not 2011. And no, I don't think Gardner was actually worth seven wins in 2011. WAR can be dumb like that.
I undersold Robertson's stellar 2011 season. It's easy to forget how insanely good he was that year. Mussina's 2008 season is the fourth best season by a starting pitcher under Girardi at +5.2 WAR, so I'm essentially correct. WAR's not precise enough to think there's a significant difference between +5.2 WAR and +5.5 WAR, no disrespect to Kuroda. Also, the difference between 2015 A-Rod and 2009 Matsui is only +0.4 WAR, so not big deal there.
Some other seasons worth highlighting (in no particular order): 2015 Andrew Miller, 2009 Andy Pettitte, 2009 Johnny Damon, 2012 Rafael Soriano, 2009 Phil Hughes, and 2008 Joba Chamberlain. Am I missing anyone obvious?