Ten questions in this week's mailbag, which means it's a small mailbag these days. Send us any questions through the "For The Mailbag" form in the sidebar. And yes, we know it doesn't look like the question goes through, but it absolutely does. I promise. We're working on that.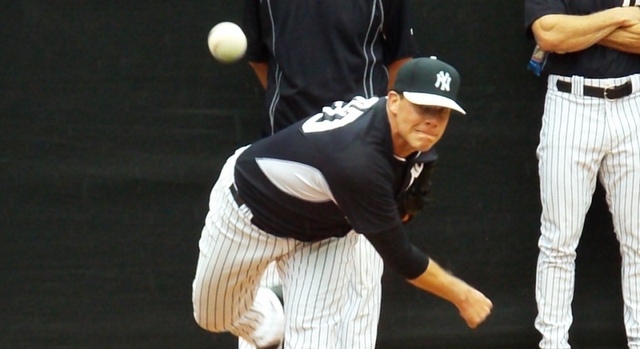 Marc asks: If healthy, do you see the Yankees making Andrew Bailey the closer, allowing Dellin Betances and Andrew Miller to mix-and-match the 7th and 8th?
I think it's possible but very unlikely. Bailey will not only have to show he's healthy, he'll also have to show he's effective, and that's not always a guarantee following shoulder capsule surgery. I don't think that's something he can prove in a handful of Spring Training innings either. If Bailey does take over as the closer at some point, it'll probably be a few weeks into the regular season. And the problem with that is Betances or Miller might have a firm hold on the job by then. Teams tend to not take guys out of the closer's role if they're dominating.
Ralph asks: If Mark Teixeira has a bounce back year, and stays healthy thru the balance of his contract, and Greg Bird takes the reins at first, could Teixeira be an "Ortiz-Like" option at DH for the Yankees, playing occasional 1st and being a mentor for Bird?
This is another "possible but unlikely" for me. Teixeira's contract is up in two years and so is Carlos Beltran's, but Alex Rodriguez will still have a year left on his contract and Brian McCann will need to see more time at DH by then. Maybe Brett Gardner and Jacoby Ellsbury too. The DH logjam isn't going to clear up anytime soon, so bringing Teixeira back in what amounts to the Garrett Jones role might not make sense. McCann might be the part-time first baseman/part-time DH/mentor by then. I just get the feeling that as soon as Teixeira's contract is up, the Yankees are going to move on.
Chris asks: Suppose Masahiro Tanaka manages to go to his opt-out season effectively. Knowing what we do about his elbow, does he opt out?
I think he would. Tanaka will only be 28 when he opts out (he turns 29 that offseason), and if he stays healthy between now and then, he'll be pretty damn good. A 28-year-old ace, even one with a questionable elbow, will be able to command (way) more than the three years and $66M he'd be passed up. Besides, if he stays healthy these next few years, the concerns about Tanaka's elbow won't be as great as they are right now. It'll be in the back of everyone's mind but the concern will naturally subside some if he goes the next three years without a problem.
Jordan asks: Listening to the first spring training game on MLB At-Bat, the Philly announcer said "I'm not so sure the Yankees will finish ahead of the Phillies (in the standings)." What would have to happen to the Yankees for such a season?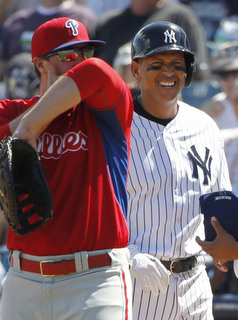 The projected standings at FanGraphs have the Yankees at 82 wins and the Phillies at 70 wins this year (the Phillies are projected to have three fewer wins then everyone else, actually), so somehow the Yankees would have to lose a dozen wins off the roster. Both Tanaka and Michael Pineda would have to get hurt and miss the entire season, and I think they'd also have to lose two of Ellsbury, Gardner, and Chase Headley as well. They'd have to lose four of their five best players to injury, basically. Based on ZiPS, losing Tanaka, Pineda, Ellsbury, and Headley for the year would be a loss of 12.5 wins, and we'd have to assume the will Yankees replace them with replacement level (or worse players). I think the Phillies are more likely to win fewer than 70 games than the Yankees are to win more than 82, but either way, I would be pretty surprised if the Phillies finished within even ten games of New York this year.
Ethan asks: Do you think the shift will naturally lose value in 10-15 years, as younger players will have been taught from the ground up the increased value of hitting to all fields?
No, I don't. The shift — specifically the idea of putting defenders where the hitter is most likely to hit the ball — is here to stay. Hitting to all fields isn't easy! The shift is similar to the curveball when it was first introduced. Did the curveball eventually lose value because hitters were taught to hit them? No! Because hitting curveballs is hard, just like hitting to all fields is hard. I am certain teams will emphasize hitting to all fields going forward — this really starts at the high school and college level, but MLB clubs have no control over that — but that doesn't mean an army of all-fields hitters will arrive in MLB in 10-15 years. There's only so much "gym work" that can be done to improve hitting to all fields. Ultimately it boils down to natural ability.
Jonathan asks: With ST in full swing could you maybe explain just what exactly "live batting practice" is? And how does it differ from "simulated games" pitchers throw?
Live batting practice is, simply put, batting practice. But instead of a pitching machine, a real pitcher pitches to the batter, usually telling him whether a fastball or breaking ball is coming. A simulated game has actual game situations. They keep track of balls and strikes, the number of outs, the runners on base, etc. Sometimes the pitcher will be expected to field his position as well. Live batting practice is just a pitcher pitching to a batter over and over, with no one keeping track of balls and strikes or anything like that. That explain it?
Joe asks: How is the competitive balance order determined? The Yankees got the 4th pick (30th overall) for losing David Robertson but the Rockies got 1st for Michael Cuddyer and Tigers 8th (34th overall) for losing Max Scherzer — is there any rhyme or reason on this? Thanks.
The two competitive balance rounds are selected via lottery for small market teams depending on market size and revenue sharing status. The supplemental first round is the one with compensation picks for free agents and that goes in reverse order of last year's standings. The Rockies had the worst record among teams to lose a qualified free agent so they received the first pick in the supplemental round for losing Cuddyer. The Orioles had the best record among those teams and thus received the last pick in the supplemental round for Nelson Cruz. Ten teams received a compensation pick this winter and the Yankees had the fourth worst record of those ten, so they got the fourth pick of the round. Here's the full draft order.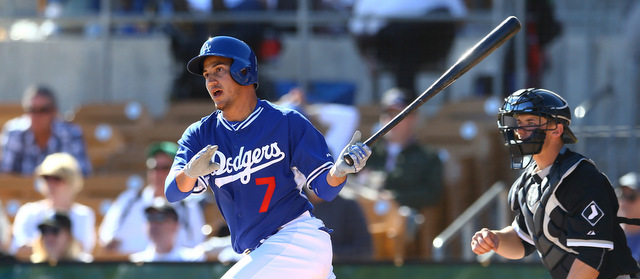 Dustin asks: Alex Guerrero refused to go to the minors for the Dodgers. I have zero clue if he is the player the Dodgers thought he would be. If the Dodgers trade him, should the Yankees be interested?
The Dodgers put a clause in Guerrero's contract allowing him to refuse to go to the minors this year and he's already made it known he won't go back to Triple-A. He's staying in MLB. The 28-year-old had a .329/.364/.613 (148 wRC+) batting line in 65 Triple-A games around having his ear bitten off by Miguel Olivo last summer — he went 1-for-13 with six strikeouts in his brief MLB cameo — but he's not expected to be anywhere close to that kind of hitter at the big league level. (Los Angeles' Triple-A affiliate was in Albuquerque last year and that's one of the best hitting environments in all of baseball.)
Baseball America ranked Guerrero as the team's 21st best prospect coming into the season in their 2015 Baseball Handbook and said "he's a pull-oriented hitter with holes in his swing" and "lacks the first step quickness for shortstop and has trouble at second base, where he has an average arm but lacks natural infield actions." There's also the issue of the three years and $21.5M left on his contract, which is really $32.25M to the Yankees due to the luxury tax. What are they supposed to do with an expensive utility infielder with holes in his swing and shaky defense? That's an easy pass for me. Stick with guys in house. Even Brendan Ryan.
Brian asks: It doesn't appear as though the Yankees have had an organizing principle over the last few years. Is there any evidence that the Yankees have had a consistent vision for the team? Or are they working year-to-year?
It sure seems like they're going year-to-year, doesn't it? I understand that plans have to be flexible, but the club has gone from trying to get under the $189M luxury tax threshold to spending huge to avoiding long-term deals the last three offseasons. As Joe has said, they went about the luxury tax thing all wrong. They tried to cram four or five years of work into two and it blew up in their faces. The response? Spend like crazy. And when that didn't work, they scaled back spending. I definitely think the Yankees are going to try to get under the luxury tax again in the near future — Hal Steinbrenner spent so much time talking about it that I can't imagine he's given up on the idea entirely — likely when the Collective Bargaining Agreement expires after 2016 and the threshold presumably goes up. The plan seems to be "stay competitive while moving towards getting under the luxury tax," except no one has any idea how to actually do that.
Michael asks: Assuming all the starting pitchers are healthy at the end of ST who is most likely to be the Opening Day starter?
Rumor has it Tanaka will make his Grapefruit League debut next Thursday, and if that's true, he'd be lined up to start Opening Day assuming he sticks to a normal five-day scheduled for the rest of camp. The Yankees have made it clear they want to ease him into things though, so I'm guessing Tanaka will get a few extra days of rest along the way. Either way, the Opening Day starter is not that big a deal. At least not as big as people make it. If everyone stays healthy, I wouldn't be surprised if Joe Girardi gives the ball to CC Sabathia to start the season because he's the grizzled vet, with Tanaka following in the second game and Pineda in the third. You could make a case any of those three deserve to start Opening Day, really.