Got 13 questions in the mailbag this week. That's a lot. Use the "For The Mailbag" form in the sidebar to send us questions at any time.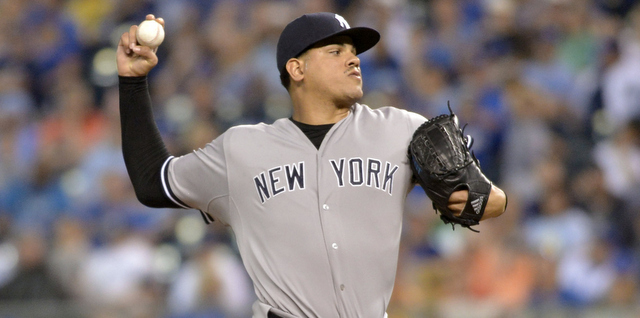 Jon asks: Is it possible that Dellin Betances is even better this year than last? I think most assumed that he was so historically good last year that he could not even repeat it.
It's possible, sure. We need to see the rest of the season play out — I love Dellin as much as anyone, but I doubt he'll maintain that 0.00 ERA and 0.0 HR/9 all season, especially considering his home park — but that's not an unfair question. Here's a real quick comparison of his 2014 and 2015 seasons:
| | ERA | FIP | K% | BB% | GB% | Whiff% | RHB woBA | LHB wOBA |
| --- | --- | --- | --- | --- | --- | --- | --- | --- |
| 2014 | 1.40 | 1.64 | 39.6% | 7.0% | 46.6% | 13.0% | .223 | .186 |
| 2015 | 0.00 | 1.24 | 42.3% | 11.3% | 48.9% | 14.6% | .198 | .090 |
The only drop there is in walk rate, so yeah, I guess we can say Betances has been better so far this year than he was last year. The important thing to me is that he got over his early season control issues and has shown he can sustain some semblance of last year's performance. That's pretty remarkable. Dellin had one of the best reliever seasons in history a year ago, and now he's doing it again.
Steve asks: Conspiracy Theory: The Yankees have every intention of paying A-Rod that $6M bonus from passing Willie Mays in April. They know that by refusing to pay A-Rod, they made him a sympathetic figure who the fans have (mostly) welcomed back. Had they just paid him, he would have been vilified.
That … is a conspiracy theory, that's for sure. If the plan all along was to pay the $6M, they would have marketed the hell out of the milestone homer to make as much money as possible. The Yankees are a for profit business, remember. They care more about making money than fans siding with A-Rod.
Jimbo asks: If the division wasn't so close, do you think we would see Rob Refsnyder by now? I'm honestly not expecting much from this team. I think it would be more fun watching the young kids playing up here at this point.
Everyone wants to watch young kids until they play like Didi Gregorius, amirite? Anyway, yeah I'm sure the team's handling of Refsnyder would be different if they were far out of the race. They'd have more incentive — and less to lose — to give another young player a shot. Personally, I'd much rather watch the Yankees stay in contention and try to win this year than give some young players a shot. Winning and watching meaningful games is way more fun.
Geno asks: If Didi put up a .250/.330/.375 each year, do you think the team is happy enough with that to keep his starting SS role for the rest of his team control?
I think they would take that, assuming his defensive brain farts come to an end at some point reasonably soon. I don't think that's a safe assumption, but let's roll with it. The league average shortstop is hitting .248/.300/.358 (82 wRC+) this season, so a .250/.330/.375 hitter would be solidly above-average for the position. If the defense doesn't come around, then no, the Yankees shouldn't be happy with that production from Gregorius. But if he settles in as even an average defender with that slash line, I think they'd be thrilled.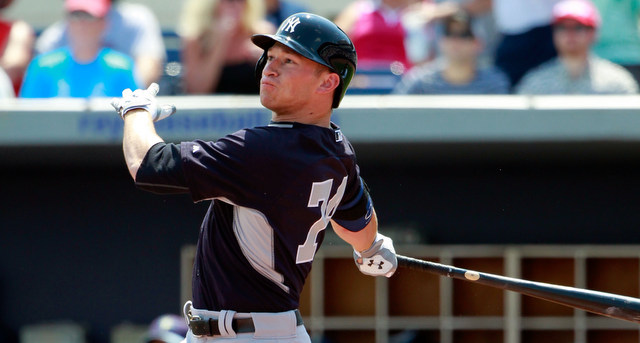 Michael asks: Should they Yankees trade Slade Heathcott while his value is high, considering his injury history and our other needs for the team?
I don't think it'll work like that. Other teams could have signed Heathcott this offseason and passed. I don't think the last two months have changed many minds about his long-term outlook, especially since tools and performance were never a question, it was health. If I was another team, I think the most I'd give up for Slade is a similar busted former top prospect trying to stick around.
That said, maybe a deal like that does make sense for the Yankees. They have plenty of outfielders at Triple-A and Double-A — if they trade Heathcott, they could simply call up Ramon Flores and put him in left with Brett Gardner in center — so perhaps there's an opportunity to flip Slade for a pitcher or a middle infielder. Something like that. I don't think his trade value has climbed significantly these last two months, but maybe there is an opportunity to use him to strengthen another part of the team.
Hank asks: Looking at the Brooks data on release points, Nathan Eovaldi's release point seems to vary quite a bit by pitch type (for example his horizontal release on his Curve is ~6″ different than his fastball). Could this be one of the reasons batters hit him so well – they can get a good idea of pitch type by his release point? Guys like Michael Pineda and CC Sabathia seem to have much tighter release points between pitch type.
Release points tend to be different for different pitches but not to that extreme. Six inches is a pretty big deal. Here are Eovaldi's release points from 2013-15. I prefer FanGraphs for these because their graphs are easier to read. Click the image for a larger view:

First of all, Eovaldi's overall release point has risen a few inches this year and is back to where it was in 2013, for whatever reason. That could be a PitchFX/ballpark issue — he's on a new mound and we don't have a big sample size, so little inconsistencies like this can happen.
You can see the difference in release points between his fastball (baby blue) and curveball (green), though Eovaldi has only thrown his curveball 11.5% of the time this year. The difference between his fastball and slider (purple) might be more relevant since those are his two main pitches. (He throws his fastball 54.6% of the time and his slider 27.0% of the time.) There's a difference in release point there, not a huge one, but a difference nonetheless, and perhaps that plays a role in his hittability. Hitters might be reading the pitch out of his hand because of the different release points. We can't say that for certain, but it could definitely be a factor. Nice catch.
Steve asks: With the middle relief looking not all that hot lately, would taking a flier on Rafael Soriano make sense?
Yeah I think so. Assuming he comes really cheap — what's he looking at now, one year and $2M if he's lucky? — it's never a bad idea to add a veteran end-game reliever, especially with David Carpenter showing no signs of coming around. I don't think this is a "they need to sign him today!" situation, the Yankees do have bullpen depth, but if MFIKY will sign cheap and is okay being (at best) the seventh inning guy, why not? He's not the Soriano we saw a few years ago, he has declined some, but it would be so low risk. If he blows up, big deal. The Yankees would be right back where they started.
Bob asks: Things seem bleak right now, but can anything really compare to 1965 in terms of a Yankee team falling off a cliff? World Series to last place in one year, and with a reasonably good looking roster? I realize most RAB readers are too young to remember those days, but that seems to be the team one needs to refer to when perspective is needed. Thoughts?
This was sent in when the Yankees were in the middle of that whole ten losses in eleven games mess, as you can tell from the tone of Bob's question. Here are five largest winning percentage decreases from one year to the next in team history:
| Seasons | Win% Drop | Notes |
| --- | --- | --- |
| 1924-25 | 0.138 | 89 wins, 2nd place to 69 wins, 7th place |
| 1964-65 | 0.136 | 99 wins, lost WS to 77 wins, 6th place |
| 1939-40 | 0.131 | 106 wins, won WS to 88 wins, 3rd place |
| 1998-99 | 0.099 | Best team ever to 97 wins, won WS (lol) |
| 1943-44 | 0.097 | 98 wins, won WS to 83 wins, 3rd place |
I wasn't around back then but yeah, the drop from 1964-65 is often cited as the worst year-to-year collapse in franchise history. The Yankees won 17 pennants and ten World Series titles from 1947-64, and still had Mickey Mantle, Whitey Ford, Roger Maris, and others in 1965. They suddenly got bad and stayed bad — they didn't return to the postseason until 1976. They were bad for a while. Legitimately bad. The Yankees nowadays are just mediocre.
Since I have the spreadsheet open, the best year-to-year improvement in team history was 1925-26, so the worst winning percentage drop in Yankees history was followed immediately by the biggest improvement (+0.143). The second biggest improvement? That would be 1926-27, the following season (+0.123). Here's the team's win total from 1921-28: 98, 94, 98, 89, 69, 91, 110, 101. One of those things is not like the others.
Mitch asks: Isn't Ryan Braun a good a trade target? The Yankees need a middle of the order bat, they have the money to eat most of the contract, and they have the prospect depth to make a trade. Obviously he's an injury concern, but so is the entire team. What would it take to get him?
Braun is hitting again (12 HR and 132 wRC+) this year, probably because he finally had the nerve issue in his thumb surgically repaired this past offseason after playing with it for nearly two years. He's not back to where he was in his prime, but he's still productive. That said, Braun's contract is the kind of contract I think the Yankees need to avoid. He'll turn 32 in November and his six-year, $105M extension doesn't kick in until next year. He's got negative defensive value and it's hard to think his production will do anything but go down from here on out. I don't even know where the Yankees would play Braun at this point. Play him in left field until Jacoby Ellsbury returns and then what? The Yankees could use another bat, sure, but I don't think taking on six and a half years of 31-year-old Ryan Braun is the answer either. That's the kind of move that put the team where they are today.
Jim asks: Thoughts on this statement: David Wright is Don Mattingly.
Interesting! Both bonafide homegrown stars in New York whose best chance to be a major piece of a contending club came early in their careers. Mattingly's career was sabotaged by back problems, and now Wright is going through something similar with his back trouble. And Mattingly had been relegated to complementary player status by time the Yankees were ready to win again. The same may be true with Wright. Thus far the middle of Wright's career has been more productive than Mattingly's:
Source: FanGraphs — David Wright, Don Mattingly
Wright found that second gear for another few years at age 28 while Mattingly petered out. Depending on the severity of his back problems, the end of Wright's career may be more productive than the end of Mattingly's. There are definitely similarities though. They were both on the Hall of Fame track before injuries set in and ruined things.
Quintin asks: What level of prospect would Betances return in a trade? This is just a hypothetical question.
I'm not even sure. Guys like Betances — an elite reliever with four and a half years of team control remaining — never get traded. Craig Kimbrel was traded with four years of control remaining and he netted a top pitching prospect (Matt Wisler) and an interesting secondary prospect (Jordan Paroubeck). That's about the only similar trade we can reference. (The Melvin Upton for Cameron Maybin/Carlos Quentin part of the trade was basically a two-way salary dump.) Kimbrel had a longer track record than Betances but was also substantially more expensive during those four years of control. I'm not sure how to value Dellin in a trade. Highly, obviously, but how highly?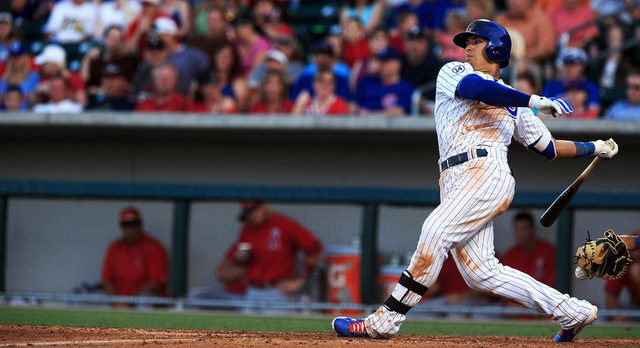 Mark asks: Would Luis Severino be enough to swap with the Cubs for Javier Baez?
I don't think so. I'd want more if I was the Cubs. Severino is a really good pitching prospect, but he's not elite, and several other clubs could match or exceed that offer. (Ahem, Mets.) Baez really struggled in his MLB debut last year, I mean really struggled (51 wRC+ and 41.5 K%), but he's only 22 and has elite bat speed/power potential. The tools are off the charts. Baez does have more bust potential than the typical high-end prospect because he has no plate discipline, sure, but is it higher than that of a young pitcher who generates most of his mid-90s velocity with his arm? The Cubs are probably thinking more along the lines of Noah Syndergaard for Baez. That seems more appropriate.
Alex asks: Thoughts on the Yankees making a play for Arismendy Alcantara? He's pretty clearly extraneous on the Cubs and seems to have a pretty dynamic bat despite the high K totals.
I like Alcantara. He's one of those players I just like for no reason in particular. He's another guy like Baez who has really struggled during his brief time as a big leaguer (63 wRC+ and 31.3 K%), but he's consistently hit in the minors and has both some power and a lot of speed. Alcantara is only 23 and he can play almost anywhere — he's played all over the infield and outfield in his career. Severino for Alcantara is more realistic than Severino for Baez, though I'm not sure I'd do that if I was the Yankees.