Got eleven questions for you in this week's mailbag and some of the answers are longer than usual. Please use the "For The Mailbag" form in the sidebar to send us any questions. I know the form sucks, there's no confirmation message or anything like that, but trust me, your questions go through.
Many asked: What about Josh Hamilton?
Lots of questions about Hamilton this week for whatever reason, so I'll try to cover all the bases. First, no I don't think the Yankees should look into trading for Hamilton even though the Angels are so clearly down on him. A contract like that — big bucks for a player in his mid-30s who is already declining and has injury issues — is exactly the kind of contract the Yankees need to avoid. Hamilton is owed $90.2M (!) through 2017. Nope.
Second, if the Angels release Hamilton, it's a different story. They'd be on the hook for all that money and the Yankees or any other team could sign him for the pro-rated portion of the league minimum. The Yankees don't need another left-handed hitting outfielder/DH type, so he doesn't make sense for the roster, but, in a vacuum, the idea of going after Hamilton in that case is fine. The Angels have treated him like crap and the Yankees won't do that. They didn't even treat Alex Rodriguez as poorly as the Angels have treated Hamilton.
Third, I actually wouldn't trade A-Rod for Hamilton right now. Forget about A-Rod's hot start. We've got two declining players with off-the-field baggage (Hamilton's is much more severe) signed through 2017, except one is owed $64M and the other is owed $90.2M. Alex is also a better fit for the roster as a righty hitting corner infielder. There are very few players in MLB who I wouldn't take in a trade for A-Rod. Hamilton is one of them. Make no mistake, the Yankees want A-Rod gone, but not enough to take on Hamilton's contract.
Jamie asks: Chris Young might not be an everyday caliber player, but would he be an everyday upgrade over Carlos Beltran? Or is best situation platooning them? (Assuming Beltran coming back to life is an impossibility!)
Well if Beltran coming back is an impossibility, then Young is definitely the better everyday option. In reality, a Young/Beltran platoon is probably the best short-term option, and I would be surprised if the Yankees committed to that. At least right now, maybe later in the season if Beltran doesn't start hitting. A Ramon Flores/Young platoon could probably out-produce Beltran at the moment, especially if we count defense, though the club owes Beltran a lot of money and they aren't prone to knee-jerk moves. Look how long Vernon Wells, Alfonso Soriano, and Brian Roberts lasted in recent years.
Aaron asks: Obviously this is a little ways off, but could you see Aaron Judge, Greg Bird, Gary Sanchez, and Luis Severino forming a new Core Four? Assuming they all stay in the Yankees system of course.
No. Let's stop it with the next Core Four stuff. It's never happening again. We're talking about two no-doubt Hall of Famers and two borderline Hall of Famers (and a third borderline Hall of Famer!) all coming up with one team at the same time and spending nearly two decades playing together. That's an impossible scenario to replicate. Let's just let Judge, Bird, and whoever else be themselves. I strongly feel the "next ______" line of thinking is tired. These guys are all human beings and they're all unique. Just let their careers play out without worrying whose shoes they will fill.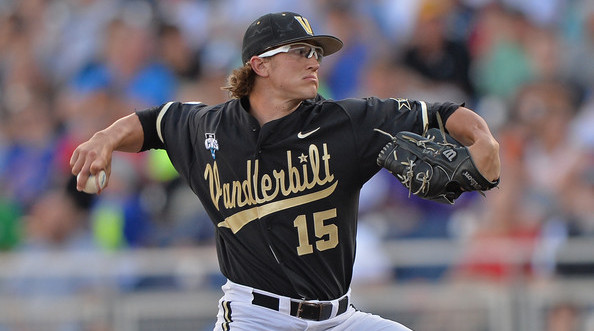 Bob asks: Seeing the numbers Vanderbilt players Dansby Swanson and Carson Fulmer are putting up is there any chance the Yankees could get one of those players at the 16th pick?
No on Swanson, yes on Fulmer. Swanson is the best all-around college position player in the draft (he's hitting .354/.455/.628 this spring) and a true shortstop — he's playing short now but played second as a freshman and sophomore in deference to Vince Conde, who the Yankees selected in the ninth round last year — and guys like that tend to come off the board very early. Swanson is a projected top ten pick right now and I wouldn't be surprised one bit if he comes off the board in the top five.
Fulmer came into the spring as more of a mid-to-late first rounder, but he's climbed draft boards these last few weeks because he's been untouchable (1.69 ERA and 90/24 K/BB in 64 IP). Fulmer is a short righty (listed at 5-foot-11) and there's still a bias against short righties throughout baseball, which may work against him come draft day. Either way, he sits mid-90s with a power breaking ball and off-the-charts competitiveness. Fulmer is far more likely to be available when the Yankees pick 16th overall than Swanson, though I would be shocked if Fulmer is still on the board by time their second pick comes around (30th).
JonS asks: Why are relievers so volatile compared to starters?
Lots of reasons. First and foremost, they inherently work in small sample sizes, so if a guy struggles for a few weeks at some point, there won't always be enough time to even things out. Think about all the guys who have a brutal outing early in April — say, six runs in an inning — and are still trying to work it off their ERA in August. Clubs are quick to pull the trigger and replace a struggling reliever too. Just about all relievers are pitchers who couldn't start for one reason or another. Injuries, bad command, herky jerky delivery, lack of a third pitch, stuff like that forces them out of the rotation and are reasons why relievers tend to be unpredictable — they all have some kind of serious flaw to start with.
Mark asks: As a swap of ugly contracts, would you trade Beltran for Omar Infante? Garbage for more versatile garbage.
No. Beltran is owed more money but is under contract one fewer year — the Yankees owe him $30M through next season while the Royals owe Infante a total of $25.75M through 2018. I'd rather just get rid of the dead weight sooner. Infante's versatility doesn't really exist anymore either. He's been a full-time second baseman since 2011. The last time he did the super-utility player thing everyone seems to love was 2010, when he was 28 years old. He's now 33, can't hit (75 wRC+ since the start of last year), and has lingering back and shoulder issues. I'd probably do the deal if the contracts were equal length. But yeah, I just want the awful contracts gone as soon as possible. I'm not sure how Beltran for Infante helps the Yankees aside from saving $5M spread across three years.
Joe asks: But seriously, IF A-Rod continues to hit like this and the Yanks make the playoffs, what are the chances he wins MVP? (My dream BTW)
I don't think he would get enough support, so very small. Let's say … 2%. It's hard enough for a Yankees player to win a major award as it is — a Yankee needs a monster season far better than anyone else to win an award (think 2007 A-Rod), been that way for a few decades now — and I'm not sure A-Rod is capable of doing that at this point. He's been awesome! But it was hard for peak Alex to win an MVP in pinstripes. Voters have shown they generally won't support players suspended for PED ties for awards as well. Look at Melky Cabrera in 2012. He absolutely deserved MVP votes but didn't get a single one.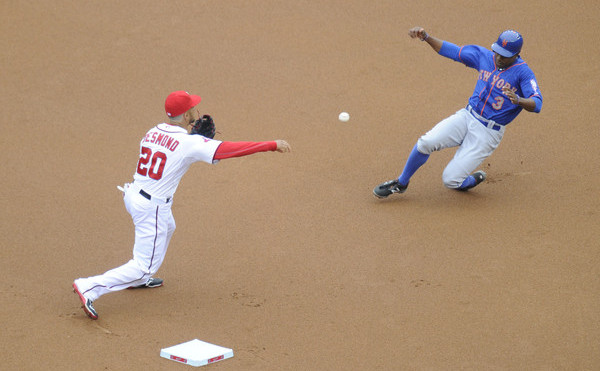 Anonymous asks: In the event Didi Gregorius completely falls on his face this year do the Yankees sign Ian Desmond? I'm very scared of his defense, more so that Didi's offense and mental errors.
That would be the ultimate "if the Boss was alive!" move, wouldn't it? Young player flops, replace him with the biggest available name. Desmond's off to a strong start at the plate (122 wRC+) but he's been a total disaster in the field. Errors are far from the best way to evaluate defense but his MLB leading eight errors do accurately represent his terrible play. Desmond hasn't been able to make routine plays — he's pulled the first baseman off the bag with throws, booted grounders, the works. Routine plays a Triple-A caliber shortstop needs to make. Desmond turns 30 in September so he's not old, but he's not going to be a shortstop much longer and his swing-and-miss tendencies have gradually gotten worse the last few years, which is a red flag. If the Yankees decide to replace Didi this offseason, I'd hope they'd steer clear of a huge contract for Desmond. That's not something they need right now.
Tom asks: Do you think if Ivan Nova and Chris Capuano come back healthy and somewhat effective it would be smart for the Yanks to maybe trade Adam Warren + Justin Wilson + another minor piece for offensive help or even prospects? They can call up Jacob Lindgren and will still have 6 big league SP's. What do you think that package can net?
I'm inclined to say keep the pitching depth, especially since Masahiro Tanaka and CC Sabathia are hardly guaranteed to make it through this season (or next!) in one piece. But, if they did look to trade Warren and Wilson for an upgrade elsewhere, I don't think they would get a ton in return. We know what Wilson is worth on the trade market: Frankie Cervelli. An oft-injured yet sorta interesting part-time player with two years of control remaining.
I try to find similar players when gauging a player's trade value but Warren is tough because he has four years of team control remaining (counting 2015) and is a starter now after spending two years in the bullpen. Cesar Ramos kinda works but he was traded in a salary dump — the Rays took a bad control Double-A reliever in return for shedding his $1.3M salary. Maybe Tyson Ross? He was similar to Warren before his career took off with the Padres, and all he netted the A's was a utility infielder (Andy Parrino) and a Triple-A depth arm (Andrew Werner).
A Warren plus Wilson package might net the Yankees something useful, but if you're hoping they can get a top prospect or someone they could plug into their MLB lineup right away, you'll probably be disappointed. Wilson and Warren are solid big leaguers but not stars, and many teams have players just like them in the organization. If the Yankees throw in a prospect, it might be worthwhile. Me? I say hang on to the depth.
Ian asks: I'm confused a bit by some of your analysis. On the one hand, you suggest that by not spending money the Yankees are negating their primary advantage. In the same chat you say they can't keep overpaying for veterans. What gives? Moreover, if the Yankees do reset the luxury tax, they aren't only saving money for themselves, but they are giving much much less money to other teams. Who are, after all, their competition. Thoughts?
I probably haven't been clear enough. I absolutely think the Yankees should pay high salaries and have a top payroll. They're in the biggest market in the game with a brand new stadium and their own television network. They print money. I understand the benefits of getting under the luxury tax threshold — in addition to resetting the tax rate, the Yankees would also be eligible for a revenue sharing rebate — but cutting payroll to get under the threshold doesn't sit well with me at all.
That said, they have to spend smarter, specifically by steering clear of super long contracts that buy decline years in bulk. The years are the problem, not the dollars. Players don't age differently just because you give them more money. These contracts limit flexibility and leave the Yankees with a bunch of unproductive players in their late-30s. Remember this past offseason, when it was reported the Yankees were willing to tack on the fourth year to get Andrew Miller and Chase Headley as long as the average annual value of the contract was lower? That's completely backwards to me. The Yankees should be willing to pay a higher annual salary in order to keep the contract shorter. They shouldn't use their financial might to absorb decline years. They should use it to avoid them.
Andrew asks: With Lucius Fox just being declared a FA and free to sign, should Yanks be all over him? 18 y.o. SS who probably would be a top 50 pick in the draft.
Fox, who shares a name with Morgan Freeman's character in the various Batman movies, has a bit of a weird backstory. He was born in the Bahamas, attended high school in Florida (and did the whole high school draft showcase thing), then moved back to the Bahamas. There was some debate over whether he would be draft-eligible or considered an international free agent. MLB chose the latter and recently declared him a free agent, according to Kiley McDaniel.
McDaniel called Fox a "plus plus runner … (who) now projects to stick at shortstop with feel to hit from both sides of the plate," and says he would have been a projected top 50 pick had he been draft-eligible. McDaniel also says Fox may not sign until after July 2nd, which means the Yankees would only be able to offer him $300,000 as part of the penalties for last summer's international spending. In general, my stance is this: quality middle infielders are very hard to find, so any time the Yankees can scoop up a good middle infield prospect for nothing but cash, they should absolutely break out the checkbook. This is where they should go the extra mile, not for 37-year-old DHs.