I've got 13 questions in the mailbag this week. Use the RABmailbag (at) gmail (dot) com email address to send us anything throughout the week. Also, the shorter the question, the better.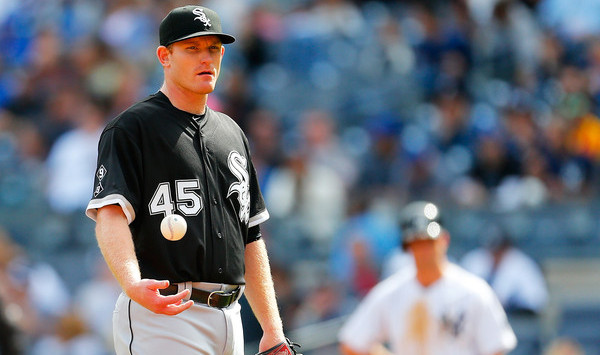 Stephen asks: What about a trade for Erik Johnson of the White Sox?
(This is the short version of Stephen's question.)
I like the idea of Johnson as a trade target. He had some shoulder trouble in 2014 and was dreadful, pitching to a 6.73 ERA (5.19 FIP) in 105.2 Triple-A innings. Johnson was healthy last season though, and he had a 2.37 ERA (2.57 FIP) in 132.2 Triple-A innings. (He spoke to Tom Verducci about his mechanical improvements.)
Johnson just turned 26 and PitchFX clocked him at 91.3 mph during his September call-up, up from 89.6 mph during his limited MLB time in early 2014. He also throws a slider and a changeup, and sometimes a curveball. Here's some video:
Johnson still has six years of control remaining, which is nice. He is currently penciled in as Chicago's fifth starter and they have close to zero rotation depth, so they might not be too keen on trading him.
Stephen mentioned Brett Gardner and Ivan Nova for Johnson, which would give the ChiSox a replacement starter and the outfielder they seem to be craving. Two potential problems: 1) Nova kinda sucks, and 2) they seem to want a big outfield bat because Adam Eaton already fills the speedy leadoff role. Johnson's a nice target. I'm not sure if the Yankees match up well with the White Sox though.
Bob asks: Would it make sense for the Yankees to use Jorge Mateo as their September pinch-runner in 2016? Is there any way the Yankees can use him without giving up team control?
(That's the short version of Bob's question.)
Mateo would pick up a month of service time if the Yankees called him up to be their pinch-runner in September. They wouldn't lose a full year of team control. Mateo will be Rule 5 Draft eligible next offseason, so the Yankees could call him in September and it wouldn't complicate the 40-man roster situation. If Mateo was not Rule 5 Draft eligible, I don't think the Yankees would call him up because they wouldn't want to put him on the 40-man before they have to. One month of service time is generally no big deal. It doesn't change his arbitration or free agency timetable at all.
Gene asks: Should the Yankees manipulate service time for Sanchez? How many days would he have to stay down to gain an extra year of control?
I think there's a good argument to be made they should. They could certainly justify sending Gary Sanchez down to Triple-A for a few weeks to work on his defense. Sanchez picked up 23 days of service time last year — he wasn't called up right away in September because of a minor hamstring injury — so add 12 days to that, and the Yankees would need to keep him down for 35 days to delay free agency. They'd have to send him down for about four months to avoid Super Two.
Sending Sanchez down for five or six weeks might not be a bad idea. He'd get a little more time to work on his defense and the Yankees would pick up an extra year of control. Realistically, how much big league playing time would Sanchez get in those six weeks? Six, seven starts? All the early-season off-days would make it easy to keep Brian McCann in the lineup.
David asks: Can you explain options. With the Yankees considering a revolving 25th roster spot how does options work? Each time you are called up and subsequently sent down is considered an option or each year you are called up is considered an option (thus you can be sent up and down as many times as the team wants that year).
Players use one option per year. They can go up and down as many times as the team wants in each individual season while using the only one minor league option. Each player gets three option years, though some qualify for a fourth under certain circumstances that seem to change all the time. (I still have no idea why Dellin Betances qualified for a fourth option.) Once the player burns his three option years, he has to clear waivers to go to the minors.
Sam asks: What do you think every starting shortstop in the AL East would get in the open market if they were free agents this offseason?
That's a fun question. Here are my best guesses:
Xander Bogaerts, age 23: Ten years, $180M. Had a great year in 2015 and looks like he has room to get even better. He doesn't have a long track record though, which is why I think he would fall short of $200M.
Troy Tulowitzki, age 31: Five years, $100M. There's five years and $98M left on his current contract and I think he'd get a tiny bit more than that. He's still very good and plays a premium position, but man, those injuries.
Didi Gregorius, age 25: Six years, $72M. That's $12M per season. Maybe that's high, but I think Didi's age and defense will get him paid. Look at what it took to get Andrelton Simmons in a trade.
Brad Miller, age 26: Four years, $32M. Roughly the Omar Infante contract. Miller has shown signs of being an above-average hitter, but his defense is really shaky. He might not be a shortstop much longer.
J.J. Hardy, age 33: Two years, $20M. Hardy was hurt and awful last season (49 wRC+), and it could be a sign his days as an above-average player are over. He hasn't topped a 100 wRC+ since 2011.
Do those seem even remotely correct? Guesstimating contracts for players as young as Bogaerts and Gregorius is really tough. Guys never hit free agency at that age so it's hard to get a feel for how teams value them. Perhaps Bogaerts could get $200M+ despite the lack of track record. Maybe $72M is way too much for Didi.
Ruby asks: If Gary Sanchez proves himself to be an MLB ready catcher this year, do you see the Yanks trying to shop McCann next offseason (possibly in a package for a controllable pitcher), in order to try and get under the luxury tax a year earlier while also accelerating their on the fly rebuild?
They could try, but I don't think there will be a huge market for soon-to-be 33-year-old catcher making $17M a year. Plus he has a full no-trade clause. I think McCann is worth keeping around though. He'd allow them to gradually ease Sanchez into the starting role, and besides, McCann is still one of the most productive catchers in the game despite no longer being he hitter he once was. Mark Teixeira and Carlos Beltran will be gone next winter and Alex Rodriguez the winter after that. There will be more DH at-bats available to McCann down the road. I think keeping a quality catcher around is a good idea.
Pounder asks: Would the Yanks consider trading for the recently signed Hellickson (by the Phillies)? A package of Nova, Refsnyder and some decent minor leaguers seems like a fair deal.
I don't think so. The Phillies acquired Jeremy Hellickson for close to nothing in what amounted to a salary dump trade earlier this offseason because they needed someone to eat innings. Hellickson will be a free agent next offseason and he's still relatively young (28), so there's a chance he rebounds. It's been three years since he had an ERA under 4.50 though. The guy had a 4.86 ERA (4.29 FIP) in 383.2 innings from 2013-15 and has dealt with elbow problems. Nova had a 4.25 ERA (4.27 FIP) in 254 innings from 2013-15. I think I'd rather stick with Nova, and I definitely wouldn't give up Rob Refsnyder for one year of Hellickson, nevermind kick in other pieces. The Hellickson of 2011-12 is long gone.
Bill asks: Slade Heathcott has persevered as a player and person. I think he has all the tools, if he could stay healthy. What would you think about trading Gardner for a pitcher, and giving Slade a chance to play everyday?
I love Slade, he's awesome and he's dealt with a ton of adversity, but I don't think playing him everyday would work out well for the Yankees. There's no reason to think he can stay healthy for an extended period of time. And besides, even when he was healthy last year, he hit .267/.315/.343 (90 wRC+) in 271 Triple-A plate appearances. The Yankees have plenty of upper level outfielders and can afford to trade Gardner, though I'd rather see Aaron Hicks play everyday before Slade. Maybe even Mason Williams and Ben Gamel too.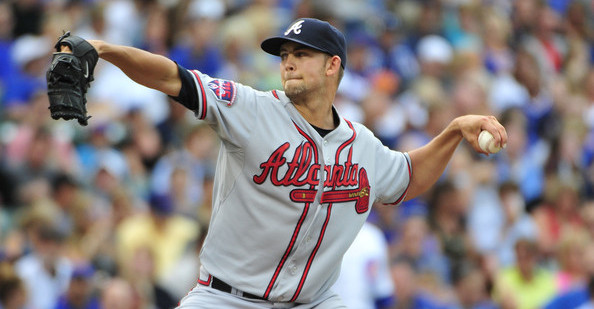 P.J. asks: Of either Cliff Lee or Mike Minor as possible options from the rehabbing bin who would be a better option for the Yankees? Lee who has a better performance history and is a lefty OR Minor who is considerably younger and also a lefty. Of course I'm assuming Lee would cost more. Or neither.
Whichever one is healthier would be the better option. Lee hasn't pitched since July 2014 due to a flexor issue in his elbow that is apparently fully healed. Minor hasn't pitched since September 2014 due to shoulder surgery, and I haven't seen any updates on his progress at all. For whatever reason young Braves pitchers all seem to break down after two or three seasons (Minor, Kris Medlen, Brandon Beachy, even Alex Wood is showing signs of decline). Minor's younger than Lee and would remain under team control as an arbitration-eligible player in 2017, but what good is that if his shoulder is mush? Look over the medicals, sign whoever looks healthiest and most ready to help.
Forrest asks: Hi all, my question is, why don't more teams structure long term deals front loaded? That way when the inevitable decline phase happens the players salary will be more palatable and will also give the team more flexibility to trade the player in the future.
There are a few reasons. For starters, a dollar now is worth more than a dollar later. Blame inflation. Teams want to push the money off as long as possible. There's also the flexibility aspect. Back-loading the contract leaves more dollars to improve the roster today. I am certain some GMs have signed players to long-term deals under the assumption they won't be around when the deal turns ugly. Heck, that might true of some owners. Not to be morbid, but do you think 90-year-old Ted Lerner cares Max Scherzer will be paid $15M a year from 2022-28? Probably not. Also, I think players would like to earn a little more money each passing year. That's human nature, wanting a raise and knowing you're going to make more in five years than you do right now. There have been some front-loaded contracts — A-Rod's current deal was front-loaded, for example — but most are still back-loaded for these reasons.
Paul asks: In the past few years we've seen statistics both for hitters and pitchers around hard/soft (and medium) contact. Is that subjective (some guy @ each game stuck labeling each struck ball) or objective (perhaps using hitfx with some MPH groupings)? Also, what are the league averages on these numbers? Thanks.
The soft and hard contact rates at FanGraphs come from Baseball Info Solutions, and it is subjective data. There's a human stringer watching the game and classifying each batted ball as soft, medium, or hard. So yes, there's some scorer bias involved. The league averages in 2015 are right here. Batted ball velocity is now available through Statcast but even raw mph doesn't tell us everything — hit a ball 100 mph at a certain angle and it's a pop-up to short. I prefer the general soft/medium/hard BIS data to exit velocity at the moment. We still have some work to do before we fully understand exit velocity.
UPDATE: I'm wrong. BIS batted ball data is now automated. Here's the info. Long story short, the hang time, landing spot, and batted ball type are recorded, and an algorithm determines whether determines soft, medium, or hard contact.
Michael asks: What would it take to reacquire Solarte for the last spot on the bench? Would it be worth the cost?
Yeah he'd make sense. He's a switch-hitter who can backup third base and also fill-in at first and second, like he did last year with the Padres. Yangervis Solarte's unique because he wasn't a top prospect and he's not super young (turns 29 in July), but he has four years of control and has been rather useful the last two seasons. The Padres will surely market him as a starting player — he's now their starting third baseman — though he would only be a bench guy for the Yankees. Refsnyder and a lower level arm, say Domingo German, for Solarte? That's about as high as I'd go.
Chris asks: Kyle Parker was just DFA'd by the Rockies. Any chance the recently acquired Jason Lane is designated for assignment for a claim?
Lane Adams! Not Jason Lane. Jason Lane is a pitcher now. Parker has name value as a former first round pick and high-profile college football player, but he hit .280/.326/.431 (100 wRC+) with a 26.3% strikeout rate in Triple-A last season, and he seems to have hit the wall a lot of two-sport guys hit in Triple-A. Parker has an option left, so if they swap out Adams for Parker, fine. I don't think either player has much to offer as the MLB level.