Got a dozen questions in the mailbag this week. Remember to use the "For The Mailbag" form in the sidebar to send us questions, comments, links, whatever.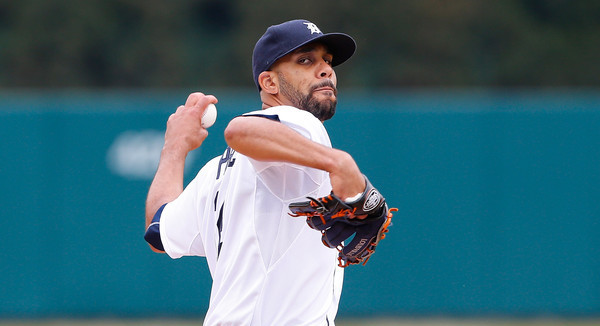 Christian asks: What are the chances that Detroit will trade David Price, and what will a rental cost in terms of prospects?
I think the chances are extremely small. They're good enough to hang around the wildcard race the next few weeks at the very least, even without Miguel Cabrera. The trade deadline is only three weeks away, remember. They'd have to tank real hard to consider selling by July 31st. (Or even trade Price in an August waiver deal.) I have a hard time thinking that will happen.
But, just for fun, let's say the Tigers do decide to sell before the trade deadline. Price should cost as much as Johnny Cueto, right? They're both rentals aces, after all. Maybe Price costs more because he's never had any injury problems (Cueto missed a bunch of time with a series of lat strains a few years ago) and has shown he can pitch in the AL. I don't doubt Cueto can pitch in the AL as well, but Price has … clears throat … Proven It.
The Tigers would probably want MLB ready pieces in return for Price. Not prospects. They are going to try to win next year. No doubt about it. They don't have a choice but to go for it, really. Jon Lester (and Jonny Gomes) was traded for Yoenis Cespedes last year, so I guess that's the going rate for a rental ace. Nathan Eovaldi and Mason Williams for Price? The Tigers probably say no to that.
CanGuest asks: Regarding Luis Severino, does his success at Triple-A change your mind about his long term viability as a major league starter? Also, I've heard a lot about how he doesn't use his lower half well in his delivery. Should the Yankees (or another team, if he is traded) try and alter his delivery and risk messing with his results, or leave him how he is?
No, his Triple-A success doesn't change anything for me. Severino has three quality pitches and good (but not great right now) command, which is more than enough to start. I think he could be a very good starter in fact, and that was the case before he got to Triple-A. As for his mechanics, I wouldn't change anything until absolutely necessary. There have been plenty of guys who had ugly deliveries that scouts didn't like who held up long-term. Look at Tim Lincecum. He's the perfect example. Let Severino do what he does until something has to change.
Mark asks: If you say the Yankees won't take CC Sabathia out of the rotation, what happens if they do make the playoffs? Is there a chance they leave him off the roster, or do we finally get to see him as a LOOGY? Or worse yet, do we see him starting a game after he continues to pitch this badly?
We're a long way from worrying where Sabathia fits into the postseason roster. That said, should the Yankees make it, there's no possible way they could give him a start over Eovaldi or Ivan Nova (assuming Michael Pineda and Masahiro Tanaka start the first two games in whatever order.). The postseason is no time for being sentimental and trying to squeeze value out of his contract.
Given who's in the bullpen, I'd say Sabathia should be left off the postseason roster entirely. Now, what will the Yankees do? Probably start him in Game Three with Nova in Game Four and Eovaldi in the bullpen. What they should do and what they will do don't always line up. Like I said though, long time to go before anyone has to think about this seriously. Sabathia's status on the postseason roster is a decision I hope the Yankees have to make come October.
Michael asks: Mark Teixeira keeps hitting like this next year. Do you make a qualifying offer? I say yes, worst case he tanks on a $15 to 16mm 1 year deal. Obviously next year a long way away. And to add to this if we do make him a QO, do you think he would accept or reject?
If he continues to hit like this, yes, absolutely make him the qualifying offer after next season. It'll be an expensive one-year contract (it'll probably be in the $17M range), but that's fine. If he accepts, you have a productive Teixeira on a one-year contract. If he declines, you get a draft pick. My hunch is he would decline and look for a two-year deal, even if it's at a slightly lower average annual salary (Adam LaRoche got two years and $25M this past offseason, for example.) Of course, this is all predicated on Teixeira keeping up this level of performance. That's not impossible, just seems unlikely.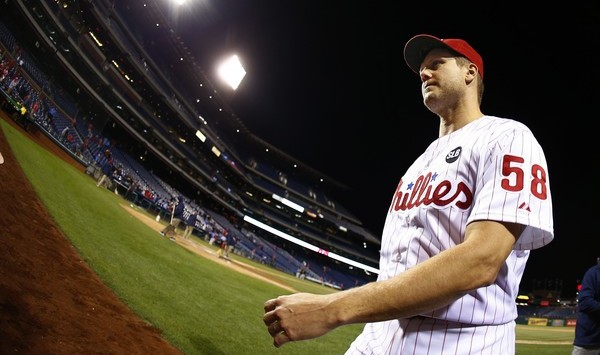 Upstate Yanks: Any chance we could see ol' Jonathan Papelbon in a salary dump/mid level prospect trade? I know he has a full no-trade (to certain teams) and wouldn't like the idea of being a "set-up" guy, and the baggage but man, Paps-Dellin-Miller at the end of the game would be ridiculous.
It makes sense from a baseball standpoint because Papelbon is still good (1.46 ERA and 2.75 FIP going into last night's game) and what team can't use another quality reliever? His $13M vesting option could be an issue, though the Yankees would have some control over that (he needs to finish 55 games for it to kick in, and he went into last night's game with 29). The Yankees do love their ex-Red Sox players too, mostly because they've shown they can thrive in a hectic market.
That said, Papelbon's got a bit of a mouth on him, and when's the last time the Yankees brought in someone like that? Reggie Jackson almost 40 years ago? Adding Papelbon the reliever makes sense from a baseball standpoint — I'd let him close and turn Dellin Betances and Andrew Miller loose in the seventh and eighth innings, but that's just me — but the Yankees tend to steer clear of dudes with distraction potential. Maybe Papelbon would be someone ownership would go over Brian Cashman's head to acquire. Also, I'm pretty sure I'd puke if I saw him wearing pinstripes.
LL asks: Always been curious about veteran player interactions when they're on rehab assignments in the minors. Do they ever take guys out for dinner or something, like with Jacoby Ellsbury with High A Tampa?
Oh yeah. Absolutely. They don't necessarily take them out to eat, but it's standard practice to buy the team a great big spread after the game. Whenever a guy rehabs there are always some minor leaguers on Twitter thanking them for the meal. Here's a good article from John Wagner on guys buying their temporary teammates dinner while on rehab assignments. Minor league food really sucks. Those few days with a rehabbing big leaguer is the best most minor leaguers will eat during the season.
Remco asks: If we stop the season at approximately the halfway point, who would be the biggest candidates for the comeback player of the year award? As a Yankees fan I'm biased towards A-Rod of course, but what other comebacks are going on this season?
I think Teixeira has to be ahead of Alex Rodriguez in the AL Comeback Player of the Year race right now. A-Rod's awesome! But so is Teixeira and he actually plays a position. Jason Kipnis, Kendrys Morales, Ubaldo Jimenez, and Jose Iglesias stand out as other candidates. I always feel like I'm forgetting someone obvious when discussing Comeback Player of the Year candidates and I probably am now. (Also, does coming back from a bad season enough to be Comeback Player of the Year? Or should the guy be coming back from an injury, etc.?) I'd say Teixeira is definitely among the favorites right now with Rodriguez lagging a bit.
Luke asks: I know Sabathia technically never opted-out of his original Yankee contract and instead signed an extension, but given the situation it seems like the 2012-2017 period can be thought of as a separate deal. Where would that deal rank among the worst signings of all time? It's basically $140M for one good season.
Sabathia leveraged the opt-out into the extension, getting one guaranteed and a vesting option tacked onto the four years and $92M left on his original deal. If the option vests, the Yankees will pay him $142M across six years, and he currently has a 4.44 ERA (92 ERA+) and a 3.96 FIP in 557.1 innings in the first three and a half years of that six-year deal. That's terrible! Here are the consensus two worst pitching deals in history:
Mike Hampton, eight years and $121M: 4.81 ERA (96 ERA+) and a 4.74 FIP in 891.1 innings with two full seasons lost to injury.
Barry Zito, seven years and $126M: 4.62 ERA (87 ERA+) and a 4.61 FIP in 1,139.1 innings.
Sabathia could finish his current contract with something like a 4.70 ERA in 1,000 or so innings, assuming he stays healthy, which isn't a safe bet given his degenerative knee condition. That's at least as bad as Zito, right? I don't know if it's as bad as Hampton, but man, it's bad. I will forever love Sabathia — remember, he was a beast right before signing the contract (3.00 ERA, 143 ERA+, 2.88 FIP in 237.1 innings in 2011) — but man, this deal is ugly. Definitely in the conversation for the worst pitching deal in history, and thus one of the worst contracts in baseball history overall.
Samantha asks: In the 3rd inning of Tuesday's game, Stephen Drew caught a ball on a fly that was ruled a grounder. He got a double play off of it. Could the A's have challenged the call and ended up with just one out instead of two?
No, because after the catch the runner was doubled off first base anyway. Here's the play:
The runner at first kept going to second and never tagged up after the catch, so it would have been a double play either way. Either a traditional 4-6-3 or the unconventional line drive 4-6-3. That's why A's manager Bob Melvin never bothered to challenge. Two outs no matter what.
Dan asks: If Carlos Beltran's injury lingers, might we see Aaron Judge this season?
I wouldn't completely rule it out, but I do think it's unlikely. The Yankees have so many other outfielders on the 40-man roster ahead of Judge as it is, and I think if it ever got to the point where Beltran was going to miss a significant amount of time, they'd go out and make a trade. If Judge were to come up now, we'd probably see a lot of swings and misses on breaking balls away. I don't think he's ready. I'm totally fine with letting Judge get a few hundred plate appearances against the best pitching the minors has to offer the rest of the season.
Dan asks: Ultra-specific question for Mike. On RAB he most often cites to wRC+ when evaluating hitters, but on CBS he cites to OPS+. Is that because wRC+ is a FanGraphs stat and CBS doesn't have a partnership with them? Which stat do you actually prefer?
I prefer wRC+ to OPS+ because it's a little more fine-tuned, though they're usually within a point or two of each other anyway, so it's not a big deal. As for using wRC+ here and OPS+ at CBS, I'm just catering to different audiences. Not too many CBS readers are down with sabermetrics — I've gotten email from people complaining when I list AVG/OBP/SLG because OBP and SLG are too nerdy (I'm not joking) — so I stick with OPS+ to make it as simple yet somewhat informative as possible. I have done stat-heavy posts at CBS, though they never do much traffic. It's not worth my time at this point. RAB's different. I'm not overly concerned with generating traffic here, so I can use whatever stats I want. CBS is a job, I have a responsibility to get people to click and read and come back for more clicks and more reads, and there still isn't much interest in sabermetrics among casual fans. I am trying to find a balance that works. It's not easy.
John asks: I know that you're a diehard NY Rangers fan. What would it take to interest you in the Knicks?
I've tried to get into basketball! I've tried and tried and tried again. Basketball just isn't my thing. I watched the NBA Finals this year and it just didn't grab me. I can't imagine getting invested in a bad Knicks team at this point. I tried to follow them when they were good (well, good-ish) and it wasn't happening. I enjoy the fast pace of hockey and since baseball has become more than just a hobby for me, hockey gives me a sport to follow on a non-obsessive level. I'm old. At this point I don't think the basketball thing is going to happen.