Big mailbag this week: 15 questions and some of the answers are kinda long. RABmailbag (at) gmail (dot) com is where you can send us questions throughout the week.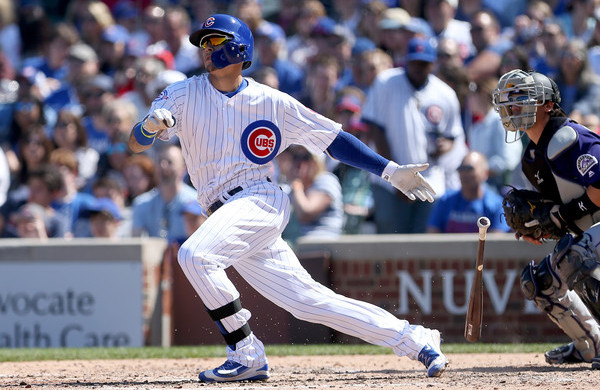 Matt asks: I know we're all focused on Gallo at the moment (I know I'm probably doing Choo + Gallo for Ellsbury + Chapman + Sanchez in my MLB the Show Franchise), but how about that Javier Baez? He's looked pretty good at 3B defensively, and has major power potential. What would it take to get him?
I've been secretly hoping Cubs closer Hector Rondon has some big time meltdowns this month and next month so they trade Baez for Aroldis Chapman. I'm not holding my breath though. The Cubs obviously look great, but the one thing they lack is a shutdown lefty reliever. Travis Wood and Clayton Richard have been fine. They're not guys you want to run out there against, say, Bryce Harper or Adrian Gonzalez or Brandon Belt in playoff game though, you know?
Chapman for Baez is a dream scenario for me. I'd do it tomorrow. It's more likely the Cubs would need Miller in a Baez deal to ensure they get a few years of control. I have a hard time thinking they'll give Baez up for a rental, even one as good as Chapman. Baez is still only 23 and he has maybe the most electric bat speed in baseball …
… so he has a legitimate chance to be a 30+ homer hitter who plays above-average defense pretty much anywhere on the infield. The Yankees have a long-term need a third base, obviously. Baez has always had high bust potential for an elite prospect because his plate discipline is non-existent. The guy swings at everything. He has a 35.0% strikeout rate and a 5.7% walk rate in the big leagues (27.6 K% and 7.2 BB% in Triple-A).
Long-term, Baez my settle in as a .280/.300/.530 hitter who strikes out 190 times, hit 35 bombs, and saves 5-10 runs a year with his glove. There's also a chance his chronic plate indiscipline means he never becomes better than a .240/.260/.400 hitter. Given the current state of the Yankees and their long-term needs, I'd absolutely take a chance on Baez's talent, especially if it only takes a reliever to get him. Even one as good as Miller.
Anonymous asks: It will never happen, but with Hicks hitting with regular playing time, would it be better to have A-Rod and Beltran platoon? Small sample sizes so far, but A-Rod has been better against LHP and Beltran has been better against RHP, and Hicks is an infinitely better glove in RF than Beltran is.
A straight platoon might not be the best way to go about it, but scaling back on Alex Rodriguez's and Carlos Beltran's playing time to get Aaron Hicks more at-bats is definitely something the Yankees should consider. Hicks looked pretty darn good once he started playing everyday and the team owes it to themselves to give him more reps since he can be a piece for the future. Beltran will be gone next season and A-Rod the season after.
My guess is the Yankees will end up playing Hicks three or four times a week going forward with A-Rod, Beltran, Jacoby Ellsbury, and Brett Gardner all getting an extra day off. The Yankees spent all offseason talking about giving their regulars rest but it hasn't really happened yet, mostly because the offense struggled and Joe Girardi kept playing his best players. Hicks has been hitting rockets all over the field lately. He needs to play more often.
Christopher asks: With the Nationals signing Strasburg long term does it make it any more likely that their young rotation options would be available for trade? Could you see the Yankees being able to pry Lucas Giolito away for one of the relievers and/or Mark Teixeira?
I think it means their young rotation options will be less available in trades. The Nationals now have $55M annually tied up in two starters (Stephen Strasburg and Max Scherzer) and they'll need the cheap rotation options to offset the cost. Guys like Joe Ross and Giolito allow them to fill out the back of their rotation with high-upside players on the cheap. My guess is they'll look to move Gio Gonzalez ($12M options for 2017 and 2018) to clear salary and a rotation spot for Giolito at some point, perhaps as soon as the trade deadline.
And no, I don't think one of the big relievers plus Teixeira is enough to get Giolito. Not even if that reliever is Dellin Betances, who is the cheapest and under control the longest out the team's three end-game arms. If the Nationals move Giolito, who is the best pitching prospect in all the land, it'll be for a bonafide superstar. They'd move him if the Marlins made Jose Fernandez available. Someone like that.
Paul asks: What was the exit velo of Headley's HR?
The first homer was 98.5 mph (Ian Kennedy) and the second was 99.6 mph (Chris Sale). The MLB average exit velocity on home runs is roughly 104 mph this season. Going into last night's game, Chase Headley's average exit velocity on all batted balls was 85.9 mph. The MLB average is 89.5 mph, so yeah, Headley is well below that.
Exit velocity is useful but limited. There is such a thing as a 100 mph pop-up, for example. Launch angle matters too. Exit velocity is like batting average. If you tell me a guy is a .300 hitter, I can infer he's a pretty good hitter. That .300 average does not tell me if he's a singles hitter, a power hitter, someone who walks a lot, nothing like that. It's one piece of information, not the only piece of information.
Rick asks: I just got done watching Chris Sale mow down the Yanks and was struck by his resemblance to a pitcher we all know well. If you look at Sale's body type, motion, repertoire and stuff, it reminds me a lot of Andrew Miller. I know Miller failed as a starter early in his career. But, now that Miller has figured it out at the big league level, what do you think of the idea of trying him next spring training as a starter. If it fails, he can always go back to relieving. If it succeeds, we potentially have an ace starter at a bargain basement (for a starter) salary.
Sale is definitely what people thought Miller would be earlier in his career. Tall, lanky, hard-throwing, filthy slider. For whatever reason Miller's control was abysmal as a starter earlier in his career. We're not talking about command here, just basic strike throwing. He walked 11.8% of batters faced as a starter from 2007-08, and it's not like he was striking out a ton of batters either (17.5%).
Miller also had strike throwing problems as a reliever up until 2012, when Bobby Valentine tweaked his mechanics and simplified his delivery. Valentine's year in Boston was a total disaster. The only good thing he did was fix Miller. I get it can be tempting to put Miller and his new mechanics in the rotation, but he doesn't have a third pitch, and we don't know how his stuff will hold up over 100 pitches. Miller is not an ordinary reliever. He's one of the best in the world. I wouldn't risk changing his role.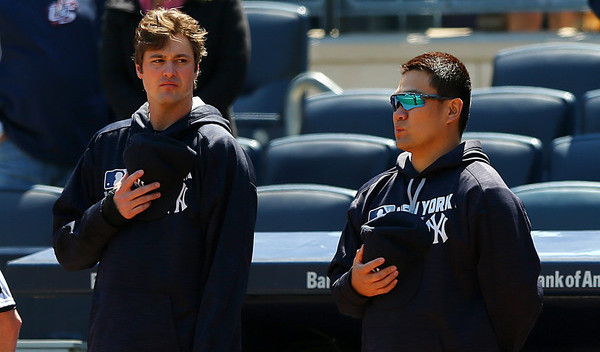 David asks: I saw a report that Mateo was being worked out at 2nd base and that its likely we will see him in the field there in the coming weeks. Does this have implications on the big club or is it more to give Mateo a little flexibility with the glut of shortstops in the minors.
Even if Jorge Mateo is long-term shortstop at the big league level — and there is no indication he needs to move off the position for defensive reasons — playing some second base in the minors is beneficial because of the shift. It allows him to get familiar with the right side of the infield so he's prepared whenever he's asked to play shallow right field or whatever against a left-handed pull hitter. Most shortstop prospects will spend at least a little time at second base in the minors. It's good experience. This is not a permanent change. Mateo is still a shortstop first and foremost.
P.J. asks: Do you think there is any possibility that the Yankees try and re-sign Aroldis Chapman to a contract rather than trading him before he becomes a FA?
Definitely can't rule it out but it would surprise me. The Yankees are trying to get under the luxury tax threshold and they already have one reliever making big money. Would they really commit something like $20M or $22M a year for two bullpen arms? Maybe! They did it with Mariano Rivera and Rafael Soriano a few years ago. As good as Chapman is, if the Yankees are going to limit their spending for luxury tax purposes, there are other places they should spend their money besides the bullpen. Like pretty much everywhere else on the roster.
Dan asks: My question is…it's seems like analytics is shifting away from Moneyball. Do you see it moving to another area of baseball? I read on MLBTR that the Red Sox are moving towards analytical medicine. Do see that as the next big thing?
Health has been the latest "market inefficiency" for a few years now. The league is so competitive these days that it's not just about having the best players, it's about having the best players on the field as much as possible. Teams are investing in better nutrition and training methods and things like that — the Yankees have looked into optimizing sleep for their players (they did it in Spring Training) — to keep their guys as close to 100% as possible.
Neuroscience is another one. I've read about teams putting draftees through tests that measure their reaction time and the way their brain works. It's nothing super intense. From what I understand it's basically a computer exercise almost like an IQ test. But teams are doing that now. They're trying to measure brain function and hope it translates to pitch recognition and things like that. We're beyond the point of "OBP is undervalued" and "FIP is better than ERA." Teams are going far more in-depth.
Paul asks: Do you think the Yankees would sit Beltran for Judge near the end of the season? Like if they are out of it? It would be good to see what you have for the next season.
If the Yankees are that far out of it, I think Beltran might waive his no-trade clause to go to a contender for the rest of the season. The Royals, Indians, White Sox, Rangers, and Astros all seem like potential landing spots. I wouldn't rule the Nationals out either. They could stick Bryce Harper in center and Beltran in right if Ben Revere doesn't start hitting. If Beltran sticks around and the Yankees are out of it, I think it's more likely they'll give the extra playing time to Hicks. I'm not sure, really. Let's reassess in a few weeks.
Gene asks: What would the Yankees have to add to Chapman to get De Leon from LAD?
I think the Dodgers would have to add something, not the Yankees. Jose De Leon is a very good pitching prospect — Baseball America had him 23rd on their top 100 — but I think he's getting overrated a bit because his stats are so good. He's a mid-90s fastball guy whose slider and changeup are still inconsistent and not reliable weapons just yet. Plus he's had shoulder problems this year. De Leon missed the start of the season with an ankle problem, made a start in Triple-A two and a half weeks ago, then had to be shut down with a sore shoulder. Not great, Bob. De Leon is a risky asset. Chapman for De Leon is probably fair value. It's on par with the Miller for Eduardo Rodriguez deal. The Yankees shouldn't have to kick anything in. I'd prefer a pitcher not dealing with arm trouble though.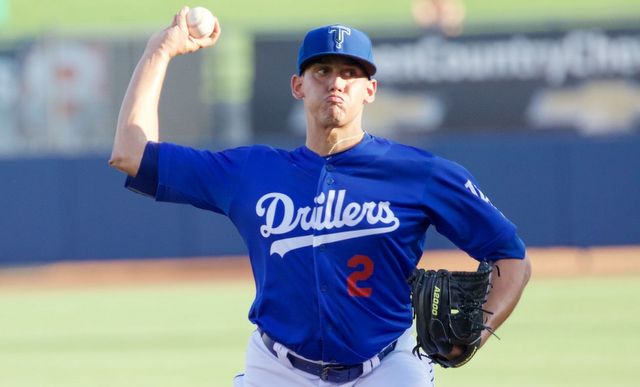 Brent asks: The Yanks farm system is stacked with infielders at the lower levels. They have a legitimate 10 infielders who are all fair to serious prospects. As much as there's no such thing as depth and these things work themselves out do the Yanks start converting to another position or trade for other prospects of need or young controllable players?
Off the top of my head, these are the legitimate shortstop prospects the Yankees have at Single-A and below: Mateo, Abi Avelino, Hoy Jun Park, Kyle Holder, Angel Aguilar, Thairo Estrada, and Wilkerman Garcia. They also have Tyler Wade in Double-A and everyone's next favorite prospect Diego Castillo set to come stateside this year. I still feel like I'm forgetting someone.
Anyway, that's a ton of prospects! The Yankees have been rotating players around different positions to make sure they all get time at short — Park, Holder, Aguilar, and Estrada are basically splitting time at second, short, third, and DH with Low-A Charleston — which isn't ideal, but what can you do? You'd rather see players spend the majority of their time at their most natural position and dabble elsewhere.
There is going to be some natural attrition here and a few of these guys will fizzle out. It's inevitable. These prospects are definitely valuable trade commodities though — obviously some are more valuable than others — because shortstops are always in demand. If I were another team with a need at short at the MLB level, I'd be all over Wade. He's not going to be a star but he can hold the position down for a few years and soon.
Mateo and Wilkerman are the prizes. They're the best prospects of the bunch. The Yankees should (and will) set a high price for them. They'll get moved for impact players, if at all. The others could all go in trades as the second or third piece. They're good prospects, not great prospects, and not great prospects in Single-A usually aren't headliners in big trades. Having so many legit shortstop prospects is a good "problem," and the Yankees should definitely look to capitalize by trading some. You can't keep 'em all.
Wyatt asks: If the Yankees fall out of contention do you think they might dangle Eovaldi? I really think it would be a mistake to trade him but he'll be a free agent at the end of next season and he looks like he could be on his way to a huge contract.
The Yankees supposedly listened to offers for Nathan Eovaldi last offseason and I'm sure they'll do it again. As I continue to say: it doesn't cost anything to listen. Even with an unsightly 4.44 ERA (93 ERA+), Eovaldi really seems to be making big strides with his splitter and overall effectiveness. He's been truly dominant at times. He hasn't been as hittable (.257 AVG/.301 BABIP against in 2016 compared to .275/.320 from 2011-15) and his strikeouts are way up:

Source: FanGraphs — Nathan Eovaldi
Eovaldi is still only 26 too. He's got a few peak years remaining. His trade value is somewhat limited by the fact he'll be a free agent after next season. The Yankees would only be trading a year and a half of him at the deadline, not three or four years of him. Every team needs pitching so there will definitely be a market for Eovaldi. The Astros strike me as a good fit because their rotation is full of guys who throw in the upper-80s and rely on deception.
Anonymous asks: What would it take to land Freddie Freeman, looking towards 2017 and beyond … say Bird, Betances, Heathcott and Sanchez? I know, my trade proposal sucks.
That seems like an awful lot, no? I know Greg Bird is hurt and Betances is "only" a reliever, but that's two pretty good young players (Bird and Gary Sanchez) plus an impact big leaguer for a not cheap first baseman. (Freeman's salaries jump into $20M+ range next year and he's signed through 2021.) Freeman's only 26 and he's really good! Don't get me wrong. I'm not sure I'd give up that much for a first baseman getting a market rate salary. The Braves should ask for two young players plus a big leaguer for Freeman. I'm just not sure it makes sense for the Yankees. Why not keep Bird and see what you have there?
Ricky asks: We've already seen two starters, CC and Severino, miss time with injuries. Pineda has been ineffective at best. Nova is inconsistent. Beyond the current #6 and #7 (Luis Cessa and Chad Green), who in the system could become the 8th or 9th starter?
Oh boy. The Yankees will really be scrapping the bottom of the barrel at that point. They have their six big league starters — the five guys in the Opening Day rotation plus Ivan Nova — with Cessa and Green as the No. 7 and 8 starters. Bryan Mitchell would be No. 7 if he were, you know, healthy.
Behind those eight I think lefty Richard Bleier might actually be next in line. He's not a prospect — he's 29 and was signed as a minor league free agent over the winter — but he has a 3.10 ERA (3.20 FIP) in Triple-A. Brady Lail hasn't exactly lit up Triple-A, and calling him up means committing to a 40-man roster spot. Bleier is someone the Yankees could call up, then drop from the 40-man without regret. (Obligatory reminder: No team has good No. 8 and 9 starters.)
Toshiki asks: I understand Sonny Gray still is A's ace yet he is struggling this season. Do you think it would be appropriate for the Yankees to take this opportunity and make a move for him? I believe he is a great pitcher. His value could be at all time low but there is always that risk of his recent struggles move with him into the pinstripes.
As long as he's healthy, I would be all for the Yankees acquiring Gray despite his struggles this season. He's really, really good. Tough as nails too. Gray is the kind of guy you want on the mound in a must win game.
The upcoming free agent pitching market is terrible now that Strasburg re-upped with the Nationals, so anyone looking for an impact pitcher is going to have to turn to the trade market. Gray is going to be the No. 1 target because he's about to get expensive through arbitration, and the A's tend to flip their top players before they get too expensive.
I'm so used to saying the Yankees probably don't have the pieces to make a competitive offer for someone like Gray, but I don't think that's the case anymore. They can go into a bidding war and put guys like Judge, Sanchez, and Mateo on the table. That will get anyone's attention, right? I'm not saying they should trade all three for Gray. They have the pieces to make a strong offer though. Like I said, Gray's someone I'd target. About 28 other teams will as well.