We've got a dozen questions in the mailbag this week. Remember to use the RABmailbag (at) gmail (dot) com email address to send us anything at anytime.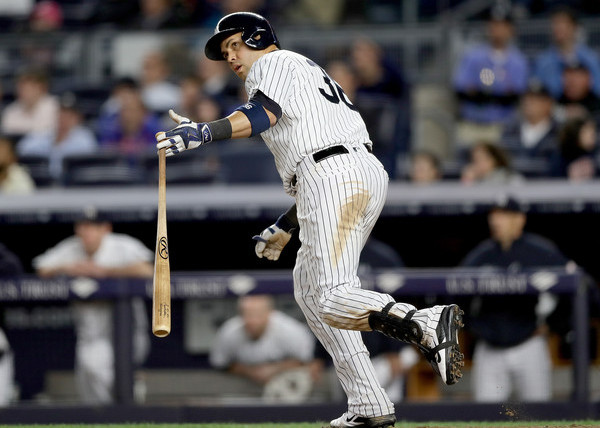 Marc asks: Assuming Beltran stays healthy, is willing to waive his NTC, and stays at a comparable pace, do you think the Cespedes trade is a good comparable? Or should the Yankees expect more or less?
Nah, that's too optimistic, I think. At the time of the trade Yoenis Cespedes had similar offensive numbers to Carlos Beltran (123 wRC+ vs. 128 wRC+) and was younger, healthier, and better defensively. I know age doesn't seem to matter much when talking about rentals, but it does mean Cespedes was less likely to wear down late in the season. Beltran brings a clutch reputation with him and I do think that matters some, just not enough to overcome the difference in age, health, and defense.
Beltran is a unique player because he's still quite productive at an age when most players are trying to hang on. Teams usually stay away from players his age. At the same time, Beltran has some flaws that limit his value. My trade proposal sucks, but I think the Yankees could ask for two prospects for Carlos. Maybe not top 100 caliber guys, but two players from the top ten of a team's system. Using the Yankees' system of reference, would something on par with Tyler Wade and Dustin Fowler for Beltran be enough? That's a notch below what Cespedes fetched (Michael Fulmer and Luis Cessa). Keep in mind his market will be limited to contenders only, and NL teams may decide to avoid him all together.
Rob asks: I know this isn't really a current question, but with so many similarities between them, what are the differences between Jacoby Ellsbury and Johnny Damon? They're both speedy outfielders with weak arms and some pop that the Yanks got from the Red Sox. Would you rather have Ellsbury or Damon at their prime?
There are three big differences between the two: power, stolen bases, and durability. Damon averaged 16 homers per season from 1998-2009. Ellsbury has hit double-digit homers just twice in his eight full seasons. On the other side of the coin, Ellsbury has averaged 49 steals per 162 games. Damon averaged 27 per year during his peak from 1998-2009. His career high was 46 steals in 2000. Ellsbury has three seasons with more, including one 70 steal season.
The biggest difference is durability. Damon was a workhorse. He became a full-time player in 1996 and was last a full-time player in 2011. Damon managed to play in 2,379 of 2,592 possible games from 1996-2011, or 91.8%. That's an average of 148.7 games per year. Since becoming a full-timer in 2008, Ellsbury has played in 1,000 of 1,361 games, or 73.4%. Huge, huge difference in their ability to stay on the field. Ellsbury's 2011 season was better than any one of Damon's seasons, but if I had my pick, give me prime Damon over prime Ellsbury. He does more things and was a far better bet to stay healthy. Damon's going to get Hall of Fame votes for a reason.
Michael asks: Do you think there's a chance they keep Chapman past the deadline? I'm afraid that if they make a run before then that they will end up keeping him, which would be a big mistake in my opinion, even if they find a way to contend this year.
A small chance, yes. And yes, it would be a big mistake. I think the Yankees could easily get something for Aroldis Chapman in a trade that is worth more than the draft pick they'd get after the season. Worth more and closer to MLB ready too. The only possible way the Yankees could justify keeping Chapman is by going on an absurd run and getting back into the postseason race. Like really back into it. Not three games back with five teams ahead of them back in it. And even if they do get back into it, they should trade Chapman anyway. This is too valuable a trade chip to not cash in.
Mike asks: Can you explain what this means please?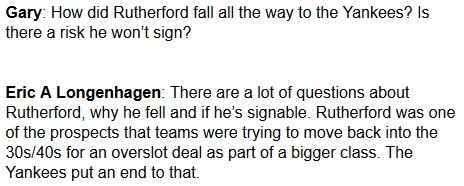 Longenhagen is the prospect guy for FanGraphs — he also did a ton of draft work with ESPN this spring — and that question comes from his chat earlier this week.
Teams with extra picks have enormous bonus pools and they tend to spread the wealth around by cutting a below-slot deal with their top pick, then gobbling up some hard to sign players with their later picks. The Braves did it this year. They cut a deal with New York HS RHP Ian Anderson for the third pick, then used their next picks on Kansas HS LHP Joey Wentz and Texas HS LHP Kyle Muller. Atlanta manipulated their bonus pool in such a way that it landed them three of the 15 best pitching prospects in the draft.
Blake Rutherford was one of the prospects teams like the Braves were hoping would still be around with one of their extra picks. (The Padres and Cardinals had extra picks too.) If he was still on the board, they'd take him and pay him top ten money. The Yankees stepped in and took Rutherford before he could slip any further. Based on their bonus pool situation, it seems they're preparing to give him a $3.5M+ bonus, maybe even $4M, which is top ten money. The Braves and Padres and whoever else didn't get a chance to use their extra pool money on Rutherford.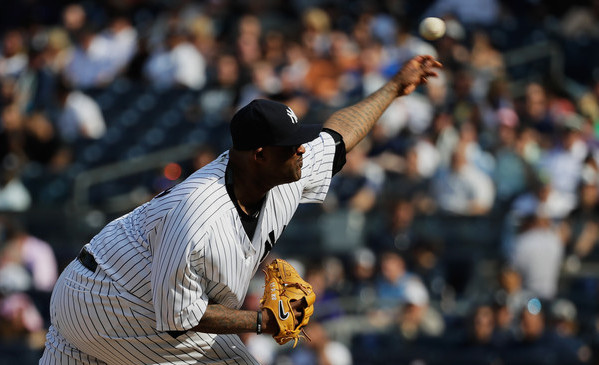 Dan asks: Ok, with Sabathia pitching so well, does he actually have trade value now?
Eh, maybe. If he does, it's not much. At the end of the day, teams are still going to be worried about the condition of CC Sabathia's knee. Also, these eleven generally awesome starts don't wipe away three years of awfulness even though there are tangible reasons for the improvement (cutter, knee brace, sobriety, etc.). Would the Yankees be able to get more than the Padres got for James Shields? Two okay-ish young players and some salary relief? I feel like that's the absolute best case scenario. Sabathia seems more valuable to the Yankees in their rotation than as a trade chip, especially if he's going to continue pitching like he has.
Bob asks: Does Aaron Hicks still have options remaining? He offensive production has been substandard almost all year and he might benefit from playing every day at Scranton. Your thoughts?
Nope, Hicks is out of options. Sending him down to Triple-A for regular at-bats would have happened already if it were possible, I think. I wrote yesterday the Yankees need to figure out what they have in Rob Refsnyder this year, and they need to do the same with Hicks. No one with half a brain would write him off after 150 plate appearances in pinstripes. Trading Beltran (possible) or releasing Alex Rodriguez (unlikely) would clear playing time for Hicks. Otherwise he has to wait for another injury.
Greg asks: Does Severino starts another game in 2016?
Oh sure. At worst, Luis Severino will come up in September and make some spot starts to give the other starters extra rest here and there. I wouldn't bet against him coming up before then. All it takes is one injury, after all. Severino has things to work on in Triple-A, specifically the command of his secondary pitches, and getting those things straightened out should be the priority. They can't bring him back to MLB just because. Severino is too important to the team long-term. We'll see him again this season though, for sure.
Frank asks: Is it somewhat surprising that the Yanks have been aggressive with Ronald Herrera, now in AA, and not so much with Nestor Cortes who is literally dominating low A? Both pitchers are approximately the same age, with similar frames but one is a righty and the other a southpaw.
I don't think so. Herrera's a better prospect with better stuff and more command. Cortes has had a ton of success in the low minors and puts up great numbers, but he's working with an 88 mph heater and decent secondary stuff. He's a classic "stats before scouting report" prospect. Herrera has more velocity and more reliable offspeed pitches. I don't think handedness has anything to do with the way the Yankees have handled these two. Herrera has better stuff and is more advanced, which is why he's further up the ladder than Cortes at a similar age.
Bill asks: Nobody wants to see a top prospect slump (especially as bad as Judge just did) but do you think in a way a top prospect struggling and learning how to adjust while in the minors is better for their development than say a guy like Severino who only first struggled at the majors and never had to make these kind of adjustments before?
I would prefer to see a prospect struggle in the minors at some point so they can learn how to make the adjustment there before reaching the show, but sometimes it's just not possible. Severino dominated the minors. It wasn't until he reached the big leagues that really experienced failure. The same was true of Phil Hughes back in the day. Failure can be a pretty good learning tool. It's inevitable in baseball, and many times the difference between prospects and productive big leaguers is the ability to handle that failure and learn from it. No one wants to see their favorite prospect struggle, but if they can learn something from it, then it is absolutely a positive.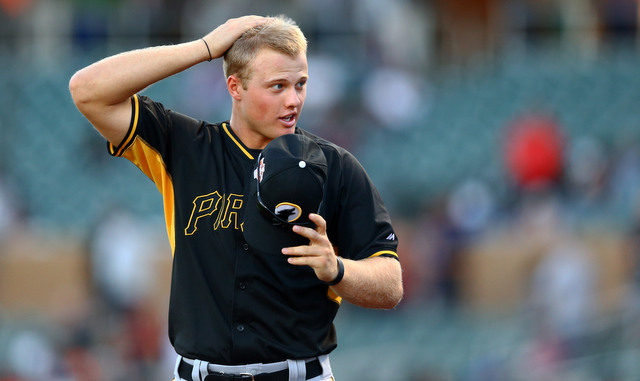 Andrew asks: With the Pirates OF pretty set for awhile, why not go after Austin Meadows? Good target to trade Chapman or Miller for?
Interesting. I hadn't considered that. The Pirates have an unbelievable outfield — Andrew McCutchen is a star, yet both Starlin Marte and Gregory Polanco have outperformed him this year — and they've signed all these guys long-term. McCutchen will hit free agency first among those three, and the Pirates control him through 2018.
Meadows, who came up in my little Rutherford study the other day, is an elite outfield prospect currently tearing up Double-A. He's about a year away from MLB. Given their big league outfield, it would be silly for the Pirates to not consider trading Meadows for help elsewhere on the roster. Would they trade him for a reliever? Eh, I don't see it. They need rotation help more than anything and Meadows could fetch them a very nice young arm. It's a good idea though. I hadn't considered the possibility of a Meadows trade given their big league outfield situation.
Dan asks: It still maybe too early but can't we say that the trade for Didi has been a success? Being that the position he plays is such a premium, he's an above average defender with a sneaky bat. Even if his batting average slips a bit can't we still say that it was a success? With a possible TBA because of Greene outcome?
Anyone who thinks the Didi Gregorius trade hasn't been a success is trying too hard to find ways to criticize the Yankees. Shane Greene has allowed 78 runs in 104.1 innings since the trade and has battled injuries. The Yankees netted at worse a league average shortstop. The league average shortstop is hitting .258/.314/.397 (90 wRC+) so far this season. Didi went into last night's game with a .275/.309/.393 (89 wRC+) batting line, and then there's his glove, which is quite stellar.
I was genuinely surprised the Yankees traded Greene. He had a nice cameo in 2014 and the Yankees love their power arms. He seemed like a cheap and effective rotation option, which was something the team really lacked at the time. They also had a gaping hole at shortstop, and Gregorius was only 24 at the time with five years of team control and some pretty obvious tools. That's a trade you make over and over again. It's worked out pretty well for the Yankees, even if Greene did throw two scoreless innings against the Yankees at Yankee Stadium last week.
Bill asks: Will CC be on the All Star team this year? I can't decide if he's really been this good or if it's because everyone else has been meh, or if it's because my expectations of him this year were about knee high on an ant … Thanks!
If Sabathia carries a sub-2.50 ERA into early July, how could they keep him off the All-Star team? The Yankees have four serious All-Star Game candidates in my opinion: Sabathia, Beltran, Andrew Miller, and Masahiro Tanaka. Dellin Betances has had a few too many hiccups and Chapman missed a month, so they're not in. Would the Yankees, who are near the bottom of the standings, get four All-Stars? It seems unlikely. I'd say Miller is the safest bet to make it. Sabathia going to the All-Star Game sure would be fun as hell though.