We've got 15 questions in the mailbag this week. That's a lot. The RABmailbag (at) gmail (dot) com email address is the place to send us any comments or questions throughout the week. We'll get to as many as we can.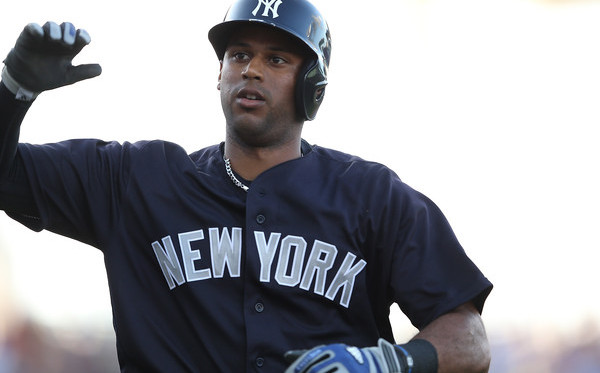 Justin asks: Of the Yankee bench players who is most and least likely to make it all the way through the season on the 25 man?
Aaron Hicks and Austin Romine. Pretty easy calls, I think. The Yankees did not trade John Ryan Murphy only to give Hicks a leash of a few weeks or months. He's here for the long haul and I think he's going to see a lot more playing time in the coming days. I wouldn't be surprised to see Hicks start four of the nine games on the upcoming road trip.
As for Romine, he is simply keeping the backup catcher's seat warm for Gary Sanchez. Out of everyone on the bench, he is the one who has to most look over his shoulder because a top prospect is breathing down his neck. It only takes 35 days in the minors to delay Sanchez's free agency, though I wouldn't be surprised if he spent the entire first half down there. At some point though I think Sanchez will be up and Romine will be gone.
Nathaniel asks: Not Yankees related, but have you seen John Gant's funky delivery for the Braves? Is it legal and what are your thoughts?
I did see Gant's delivery. Here's the video for folks who have not seen it:
That is totally ridiculous and it seems like a lot of wasted effort, but hey, whatever works. It's legal because he comes set before beginning his motion and he remains engaged with the rubber the entire time. Gant doesn't do the double leg kick thing when men are on base. Only from the windup. It's not a bad delivery, just different, and hey, it makes baseball a little more fun. I'm in favor of that.
Rubaiyat asks: When talking about innings limits, does postseason innings count as well? If the Yankees do go deep in the postseason, then Severino might bump up against the innings the Yankees are hoping he would reach. How would they go about it?
Of course. If anything postseason innings are more taxing than regular season innings because the intensity is ramped up. Those innings absolutely have to be considered. Brian Cashman has acknowledged the Yankees have some workload limit in mind for Luis Severino — he declined to say what it is — and I'm certain that includes the regular season and postseason. I could see them skipping a few Severino starts during the summer, then maybe going to a six-man rotation once rosters expand in September. I would be stunned if they shut him down Stephen Strasburg style. I don't think any contending team will ever do that again.
Charlie asks: Why are pitchers on the shuttle between the minors and the bullpen considered "fresh arms?" I mean, sure, they haven't played up at the Bigs yet (or recently), but I assume they are pitching down in the farm system up until they get the temporary call, and then again when they get sent back down. So what makes them fresher than anyone else in the bullpen? Is it just that they're not facing the same caliber of players or are they rested more by minor league managers who know they are going to be called up as "fresh arms?"
When I say "fresh arm," I mean someone who hasn't pitched in a few days. The entire point of the shuttle is to send down a pitcher with a big recent workload and bring up a pitcher who has had the last few days off. Looking at our Bullpen Workload page, James Pazos would qualify as a "fresh arm" because he hasn't pitched in two days. The Yankees would be able to use him today and tomorrow. They couldn't do that with, say, Johnny Barbato, who just pitched last night. "Fresh arm" just means the guy hasn't pitched much recently and is available to throw a lot of pitches right away.
Paul asks: With the plan to rest players already being seen in action, what do you think the approximate target for games played for each player is?
That's a really good question and I've been trying to figure that out. How do these target numbers sound?
Brian McCann: 110 games (119 last year)
Mark Teixeira: 130 games (105 last year due to injury)
Chase Headley: 135 games (148 last year)
Brett Gardner: 130 games (140 last year)
Jacoby Ellsbury: 135 games (106 last year due to injury)
Carlos Beltran: 120 games (120 last year)
Alex Rodriguez: 120 games (135 last year)
Those are games started in the field, not total games played. (For A-Rod it's game started at DH.) I could see the Yankees pushing Teixeira and Beltran a little harder because they're impending free agents and they don't really care about any long-term effects.
Do those target numbers sound good? Whatever the numbers are, I'm sure the Yankees will be flexible and adjust depending on how players are performing. If, say, Ellsbury is tearing the cover off the ball in August and the Yankees are in a tight race, those 135 games could become 145 games in a hurry.
Michael asks: In one of this week's DotF, you noted that Gabe Encinas's "prospect expiration date has passed." Out of curiosity, does every prospect have a different expiration date in your mind or do you give every player (barring injuries) until, say, 23 years old to start figuring AA out? Are you ever surprised by late bloomers? Does Gabe have a chance to be one?
It's different for every player because every player is different. A blanket "one size fits all" approach never works in baseball. You can't say "you need to be in Double-A by age 22 or you're behind schedule." No. Doesn't work like that. For a guy like Encinas, who has a huge fastball but questionable secondary stuff and command, the fourth year in Single-A pretty much confirms it's just not happening like you hoped.
As for late bloomers, you're always aware it's possible because the player has talent. There's a reason he was drafted and given the opportunity to play professional baseball. The natural ability is there and yes, sometimes it takes guys a little longer. Corey Kluber and Jacob deGrom were late bloomers. They didn't establish themselves at the MLB level until they were close to 27. Encinas has a chance to do that — he's going to continue to get opportunities because he throws hard — the same way any prospect has a chance to figure out it late.
Mike asks: Given that Ackley's arm isn't strong enough for him to play third, how did he manage to play a couple innings in right field for Seattle last year? Did Seattle have an outfielder with even less arm in left? Is Ackley a viable backup right fielder for New York, or purely LF/1B/2B?
The short answer: the Mariners. Who knows why they do things. They're currently playing Nelson Cruz in right field and Franklin Gutierrez at DH. I don't get it either. Besides, it's not like Dustin Ackley played a ton of right field last year. He played two innings across two games. The first time he replaced Cruz in right in a blowout, and the other time he started the game in left, then slid over to right because Rickie Weeks had pinch-hit for Seth Smith, and Weeks had only worked out in left field after spending most of his career at second. The Yankees could run Ackley out to right field if necessary, but Hicks is clearly the No. 1 option there.
Frank asks: I'm not sure if this a dumb question, but since there are a lot if SS prospects in the organization, can the Yanks FO move some of the players back and forth from a minor league club to another? For example, can Wade be moved to AAA for 2 weeks or so then Mateo fill in at AA, and subsequently Holder would get a taste of High A. This way the prospects would get a taste of each level. Or is this just too complicated?
There's no reason they couldn't move players around. There's no limit to the number of transactions a team can make or anything like that. Clubs usually don't move prospects around until they meet development goals, however. That's why guys will spend a full season at a level even though they're hitting something like .330. The team wants the player to work on certain things, and they promote them when they feel they've met those goals. Promotions are a "reward" for development, not necessarily good numbers. You won't see teams move prospects around just to give a player a little taste of a different level for the heck of it.
Vidhath asks: Just found out that Jaron Long was released. Seemed a bit surprising to me, since he was relatively young and made it to AAA for the first time after a steady climb. Was his stuff that bad that they thought he wouldn't have a chance in the majors?
That's exactly what it was. He lacks stuff. Baseball Prospectus (no subs. req'd) got a look at Long in 2014, and he topped out at 88 with below average curves and changeups. "Long does not have the stuff to pitch in the majors. His below-average FB and CH lack the necessary impact to provide any value as more than an org filler or desperation call-up," said the write-up. I remember seeing him in a Spring Training game last year and thinking the same thing. He didn't even have one worthwhile pitch. The stats would lead you to believe Long could help at some point, but once you see him in action, you realize the limitations. Matt DeSalvo was the same way back in the day.
Samuel asks: We hear Rumbelow is being stretched out and then first game it's attempted he needs TJ. Is there a connection at all or am I grasping at straws?
I don't think there's a connection. Nick Rumbelow didn't even get a chance to really stretch out. He got hurt warming up for his second inning of the regular season. Multiple inning appearances were not new to him — Rumbelow got four or more outs 21 times last year — so it's not like he was being pushed into uncharted territory. If he had gotten hurt in the middle of his fifth inning or something like that, then yeah, there might be a connection. This just seems like one of those things. Elbow ligaments snap. It happens.
Vince asks: there has been a lot of speculation that the yankees will let chapman walk w/o even trying to keep him. why would they trade for him if thats the case? its not like they were just a closer away from winning it all.
Because he can help them win this year. The "they are not a closer away from winning it all" logic is silly because you can apply that to any transaction ever. Why trade for Starlin Castro when they are not a second baseman away? Why would the Red Sox sign David Price when they aren't a starter away? It's a team sport and you need to build the puzzle. Aroldis Chapman is a piece of that puzzle. A very good piece of that puzzle. Simply put, the Yankees are a much better team with Chapman on the roster. No, he may not be the piece that gets them over the top, but he moves them closer to the finish line.
Marc asks: True or false: Yankees could potentially have the best defensive infield in baseball.
Eh, I'll say false. They do have an above-average defensive infield, though I think Castro is still a little rough around the edges at second, and by time he figures that out, Teixeira will probably be gone. If Starlin makes big strides in the first half, then yeah, the Yankees might have the best defensive infield in the game down the stretch. Who are the other candidates? The Royals and Giants for sure. The Rockies and Marlins are sneaky good too. For now, I'll say the Yankees have a top ten defensive infield but not top five. Castro's inexperience is the only major drawback now that Headley seems to have remembered how to throw.
Eric asks: Do you think a combination of the injuries suffered recently (Rumbelow, Mitchell) and potential success by relievers like Kirby Yates and Johnny Barbato change the bullpen shuttle plan in any fundamental way? It seemed like last year the shuttle was used to such an extreme due to depth and lack of a player emerging from the herd of young relievers. Maybe we only see it this year if the bullpen is extremely taxed.
Success by Barbato and Yates would change the shuttle dynamic more than the injuries, I think. The idea of shuttling out relievers and always having a fresh arm or two is great, but ultimately the Yankees are going to go with the roster that gives them the best chance to win. If Barbato emerges as someone worth keeping around — I'm much more confident in him doing so than Yates — then the Yankees will keep him around. None of the shuttle guys did that last year. The injuries to Rumbelow and Bryan Mitchell stink, but that's why you build depth. If anything the personnel has changed as a result of the injuries, not the plan.
Chris asks: Hi Mike, I just finished reading your draft thoughts and then read your post prior to the 2015 about James Kaprielian. To sum up, it seems that despite the polish, it was thought he did not have a lot of upside. Now that Kap has been able to maintain more zip on the fastball, do you still feel that he does not have a lot of upside, with the exception of potentially being a fast mover through the system? Or has he changed your opinion? It seems to me that with the sustained increase in velocity, on top of the polish, that he could potentially exceed those expectations from spring of 2015. Your thoughts?
The extra velocity definitely changes his ceiling. He went from 89-91 as a sophomore to 91-93 as a junior to 93-95 as a pro. That's a huge jump. I want to see Kaprielian sustain it throughout the summer before fully buying in, but this is definitely encouraging. Before the velocity bump he was considered more of a mid-rotation starter. With the extra velocity, Kaprielian has a chance to pitch closer to the front of the rotation. Maybe not a true ace, but more of a No. 2 than a No. 3. Like I said, I want to see him hold the velocity a little longer before we start rewriting scouting reports, but this is definitely a positive sign. It's not often a college starter shows up in pro ball and adds velocity. If anything, the opposite usual happens because they go from starting once a week to once every five days.
David asks: Gun to your head do you extend big mike or nasty nate today assuming they want a similar deal. Both seem doomed to meet their respective ceiling. Mike has the more recent injury history but also better success. Nate seems more durable but could end up in the pen.
My head says Nathan Eovaldi, my heart says Michael Pineda. I think Pineda has a better chance to pitch at an above-average clip long-term, but I also think he's a much bigger risk because of his shoulder surgery. Eovaldi is so far removed from his Tommy John surgery — it's been nine years now — that I don't think his risk of a second Tommy John surgery is considerably higher than Pineda's risk of a first Tommy John surgery. The new ligament has held up under all those triple digit fastballs. I would have to go with Eovaldi over Pineda because of health. If you want to go with Pineda over Eovaldi, I wouldn't argue much. I think there's a good case to be made for both guys.