Got 15 questions for you in this week's mailbag, though I tried to keep the answers short. Didn't always succeed. RABmailbag (at) gmail (dot) com is the place to send us questions. The email address is perpetually sitting in the sidebar in case you ever forget.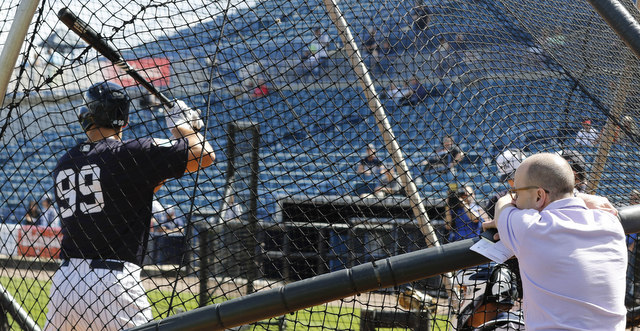 Daniel asks: What do you think Brian Cashman's legacy will be, and how much will it ultimately depend on this "transition" period carrying the Yankees to another championship?
Man, I have no idea. Cashman is very underrated as a GM. He gets overlooked because of the team's payroll, and any success the Yankees have had under him has been written off as a product of the budget (or because someone else built the team). We're not idiots. We know money doesn't guarantee success. Look at the Phillies and the Angels. Or even the Red Sox. How many times have they finished in last place the last few years? Money helps, but it ain't everything.
This rebuild may define Cashman's legacy more than anything that's happened over the last 20 years. If it succeeds, he'll finally get some recognition as one of the game's most successful executives. If it fails, well then it'll only reinforce the notion he needs a big payroll to win. Cashman has been, by a pretty big margin, the most consistently successful big market GM. His worst teams have won 84 games, and he was able to field those clubs while still building the farm system into what it is today. Cashman's legacy is complicated. Personally, I think he doesn't get anywhere near the credit he deserves.
Ross asks: I feel like the Yankees minor league pitching isn't getting enough love. Here are top 6 teams in ERA in full-season ball for all leagues.

The top 6 teams came from 6 different leagues (which surprised me), but all four of the Yankees full-season teams finished in the top 6 of 120 full-season teams. This is with their top 2 pitching prospects (Sheffield and Kaprielian) barely pitching for the Yankees in 2016.  What do you think the state of the Yankee minor league pitching is and if the stats are misleading?
The stats are misleading a bit. I definitely wouldn't use ERA, either on the team level or individual level, to gauge prospect status. A Diamondbacks affiliate is third on that list and their system is terrible. The Yankees did have a ton of great individual performers this year — they had two of the top four and five of the top 17 minor leaguers in ERA, not counting the Mexican League (min. 100 IP) — and that's awesome. Let's not confuse great performance for great prospects though.
Also, keep in mind New York's four full season affiliates all play in pitcher friendly home ballparks. Every one of them. George M. Steinbrenner Field in Tampa is the closest to a neutral park. Arm & Hammer Park in Trenton can be brutal for hitters, especially lefties, at night when the breeze is blowing in from the Delaware River beyond right field. That's why what Greg Bird did there (.256/.366/.484 with 13 homers in 76 games) was so impressive.
Don't get me wrong, the Yankees do have a lot of really good pitching prospects. James Kaprielian and Justus Sheffield are the headliners, but others like Jordan Montgomery and Chance Adams are future big leaguers too. Domingo Acevedo and Albert Abreu are the high upside plays. The low team ERAs in 2016 probably speaks to the farm system's pitching depth to some degree, but I wouldn't glance at that leaderboard and confuse it for prospect status. The Yankees have some good pitching prospects, but the team ERAs would lead you to believe they're deep in top arms, and they're not.
Chris asks: There are many reports about the Rangers and the Cubs being the leading suitors for Tyson Ross. Shouldn't the Yankees be in that group as well? I know he was injured most of last year, but assuming he comes back to full strength (big assumption), he fits the bill of a young starter who would be controlled for more than a year to slot into the rotation, right?
Ross isn't under control for more than a year. He'll be eligible for free agency after the 2017 season. And he's not that young either. He turns 30 in April. That said, of course the Yankees should be in the mix for him. They could use more pitching and Ross theoretically offers more upside than the Jon Nieses and Doug Fisters of the world. Chances are these guys are all low cost one-year contract candidates. Ross can potentially bring the greatest reward.
Personally, I've never been a huge Tyson Ross fan, so if the Yankees miss out, I'm not going to lose much sleep over it. He walks a ton of batters, he throws an extreme amount of sliders, and his delivery is ugly as sin. A breakdown felt inevitable. Last year's shoulder injury — the injury that sidelined him after Opening Day, not the Thoracic Outlet Syndrome surgery he had in October — may have been the beginning of that breakdown. If he's willing to come to New York on a one-year deal, cool. If not, eh, there are other fish in the sea.
Greg asks: Do you think Mark Teixeira gets no. 25 retired for him or a plaque in Monument Park?
Nah. I wouldn't be surprised if the Yankees reissue No. 25 as soon as this year. Maybe they'll give it to Clint Frazier in Spring Training. I know Teixeira was part of a World Series team, but if No. 25 wasn't retired for Jason Giambi, it sure as heck won't be for Teixeira. Teixeira was a good player and a fun dude for several years. I'm guessing he'll have a blast at Old Timers' Day. He's not Monument Park worthy in my opinion though. Good Yankee, for sure, but not an all-time great.
Rubaiyat asks: Would it be a better idea to move Gleyber Torres to 3b or another position and keep Didi? Or keep him at short and trade Didi for prospects?
I'm going to take the easy way out and say "worry about this when the time comes." Who knows what the landscape will be when Torres is actually ready to help the Yankees. That's at least one year away, possibly two. Manny Machado could be a Yankee by then, in which case putting Gleyber at short and trading Didi Gregorius makes sense. Or maybe Gregorius continues to refine his offensive game and blossoms into a .290/.330/.450 hitter with 25+ homers annually, in which case Torres becomes the trade bait. Patience. This isn't worth thinking about now.
Greg asks: A lot of prospect lists have Blake Rutherford as a top 5 prospect in the org. Does he have enough perceived value to headline a trade for an ace? I don't necessarily want to see him go, I'm just curious how prospect ratings correspond with trade value.
I learned a while ago that prospect rankings and trade value rankings are not the same thing. Rutherford is a great-looking prospect, but I can't remember the last time a rookie ball kid was the headliner in a trade for an impact big leaguer. Prospects closer to the big leagues have more trade value than the kids in the low minors. Does that mean Dietrich Enns has more trade value than Rutherford? Of course not. Talent matters. Prospect rankings are a measure of potential. Trade value is real world value, and teams have to consider the risk of a prospect not making it. Rutherford has a ton of ability, but he's so far away from MLB and there's still so much time for things to go wrong. That risk likely prevents him headlining a package for, say, Jose Quintana.
Jacob asks: What would Gleybar Torres have to become for the Cubs to regret the trade? Or does the ring mean they will never regret it?
I can't pretend to know what last season was like for a Cubs fan. I'm spoiled as hell. I grew up with my favorite team winning championships left and right. So many Cubs fans waited their entire lives to see not just a World Series win, but a pennant. Just a pennant. Hopefully we'll be able to look back at some point and determine this was a lopsided trade in favor of the Yankees according to WAR or whatever. I'm guessing the vast majority of Cubs fans don't care one bit. This has a chance to be the mother of all win-win trades.
Alex asks: Unless the Yankees are in serious contention by the 2017 trade deadline, do you think Betances is all but a goner? It seems silly to keep him when you already have Chapman and could get another Frazier/Torres like prospect and more in return.
It's going to depend on a lot of things. How far out of the race are the Yankees? How are the kids looking? Are we seeing progress, enough that serious contention in 2018 looks likely, or are they all crashing and burning? How does Dellin Betances himself look? I'm guessing one of the reasons the Yankees went ahead with their deadline sell-off last year was the fact they knew they'd have a chance to sign a top reliever in the offseason. Wade Davis is far and away the best reliever slated to hit free agency next year. After him it's, uh, Addison Reed? And is spending huge for another reliever a smart move anyway given the luxury tax situation?
I am in no way opposed to trading Betances (or pretty much anyone on the roster at this point). The Yankees very clearly value having multiple dominant relievers in the bullpen though, and if they don't feel confident in their ability to replace Betances in some way prior to 2018 — remember, they tried to sign Chapman to an extension before trading him! — they might not be willing to part with Dellin at the deadline. A lot of factors are going to go into any decision to trade Betances, either at the deadline or at some point after that.
Frederick asks: Any chance the Yanks go for someone like Brandon McCarthy or Anibal Sanchez in a salary dump type of move?
I think they'd just sign a free agent instead. You'll end up with similar expected production and the cost figures to be lower too. Why taken on Sanchez and his ZiPS projected 4.77 ERA (4.33 FIP) at $16.8M when you could sign, say, Doug Fister and his ZiPS projected 4.53 ERA (4.73 FIP) for something like $6M? Unless the Tigers eat a ton of money and take a non-prospect in return, I wouldn't bother. (And why would they do that?) Just sign a free agent. Same thing with McCarthy, who has two years left on the deal. I wrote a Scouting The Market post about him earlier this winter, before it became clear all these iffy reclamation project starters would still be looking for jobs in mid-January.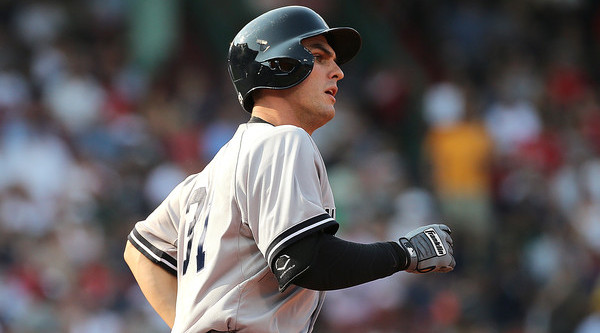 Jonathan asks: We hear all about catchers, pitchers, middle infielders, and well, Andujar…but very little about first base beyond Bird/Austin. Is it just a PR thing or are the lower level 1B prospects not as good relative to the prospects at other positions?
First base prospects are a weird group. Most first basemen land at the position because they couldn't play elsewhere. Joey Votto was a catcher. Miguel Cabrera was a shortstop. Edwin Encarnacion and Chris Davis were third basemen. So was Teixeira. Greg Bird was a catcher and so was Tyler Austin back in the day. MLB.com's top 100 list includes only four pure first basemen at the moment, which is pretty normal. That's not an unusually low number.
As for the Yankees, their best first base prospect beyond Bird (technically no longer a prospect) and Austin (still qualifies as a prospect) is, uh, Mike Ford? Maybe Miguel Flames if he can't hack it behind the plate. Or Dermis Garcia if the hot corner doesn't work out. The Yankees, like every other team, focus on up-the-middle talent because those positions are hardest to fill. There's always a Chris Carter (former third baseman) or Mike Napoli (former catcher) sitting in free agency these days. There aren't many middle infielders or top notch catchers though. The Yankees aren't deep in first base prospects at all and in no way is that a problem in my opinion.
Seth asks: Which baby bomber do you personally think will outperform their expectations in 2017?
Aaron Judge seems obvious to me. For some reason I feel like most people expect him to hit .175 with about 275 strikeouts in 2016. Judge doesn't get enough credit for his pure hit tool. Yeah, he's going to strike out, that kinda happens when you're 6-foot-7 with a huge strike zone and long arms, but I could totally see Judge hitting .230 or so with 25+ bombs in 2017. People will complain about that, I'm sure, but for a dude in his first full season in the show? Sign me up. Judge will be a good litmus test for the rebuild. Let's see how patient fans really are willing to be.
Bob asks: In light of the Yankees need for starting pitching in 2018 and thereafter, wouldn't it be better to force the development of several young pitchers in 2017 as opposed to signing a one year retread who only delays the inevitable?
Nope. You can't force development. That's when bad things happen. Running a young pitcher who clearly isn't ready to be successful at the MLB level out there every fifth day is counterproductive. Maybe the Yankees won't run into this problem with any of their young starters next season. That would be amazing. And if that's the case, the Yankees aren't going to let some veteran starter on a one-year contract stand in the way. There's no such thing as too much pitching, especially when you're trying to break in several young starters at once. I'd rather have the depth and not need it than need it and not have it.
Erick asks: What are your thoughts on Yu Darvish a year from now? He has been pretty good since coming over. We don't what will happen with Tanaka, could we have two Japanese pitchers in 2018? Even three if you go completely crazy and imagine Otani getting posted.
I have a hard time thinking the Rangers will actually let Darvish leave when he becomes a free agent next year. If they do, it would kinda worry me. What do they know that we don't? Also, I wouldn't get my hopes up expecting the Yankees to spend big on a free agent next offseason, not with the plan to get under the luxury tax threshold looming. The time to get Darvish was five years ago when he was in his mid-20s. He'll be 31 when he hits free agency next year, and have Tommy John surgery in his not too distant past. Meh. Call me crazy, but I'd rather spend that money on Masahiro Tanaka.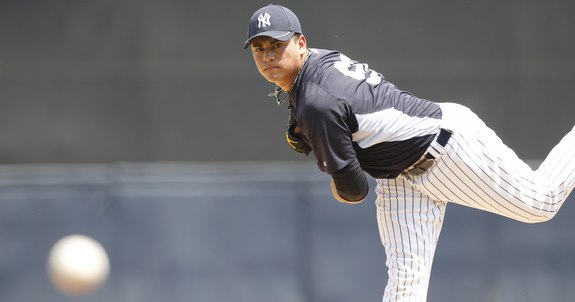 Luiz asks: Can we compare Sheffield with Banuelos? Both are southpaw pitchers listed at 5-foot-10, with big stuff, clean medical history, etc.
Manny Banuelos was a better prospect than Justus Sheffield at the same age. The key differences were their changeups and command. Banuelos had a phenomenal changeup and his command was big league caliber when he was a 20-year-old. For whatever reason that command disappeared when Banuelos reached Double-A in 2011 and it never came back. And he got hurt. A lot. Banuelos hurt his back and his elbow in 2012 and he hasn't stopped getting hurt since. Sheffield and Banuelos are similar in that they're short lefties, but there aren't too many similarities beyond that. Banuelos was much more advanced as a prospect at the same age.
Michael asks: Among the contenders for the 4/5 spot in the rotation, who in your opinion needs more time at Triple-A? I agree that a de La Rosa or a Brett Anderson would do the team good, but I'm wondering if they might really need a guy like that, or if they're at a stage where they can let Cessa/Green/Mitchell figure it out in the majors.
Probably Luis Severino. His changeup vanished last year and his command was pretty bad most of the summer. Luis Cessa seems most MLB ready to me. He has four pitches (and actually uses them) and is willing to pound the zone (4.9% walk rate in 2016). He might throw too many strikes. Cessa could possibly benefit from expanding the zone when he's ahead in the count. That could help his strikeout and homer rates. I'm not really sure what more Bryan Mitchell can take from Triple-A at this point. I think his chances of landing the bullpen long-term are pretty high because he just hasn't been able to develop a changeup, but he should be pretty good there given his fastball/curveball combo.