We've got ten questions in this week's mailbag, which I guess this makes this a small mailbag by today's standards. Use the RABmailbag (at) gmail (dot) com email address to send us anything.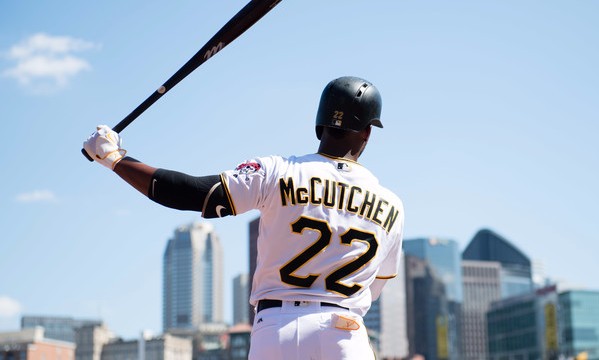 Chris asks: Assuming that the Yankees move Brett Gardner this off season, are you in or out on Cutch22 if he is made available? He only has 1 year left @ $14 million with a team option for another $14.7 million for 2018 which is quite reasonable and he'd defiantely benefit from 82 games at YS. That being said would he be worth an Aaron Judge and then some?
I'm surprised it hasn't come out that Andrew McCutchen was playing the entire season hurt. I'm not sure how else to explain it. The guy hit .313/.404/.533 (157 OPS+) from 2012-15 and averaged 25 home runs and 19 steals per season. This year he dropped down to .256/.336/.430 (103 OPS+) with 24 homers and six steals. What the hell happened? McCutchen is only 29 too. (He turns 30 next week.) It's not like he's over the hill.
There's been speculation the Pirates will look to trade McCutchen this winter, opening a spot for top prospect Austin Meadows — the team has acknowledged discussing moving McCutchen to left and the defensively superior Starling Marte to center — and I'm sure they'll listen to offers. There's no reason not to. I don't see this as a buy low situation though. McCutchen is the face of the franchise and they're going to want full value for him, as if he's still a star.
Hypothetically, I love the idea of going after McCutchen because he is still a megastar and a franchise cornerstone type of player. Without looking into it too deeply, I think his down year is more likely a fluke or injury related than a decline in skills. The Pirates needs arms, so they'll probably want Luis Severino as part of the package, plus other stuff. At least one more top prospect for sure, probably two. I'm in and I acknowledge there's basically no chance this happens.
Warren asks: In your middle infield power makes up for outfield post you mentioned you think the ball is juiced. Please explain!
Power numbers were up substantially this season. There is more to it than just home runs — power-on-contact and exit velocities were up too — but check out the homer-per-game rates over the last few seasons:
2016: 1.155 homers per game
2015: 1.010
2014: 0.861
2013: 0.959
2012: 1.015
There were 1,424 (!) more home runs hit in 2016 than there were in 2014. It's no secret offense had been lagging in recent years. Look at the 2012-14 homer rates. Commissioner Rob Manfred has talked about wanting to increase excitement and more dingers sure seems like a way to do that. In fact, this year was the second most homer happy year on record, behind only 2000 (1.171 HR/G).
I think MLB started juicing the baseball in an effort to add more offense, hence the homer spike. "Juicing" the baseball simply means the core of the ball is wound tighter, so it jumps off the bat more. It's been suggested — I'm not sure it's ever been proven though — that MLB has done this at various points in history when offense sagged too low for the league's liking. This is just a conspiracy theory. It sure would explain the massive and sudden spike in power numbers.
Dean asks: Better move: (1) sign Encarnacion to bat behind Sanchez and Bird or (2) trade (everyone but Sanchez, likely) for Mike Trout? Yanks clearly need a big bat and Edwin may be the best option in terms of age, AL East pedigree, and production at age 33. Allows them to spot him for Bird at 1B and mostly DH. But getting Trout…
Trout. Trout Trout Trout. The 33-year-old DH or 25-year-old Mickey Mantle? Yeah, easy call. I know you'd have to trade basically your entire farm system to get Trout, but I think it's worth it. It's not like all the prospects are going to work out anyway. Trout's not just the best player in baseball at this point. He's historically great and on his way to becoming a top ten (top five?) player all-time. And he's only 25! You dream of acquiring players like that.
As good as he is, there's a new Edwin Encarnacion available every other year or so. Trout's a once in a generation player. The Yankees are in the middle of a youth movement, right? Well, there's no better centerpiece for that youth movement than Mike freaking Trout. Prospects are a renewable resource. Any GM saying they wouldn't back up the truck to get Trout is either lying or hugging their prospects too tight.
Mickey asks: Given CC's resurgent season, how much does this help his hall of fame case? Seems to me the league is rooting for him, especially after admitting he had a problem and getting clean in rehab. Thanks.
It helps but I don't think it has him back on the Hall of Fame track. He's going to need a few more years like this, possibly three or four, to get serious Hall of Fame consideration. I love CC Sabathia, but if Mike Mussina still can't get in, he doesn't have much of a prayer, even with the Cy Young and World Series ring. Sabathia seems to be one of those players who is universally beloved by fans and respected throughout the league. That helps. At the end of the day, those rough three years took a huge bite out of his Hall of Fame candidacy. A plaque in Monument Park would be a fine alternative.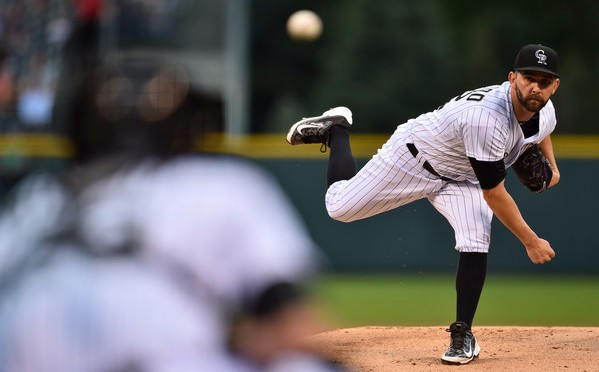 Anonymous asks: How much would it cost to get Tyler Chatwood? His home/road splits are unreal, with an ERA under 2 on the road so if you get him out of Coors could have a legitimate young front line starter.
It's weird, the Rockies actually have some young pitching now, enough that they could entertain trading a spare starter. Jon Gray, Tyler Chatwood, and Jeff Hoffman are a nice rotation core. Chatwood and Chad Bettis are depth, as is German Marquez. Anyway, here are Chatwood's splits this season:
At home: 6.12 ERA (4.97 FIP) in 78 innings
On the road: 1.69 ERA (3.60 FIP) in 80 innings
That works out to a 3.87 ERA (4.32 FIP) in 158 innings. I don't think we can simply take a Rockies' player's numbers on the road and assume that's the real him though. That applies to everyone, pitchers and hitters. It's more complicated than that. There are three big pitcher's parks in the division too, after all.
Chatwood will turn 27 in December and he's actually going to be a free agent after next season, so it's not like you're getting this guy long-term. He debuted with the Angels in 2011 and has had a lot of injury issues throughout his career, most notably two Tommy John surgeries. The second sidelined him for most of 2014 and all of 2015. That's pretty scary.
My thinking right now is pass on Chatwood given three things: One, his injury history. Pretty self-explanatory. Two, his lack of team control. This guy can be a free agent in a year. And three, we still don't know exactly who he is, performance-wise. Is he really an above-average starter outside Coors? Or was his road performance just a mirage this year? Chances are the real him is somewhere in the middle of his home and road numbers, but where?
David asks: After Adam Warren pitched on Sunday, 10/2/16 you wrote in your recap " Bold prediction: none of the four relievers used Sunday are on the 2017 Opening Day roster." I think Warren is a useful player. Please explain your logic. Will he be traded or released?
The Yankees used four relievers Sunday and one (Blake Parker) is gone already. He was claimed off waivers by the Angels earlier this week. Tommy Layne, Richard Bleier, and Warren are still hanging around. With the 40-man roster crunch looming following the World Series, their spots may not be secure much longer.
Anyway, I threw that line in the recap basically as a guess. I don't have any inside info and nothing leads me to believe the Yankees are looking to dump Warren. He's a good player and you don't release those guys, especially not when you have New York's pitching situation. That said, I didn't think Warren would be traded last offseason and he was. We shouldn't rule out something similar happening this offseason.
Sam asks: Could Robin Ventura be targeted to replace Girardi? Thanks for a great season, as usual!
Brian Cashman made it pretty clear during his end-of-season press conference that Joe Girardi will remain the manager next season. Once his contract is up after that, who knows? It'll ultimately be ownership's call. Same with Cashman. His contract is up next year too. Cashman likes Girardi and ownership seems like him too. I'm not surprised they're not making a change.
Whenever they do make a change — it's going to happen eventually, if not next year then down the line — I think Ventura would actually be among the managerial candidates the Yankees consider. When they hired Girardi, the Yankees interviewed only three people, and all three were familiar with the franchise: Girardi, Don Mattingly, and Tony Pena. That makes it seem they wanted someone who knew firsthand how chaotic New York can be.
Ventura wasn't a Yankee very long but he was reportedly an extremely popular teammate and he's highly respected around the league. Does that make him a good manager? Not necessarily, but I don't think it hurts. I can't speak to Ventura's managing ability in terms of on-field decisions. I didn't watch him enough the last few years. I do think he's someone the Yankees would consider when the time comes to make a managerial change though.
Brendan asks: Something I was wondering while washing the dishes last night: Let's say the Yankees make all the same moves at the trade deadline except they hold on to Andrew Miller. Do you think they're playing in the Wild Card game? The bullpen blew a lot of leads down the stretch, three in the Boston series alone, and just having a weapon like Miller at the ready eases Betances' workload and maybe he doesn't implode the way he did.
No. The Yankees finished five games back of the second wildcard spot and Miller was not adding five wins by himself in the final two months. As much as Dellin Betances struggled down the stretch, he blew two saves after the trade deadline — the Yankees came back to win after one of the blown saves too — and suffered only two losses. One of the blown saves and losses was the same game too, the Hanley Ramirez walk-off homer game. It just seems worse because Betances was bailed out in those two games against the Blue Jays (the Gardner catch and Layne's escape job).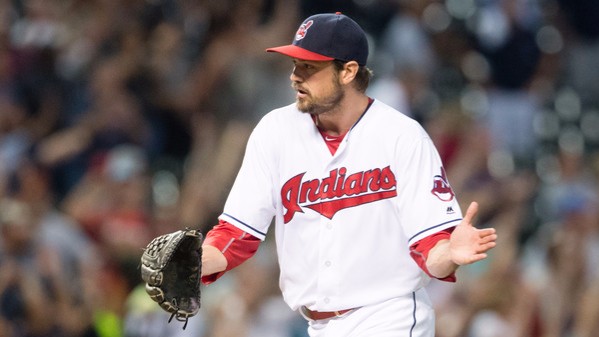 The Yankees unquestionably would have been better with Miller after the trade deadline than without, and of all the moves they made at the deadline, that's the one only you can second guess. Trading the impending free agents was a no-brainer. Miller had two years left on his deal, so the Yankees theoretically could have kept him and traded him at a later point. There was zero indication the team would go on a run in August and early-September though. They stunk in July. Turning a reliever, albeit a great reliever, into prospects as good as Clint Frazier and Justus Sheffield plus two others was a fantastic rebuilding move for a team in need of a rebuild.
Michael asks: Would this offseason be a good time to deal Dellin Betances? He has been used a lot by Girardi and is going to get increasingly more expensive. We can get Chapman to return as closer. Also what would be a good return for Dellin? My wish Giolito and Koda Glover.
As I've said a million times, no one should be untouchable, and that includes Dellin. His trade value is basically Miller, right? Elite reliever with three full years of team control left. (Miller had two and a half years of control left, but close enough.) The market for that player has been established. Two top prospects and two others. A few months ago I was hoping for one top prospect and one or two others. I way undersold the bullpen market. It's bonkers.
I'm comfortable with Betances in any role next season. Well, except starter, but you know what I mean. His poor September didn't scare me into thinking he doesn't have what it takes to close. (Funny, no one said that in August.) If the Yankees can flip him for more great young players, go for it, especially since there are several high-end relievers in free agency. Relievers are fetching a ton even though they're no less volatile, especially a dude like Dellin.
Mike asks: In that crazy AL Wild Card game, when would you have used Zach Britton? To start the 9th? Middle of the 9th? Start the 11th? Middle of the 11th? Or at some other point during the game?
I would have used him to start the ninth inning. The game was tied 2-2 and Josh Donaldson, Edwin Encarnacion, and Jose Bautista were due up. The Blue Jays were sending their best to plate in a winner-take-all situation and I would have wanted my best on the mound. The Orioles got through that inning unscathed, but that doesn't mean it was a good idea to use Brad Brach and Darren O'Day. Bad decisions someones lead to good results.
Ideally you'd like to squeeze two innings from Britton in that situation, maybe even three if he gets some quick ground balls and keeps his pitch count low. Ubaldo Jimenez is literally the last reliever I would have used. After everyone else pitches, Ubaldo's the guy you sent out there and ride into the sunset. Whatever happens at that point, happens. Can't believe Buck Showalter lost an extra innings Wildcard Game without using Britton. Unreal.