Thirteen questions this week. Use the "For The Mailbag" form in the sidebar to send us questions at any time. As I say every week, I know it doesn't look like the question goes through, but trust me, it does.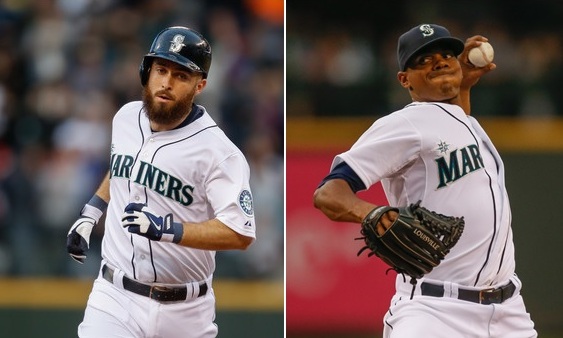 Matt asks: Would you trade Brett Gardner for Dustin Ackley and Roenis Elias?
Yes, I would. I think the Mariners would say no though. Ackley isn't as good as Gardner, either at the plate or in the field, but he is only 26 and his offense has improved the last three years, going from a 75 wRC+ in 2012 to 87 in 2013 to 97 in 2014. His defense in left is average at worst too, based on the numbers and the eye test. Elias is also 26 and he's as generic as generic lefties get. Okay strikeout rate (7.86 K/9 and 20.6 K%), okay walk rate (3.52 BB/9 and 9.2 BB%), okay ground ball rate (45.4%), okay velocity (averaged 91.8 mph), slightly better than league average swing-and-miss rates on the changeup (17.7%) and curveball (14.9%). His season ended two weeks early due to a flexor strain in his elbow, but supposedly he's healthy now. In a nutshell, Elias can eat innings and has at least a little bit of upside. It would be four years of Gardner for three of Ackley and five of Elias, so I think the Yankees would have to kick in a prospect. A decent one ready to help at the MLB level too. Seattle asked for Bryan Mitchell in exchange for Ackley last year, so I think it would have to be someone like that. I love Gardner, but I would definitely trade him for Ackley and Elias in a straight one-for-two deal.
Dustin asks: Can you recall the last time the Yankees had a defense as good as they have right now? Outside of Beltran, the worst you can say about any fielder is that they are above average.
I think you could argue Stephen Drew is only average at second because of his inexperience there, though Dustin's point stands. Carlos Beltran is the team's only well-below-average defender right now and it's been a long time since the Yankees had a defense this good. The Yankees have had a below-average Defensive Efficiency in each of the last years, and last season it was a .702 DE — that basically means they turned 70.2% of batted balls into outs — while the league average was .705. The 2010 team had a .719 DE and the 1998 team had a .723 DE, which is easily the franchise's best mark over the last 25 years. As long as everyone stays healthy, I think the Yankees will be among the best defensive teams in baseball in 2015. They'll have to be if they want to contend.
Tom asks: Rank these in order of importance and then in probability: Tanaka's health, Pineda's health, Sabathia's effectiveness, McCann hits like he did in September, A-rod hits 17 homers.
This is totally subjective, of course. Here's my list based on importance:
And now my list based on probability:
McCann hitting like he did late in the season
Pineda staying healthy
Sabathia being effective
Tanaka staying healthy
A-Rod doing anything
As it stands, I think the Yankees have just enough offense to get by, which is why I have the two pitchers at the top of the importance list. I think you could argue that, when healthy, Tanaka and Pineda are the two best pitchers in the AL East. Getting 350 innings out of them instead of 150 could easily be the difference between going to the postseason or not.
Paul asks: How would it change the game if, while sticking to a 25 man roster, teams were allowed to put any 9 guys in the lineup and any 9 guys in the field? Basically, infinite DH's.
Since you're sticking with a 25-man roster, you're still limited to 13 position players. Actually, in this case, I'd go with 14 position players and a six-man bullpen, emphasizing multi-inning relievers. I think having one extra DH would be more beneficial than having one extra reliever. So with 14 position players, you could "platoon" five, meaning one player hits and the other plays the field. You'd still need four guys to both hit and play the field, and I'd stick those four guys at the corner positions while platooning good defenders and good hitters in center, at shortstop, at second base, at catcher, and at pitcher. Make sense? Those are the positions where the offensive bar is the lowest and the defensive demands are high. Have a dedicated fielder at each position, then just let someone who can mash hit for them. Even with the extra hitters I think the result would be more less in baseball overall because there are many more good defenders than good hitters right now. A Double-A player like Mason Williams, who is a top notch defensive center fielder, could be your CF defense guy, for example.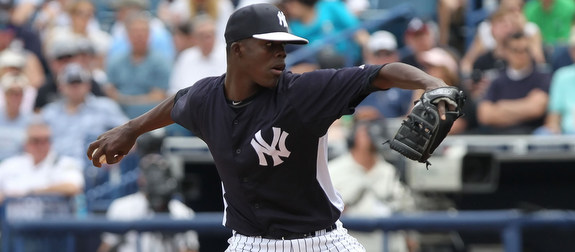 Jeff asks: Is Jose Ramirez a full reliever now, or is there still the idea that he may be a starter in the organization? 
Nope, he's a full-time reliever. They moved him last year. Ramirez couldn't stay healthy as a starter — he couldn't even stay healthy as a reliever last season — and it got to the point where they were either going to have to try to get something out of him as a reliever or get nothing out of him as a starter. Ramirez has had so many arm injuries over the years that it seems like only a matter of time before he blows out completely. The Yankees are trying to get what they can out of him at the MLB level before that happens because Ramirez does have nasty stuff. He could have a real impact in relief if he ever stays on the field.
Neaks asks: It's clear from your post on closers that the Yanks are going to have an abundance of good arms in the bullpen next year. Because of that, is there a chance that the Yankees will encourage starters to "air it out" more and only shoot for ~6 innings max? It would theoretically improve their performance in those innings, and it's not like the bullpen only has one or two guys you could go to with a small lead. Thoughts?
It's possible, though they would have to be careful not to burn out their best relievers. Just because Dellin Betances can go out and get you six outs in one game doesn't mean you want him to do it every other day. The Yankees do have enough bullpen arms to keep guys fresh, but it's not like they'll send down Betances or Andrew Miller when they need a breather and the team needs a fresh arm. Joe Girardi's been very good at managing his relievers' workloads and I'm sure that will be the case next year. If anything, the Yankees might try the "air it out" approach with one or two starters, not all five.
Travis L. asks: Do you have any idea which 2014 IFA signees are destined for the states and which start at the DSL level? Some were more polished than other, right?
I have no idea and there's a good chance the Yankees haven't decided yet either. The team has been pretty aggressive with their top international prospects in recent years (Miguel Andujar, Luis Torrens, Leonardo Molina, etc.), skipping them right over the Dominican Summer League and bringing them to the rookie Gulf Coast League, and I'm sure that'll happen this year. The best prospects they signed last summer (according to the consensus rankings) were SS Dermis Garcia, 3B Nelson Gomez, and OF Juan De Leon, and I think all three will come stateside this season. Everyone else might have to wait a year or two, like most international prospects. Remember we're talking about 16-year-old kids here. Developing them into big leaguers (and trade chips!) will be a long process. International free agency is not about instant gratification.
Vinny asks: What's the hold up with the Stephen Drew signing?  Think the Yankees are trying to move Brendan Ryan rather than removing someone off the 40 man roster?
That's possible. The Yankees moved very quickly with all of their other deals this offseason — the Didi Gregorius trade, the Nathan Eovaldi trade, the Andrew Miller signing, and the Chase Headley signing all went from rumor to agreement to press release within about four hours — but the Drew thing has been hanging for ten days now. It could be that they're trying to make a trade to clear a 40-man roster spot rather than simply designating someone for assignment, or it could just be that Drew is vacationing with his family on some remote desert island right now and hasn't been able to take his physical yet. Not really sure.
Zach asks: Brandon Beachy is still out there. I know he is recovering from TJ for the 2nd time, but would he be worth a look, even if he is not ready until mid-season?
Depends on the cost, as always. It was reported last week that he has six offers and was planning to pick a new team by the weekend, but that didn't happen. Beachy is attractive because he is only 28, has a 3.23 ERA (3.34 FIP) in 267.2 career innings, and will remain under team control as an arbitration-eligible player in 2016, but there's really no way to know how he will come back from his second Tommy John surgery in the span of 21 months. And remember, if he wants a 40-man roster spot, the Yankees would have to cut a healthy, ready to play player to make room for him. I'm inclined to say "pass" if he wants more than a minor league deal.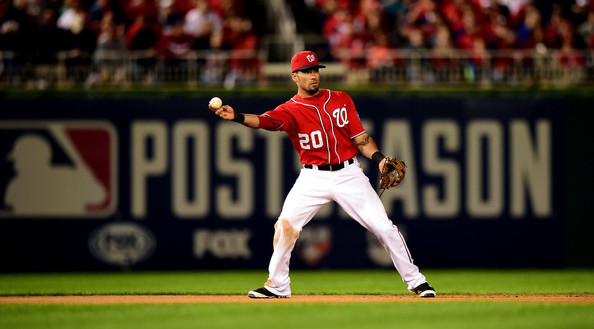 Frank M. asks: If Ian Desmond is potentially on the block wouldn't trading Didi and another mid tier prospect make sense? Last year on contract for Desmond. Opposite players as Desmond's defense is sub-par but his bat is above average.
Desmond is one of those guys who is better defensively than the numbers indicate. He's not elite or anything, but the eye test suggests he's better than the numbers say. Anyway, I suppose Didi Gregorius plus a prospect for Desmond would make sense for the Yankees, but the Nationals aren't going to trade no worse than their fourth best player for Gregorius and a prospect. They're a win now team and want MLB impact. Besides, Washington just acquired Yunel Escobar (Frank sent the question in before the Yunel trade), who figures to replace Desmond at short until prospect Trea Turner is ready. The Yankees could trade for Desmond and would be better in 2015, then give him $150M for his decline years next offseason, or they could actually give Gregorius a shot to see what he can do. What are the odds age 25-29 Didi can match age 29-33 Desmond for a fraction of the cost, especially given the latter's scary strikeout trend? Better than most people think, I'd say.
Rob asks: With Arizona needing a catcher what would they they give up for either Murphy or Sanchez? Would it be crazy to ask for Braden Shipley or Brandon Drury?
I love John Ryan Murphy and think Gary Sanchez has gone overlooked recently, but yes, it would be crazy to ask for Shipley, who I feel is underrated in the pantheon of the game's best pitching prospects. I'll bet on a guy with a mid-90s fastball, two above-average second pitches, and elite athleticism all day, every day. D'Backs GM Dave Stewart recently said the price is too high for catching and I assume Shipley is beyond their comfort zone. Arizona has been trying to add young arms this offseason, not subtract them. They might be more open to moving Drury, who is more or less the third base version of Rob Refsnyder. I think the Yankees should hang onto Sanchez and Murphy for the time being, unless a team comes offering something more than the D'Backs seem willing to give up.
Justin asks: With G Jones on board is he the automatic back up 1B or will we see McCann and possibly ARod get spring training reps there? 
Girardi and Brian Cashman both said the team has spoken to A-Rod about trying first base in Spring Training, but there's no word on whether that will actually happen. I assume Jones will be the backup first baseman next year, though McCann could always get some reps there. He played first last season basically as an emergency option and it was rough. He wasn't good, which isn't surprising considering he'd never played there before. Jones is the logical choice to back up Teixeira at first in 2015.
Tucker asks: Who would you rather have for the rest of his contract: Brian McCann or Joe Mauer. Mauer has more money left, and has already moved out from behind the plate. However, McCann is sure to follow suit soon, and is not as productive a hitter. I would probably say McCann because of the added value of his pitch framing. Thoughts?
It has to be McCann. They're both signed through 2018, but Mauer is one year older and is owed $92M while McCann is owed $68M. Mauer is definitely the better hitter — his down year in 2014 was a .277/.361/.371 (106 wRC+) line — but he's no longer a catcher, so his value took a huge hit. I understand why the Twins did it, Mauer has had some concussion issues and they're trying to protect him, but he's less valuable on the field nonetheless. McCann is still a well-above-average defensive catcher with enough power to remain a threat at the plate. I expect both Mauer and McCann to rebound with the bat this year, but the difference in money and position means I would rather have McCann going forward. And that's coming from a guy who thinks Mauer will in the Hall of Fame when it's all said and done.