I've got eleven questions for you in this week's mailbag. Use the "For The Mailbag" form in the sidebar to send us anything throughout the week.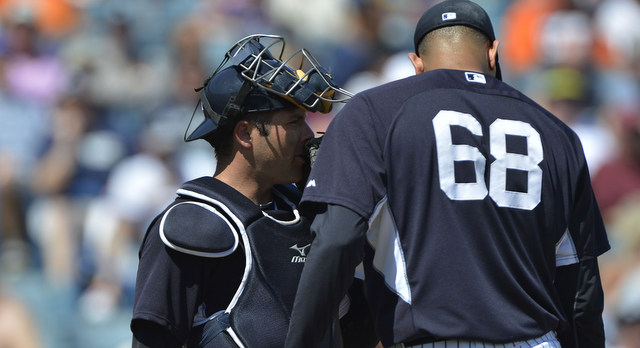 Dan asks: With all the talk about Dellin Betances' poor spring results, do you think it has anything to do with the fact that they've essentially put him on the Mariano Rivera spring routine, as if he's a veteran who's been doing this for years and only needs 6-7 appearances to get ready for the season, as opposed to a young pitcher with only one real year of experience?
I think that is very possible. Betances moved to the bullpen full-time in May 2013, so last year was his first Spring Training as a reliever, and he was trying to make the team. It wasn't a normal "just get ready for the season" spring for him. The Yankees scaled back his in-game workload considerably this year — he's thrown 5.1 innings with a week to go this spring after throwing 12.1 innings last spring, including four outings of multiple innings. Dellin had the same number of Grapefruit League innings on March 5th last year that he has on March 27th this year. He's used to being a starter in Spring Training and getting a lot of work. That hasn't happened this year and it could explain his velocity and command issues. We can't say that for certain, but I do think it is potentially a factor.
P.J. asks: If Michael Pineda remains healthy all season and pitches even something close to the way he did in 2014 after he came back from the injury do you think the Yankees will talk early extension for him? Also is Nathan Eovaldi a candidate for an early extension at the end of the 2015 season?
I think teams are starting to go overboard with long-term contract extensions, specifically by locking up non-core players based on the concept of "protecting against a breakout." (Looking at you, Adam Eaton. Gotta lock up those injury prone singles hitters who are under team control through 2018 as soon as possible!) Both Pineda and Eovaldi are scheduled to become free agents after the 2017 season, so the Yankees have some time to evaluate them, especially Pineda given his shoulder issues. I liked the idea of signing both to short bridge deals this past offseason, though I think I would hold off on a longer term deal until after 2016, with Pineda in particular. If he makes it through 2015 in one piece, great. Let's see how that workload affects his shoulder in 2016 before committing. The Yankees can afford to pay these guys whatever they're worth in a few years. They have the luxury of sitting back and waiting another year to minimize risk.
Vinny asks: Other than the gregarious Nick Swisher, what Yankees of recent vintage do you think we'll see as analysts on the YES Network someday?
Swisher might be able to pull it off in Eric Byrnes way, but he did some television work during the postseason last year (I think it was TBS?) and was pretty bad. The first name that jumped to my mind was Curtis Granderson because he's so charismatic and well-spoken, though Andrew Marchand disagrees and thinks he would be boring. Mark Teixeira showed his comedic side with Foul Territory last year and I think he'd be a good candidate for a more serious analyst role too. Brandon McCarthy comes off as smart on Twitter and that's what I want in an analyst, but I have no idea how he is in front of a camera.
I crowdsourced this question on Twitter yesterday and a lot of people said Alex Rodriguez. (Mike Mussina was also mentioned.) I think A-Rod would be able to talk about the game and break it down at an incredibly high level — he gave Ken Rosenthal a must read scouting report on Didi Gregorius recently, for example — but he seems completely incapable of normal human interaction, which probably won't work well on television. If you stuck a microphone in front of his face in a studio and asked him to break down tape, he'd be great. Ask him to sit in a booth and talk to a play-by-play guy about the game? Probably not going to go as well.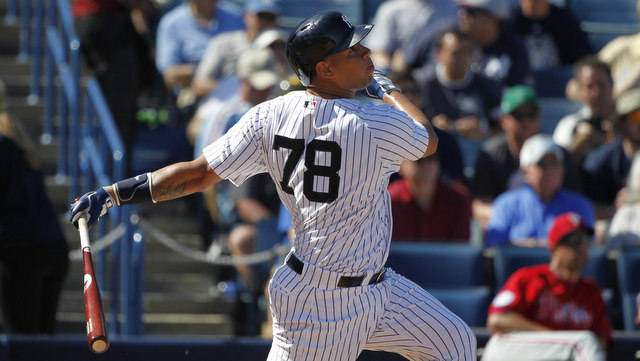 Carl asks: Chad Jennings brought up an interesting thing the other day regarding Gary Sanchez. He noted that Sanchez had been optioned to Double-A, and was legitimately playing with them, and also that Trenton added Michel Hernandez and P.J. Pilittere to the coaching staff, two former catchers. If Sanchez opens the season in Double-A, do you think this could mean that John Ryan Murphy opens in Triple-A, and the Yankees keep Austin Romine as the backup? Whatever the outcome regarding Murphy/Romine, do you see Sanchez opening the season in Trenton?
Matt Kardos says he's heard Sanchez is likely to start the season back in Double-A as well for what it's worth, and Brian Cashman told George King that Romine being out of options "will be a factor" in the backup catcher decision. I thought that was typical GM speak at first, Cashman not wanting to show his cards to teams looking to trade for Romine, though it's starting to seem like there's a chance Sanchez will remain in Double-A, Murphy will go back to Triple-A, and Romine will be Brian McCann's backup, at least to start the year.
If it's a short-term thing, fine. But I wouldn't like that to be a long-term situation this year. I'm not sure what Sanchez and Murphy stand to gain by spending even more time at Double-A and Triple-A, respectively — the Yankees could have easily brought in some catching coaches for Triple-A rather than leaving Sanchez in Double-A to work with Hernandez and Pilittere — and Romine hasn't done anything to earn the backup catcher's job. I understand wanting to keep catching depth, but not at the expense of holding back the development of two good prospects. Romine is far from irreplaceable.
Jerome asks: If the Yankees could somehow trade their owners and/or GM for anyone else in the league, who would you trade for?
This is tough to answer because how do we judge a good owner? Willingness to spend? How can we gauge that with small market owners like, say, Lew Wolff of the A's? I'm sure he'd love to spend more money but simply can't. Anyway, I think being a GM in a huge market is way more difficult than people realize, so the list is surprisingly short. Assuming I can't mix and match owners and GMs from different teams, I think the only combos I would take over Hal Steinbrenner/Brian Cashman are Ted Lerner/Mike Rizzo (Nationals), Mike Ilitch/Dave Dombrowski (Tigers), and Bill DeWitt/John Mozeliak (Cardinals). I'd prefer the Dodgers and Red Sox owners to Hal but not the GMs. That's about it.
Luke asks: In past years, at some point during the spring Joe Girardi has had a "fun day" of sorts (billiards, bowling, etc). Have I missed that this spring or has it just not happened yet?
No, it hasn't happened this year and hasn't in a while. Girardi surprised the team and took them to a pool hall in 2009 and then to an arcade in 2010, but as best I can tell the Yankees haven't done anything like that since. I'm sure there's a reason, I just don't know what it is.
Joe asks: Why do you think the Yankees were not more involve with Hector Olivero? Seems he would be a valuable 2nd baseman.
Passing on Olivera at that price (six years, $62.5M) seems like a pretty easy call to me, especially since he has a small tear in the elbow ligament and will need eventually Tommy John surgery at some point. (If he has surgery, the Dodgers get a seventh year added on to his contract for only $1M, but it's his age 37 season.) He could be a valuable second baseman, but what if he can't hack it there? The Yankees couldn't play him over Chase Headley at third base, meaning they'd have yet another DH on their hands. If the Yankees were going to give a six-year contract to a 30-year-old, they would have just signed Jon Lester. The annual salary doesn't scare them, it's the years.
Paul asks: Is this the first time the Yankee rotation (assuming Chris Capuano is healthy) last names all end in a vowel?
Nope! They not only had an "all last names end in a vowel" rotation just last season, they had an "all last names end in the same vowel" rotation last season with CC Sabathia, Hiroki Kuroda, Ivan Nova, Masahiro Tanaka, and Pineda. Last year Diane at VORG did some research on rotations with pitchers whose names end in the same letter, vowel or otherwise, if you're interested.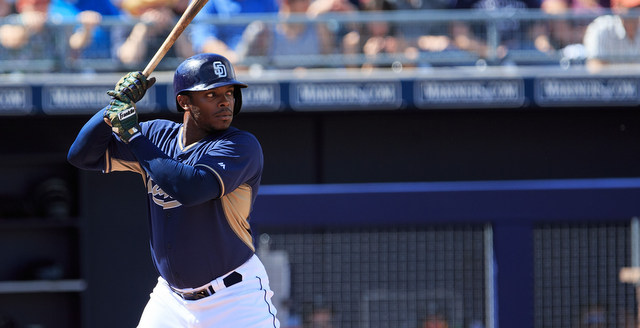 Adam asks: There are several elite free agents after this season (Jason Heyward, Justin Upton, David Price, Jordan Zimmermann, Johnny Cueto). If you could only pick one, who would it be and why?
Obligatory I'd be happy with any of those guys comment. But if you're making me pick just one, I'd go Upton because the Yankees need a big bat more than they need another starter or defense first outfielder. I reserve the right to change my answer to Heyward if he has a monster 2015 season, though Upton is the superior hitter right now — it helps that he's a righty too — and as bad as his defense is, he'd be an upgrade in right over Carlos Beltran. How do you fit Upton on the roster with Beltran and A-Rod still under contract? Beats me, though chances are one of them will get hurt before long. Upton is who I'd pick today, ten days before Opening Day 2015.
Mike asks: Do you think with the spring Slade Heathcott and Mason Williams have had that the Yankees can look at them as legit prospects again?
No, it's only Spring Training. They've performed well, yes, but they've had something like 50 plate appearances combined. I do buy Heathcott being healthier right now that he has been at any point in the last two or three years, and that sort of raises his prospect stock, but the spring performance is meaningless. Let's see Heathcott get a full healthy season under his belt and Williams not mope his way through another summer before we consider their prospect status repaired. Three weeks in Spring Training don't erase those problems.
Ethan asks: If the 25 man roster were expanded to 26, how do you think most teams would use the extra spot?
I think most teams, including the Yankees, would use it for an extra reliever. I could see a team like the Athletics, who have a deep pitching staff and love platoons, using it on an extra position player though. The Red Sox might do that too since they have a million outfielders. I think the 26th roster spot would help usher in the age of six-man rotations over a period of several years. Some teams could swing a six-man rotation this year, the Nationals most notably and possibly the Yankees too if Adam Warren pitches well and Capuano gets healthy, though I think it'll take a few years for all 30 clubs to buy in. Baseball has been gradually progressing towards using pitchers less and less for decades now. I think the 26th roster spot would make it even easier for teams to do that.