Monster mailbag this week. Nineteen questions in all. I did my best to keep the answers short and failed miserably. RABmailbag (at) gmail (dot) com is where you can send us stuff.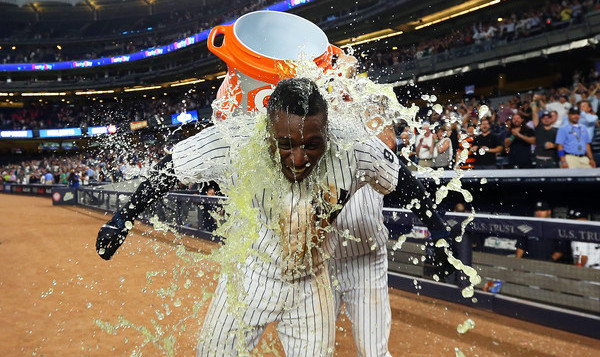 Anonymous asks: Should the yankees be exploring an extension for Didi this winter?
It's definitely worth exploring, though I think going year-to-year with Didi Gregorius would be perfectly fine too. He's making $2.425M this season, his first year of arbitration eligibility as a Super Two, so he still has three more years of arbitration coming. Defense still isn't rewarded through arbitration, and while Didi's been a very productive hitter this season, it's not a huge breakout that will send his salary through the roof.
According to the MLBTR Extension Tracker, not a single Super Two shortstop at Didi's service time level has signed a long-term extension, so we're in the dark about what it would take. Only two non-Super Two shortstops a similar service time level have signed extensions: Elvis Andrus (eight years, $120M) and Alexei Ramirez (four years, $32.5M). The Andrus extension is a disaster and Ramirez was almost 30 when he signed his deal, so they're not great benchmarks. Let's spitball some numbers:
2017: $5M (second of four arbitration years)
2018: $7.5M (third of four arbitration years)
2019: $10M (fourth of four arbitration years)
2020: $14M (first free agent year)
2021: $16M club option (second free agent year)
That's a four-year deal worth $36.5M with an option for a fifth year. Didi's base salary is already $2.425M this season, and being a Super Two helps his earning potential. A $2.5M annual raise during his arbitration years doesn't seem unreasonable, does it? It might be light, if anything. Does it make sense to sign Gregorius to that contract? It does if you believe this season is an indication he's ready to become a legitimate 18+ homers a year shortstop.
John asks (short version): Given DIDI's emergence as an above average offensive shortstop, would it make sense to trade him in the middle of this rebuild?
Depends entirely on the offer. Gregorius has been awesome, but I wouldn't make him off-limits in trades. Not when you could slide Starlin Castro over to shortstop in the short-term and have Tyler Wade, Gleyber Torres, and Jorge Mateo on their way. Young two-way shortstops are always in demand. Off the top of my head the Twins, Athletics, Mets, Reds, and Padres could use one. I'm not saying the Yankees should give Gregorius away, but if another club makes them a real attractive offer, say a young pitcher plus two prospects, they'd be silly not to consider it. Don't shop him, but be willing to listen. I'm certain the Yankees will.
Peter asks: With the commitment to a youth movement now do the Yankees sign any Major League Free Agents this offseason? Is there anyone even worth targeting?
I said the other day that I think the Yankees need to add a starting pitcher this offseason in the wake of Nathan Eovaldi's injury, so I'll say yes, they do sign a big league free agent. I would bet strongly against them handing out a big contract, however. I think the only way they hand out a huge contract is if Japanese righty Shohei Otani is posted, and right now that is far from certain. Otherwise I expect the Yankees to explore the lower cost market. Maybe a one-year deal for a starter and/or a reliever, something like that. The team's biggest moves figure to be trades this winter, not free agent signings.
Mike asks (short version): A theory: A right handed power hitter is incentivized by the right field porch to use the entire field, which leads to higher BABIPs. Conversely, left-handers tend to "fall in love" with the porch and become dead pull hitters. Thoughts?
I suppose righty hitters could fall in love with going the other way because of the short porch, but I do agree with Mike's premise. You want hitters to use the entire field regardless of the ballpark dimensions, but in Yankee Stadium there's a clear advantage to being able to hit the ball to right field. The Yankees have gone heavy on lefty pull hitters over the years and I understand why. I think an unintended consequence is that they became too one dimensional. Going forward, the best plan of attack may be to focus on the hit tool first, then just let the power boost come naturally. Get guys who can spray the ball around and will work the count. Let the ballpark do the rest.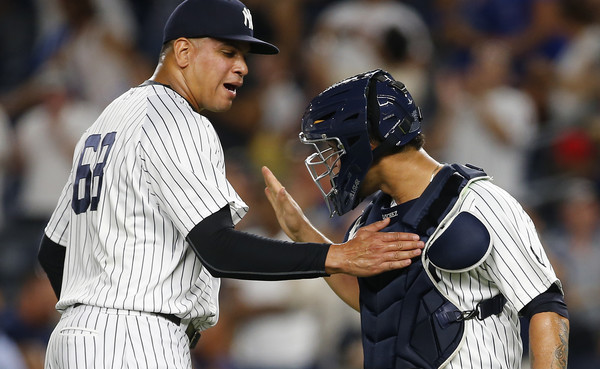 Gilbert asks: Watching the game tonight, I had a thought: has Sanchez ever caught Betances in the minors before? And extended question: how many current Yankees pitchers has Sanchez caught from when they were in the minors?
Gary Sanchez and Dellin Betances were never on the same minor league team. Sanchez was always a level or two behind. I'm sure he caught him during Spring Training and stuff, but they were never minor league teammates. Here are the pitchers on the 40-man roster who were minor league teammates with Sanchez at some point:
More than I expected! That doesn't include Ben Heller, who was technically Sanchez's teammate in Triple-A for two days following the trade deadline. They were never in a game together down there though. It also doesn't include guys like CC Sabathia and Michael Pineda, who were temporarily Sanchez's teammate while on rehab assignments. There are 26 (!) pitchers on the 40-man roster right now and 15 were minor league teammates with Sanchez at some point.
Dan asks: Would you consider an offseason trade of Gary Sanchez for Lucas Giolito?
Sure, I'd consider it. I don't think the Yankees or Nationals would though. Giolito's the higher ranked prospect, but a 23-year-old power hitting catcher is a pretty valuable commodity too. You could nitpick both of them apart — Giolito had Tommy John surgery, Sanchez doesn't walk much, Giolito's minor league numbers aren't great, Sanchez is a negative on the bases, etc. — but the bottom line is both are very valuable young players. A straight one-for-one swap is fair-ish in a vacuum, I think. Maybe I'm just a raging homer. Brian McCann and Austin Romine give the Yankees the flexibility to trade Sanchez, but if they're going to trade him, it has to be for a top shelf young player like Giolito. My guess is both teams would say no to this trade though.
Travis asks: Do you think the Clippard acquisition was more buying low to see if he returns to form, then selling high either in off-season or at next trade deadline?
Nah. I think they got him simply to beef up the bullpen in the wake of the Andrew Miller and Aroldis Chapman trades. Someone is going to have to throw those innings, preferably someone with late-game experience, and Tyler Clippard fit the bill. It was a relatively low cost move to plug a hole, that's all. Now, if Clippard dominates — and he's pitched well so far — and the Yankees have a chance to flip him for more than they gave up, I think they'd do it in a heartbeat. I don't believe that was the original intention though.
Alexander asks: What do you think about McCann as an option for the Indians? The multi year commitment may be a limitation but seems like the Brantley and Gomes injuries plus Lucroy non-trade may open up a need.
The money is going to be a real issue. The Indians clearly need a catcher and Jonathan Lucroy was a perfect fit for them. He's a righty bat to help balance their lefty heavy lineup and he's dirt cheap. McCann is neither of those things, but he's way better than Chris Gimenez and Roberto Perez. Cleveland can't afford a $17M a year catcher, so the Yankees would have to pay down a ton of money. Would they be willing to do that? Would the Indians be willing to give up the prospects necessary to get the Yankees to do that? McCann fits the Indians because he's better than the catchers they have in-house. It just seems like his contract will throw a wrench into things.
Roy asks: With the possibility that the Yankees move Brian McCann this month or over the winter, will the Yankees feel the lack of a lefty power hitter? For the first time that I can remember, no one will be a serious home run threat from the left side.
That's a good point. They will get Greg Bird back next year and hopefully he returns from shoulder surgery strong. He'd be the team's primary lefty power threat. Him and Gregorius. I think this is more of a "problem" than a problem, because as long as guys like Judge and Sanchez do what we expect them to do, the Yankees are going to hit dingers. Carrying a lefty bench bat sure would make sense though. You still want to have some balance, because you're inevitably going to run into right-handed pitchers who chew up righties but are susceptible to lefties. Especially relievers.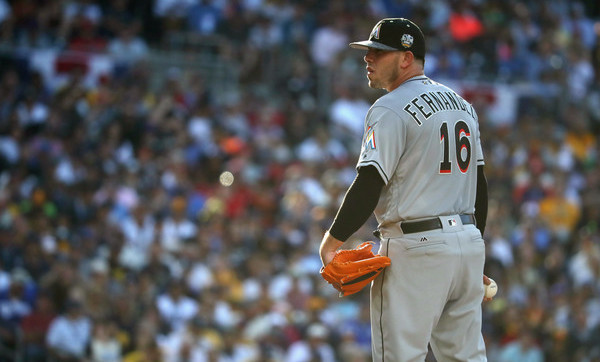 Sean asks: Am I crazy to think that I wouldnt want to trade any of the top prospects for anyone unless its someone like Jose Fernandez? Chris Sale is great and all but he's kind of up and down, his delivery is kind of conducive to an injury. If you have to give up an arm and a leg for a top pitcher, id rather go for Fernandez
Well, Fernandez has already had a major arm injury (Tommy John surgery in 2014) while Chris Sale has been close to perfectly healthy in the big leagues, so I wouldn't get too caught up in worrying about injury risk. Every pitcher is an injury risk. Sale and Fernandez are both awesome. Top ten pitchers in the world. Nitpicking who's better is a waste of time. The difference is their contract situation. Fernandez is going to be a free agent after 2018. Sale is signed through 2019, assuming his no-brainer club options are exercised. That extra year of control is huge. If the Yankees are going to trade prospects for an ace, do it for the guy you'll control longer.
Doug asks: Assume Austin/Judge/Sanchez have solid production for the rest of the year: is there a young pitcher that matches up with them in a trade? Do we sell high like the Pineda/Montero trade?
I wouldn't be opposed to trading some of the young guys. Sanchez, Aaron Judge and Clint Frazier are the three I'd hang on to most. Tyler Austin, Torres, Mateo … I'd make them available no questions asked. Looking around the league, would the Angels trade Tyler Skaggs for some young players? What about the A's and Sean Manaea? The Reds and Anthony DeSclafani? I have a hard time thinking the Rockies would make their young pitchers available, but Jon Gray and/of Tyler Anderson would be cool targets. The thing about the Pineda trade is that no one saw it coming. He seemed like someone who would stay put after such a strong rookie season. Trades like this tend to be surprises.
Prem asks: Based on DotF recaps, it appears Cito Culver has found some sort of offensive stroke in the past few months. He turns 24 later this month and the Yankees have a glut of SS prospects. Does he have any value to the Yankees? Ramiro Pena v2.0?
Utility infielder at best. It seems like Culver has had a very good year, but he's still hitting only .251/.309/.357 (86 wRC+) with a 27.4% strikeout rate overall. And he was repeating Double-A too. Culver can still pick it at short, and that's a very valuable skill, but yeah, Ramiro Pena v2.0 seems to be the best case scenario here. Cito will be a minor league free agent after this season, by the way.
Dan asks: Can you explain the 60 day DL as it pertains to the 40 man roster during the offseason? Do players have to be added back to the 40 man during the offseason, and if so, what about players who are still expected to be injured come opening day?
There is no DL in the offseason. Players are activated off the DL the day after the end of the World Series. Eligible free agents also come off the roster at the same time, so that day is a massive 40-man roster exodus. The free agents are gone and the 60-day DL guys again count towards the 40-man. The Yankees only have two impending free agents left on the roster after their trade deadline moves (Mark Teixeira and Swarzak), so there's going to be more than a few roster moves that day after the end of the World Series this year. Players who are still injured come Spring Training can then be placed on the DL again. The exact date seems to change every year, but it's sometime in March.
Noel asks: Is there a chance either Judge or Sanchez gets enough AB's to lose their rookie status? I believe its 150 ABs. It would be neat if one or both of them were able to show what they can do for a whole year next year and maybe net us fans a MLB Rookie of the year award.
It's 130 at-bats and both will almost certainly reach that number this year. The Yankees have 42 games to go, and assuming Sanchez plays three out of every four games and averages three at-bats a game, that's another 94 at-bats right there. Here's already at 50 at-bats right now. I expect both Sanchez and Judge to lose their rookie eligibility this year, which means the farm system will take a hit and not rank quite as highly next spring as it does right now, but who cares about that? Graduating prospects to MLB and helping them become impact players is what it's all about. I guess that means Frazier will have to go out and win Rookie of the Year next season.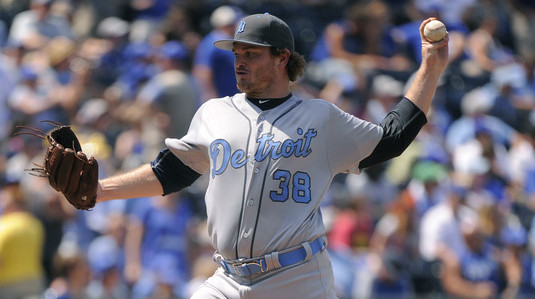 Joe asks: We keep talking about the recent trades and how they will have such a great impact on the future, What about the Justin Wilson trade? We traded a 7th, 8th and 9th inning guy for what could amount to half of our future.
The Wilson trade was one of those moves that was confusing at the time and looks better as we get further away from it. Both Green and Cessa are in the rotation right now. Imagine where the Yankees would be without them. Also, Wilson has a 4.57 ERA this season and needed a cortisone shot in his elbow earlier this week. Don't get too upset about selling high on non-elite relievers, folks. All it takes is either Green or Cessa becoming a back-end starter or setup man for the Yankees to come out ahead on this one.
Mike asks: What about putting Warren in the rotation, and leaving Severino, Green and Cessa in the bullpen? The three of them seem to be nearly identical, hard throwing, two-pitch-FB/slider-type guys that struggle making multiple trips through the lineup.
I wouldn't do that the rest of the season. Let's see what the kids can do. I think the "they're all too similar" stuff is generally overplayed — it cracks me up when teams arrange their rotations at the start of the season and worry about splitting up the lefties — and isn't much of a concern. Luis Severino has some very real issues to work on in Triple-A. Green and Cessa can stay in the rotation for the time being. I would definitely like the Yankees to bring Adam Warren to Spring Training as a starter next season though. Maybe he can be the guy to fill Eovaldi's spot.
Matt asks: Does the Eovaldi injury change your view on what the Yankees should do with Pineda going forward?
Yes. It has to, right? Earlier this year I was in the "extend Eovaldi, let Pineda walk" camp, and now there's no reason for that camp to exist. Bottom line: the Yankees need pitching beyond 2017, and now one of the available pitchers (Eovaldi) is way less desirable. Pineda is still frustrating as hell, but he's healthy, he's relatively young (27), and he misses bats. I'm not convinced he'll ever be more than a mid-rotation starter, though at least the potential for improvement exists.
Jonathan asks: Since Eovaldi will be non-tendered, where does his rehab take place and who pays for it?
The Yankees are on the hook for the cost of his surgery and rehab and all that. They also have to give him access to their facilities to do his rehab work, though I believe he has the option to rehab elsewhere if he wants. Once he signs with another team, that team assumes the responsibility of his rehab and New York is off the hook. Players who get released after being injured aren't hung out to dry. The Collective Bargaining Agreement says the team has to take care of them as if they are a player on the roster, and it's been like that for years and years and years.
Frank asks: I was reading a Fangraphs piece and noticed that David Price has a 3.3 WAR.  While his K% and BB% is good he still has allowed more hits per inning and also has an ERA over 4.  How has he managed such a really good WAR?
There are two main versions of WAR right now: FanGraphs and Baseball Reference. FanGraphs WAR is based on FIP, and FIP is based on strikeouts, walks, and homers. That's it. Price has excellent strikeout (24.0%) and walk (5.2%) rates and an average-ish homer rate (1.11 HR/9). The FanGraphs version of WAR is blind to the number of hits (9.39 H/9) and runs (4.19 ERA) Price is allowing.
B-Ref WAR is based on actual runs allowed, which is why they have Price at +2.2 WAR, a full win below FanGraphs. I prefer B-Ref WAR myself. At the end of the day, we're trying to quantify performance, not project forward, so the runs matter. That's the job of the pitcher: prevent runs. It doesn't matter if he strikes out 15 guys a night or gets 20 line drives at defenders. You might feel better about the 15-strikeout guy sustaining his performance going forward, but if the 20-line drive guy kept runs off the board, then he kept runs off the board and WAR should reflect that.