I've got ten questions for you in this week's second half opening mailbag. Ten questions qualifies as a small mailbag these days. Use the RABmailbag (at) gmail (dot) com email address to send us anything.
Phil asks: Looking at next year's FA class, who do you see as B-list guys we could sign to 1-2 year deals that could help as stop-gaps or maybe break out to re-up their value?
Here's the upcoming free agent class. Oddly enough, the best one-year contract reclamation project starter may be … Ivan Nova. Rich Hill seems to have pitched his way into a two-year deal at this point. Besides, pitchers don't come to the Yankees to rebuild value. The AL East and Yankee Stadium is not a good place to try to improve your stock if you do your work on the mound.
As for hitters, Chris Coghlan is someone who could be interesting as a super utility guy. The former Rookie of the Year is hitting only .155/.244/.278 (40 wRC+) this season, but he put up a .265/.346/.447 (119 wRC+) line in almost 1,000 plate appearances from 2014-15 while playing first, second, third, left, and right. A lefty hitter who can do that is worth a shot as a bench piece. Here are some other one-year deal candidates that stand out to me:
1B Mitch Moreland: Moreland has some outfield experience and is a lefty pull hitter who can take aim for the short porch. He'd be an okay stopgap if Greg Bird's shoulder isn't ready to go come Opening Day.
UTIL Steve Pearce: Pearce is never going to put up a 161 wRC+ like he did in 2014 again, but he can hit lefties while playing first base and the corner outfield. He can also be an emergency option at second and third. Pearce would be a really great righty hitting complement to Bird.
OF Jon Jay: Jay would only make sense if the Yankees let Carlos Beltran walk and trade Brett Gardner, and even then they have all those lefty hitting Triple-A outfielders. He hits for average, gets on base, makes contact, and plays solid defense. You can do worse for a stopgap outfielder.
The upcoming free agent class is really light on impact players. There's Jose Bautista, Edwin Encarnacion, Yoenis Cespedes if he opts out, and, uh, Ian Desmond? That's the list. The Yankees are trying like hell to get under the luxury tax threshold, and let's just say fighting off the temptation to spend big in free agency won't be tough this winter.
George asks: Girardi said he couldn't work with a 6 man rotation. If it meant Hicks would get more playing time, it would work. Two thoughts – 6 starters, whoever is supposed to have a "throw day" could be a 1-2 inning reliever that day, start warming up in the 5th-6th since starters need more time. Second – 2 starters + 1-2 relievers at AAA, 6th starter pitches, goes down, reliever comes up. Other starter comes up for next 6th start. Days off make this easier. It doesn't seem that difficult.
This is not nearly as easy as you make it sound. First and foremost, you need seven starters to make it work, because the ten-day rule prevents you from sending down your sixth starter and calling him back up five days later. Do the Yankees have seven MLB caliber starters? I'm not even sure they have four right now. I guess it doesn't matter if Chad Green and Luis Cessa are getting blasted every sixth day if you sell at the deadline though.
Also, having pitchers throw one or two innings on their throw day is not something you can do all year. Teams do it once in a while when they're very light on available relievers. Between-start throwing sessions are usually far less intense than game action. Using a pitcher on his throw day all the time like that means he's going to run out of gas not only earlier in the season, but earlier in starts as well.
The Yankees only have to get through the rest of July and August — they have four off-days between now and September 1st — before rosters expand and they can go with a six-man rotation. Counting the days on the schedule, Masahiro Tanaka would make nine starts between now and September 1st: five on normal rest and four on extra rest. Use a spot sixth starter once or twice and it's only three or four starts on normal rest. He'll live.
Howie: Through Wednesday, Tyler Austin is hitting .294/.376/.633 with 15 walks and 31 strikeouts in 29 games at Scranton/Wilkes-Barre. Now that he's healthy again, is he back as a prospect? Could he have a chance at reaching that ceiling he once had?
He's definitely rebuilt some prospect stock, though he's not all the way back to where he was a few years ago simply because he's older now and has lost development time. Austin's biggest problem over the years has been injuries, specifically wrist problems. It's not like he lacked hitting ability. Before Austin projected as a potential 20-homer corner outfield bat. Now he might be more like a 15-homer part-time corner outfielder/part-time first baseman. That's still a useful player, but he's not someone who's going to be a real difference maker. It's great to see him raking in Triple-A. The lost development time is not insignificant though.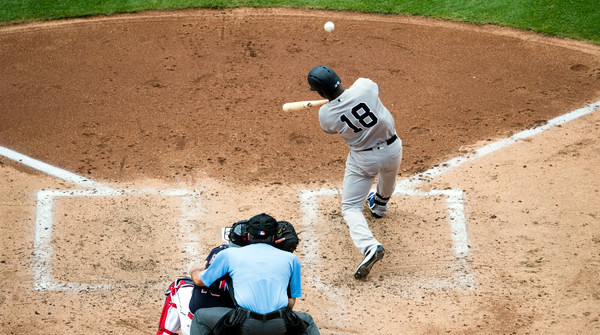 Chip asks: Is the current group of young AL Shortstops (Correa, Lindor, Didi, Xander) the best we've seen since Jeter, Alex, Tejada and Nomar? And that's not even including Russell in the NL.
Has to be, right? The best shortstops to debut from 2000-12 are Jimmy Rollins, Jose Reyes, Troy Tulowitzki, Hanley Ramirez, and Rafael Furcal in whatever order. That's five All-Star caliber shortstops in the span of 13 seasons. Now all of a sudden we've seen Xander Bogaerts, Carlos Correa, Francisco Lindor, Addison Russell, and Corey Seager debut within the last three years. (Didi Gregorius is a notch below those guys.) This is definitely the best crop of young shortstops — not just in the AL, but all of MLB — we've seen since the Derek Jeter/Alex Rodriguez/Nomar Garciaparra class, hands down.
Paul asks: In the beginning of the year it seemed like McCann was using the entire field pretty effectively, and now it feels like that's gone away entirely. Is this real or imagined? If real, is there a tangible reason why?
The numbers don't really bare that out. Here are Brian McCann's batted ball direction rates by month this season, via FanGraphs: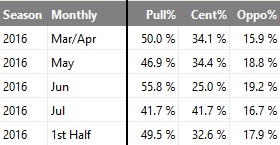 Last season McCann was at 50.1% pull, 31.5% middle, and 18.4% opposite field. He was right in that range again during the first half. The monthly data reflects the random month-to-month fluctuation that happens in baseball. I don't think a 55.8% pull rate in June and a 41.7% pull rate in July means McCann has suddenly made a conscious effort to go the other way. That's just baseball. He's had some memorable hits the other way this year …
… though I don't think there's much to it. He seems like the same ol' McCann to me, and there's nothing wrong with that at all. He's very productive for a catcher despite his generally low batting average.
Anonymous asks: Wondering how much trade value Higashioka has. He's stuffed way down in the depth chart right now. Would he be able to bring anything of note back with how well he's performed this year? Or do teams see him as a carriage waiting to turn back into a pumpkin? Keep up the awesome work and thanks!
Not much, probably. Kyle Higashioka's track record as this type of hitter is very short, and if you look around baseball, I'm sure there are a bunch of 26-year-olds mashing in Double-A. Higashioka is a very good defensive catcher and that's pretty important. He might be the third or fourth piece in a big trade, or someone who goes as a player to be named later. I feel like the Yankees are better off keeping Higashioka and seeing whether he's for real than trading him for a spare part player.
Anonymous: Fun stat to track the rest of the year– Will Didi wind up with more HRs or BBs? He needed an intentional walk(!) in Saturday's game to keep the totals even.
There are always a handful of players who finish the season with more homers than walks. Last year Cespedes (35 HR, 33 BB), Adam Jones (27 HR, 24 BB), Nolan Arenado (42 HR, 34 BB), and Salvador Perez (21 HR, 13 BB) all did it. Jones has done it a bunch of times over the years. So has Adrian Beltre.
Gregorius is at eleven homers and eleven walks right now, and like you said, one of the walks was intentional. Didi went on a bit of a homer binge to close out the first half (five homers in eleven games) and that's not going to last all year. My guess is he finishes the season with 18-20 homers, which would be frickin' awesome. Who wouldn't have taken that coming into the season?
Right now Didi has a hilarious 3.5% walk rate. He'd need 572 plate appearances to get to 20 walks at that rate. Gregorius is at 317 plate appearances now and getting another 255 in the second half shouldn't be a problem as long as he stays healthy. To finish the year with more homers than walks, Didi is either going to have to sustain this recent power binge or just stop walking all together.
Mike asks: Whether or not McCann gets traded, why don't the Yankees call up Sanchez to split catching duties and keep McCann/Romine on the roster as backup first basemen? Torreyes seems pretty much useless on the roster at this point (barring injury) and Castro even played a game at short last week to spell DiDi. Just seems like Sanchez's bat is needed more right now than Torreyes' versatility, and you keep Romine so you have the option to send Sanchez back down.
Should the Yankees sell at the deadline, calling up Gary Sanchez in the second half seems like a no-brainer to me. Let him get his feet wet as McCann's back up and give him a healthy amount of starts, maybe even half. Austin Romine has been pretty good, but he shouldn't stand in Sanchez's way. I say keep Ronald Torreyes — they need the backup infielder more than they need a third catcher/first baseman — and dump Romine, then let Sanchez join the team. Maybe they could get a decent prospect for Romine. Who knows? Added bonus: Higashioka goes to Triple-A.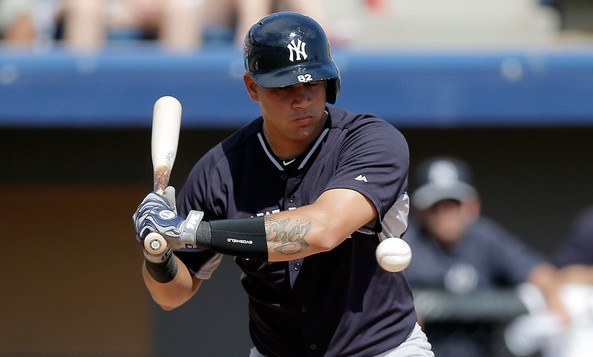 Johnny asks: I was looking at the schedule and all the games in September (minus 3 with the Dodgers) are against AL East opponents. Is it possible the brain trust thinks the team can make up significant ground and therefore is hesitant to decide on selling?
The odds of this happening are annoyingly high. The Yankees have 13 games remaining against the Red Sox, 13 against the Orioles, and ten against the Blue Jays. More than 40% of their second half games are against those three teams. So yes, all those games represent an opportunity to gain ground in the postseason race. At the same time, the Yankees beating the Red Sox is good for the Orioles and Blue Jays. Beating the O's is good for the Red Sox and Blue Jays. They Yankees need at least two of those three teams to go in the tank to catch up. What are the odds of that happening? Also, what reason do we have to believe the Yankees can even beat those teams consistently? They're 6-15 against them in 2016.
Anonymous asks: If, for example, Chapman had the same 2 years of control left and the same amount of money due, who would have the most trade value, Chapman or A. Miller?
Chapman. Miller is awesome, but Chapman's track record as an elite reliever is way longer and he's nearly three full years younger. Also, Miller missed a month with that forearm injury last year. Chapman hasn't had any injury problems in years. Miller has been better this year on a rate basis and this is definitely a "what have you done for me lately" game, but the combination of age and track record seems too much to ignore.