We've got 12 questions in this week's mailbag, the final mailbag of the 2018 regular season. As always, RABmailbag (at) gmail (dot) com is where you can send your mailbag questions each week.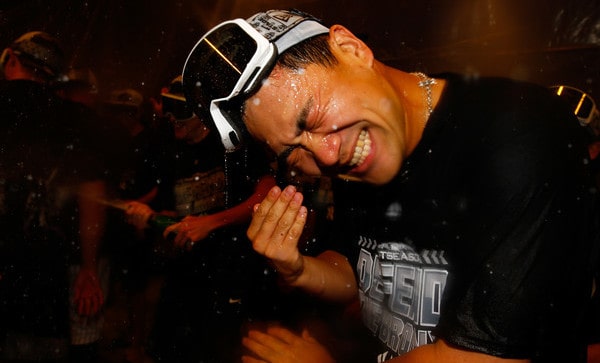 Robert asks: Starting pitcher for the Wild Card? How about the one least likely to implode in early on. Any stats on who most often throws a scoreless 1st and 2nd inning? Probably no Didi to bail us out again this year.
The other day Aaron Boone mentioned the Yankees might only let their starting pitcher go through the lineup one time in the Wild Card Game, even if he's effective. I'm not sure that'll happen — if the starter goes nine up, nine down with five strikeouts, are they really taking him out? — but the Yankees have made it pretty clear they'll be ready to go to their bullpen at the first sign of trouble. Anyway, here are the numbers (ERA/FIP/opponent's OPS+):
| | Happ | Severino | Tanaka |
| --- | --- | --- | --- |
| 1st inning | 3.90/4.49/76 | 4.22/3.31/104 | 4.00/3.75/103 |
| 2nd inning | 2.40/3.22/76 | 2.25/2.37/50 | 2.67/3.12/75 |
| 1st & 2nd innings | 3.15/3.86/76 | 3.23/2.85/78 | 3.33/3.44/90 |
| 1st time thru lineup | 3.03/4.29/92 | 2.60/2.74/79 | 2.70/3.12/87 |
Reminder that the first inning is the highest scoring inning, historically. That's the only inning in which each team's best hitters are guaranteed to hit. If the Yankees are only looking for someone to get through the lineup one time, it has to be Severino. And not just because of the numbers in the table. Tell him to air it out for nine batters and you're getting a 100 mph heater and a razor blade slider. Severino can dominate anyone. The Yankees have to piece together 27 outs in the Wild Card Game. My guess is the bullpen get the majority of those 27 outs.
Joe asks: This might be a little extreme, any chance if Yanks make it to the ALDS, they leave Chapman off the roster and ready him for the ALCS? Don't remember a time he looked good against the Red Sox. Maybe if they keep him on the roster, he doesn't pitch at Fenway even in a save opportunity?
There's no chance the Yankees will leave Aroldis Chapman off the postseason roster, in any round against any opponent. Chapman has really struggled against the Red Sox — he's allowed 16 runs in 16 innings against the BoSox while with the Yankees — but he has the ability to dominate any lineup. You roll with your best players in the postseason and trust them to do what's needed to win. What's the alternative here? Tommy Kahnle? Sonny Gray? Yeah, no. Chapman's recent history against the Red Sox is ugly and I'm not sure I'll feel comfortable with him on the mound in a close game against the Red Sox, but he is far too good and far too talented to avoid in the postseason because of 16 bad innings spread across two and a half years.
Joe asks: Do you think that the presence of Yankees scouts with the Marlins could make an offseason swap of Sanchez for Realmuto a possibility? How would a trade look?
The Marlins would have to kick in more. I've gotten a lot of "why not trade Gary Sanchez for J.T. Realmuto?" questions this year and most suggest a package headlined by Sanchez for Realmuto. That is completely backwards to me. The Marlins would have to give up a package headlined by Realmuto for Sanchez. Consider …
Sanchez is two years younger.
Sanchez is under team control through 2022. Realmuto is under control through 2020.
Realmuto's breakout season at age 27 in 2018 (.278/.342/.487/128 wRC+/+4.8 WAR) is no better than Gary's age 24 season in 2017 (.278/.345/.531/129 wRC+/+4.4 WAR).
Aside from his caught stealing rate, the defensive numbers on Realmuto aren't good at all.
I have no interest in selling low on Sanchez to buy high on Realmuto. Realmuto's really good and I don't have any reason to believe he won't continue to be really good the next few years. But Sanchez is younger, is under control longer, and every bit as talented (if not more). If Gary were on some other team right now, I'd get a zillion questions asking whether the Yankees should buy low, and I'd say absolutely yes. Keep Sanchez. Don't trade him for the flavor of the week. You're never going to win anything if you cut bait the first time young players struggle.
Matt asks: Is it worth it to dismiss Josh Bard after this season and hire a former manager to be a bench coach? With bullpen management being a clear weakness for Boone perhaps an experienced manager can offer some help.
From what I understand, Josh Bard is very highly regarded within baseball. He's considered a rising star in the coaching and managerial ranks. It wouldn't surprise me at all if we hear him connected to some managerial openings this winter and see him possibly go for interviews. Some of Aaron Boone's bullpen management is dumb. The A.J. Cole thing is ridiculous. But, generally speaking, Boone uses guys in the right spots, in my opinion. David Robertson is the fireman. Dellin Betances faces the other team's best hitters. That sorta stuff. It's up to Boone to improve his improve his bullpen management. It's not on the bench coach. Boone has to learn and gain experience. Besides, I suspect the front office has a lot of input — let's call it "providing guidance" — into bullpen moves. I'm not sure a veteran bench coach would change much, if at all.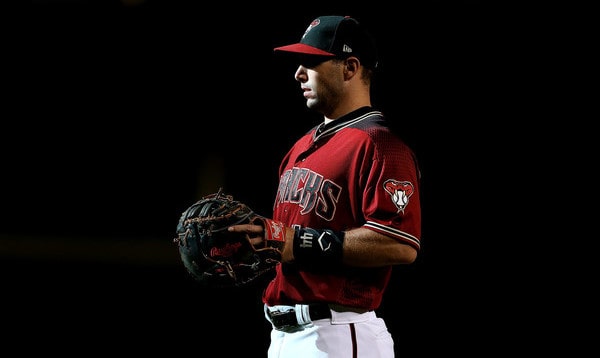 Craig asks: Paul Goldschmidt. Some speculation that the D-backs could deal him over the winter – do you think the Yankees would/should make a play for him? What would it take?
Next season is the last season on Goldschmidt's contract (it's a no-brainer $14.5M club option year) and he'll hit free agency at 32, which makes things dicey. He's obviously great — Goldschmidt is hitting .291/.390/.538 (146 wRC+) with 33 homers and Gold Glove caliber defense this year — but paying big dollars for a first baseman's age 32+ seasons isn't something teams are eager to do these days. That has led to speculation about a trade his offseason.
If the Diamondbacks are open to trading Goldschmidt, the Yankees absolutely should make a play for him. He's a dominant player who is a big upgrade at first base. I like Luke Voit, he's been awesome, but I wouldn't hesitate for a second to replace him with Goldschmidt. The Yankees have a lot of players in the prime of their careers or entering the prime of their careers. Anything they can do to increase their odds of winning the World Series in the short-term is worthwhile. The time to go all-in is right now. If not now, then when?
In a perfect world the Yankees would build a trade package around Greg Bird and Chance Adams, but I'm not sure that's realistic. I'd want Justus Sheffield as part of a package if I were the D'Backs. I don't think that's unreasonable for a player as good as Goldschmidt, even one year of him. I'm not convinced Arizona will trade him. I think they're more likely to keep him and try to win in 2019. If they're open to trading Goldschmidt, the Yankees have to at least check in. Elite players are always worth acquiring.
Luke asks: All this talk about 10+ HRs out of the '18 Yanks, and the next closest is Tyler Austin at 8 – womp. What about how many HRs have we gotten out of each position – has to be 20 per position, right? Any records close to being broken there?
I don't know how to look this up historically, so I don't know whether the Yankees are approaching (or setting) any records here, but it is pretty insane how much the home run production is spread out. The Yankees have not only gotten 20+ homers from every position except one (left field), they've gotten 20+ homers from every lineup spot except one (ninth). The numbers:
Homers by Position
Catcher: 29
First Base: 32
Second Base: 24
Shortstop: 33
Third Base: 26
Left Field: 19
Center Field: 29
Right Field: 37
Designated Hitter: 30
Homers by Lineup Spot
1. 27
2. 38
3. 26
4. 43
5. 33
6. 26
7. 23
8. 25
9. 19
That is pretty crazy. Can Andrew McCutchen (or whoever ends up playing left field) hit three home runs this weekend? Can the ninth place hitter sock one? I can't imagine many teams throughout baseball history have received 20+ homers from each position and/or each lineup spot.
Zeke asks: What's your opinion on bad contract swap for Ellsbury and Samardzija? Maybe Yankees can throw in one low level prospect to make it work?
I think we're heading into the third straight offseason with "Ellsbury for Samardzija?" questions. Jacoby Ellsbury was hurt all season and a non-factor. Didn't play a single game. Jeff Samardzija pitched to a 6.25 ERA (5.44 FIP) in 44.2 innings around injuries. They both have two years left on their contracts and the money is similar enough ($43M vs. $36M) that it shouldn't be a significant obstacle in a trade.
It boils down to this: What reclamation project do you want, the 34-year-old starter or the 35-year-old outfielder? I honestly don't know. I feel like Ellsbury is more likely to help you as a fourth outfielder than Samardzija is as a starter or even as a reliever at this point. Plus Ellsbury just had hip surgery. If his rehab carries over into early next season, the Yankees collect insurance money to offset his salary, and the savings might be worth more than whatever Ellsbury or Samardzija gives you on the field. I dunno. Two bad options here.
Frank asks: Do you have any interest in a Robbie Cano reunion for the first base job? If so, how much of Cano's contract would Seattle have to eat to make the deal plausible?
Nah. Robinson Cano is forever cool with me, but he's going to turn 36 years old in October, and there's still five (!) years and $120M remaining on his contract. It's all downside too. Cano's best years are behind him and you'd be acquiring his heavy decline years, the years the Yankees wanted to avoid when they reportedly capped their offer at seven years. The Mariners would have to turn him into what, a $5M a year player for the Yankees to even consider it? Even then, do you want to pay $5M a year for his age 36-40 seasons? Nah. stay away from the declining dudes on the wrong side of 35, especially when there are multiple years remaining on their contract.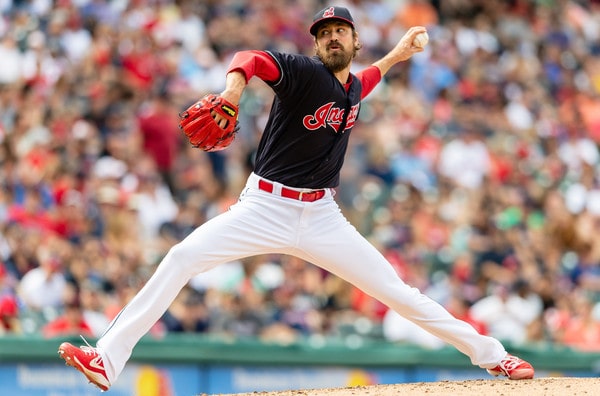 Andrew asks: Looking at your recent bullpen post. Why not bring back Andrew Miller as a FA? Let Britton walk and sign Miller who should be a cheaper? We already know he can handle NY and would give us insurance if/when Betances leaves after next year.
I suspect we're going to hear a lot about a potential Miller reunion this winter. It's worth a longer discussion outside a mailbag setting (and after the postseason). Miller turns 34 next May and he went into last night's game with a 3.38 ERA (3.10 FIP) and a 31.2% strikeout rate in 32 innings this season. That is obviously very good. It also qualifies as his worst season as a full-time reliever. He's also missed time with a shoulder impingement and ongoing knee problems that date back to last season. The Indians even sent him to see the Cleveland Cavaliers doctors to figure out the knee issue. Miller is awesome. I don't know anyone who didn't love him when he was with the Yankees. The question is who do you want the next three years, Miller during his age 34-36 seasons or Zach Britton during his age 31-33 seasons? As good as Miller is, I don't think it would be unreasonable to consider Britton the better investment going forward.
John asks: Assuming a RH starter in the Wild Card game, shouldn't Walker start over Voit?
Nah. Voit's been hitting righties pretty hard these last few weeks. He went into yesterday's game hitting .291/.384/.570 (158 wRC+) against right-handers this season, and that was before his 3-for-3 with a double and a homer game. Neil Walker's had some big moments with the Yankees — what are the odds he comes up with a random huge hit in the postseason? pretty darn good, I'd say — but he is hitting .234/.326/.390 (94 wRC+) against righties. Voit will swing-and-miss a bunch against big velocity from righties. That's not unusual though. Everyone does that. Otherwise he's hit righties very hard and I'd go with him over Walker against a righty in the postseason. (The fact Greg Bird is not even part of this conversation tells you how terrible he's been.)
Keane asks: Do you think the Yankees might experiment with more bullpen games or an opener next year?
I could see it, yeah. I don't think the Yankees or any non-Rays teams would do it as often as the Rays have this year, but it's worth considering. Inevitably there will be injuries and the Yankees will have to turn to young kids to fill out the rotation next year. That's just part of baseball. And when you have someone like that, like Domingo German or the Chance Adams spot start this season, it's definitely worth considering using an opener more often. It's not something I would look to do regularly. There will be some times when it makes sense though, and I hope the Yankees embrace it.
George asks: I had one question after reading your article about re-signing Andrew McCutchen. You mention a three-man (Judge, Stanton, McCutchen) rotation in the corner outfield and DH spots, but who is the backup for center field? If Hicks gets hurt, or needs a day off?
That's a good question and that's something the Yankees would have to figure out. Is Ellsbury on the bench? If yes, he'd be the obvious backup center fielder. Judge played center field in a game earlier this year, so the Yankees are comfortable running him out there. Comfortable enough to let him do it fairly often? Or on an everyday basis should Aaron Hicks get hurt? I dunno. The same question applies to Clint Frazier. I wouldn't want to play McCutchen in center field in anything more than an emergency. He's been pretty terrible out there the last few seasons. This is definitely something the Yankees would have to figure out should they re-sign McCutchen. You need quality backup options at this up-the-middle positions. They can be awfully hard to fill.