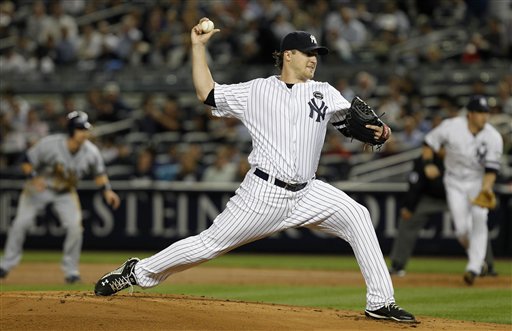 Tommy asks (via Twitter): do yanks go y2y with hughes or try to lock him up? wang theory or cano theory? what arb # will he submit?
With young players taking over the baseball landscape and becoming more and more important by the day, teams are locking up their best 20-somethings to long-term deals that accomplish two things. One, it gives the team some cost certainty since the arbitration process can be tricky. Secondly, and more obviously, it gives the player financial security in exchange for the chance of large arbitration paydays. There's definitely something to be said for being set for life before your 30th birthday. The guys over MLBTR recently put together two posts looking at why young starters are extended and why they aren't, so make sure they give those a read. Teams are basically trading increased risk for potential savings.
Phil Hughes is arbitration eligible for the first time this offseason, so the days of him being a cheap player pulling down a salary in the mid-six figures are over. He's got a healthy amount of big league experience to his credit (369 IP to be exact) and will now be making a salary more in line with his talent. Granted, he'll still be criminally underpaid compared to players on the open market, but that's how this business works. I plan on looking at his arbitration case a little deeper in the next week or two, but expect him to earn somewhere in the neighborhood for $2M in 2011, or a 400% raise.
The Yankees have only signed one player to a long-term guaranteed contract through his arbitration years in the last decade or two, and that's Robbie Cano. They signed him to a four-year deal worth a guaranteed $30M before the 2008 season, buying out his four seasons of arbitration eligibility (he was a Super Two) and potentially two more years of free agency if his 2012 ($14M) and 2013 ($15M) options are picked up. That deal looked a little questionable at first, but after Robbie's stellar 2009 and 2010 efforts, it's turned out to be a bargain for the pinstripers.
They also had the option of signing Chien-Ming Wang to a similar deal, which seemed like a logical thing to pursue on the heels of his consecutive 19 win seasons. Arbitrators love wins, so CMW had the goods to land himself a nice payday. Instead the Yanks went year-to-year with the righty, and ended up saving themselves millions after he broke down rather catastrophically, starting in the 2008 season.
That's generally been the team's policy, to go year-to-year and minimize the risk. They certainly have the financial wherewithal to pay large arbitration raises and I'm sure they'll happily do so for productive players, but they're also covering their asses in case of a physical breakdown or inexplicable ineffectiveness. Just looking around the league, contracts given to young pitchers have been hit or miss. For every Adam Wainwright (four years, $15M) there's a Rich Harden (four years, $9M), an Ian Snell (three years, $8.6M) for every Jon Lester (five years, $30M), a Nick Blackburn (four years, $14M) for every Ubaldo Jimenez (four years, $10M). They all seem like great ideas at the time, but not too many of them end up being worth it for the team.
There's really no reason to expect the Yankees to buy out Hughes' arbitration years with a long-term deal right now, it goes against everything they've done in the past. Cano was the exception, not the norm. And it's hard to blame them. Like I said, they're protecting themselves by remaining flexible with his contract situation year after year. You're not going to find a bigger Phil Hughes fan than me, but given how young he is (especially coming off a career high workload), there's no reason for the team to lock themselves into a deal just yet. For now, just sit back and enjoy watching the kid pitch. Let the Yanks worry about his contract status.