After running Thursday through Saturday the last two years, the amateur draft is returning to its usual Monday through Wednesday slot this year. The draft is scheduled to run from June 8-10 this year, and right now the Yankees hold the
17th, 31st, and 57th overall picks
. (The 31st pick is the compensation pick for
David Robertson
.)
This is only the second time in the last ten years New York has held three of the top 57 picks. The other instance came two years ago, when they landed 3B Eric Jagielo, OF Aaron Judge, and LHP Ian Clarkin with their first rounder and the compensation picks for Nick Swisher and Rafael Soriano. Here are some miscellaneous draft notes.
MLB.com's Top 50 Draft Prospects
MLB.com has published their first round of 2015 draft prospect rankings, which are topped by Florida HS SS Brendan Rodgers (video above!). Duke RHP Michael Matuella and JuCo LHP Brady Aiken rank second and third, respectively. Aiken, as you might remember, didn't sign with the Astros as the first overall pick in the 2014 draft and will be draft-eligible again because he's going to a junior college, not a four-year school. As always, the MLB.com rankings include free scouting reports, 20-80 scouting scale grades, and video. Great resource.
You can't really make the straight comparison, but, if you're interested, MLB.com has Fullerton RHP Phil Bickford and Tennessee HS RHP Donny Everett ranked 17th and 31st, respectively, the Yankees top two draft slots. Bickford passed on signing with the Blue Jays as the tenth overall pick in the 2013 draft and Everett is one of the hardest throwing high school arms in the draft class. Overall, the 2015 class appears to be very heavy on pitchers with few impact position players available.
MLB, NCAA agree to move draft to July 1st
According to Peter Gammons, MLB and the NCAA have a "general agreement" to move the draft to July 1st with a July 15th signing deadline. This isn't final yet — MLB can't just change the date of the draft, the whole thing has to be collectively bargained and the MLBPA has to agree to it.
Moving the draft from the first week of June to July 1st doesn't seem like much, but it will create a bunch of logistical headaches in the lower minors. (I wrote about them at CBS.) More than anything, moving the draft seems like a precursor to an international draft, which the owners have been trying to get for years to cut costs. The international signing period opens July 2nd of each year, remember. The timing if awfully interesting.
RHP Jacob Nix enrolls in IMG Academy for 2015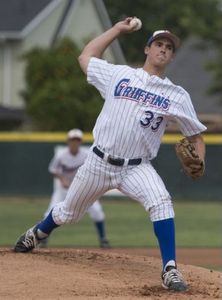 Nix, the Astros' fifth rounder last year, is heading to the IMG Academy in Florida for post-graduate work this year, according to John Manuel. Nix was a second or third round talent last summer who fell into the fifth round due to bonus demands. Houston was set to pay him an above-slot bonus with the saving from their below-slot deal with Aiken, but, when the Aiken deal fell apart, they didn't have the draft pool space to sign Nix and reneged on their agreement. The MLBPA filed a grievance on Nix's behalf and won, so the Astros had to pay him the full $1.5M they agreed to give him originally.
Anyway, the post-graduate year at IMG means Nix will again be draft-eligible this year, and he'll presumably slot in as a projected second or third rounder again. It'll be interesting to see how teams treat him this year. They know Nix has money now, and the fact that he is re-entering the draft rather than going to a four-year college means he wants to turn pro. Could he be a below-slot guy this year? He doesn't have much leverage. We'll see. Nix is 6-foot-4 and has a mid-90s fastball, which is usually the kind of prospect the Yankees love. He could be a target for that 57th overall pick. (The highest draft pick in IMG history is, of course, John Ryan Murphy.)
Yankees bringing East Coast Pro to Tampa
According to Manuel, the Yankees are bringing the East Coast Pro to Tampa this summer. It is one of the top events on the summer scouting showcase circuit. The event will be held from July 27-30 — so we're talking about 2016 draft picks, not 2015 — and feature 150 of the best high school players in the country. The event moves around each year, so it won't be in Tampa long-term.
Just to be clear, scouts from every team will be in attendance, so this isn't an exclusive workout for the Yankees. That said, only the Yankees will have access to the pitch tracking data available at Steinbrenner Field because they are the event host. The East Coast Pro has many big name alumni, including David Price, Justin Upton, David Wright, Zack Greinke, Madison Bumgarner, and Matt Harvey.