The first two days and ten rounds of the 2014 Rule 4 Draft are in the books. All the fun happens on Day One while Day Two tends to be the least exciting of the three-day event. Teams look for ways to manipulate their draft pools on Day Two, and that leads to a lot of college seniors and fringe prospects being drafted. The Yankees selected one high school player (kinda) and eight college players on the first two days of the draft, and that's not a coincidence.
"I think we've had success getting guys to the leagues both as high school players and as college players," said scouting director Damon Oppenheimer to Chad Jennings. "But it seems like we're getting some college guys up there a little quicker and through the system a little quicker. So, if all's equal right now, we're kind of looking at it that we might lean toward the college guy if everything's equal."
The team's first five picks were pitchers, the next four position players. Two of the eight college players are seniors and two others are juniors who figure to sign for below slot, even if it's only a couple thousand bucks. Standard operating procedure under the new system. The Yankees have been doing this since the current Collective Bargaining Agreement was implemented three years ago. All of the team's picks can be seen at Baseball America. Now let's review the first two days of the draft.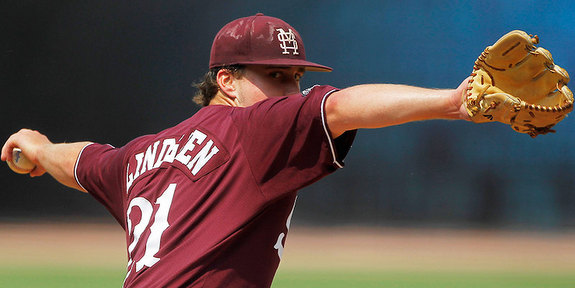 Special, Not A Specialist
For some reason I get the sense many people think Mississippi State LHP Jacob Lindgren (second round) is a lefty specialist. That isn't the case. He's expected to zoom through the system — there is a legitimate chance he will pitch in MLB this season, and it depends on whether the Yankees let him more than his talent — and reach the big leagues soon, but his wipeout slider is so good it gets both lefties and righties out. Lindgren isn't a LOOGY. He's expected to be a shutdown reliever who just so happens to throw from the south side.
Yesterday we heard Lindgren wants to sign soon and I can't imagine negotiations will drag out very long. He's not oblivious, he's heard all the chatter about possibly getting to the show this year. The sooner he signs the sooner he gets called up. I don't know if Lindgren will require the full slot value to sign ($1,018,700), but I suppose they could work out an agreement that nets him a smaller bonus in exchange for the promise of a call-up no later than September. That's been done before (Giants did it with Conor Gillaspie in 2008) even though it's against the rules. We'll find out soon enough. Here is everything you need to know about Lindgren for the time being.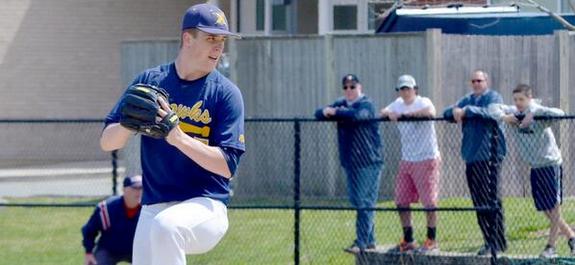 High School … Sorta
The only high school player the Yankees selected during the first two days of the draft really isn't in high school. RHP Austin DeCarr (3) graduated but went undrafted out of a Massachusetts high school last year because he was coming off elbow surgery (bone spurs), then he opted to attend Salisbury Prep School as a postgraduate student rather than a traditional two or four-year college. I can't remember hearing of a draftee doing that, but I'm sure it's been done before.
DeCarr stands 6-foot-2 and 220 lbs., and now that he's healthy his fastball operates in the 90-94 mph range and touches 96. His power curveball is an out pitch on its best days, though his changeup still needs a ton of work. Compared to most Northeast pitching prospects, DeCarr is more polished and less of a project. For what it's worth, Keith Law called the pick a "solid value" at this draft slot in yesterday's chat. DeCarr is already 19 because of the postgraduate year, but, as a cold weather guy, his arm is fresh.
SEC Studs
The SEC is the toughest conference in Division I baseball and has been for quite a while now. It's not pro caliber competition, obviously, but it's far tougher than any other conference. The Yankees grabbed two standout SEC performers in LHP Jordan Montgomery (3) and RHP Jonathan Holder (5) on Day Two, guys who have been playing intense games against the best competition in the country for three years now.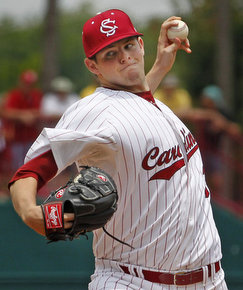 Montgomery, a South Carolina product, stepped right into the team's rotation as a freshman in 2012, when he helped them to the College World Series finals. He took over as staff ace as a sophomore. Montgomery's stuff isn't anything that will blow you away — 88-92 mph fastball, very good changeup, slow curveball, occasional cutter — but everything plays up because he locatea well and knows how to set hitters up. As with most Yankees pitching prospects, he's a big dude at 6-foot-5 and 225 lbs. This is the type of pitcher who will carve up the low minors with relative ease.
Holden was Lindgren's bullpen-mate at Mississippi State, and last year he tied the conference single-season record with 21 saves. He remained the closer this year while Lindgren was used as more of a multi-inning relief ace. See? College coaches get it. Anyway, Holden is a husky fella at 6-foot-2 and 240 lbs., and he sits in the low-90s with his fastball. His bread and butter is a big breaking yet slow curveball in the low-70s. That's some separation between pitches. Like Montgomery, Holden's been pitching in big situations and big games in a tough conference for three years now, so pressure situations are nothing new.
If At First You Don't Succeed…
The Yankees selected RHP Jordan Foley out of a Texas high school in the 26th round of the 2011 draft, but he declined to sign and followed through on a commitment to Central Michigan. The Yankees drafted him again yesterday, only this time in the fifth round. The 6-foot-3, 215-pounder generally works in the low-90s with an occasionally excellent slider and a good splitter, but his mechanics are so inconsistent that one day he'd look like a second or third rounder, the next a fifth or sixth rounder. The Yankees have obviously had their eyes on Foley for a while now, and they're hoping they can iron out his delivery enough to make him a legitimate starter. If that does work, the bullpen it is.
Right Bat, Wrong Position
UC Irvine 1B Conner Spencer (8) does nothing but hit. He's hit .351 with 65/62 K/BB in 170 career games coming into the weekend, but he's only hit one homer in three years. One! Doubles (36)and triples (13) are his primary form of power production, though it should be noted Irvine's home field is a tough place to hit. Still, first basemen without power are not exactly popular, especially if they're just okay defensively like Spencer. That said, the pure hit tool is real and in the eighth round, getting a guy who knows how to put the barrel on the ball and control the strike zone is pretty much the best case scenario. Maybe some swing adjustments can untap some hidden power. It's worth a shot.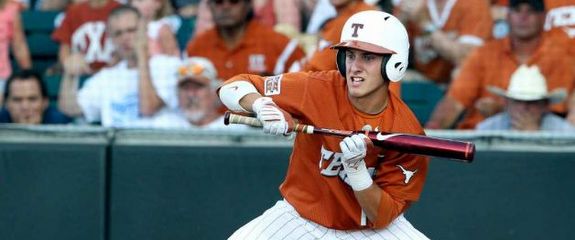 Money Savers
The Yankees drafted three players on Day Two who figure to sign below-slot bonuses, and in two cases very below slot. Those three players are Texas OF Mark Payton (7), Vanderbilt SS Vince Conde (9), and James Madison 3B Ty McFarland (10). Payton and McFarland are seniors, Conde a low-profile junior who wasn't expected to be drafted all that high. Payton has the best tools, though he is simply a bat control guy with good but not great speed and defense. He also doesn't have much power despite hitting a homer in the Longhorns' Super Regionals opener yesterday. All three guys will provide always important organizational depth, but these picks were geared towards saving some draft pool money for late-round gambles.
* * *
For the most part, the Yankees selected pitching prospects during the first two days of the draft while going with position players for the draft pool saving spots. The farm system is full of position player prospects — nine of their top 15 prospects in my pre-draft top 30 list are position players — and although no one really drafts for need early in the draft, the Yankees did address an organizational hole with their Day One and Two picks. I don't know if that was by design or coincidence. They definitely would up with more high-probability than high-upside prospects.
The Yankees are now in position to roll the dice with some late round picks on players with big bonus demands. (Failing to sign a player drafted after the tenth round doesn't hurt the draft pool situation.) That doesn't necessarily mean guys looking for seven figures like Virginia HS RHP Jacob Bukauskas or Georgia HS LHP Mac Marshall, the Yankees didn't save that much draft pool space, but they can make nice six-figure offers to some other players who are thought to be unsignable. Most won't accept the offers, one or two might. That's all it takes for the strategy to work.