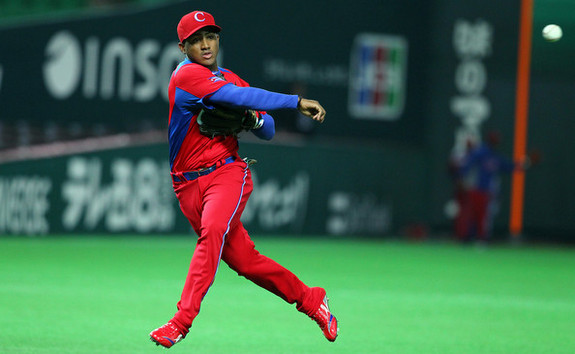 According to Jesse Sanchez, free agent Cuban infielder Andy Ibanez is planning to hold showcase events for scouts in Miami later this month. He was cleared to sign by MLB and the Office of Foreign Assets Control back in February.
Ibanez, 21, hit .283/.348/.419 with 60 doubles and 13 home runs in 242 games in the Cuban league from 2011-13 before defecting. He was on Cuba's roster for the 2013 World Baseball Classic but rode the bench in the deference to their veteran infielders. Here's a mini-scouting report from Ben Badler:
At 5-foot-11, 183 pounds, Ibanez has a thicker build for a middle infielder but he's athletic and has good body control. With fringy speed and an average arm at best, Ibanez isn't flashy, but he has a good internal clock and a high baseball IQ, fitting best at second base. Ibanez's power is mostly to the gaps, projecting as a doubles hitters rather than a big home run threat, but what's sold some scouts on him is his bat.

"He's a strong guy who doesn't have your prototype, ideal body for a second baseman, but he moves around well for his stature," said another scout. "And he performs. He's a good hitter. I liked his swing and the way he manipulated the bat."
The Yankees have been rumored to have interest in Ibanez and I'm sure they'll attend his upcoming showcases. They seem to go to all of 'em. Ibanez is no budding star like Yoan Moncada, however. He's looked at as more of a solid player going forward. A complementary piece, not a centerpiece. Think Adeiny Hechavarria or Jose Iglesias, not Yasiel Puig or Jose Abreu. Then again, who knows. Cuban players have shown a knack for outperforming expectations.
Because of his age and limited experience in Cuba, Ibanez is subject to the international spending restrictions. The Yankees are free to sign him for any amount prior to June 25th, but, after that, they will only be able to offer him $300,000 as a result of the penalties from last July's international spending spree. The Angels signed the less-heralded Roberto Baldoquin to an $8M bonus back in January, and I'm guessing it'll take similar if not more money to get Ibanez.
As always, it makes sense for the Yankees to add talent whenever possible, and by all accounts Ibanez has some skills and will be able to help an MLB club in some capacity in the near future. The Yankees don't have a long-term solution at second base — they might have one in Rob Refsnyder — and middle infield talent is hard to find in general. Of course, the Yankees always seem to stop just short of offering enough to sign a Cuban player. Enough to say we tried but not enough to get him. Until they buck the trend and sign one of these guys, I have no reason to think they'll actually do it.