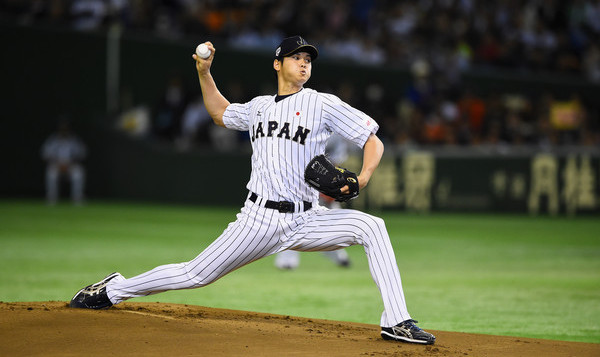 The offseason is in full swing. The other day, Shohei Ohtani's NPB team the Nippon Ham Fighters announced that they will post their two-way player/phenom to the Major Leagues.
Ohtani will be a special case. You know the deal. He is uber-talented on both sides of the ball and has the potential to be great as a pitcher and hitter in the MLB. Because of his skills, marketability, etc. the Yankees are expected to go hard after him and many experts have predicted Ohtani will head to Bronx. Wouldn't it be nice?
However, even if the Yankees are objectively favored to be his destination, many things have to go right in order for the marriage to happen. And even if things work out, there are question marks that will only be answered by time. Here are few thoughts on things to be addressed assuming Ohtani gets successfully posted and the Yankees are in strong contention for him (duh).
1. Could the two-way talent become a sweet poison?
The skills Ohtani has shown as a 23-year old are insane. 2017 was a down season because of his injuries, but take a look at how well he did in 2016, his MVP season. As a pitcher, he went 10-4, 1.86 ERA with 174 K/45 BB in 140 IP while allowing only 4 home runs (!). As a matter of fact, he hit way more than that. On the plate, he hit .322/.416/.588 (1.004 OPS) with 22 HRs (41 extra-base hits) in 323 AB's. For a player to excel like that on both sides of the ball is utterly insane. Again, we're not talking about a guy who just merely helped the team out. He was a superstar on both facets of the game. The Fighters had a Corey Kluber and Freddie Freeman morphed into one player.
Now, it's no secret that Ohtani wants to continue being a two-way guy in the MLB. He certainly has the potential and tools to be very good at both. Because Ohtani has been seen as a special talent since he was drafted by Nippon Ham, the team took care of him quite differently than other NPB players. Having to practice and play two different positions can take a toll on body. In the NPB, Ohtani was a weekly starting pitcher and hit DH two or three times a week. From 2014-16, he racked up more than 140 IP each season and from 2013-2017, he had more than 200 plate appearances in every season but one.
I don't know how much that workload contributed to his injury troubles in 2017, but he started out this season with a thigh injury and recently, he underwent an ankle surgery (but is expected to be ready for the Spring Training). Now, it's not great when you hear a 23-year-old get hampered by lower body issues. You just hope that they don't turn into something long-term. Though he should be 100% and ready to go come Spring Training, these injuries at this stage of his career should serve as a cautionary guideline on how to handle him going forward.
2. How much would a team be willing to work around him?
This is something that will probably be talked about on and off for years. Never in recent ML history has a team had to adjust their roster and usage based on one player. Ohtani – and whichever club that would acquire him – could be a pioneer in something a bit more complicated.
I think this will play a big part in how a team can sell themselves to Ohtani. Remember, the initial contract is not a huge factor in signing him. He will choose a team that is the best fit for him and that club would most likely tell him that they will do this and that to accommodate his playing interests.
Let's go back to the injury aspect though. It is worth noting that an ankle trouble for someone at Ohtani's age is troubling – especially considering that he pitches and bats. Both of those activities require a lot of use of lower body (as does athletics in general) and it's conceivable that the stress of all those motions have caught up to Ohtani's ankle and caused him to miss the 2017 World Baseball Classic and beyond. It is quite possible that his lower body troubles don't suddenly end after the surgery he went through. It is reasonable for teams to feat that Ohtani's ankle problem could reoccur later on and bring that up to him when proposing their plan.
The concern doesn't end at his ankle either. There's also the pitching workload. Typically, Ohtani's had to pitch only once a week with 6 days of rest. In the MLB, starting pitchers get four or five days of rest before they go back to the hill. If a team wants to accommodate Ohtani's two-way wishes, it means that they have to give him a good amount of rest time in between his starts AND have to find time for him to hit. That is a lot of physical demand, especially in 162 games (an NPB season lasts 146 games, with every Mondays off). That tells me that, if a team wants to keep Ohtani healthy and have him pitch and hit, they would have to run the roster a bit unorthodox than other teams. It will lead to some headaches, I would imagine.
For what it's worth, that will make it much harder for NL teams to pursue him. If they promise him a hitting gig, it would mean that he has to go out and field. Being a pitcher and DH can be strenuous enough but pitch + hit + field? Lordy.
3. Prospect
Let's take a different look at Ohtani – him as a prospect instead of a guy who's expected to produce big time right away. He may not dominate right away in the majors. He is young, he just came off a season hobbled with injuries, and he will have to get acclimated to a whole other league. However, a healthy Ohtani could be as nasty as anyone. I'm sure you've seen a share of Ohtani pitching videos by now, but here's a reminder of how deadly he can be:
Ohtani will be 23-years old on the 2018 Opening Day. That's the age where a lot of young ML players either reach the show or start settling in. Aaron Judge reached to the bigs at age 24, for instance. Ohtani can grow more by getting ML experience, which is an exciting thought.
Now, what am I trying to say? I'm saying that you can see him as an exciting potential ML'er that can make an impact right away but can improve significantly after a few seasons. Now, it's also reasonable to expect some growing/adjustment pains as well. It would be neat if he performs like a superstar from the game one, but it's never easy to just come over to a different league and do that.
As exciting as he is, Ohtani does come with certain flaws. For instance, he struck out for a 27.3% clip at the plate in 2017. That number would most likely increase in the MLB. Also as mentioned, there are question marks with his health, which certainly impacted his pitching performance in '17 (19 walks allowed in 25.1 IP). The greatness might not come right away and, frankly, it doesn't have to. It's perfectly normal for guy like him to take some time to blossom in the MLB.
Ohtani has already put his skills and potential into action in the NPB with monstrous performances. All that needs to happen – much easier said than done – is for him to do the same in the MLB. Ohtani has the potential to be a big part of the core of a team's future. Think of how much the Yanks are counting on guys like Judge, Gary Sanchez, Luis Severino, etc. going forward. Ohtani could be one of them.
4. Are the Yankees going to get him anyways?
The Yankees have their share of history bringing in Japanese talents. Because of that, it's easy to assume that they are one of the very likely destinations for Ohtani. In their recent history, the Yanks went all-out to convince Masahiro Tanaka to sign with the team with video presentations, etc. I'm sure they'll do at least the similar for Ohtani as well.
However, you never know what goes behind the curtains. Ohtani would not cost a lot of money for any team thanks to the CBA rule, which means, hypothetically, a small-market club like the Rays could sign him without financial hitch if they somehow can appeal to him. Remember, the big factor to signing him is how much a club can sell themselves to him. The Yankees are obviously very charming but so are many other clubs. One thing that goes well for them and other AL clubs is that Ohtani wants to hit and they can plug him in a DH role regularly. Good luck to NL teams trying to get him convincing him that he can try to hit regularly without having him to field.
On a personal note – I remember the Daisuke Matsuzaka saga in the winter of 2006. The rumored posting fee to get to talk to him was $25 million and it seemed a lot at the time. The Yankees were interested and, of course, that was around the amount that they bid to the Saitama Seibu Lions. However, the Red Sox blew everyone out of the water by giving an unprecedented $50 million bid. That was shocking to many. And sure, the Matsuzaka and Ohtani situations are quite different, but my point here is that anything could happen when all 30 MLB teams are in play.
This Ohtani situation is something truly unique. Whatever happens and however he pans out as a player, it's a good bet that the next month or two will be talked about for a long, long time.