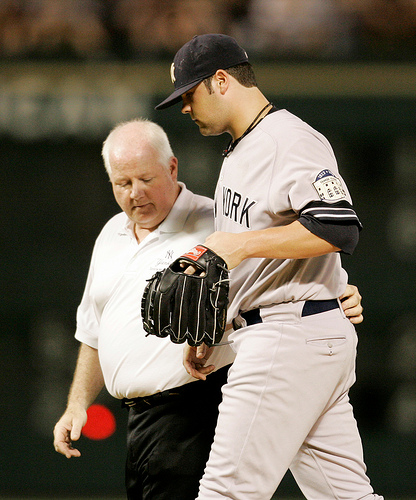 On this date in 2008, Joba Chamberlain left his start in Texas after 4.2 innings with what the Yankees later termed right shoulder stiffness. Joba would sit out a month before returning to the bullpen in September. Questions about that shoulder injury have hovered around the youngster ever since.
Prior to that injury, Joba had taken the American League by storm. In 113 career innings pitched, he had thrown to a nifty 2.15 ERA (2.52 FIP) with 44 walks and 138 strike outs. Opponents had hit just .214/.291/.294 against him. Since the injury, Joba has thrown 214.2 innings with less than stellar results. He has a 4.78 ERA (but a 4.05 FIP) while allowing 97 walks and striking out 199. His K rate dropped from 10.99 per 9 IP to 8.34, and his walk rate increased from 3.5 per 9 IP to 4.06.
After the shoulder injury, Joba's stuff seemed diminished. He had been reaching the upper 90s as a starter but couldn't hit that mark last year as he struggled to adjust to Major League hitters. This year, his velocity has inched back up into the mid-to-upper 90s, but he hasn't found the consistently dominating approach he enjoyed throughout those first 113 innings.
We'll never know for sure exactly how much of an impact that shoulder injury had on Joba's development. Maybe he's struggled lately because Major League hitters adjusted to his style. Maybe he peaked young. It's certainly happened to plenty of players. Maybe the back-and-forth from the bullpen hasn't been the developmental guide he needed. Maybe the injury had absolutely nothing to do with his 2009-2010 results. Whatever the case may be, August 4, 2008 has always stood out in my mind as the night something changed. Joba left the game and hasn't been the same since.