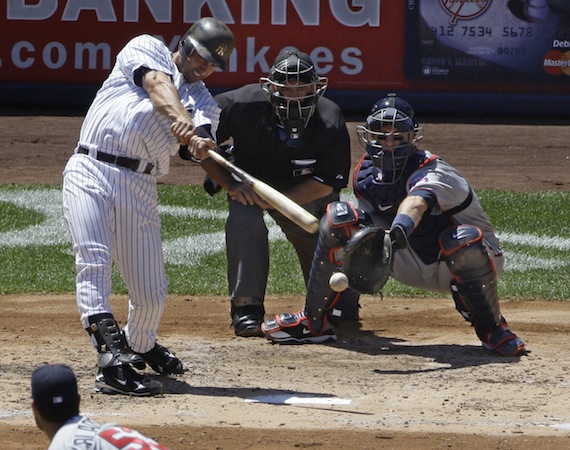 Finding a good Major League catcher isn't easy. Finding a good Major League catcher who can hit is even harder. For the last 13 seasons, though, the Yankees have had just that in Jorge Posada, and now I'm starting to wonder if Jorge's time is behind the dish is running out.
This year, Jorge has fought off a variety of injuries and has appeared in 45 of the team's first 72 games. Of the team's 635.1 innings, he has caught just 222.0 — or around one-third — of them. As his 147 OPS+ and his .279/.386/.524 line indicates, he can still mash the ball, but his days as the regular catcher are behind him.
To pick up the slack, the Yanks have turned to 24-year-old Francisco Cervelli. Never known for his offense while rising through the Yanks' farm system, Cervelli has a whopping 21 games of AAA experience under his belt, and the Yankees have been milking him for all of his worth since he arrived in the Majors last year. Overall this year, his numbers aren't too shabby. He's hitting .287/.368/.367, and pitchers have seemingly enjoyed throwing to him in the 383.1 innings he's caught.
But Cervelli is something of a sheep in wolf's clothing. His overall numbers are powered by a 6-for-12 start to the season and a hot streak that saw him hitting .400 through mid-May. Since May 18, when he went a costly 0-for-4 in a Yankee loss to the Red Sox, Cervelli is hitting just .211/.302/.267 with 16 strike outs in 108 plate appearances. He has just four extra-base hits in that span. The truth is that this May-June Cervelli is closer to reality than the April-May Cervelli who hit .400/.471/.517 over 71 plate appearances.
What are the Yankees to do? When I examined this issue a few weeks ago, I wondered how the team would handle Posada. The answer has become clearer recently: The Yankees will, with Nick Johnson out, use Jorge to DH as often as they can. As the trade deadline approaches, it's certainly easier for the team to acquire a bat to replace Johnson, but doing so would push Jorge into the field more often. It's questionable at best as to whether Posada's body can withstand catching nearly every day from July through late October. He's far better off as the DH right now.
So the Yankees can move forward with Cervelli for the time being. Austin Romine, while hitting a robust .294/.360/.447 at AA, won't make the big jump to the Majors. He's not a fringe prospect as Cervelli was, and the Yankees would rather see him develop than be moved up too quickly. Jesus Montero's hitting hasn't been up to par at AAA, and the 20-year-old may not see his future behind the plate anyway.
As problems go, this isn't a bad one to have, and I'd be surprised if the Yanks tried to land a catcher at the trade deadline. After all, their price tags are generally just too steep. There is now, however, some urgency behind the developments of Romine and Montero. Someone will soon have to step up to replace Jorge no matter how tough a task that would be.