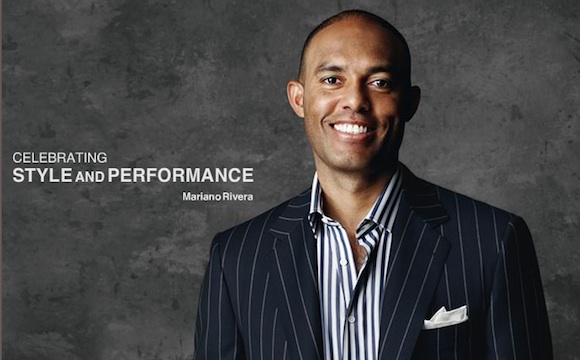 When Canali, the Italian clothing manufacturer, announced that Mariano Rivera would be their new spokesman, we noted how it seemed to be a perfect match. Rivera carries himself gracefully, and the pinstriped suit in which Canali outfitted Mo just seemed to fit. What other Yankee would we associate with an fine Italian suit anyway?
Today, Harvey Araton profiles Rivera in The Times. In one sense, the story offers up more details about the Mariano Rivera we have come to know and love. He is a soft-spoken, religious guy who does his job with ruthless efficiency. He has the respect of his teammates and opponents and is, in the words of Araton, one of "the most understated superstars in the history of American team sports."
The part of the article that most intrigued me, though, was Araton's recounting how Rivera and Canali teamed up:
The courtship, Rivera said, was no superficial whirlwind. Shopping in a Westchester store five years ago, he found a Canali jacket he liked but not in his size. He was directed to Lisa Ranieri-Emanuel, an executive in the company's New York office and a Yankees fan. Canali has outfitted Rivera ever since.

In December, Rivera flew to Milan for the shoot, his first visit to the city and the country. On the day he landed, he worked half a day, striking Elisabetta Canali as "an uncommon celebrity." She said the campaign, which began in the United States in March, would expand to other baseball-loving countries in the Americas and Asia.

Click on the English language section of the Canali Web site, and a smiling Rivera appears in a Yankees blue pinstriped blazer and a striped shirt with an open collar. The design and color are a coincidence, according to Elisabetta Canali. "He just looked so good in the pinstripes," she said, an observation that could double as a baseball career epitaph.

[Yankee adviser Ray] Negron said Rivera as a male model was a stroke of marketing genius. "If I had to go with one guy in here for something like a clothing campaign, it would be him, without question," he said.
His teammates, meanwhile, took a similar approach. Instead of subjecting Rivera to the hazing that often comes with new endorsement deals — and male modeling – Rivera's fellow Yankees offered nothing but praise for him. We've seen the ads in the magazines, but he's such a great guy, man, you don't even want to try to get on him, Nick Swisher, not the most serious of Yankees, said. I mean, I don't think there's one bad thing I can say about him. Educated man, family man, dresses nice all the time, carries himself with class.
In essence, this is what Rivera's greatness is all about. We love Mariano around here, and he's certainly been a key cog for the Yankees over the last 16 years. But what is often overlooked is his professionalism. In an age of ostentatious relievers, Rivera quietly and confidently destroys his opponents. He knows he's the best and doesn't have to remind anyone of it off the field. The suit just makes him look even better.