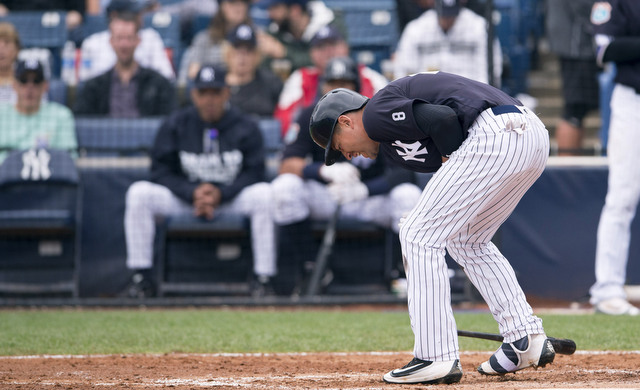 Opening Day is two weeks from yesterday, and we're at the point of Spring Training where everyone wants it to be over. Even the players. Most of the top prospects are in the minor league camp and the veterans are going through the motions. These are the dog days of March. Just gotta grind it out and wait for the season to begin. Here are some assorted thoughts.
1. Even though the tests came back clean, the Jacoby Ellsbury injury worries me because he has a history of getting hurt and staying hurt. His injuries tend to linger and they have pretty much his entire career. I can't imagine that will change now that he's over 30. There are 13 days between now and Opening Day, and the Yankees have outfield depth, so they're in good shape there, but to get back to the postseason this year, they're going to need Ellsbury on his A-game from the leadoff spot. Wrist injuries can be pretty serious even without a break. All the inflammation can make it tough to hold a bat properly, and if you can't hold a bat properly, you're not going to hit. Hopefully this blows over quickly and Ellsbury gets back on the field by the end of the week. I just worry we're going to be talking about this hit-by-pitch in three months and how Ellsbury still doesn't look right.
2. So how many teams do you think called the White Sox about Chris Sale since last week? Probably 29, right? Sale threw some serious verbal barbs management's way after the whole Adam LaRoche fiasco — he called vice president Kenny Williams a "bold-faced liar," among other things — and was clearly unhappy with that whole situation. Teams smell blood in the water and if there is any chance the incident could make Sale available, they wanted their foot in the door. GM Rick Hahn told Dan Hayes they have no interest in moving their ace, which is no surprise whatsoever. Sale is one of the most valuable commodities in the game as a true No. 1 starter who is owed a maximum of $47.15M through 2019. I hope the Yankees placed a call out of due diligence. I don't think they have the pieces to get Sale — Luis Severino, Aaron Judge, Jorge Mateo, and Gary Sanchez maybe piques Hahn's interest — but you've got to at least make the call. And by the way, the White Sox have every right to ask LaRoche to not bring his kid to the clubhouse every day and LaRoche has every right to retire. That's pretty much all that needs to be said about that.
3. I admit a sliver of doubt is beginning to enter my mind about CC Sabathia getting the fifth starter's job over Ivan Nova. I still think it will be Sabathia when it's all said it done, though right now my confidence is like 98% instead of 100%. Like I said, it's only a sliver of doubt. The team keeps talking about this being an open competition and Brian Cashman seemed pretty sincere while speaking to Meredith Marakovits over the weekend (skip to the 0:44 mark for the fifth starter talk):
Nova didn't pitch well in his last start and that's going to hurt his chances of breaking camp in the rotation. He's going to have to really outperform Sabathia this spring to win that fifth starter's spot. Anything close to resembling a tie will go to the veteran making $25M. Nova has to leave zero doubt he is the best man for the job. Either way, I'm sure both of these guys are going to end up making a bunch of starts this season. That's baseball. The Yankees could go into the season with Sabathia as a starter thinking it's only a matter of time until Nova moves into the rotation anyway.
4. Chasen Shreve has looked phenomenal this spring. The numbers are outstanding — the only base-runner against him in 6.1 innings came on an error — but beyond that, his stuff looks firm and his body language looks way better than it did last September. Shreve looked pretty down on himself late last year and who could blame him? He got torched for a few weeks there. He seems to be more confident this spring and he's throwing with conviction. Maybe it's something as simple as being fresh physically after an offseason of rest. After all, almost everyone who was asked about Shreve's stumble to finish last year chalked it up to fatigue. Perhaps it really was that simple. Either way, Shreve has looked great this spring and I hope it carries over into the regular season. He can be dominant when right.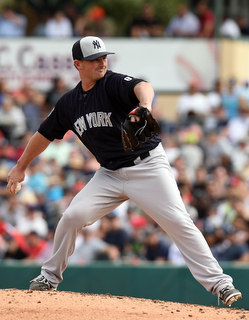 5. Know who we're going to see a lot this season? Kirby Yates. I just have that feeling, you know? Yates has been pretty good this spring but that's not it. His stuff is good, he has a history of missing bats, and he has 56.1 innings of big league experience to his credit. I could see Yates being a very prominent part of the bullpen shuttle, if not the No. 1 up-and-down guy. Last season Branden Pinder held that role. Pinder was the guy who stuck around longer than the other shuttle relievers whenever there was a chance to stay with the team longer than 48 hours. I feel like Yates is going to be that reliever this season. We're going to look up in August and this guy's going to have 40 innings under his belt, isn't he?
6. Both Mark Teixeira and Carlos Beltran will be free agents following this season, and the Yankees sure seem to be looking forward to having their big contracts off the books. They'll have more payroll flexibility and two open roster spots for young players once they're gone. But you know what? That's an awful lot of offense walking out the door. You're talking about the team's best power hitter and best all-around hitter. That doesn't mean the Yankees should look to retain Teixeira and/or Beltran — what are the odds they continue to be the club's best power hitter and best all-around hitter in 2017 and beyond, in their late-30s? — just that the potential offensive hit is something they have to consider. This might be no big deal. Teixeira and/or Beltran could struggle this year and make replacing them easy. If that happens though, the Yankees probably aren't making the postseason. The more they produce this season, the better it is for the Yankees in 2016 and the tougher it will be to replace them in 2017.