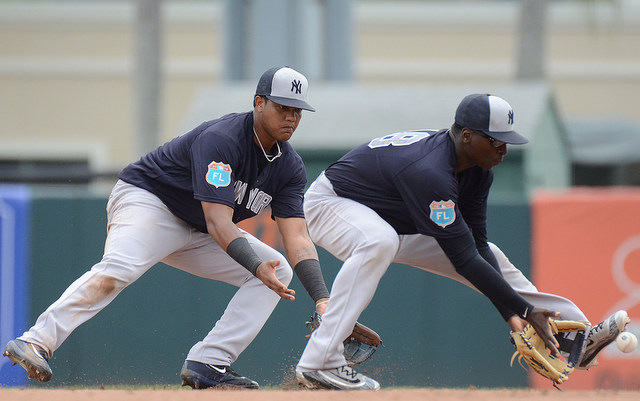 Thanks to Sunday's rainout, the Yankees are coming off back-to-back off-days as they head into tonight's series opener against the Blue Jays. It's not too early to call this a big series, is it? Yeah kinda. Then again, every win the Yankees pick up now is one fewer win they'll need later. Anyway, I have some thoughts. Read 'em and weep.
1. Through five games the Prestige Worldwide™ middle infield has gone a combined 15-for-38 (.395) with two doubles, three home runs, two walks, and three strikeouts. This is working out pretty well so far, eh? Starlin Castro and Didi Gregorius are not going to keep up that pace, we all know that, but it's exciting to see the Yankees have two bonafide building block players at second and short. I'm a huge believer in building a team from the middle of the field outward, and rebuilding the middle infield in the post-Derek Jeter/Robinson Cano era was not going to be easy. No one is going to confuse Didi and Castro for Jeter and Cano, but these two guys sure look like they have the potential to stick around for a few years. Gregorius has been getting better and better since last May, and Castro has hit the ground running in New York. They've been awesome in the super early going.
2. As he's struggled these last few years, we've heard CC Sabathia has been tinkering with all sorts of different pitches. Cutters, two-seam fastballs, two-seam changeups, the works. Most of the time nothing came from it. Late this spring there were reports Sabathia was working on a new cutter that is somehow different than his old cutter, and he actually threw it in his start Saturday. A lot. From Brooks Baseball: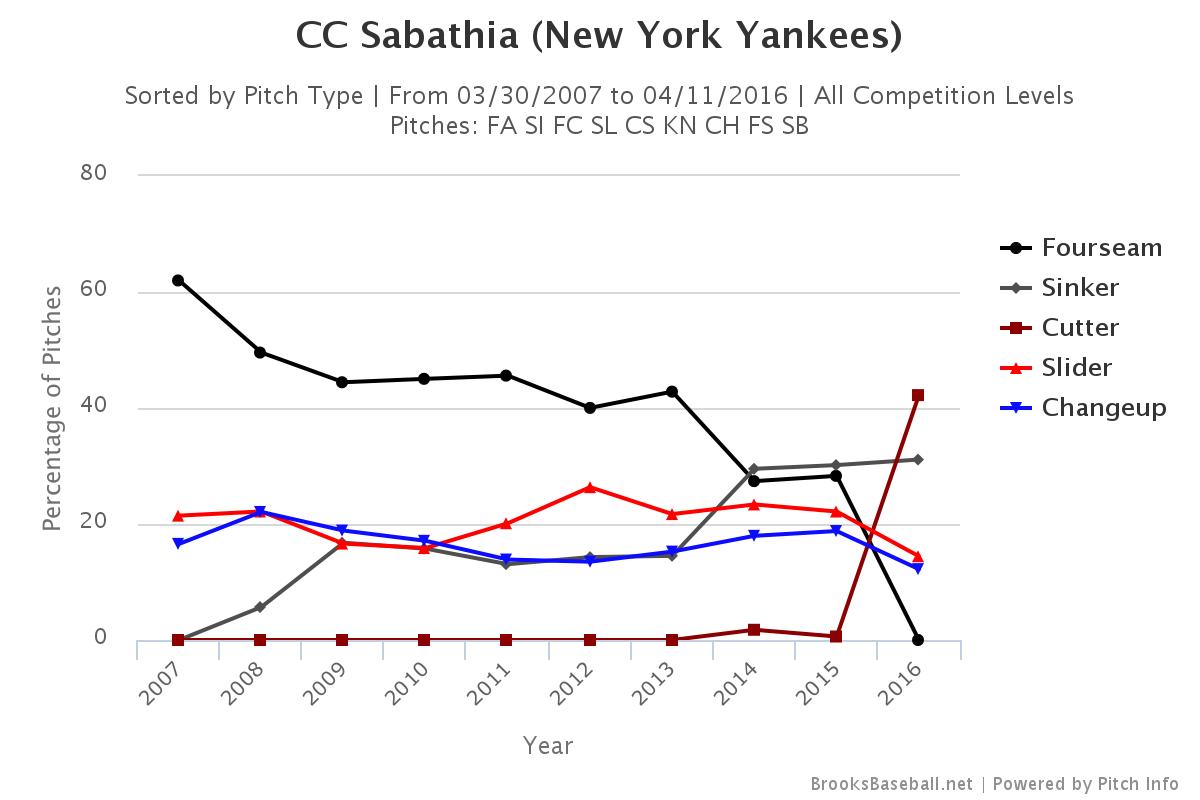 I've been doing this long enough to know getting excited about a new pitch after one outing is foolish, but you can't ignore the new pitch completely either. Sabathia made a tangible change to his arsenal and it very well may lead to a change in his effectiveness. Not necessarily for the better either. The cutter could stink going forward for all we know. I'm rooting for Sabathia more than any other player on the roster this season given everything he went through last year, and if this cutter in any way helps his performance, great. Sabathia is a dude worth pulling for.
3. The list of available shuttle relievers has very quietly thinned out one week into the season. Bryan Mitchell is out with his broken toe and now Nick Rumbelow needs Tommy John surgery. Jacob Lindgren and Vicente Campos are down in High Class-A getting themselves back on track. That leaves Branden Pinder, Nick Goody, James Pazos, and Tyler Olson as the 40-man roster call-up options. I see Olson as a pure left-on-left matchup guy, so his usefulness is limited. The Yankees do have an open 40-man spot thanks to Aroldis Chapman's suspension — Mitchell, Greg Bird, and now Rumbelow are 60-day DL candidates too — so they could always call up someone like Tyler Webb or Chad Green or Diego Moreno or whoever. Still though, if they need a fresh arm and either Pinder or Goody is unavailable because they just pitched, things could get interesting. The Yankees showed last year they'll call just about anyone up, so don't be surprised if we see Anthony Swarzak, Kyle Haynes, or Tyler Cloyd at some point.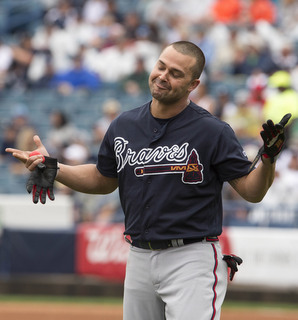 4. I can't say I expect the imminent Nick Swisher signing to amount to much, if anything, but there's nothing wrong with bringing him aboard for a look-see. He's going to take at-bats away from Chris Parmelee and Deibinson Romero (and probably Cesar Puello too) at Triple-A, and that's no big deal. Swisher is 35 now, his knees are shot, and he's been awful the last two years. Those guys usually don't bounce back and produce, even in limited roles. Given Mark Teixeira's injury history though, adding first base depth is not a bad move, and if nothing else Swisher is a guy who knows the strike zone and already knows how to take advantage of the short porch. It would be awesome to see him come up and have some kind of impact. I'm just not expecting anything.
5. How about my boy Ronald Torreyes? I said I was irrationally excited about him soon after the trade — that was before the Yankees designated him for assignment, lost him on waivers, then re-claimed him on waivers — so seeing that 3-for-4 game in his first MLB start last week was pretty cool. I don't think Torreyes is a future regular or anything, but I think he can be a pretty good bench player going forward. He's only 23 — good thing the Yankees went young instead of putting Rob Refsnyder on the bench, eh? — and he's a high contact/high energy guy who can handle the three non-first base infield positions. It's almost like he's Eduardo Nunez with better defense. Torreyes is that same kind of live-bodied athlete without the defensive headaches. Nice little find for the Yankees.
6. James Kaprielian, last year's first round pick, made his season debut last night with High-A Tampa and was pretty awesome. His stats are in the James Kaprielian Watch in the sidebar. Kaprielian threw only 60 pitches in his five innings, and that leads me to believe the Yankees are controlling his workload early in the season so he can help come August and September. This is exactly what they did with Luis Severino last year. The limited his work in the minors in April, May, and June, then turned him loose in the second half in the big leagues. They didn't want to run into a situation where Severino had to be shut down in early or mid-September because his workload was getting out of control. It appears Kaprielian is on a similar plan. That doesn't guarantee he will be up later in the season. It just means the Yankees want to be prepared in case Kaprielian does force the issue and come up.