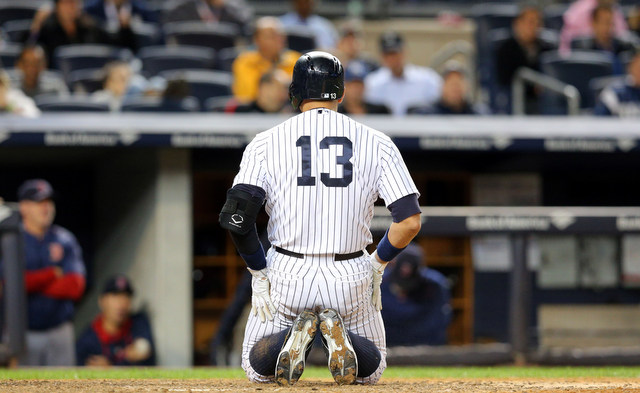 The Yankees were unceremoniously eliminated from the AL East race yesterday afternoon, when the Blue Jays beat the Orioles in the first game of the doubleheader. They had a seven-game lead once upon a time, but boy, it disappeared in a hurry. The good news is New York is still in good position to clinch a postseason spot. Win one of the final four games and they're in. Anyway, I have thoughts.
1. The Yankees are playing terribly right now — they didn't even look good while taking three of four from the White Sox over the weekend, that was a grind of a series — and they look old and worn down. That's because the Yankees always look old and worn down whenever they struggle, regardless of the time of year. Most teams do, but the Yankees are actually old, so there's some truth behind it. Last night's homer notwithstanding, I absolutely think it's fair to wonder if Alex Rodriguez is running on fumes at this point. Joe Girardi admitted it was a concern yesterday. He's 40 years old with two surgically repaired hips, and he was phenomenal at the start of the season. Really into late-July. But even as a full-time DH, A-Rod very well might be gassed after 157 games. It's not just sitting on the bench, getting four at-bats and running to first a few times. There's all the pregame work in the cages and the travel and all that stuff too. Baseball is a very demanding sport, it's an endurance sport at heart, and as great as Alex is, he's at the age where he can't bounce back from the physical grind as well as he once did. The Yankees are struggling right now and they look old, because they always look old when they struggle. A-Rod is the only position player I am truly worried about being worn down though.
2. Even with his recent control issues, Dellin Betances has joined Andrew Miller to form the most dominant one-two bullpen punch in baseball. No other team has two relievers who can compare. Betances and Miller are the strength of the roster, and while that's great when leading after six or seven innings, the Blue Jays also showed how quickly that strength can be negated. The Yankees and Blue Jays played 13 games after the trade deadline, and Betances and Miller combined for only nine appearances in the 13 games. Five by Betances, four my Miller. That's all. Why didn't they pitch more often? The Blue Jays had the lead. Betances and Miller are dynamite, but their usage is dependent on the other players on the roster, so the Blue Jays were able to remove those two from the equation by having a better offense and a better rotation than the Yankees. Having a dominant one-two bullpen punch is great! You need a strong bullpen to contend these days, especially with starters throwing fewer and fewer innings. Bullpen usage depends on the offense and rotation though, and if those parts of the team aren't up to snuff, the great relievers get marginalized. That happened with Betances and Miller against the Blue Jays in the second half.
3. How about Dustin Ackley? It's too bad he missed that month with a back injury after the trade considering how well he's played the last two weeks. I didn't think Ackley would have any sort of impact at all — he was terrible with the Mariners (76 wRC+) and he was replacing Garrett Jones, which meant he was probably never going to play — but here he is, mashing taters and playing second base nearly everyday. It's very easy to get excited about a player like this, a former elite prospect and super high draft pick coming to a more competent organization with a more hitter friendly ballpark. I have no idea what the plan is for Ackley next year. We've got an entire offseason ahead of us to think about that. Right now though, Ackley has been tremendous the last two weeks. I'm not buying in all the way yet, but Ackley has talent, and it's easy to understand why the Yankees wanted to pick him up. Classic change of scenery guy who has produced right away. The Yankees have done well with players like this this season (Didi Gregorius and Nathan Eovaldi are two other examples.)
4. Greg Bird's role with the Yankees going forward has been a much discussed topic the last few weeks. He's clearly the first baseman of the future, but Mark Teixeira is still under contract next season, and neither Teixeira nor Bird can play a position other than first base or DH. Teixeira's not going anywhere — he has full no-trade protection and no reason to uproot his family — and, frankly, he's the better player and should be at first base in 2016. As good as Bird has been, Teixeira was a monster before getting hurt. The Yankees miss him, especially against lefties. Anyway, I made this handy flow chart to help you figure out what the Yankees should do with Bird next season:
That sums it up, right? When Bird is hitting homers and doing well, we all want him in MLB. When he's striking out in bunches, eh maybe some more time in Triple-A wouldn't be the end of the world. Then we all wait until for his next at-bat to change our minds again. As with Ackley, this is a "worry about it in the offseason" problem. ("Problem.") Get through the season first. Besides, A-Rod and Teixeira (and Bird, for that matter) haven't been the most durable players in recent years. This could easily take care of itself and all three guys end up playing 100-120 games or so. I'm just glad Bird has put himself in this discussion. I had no expectation of him playing in MLB this season, let alone producing in an everyday role.
5. This has not been Girardi's finest month in terms of on-field moves. I think he's an average-ish strategic manager who does his best work behind closed doors in the clubhouse. The Yankees are, amazingly, a distraction-free team, and I think Girardi deserves a ton of credit for that. On the field though, there have been really questionable moves in September. Last Wednesday's game stands out the most, when a bunch of Triple-A relievers decided a close game against the Blue Jay the Yankees more or less had to have to stay alive in the AL East, but there have been some other weird ones. Pinch-running for A-Rod at first base with the bases loaded a few weeks ago, for example. Using four different second baseman in four innings against the Mets because of unnecessary double switches. That sorta stuff. Girardi doesn't hit or pitch, he can push the correct button every time and it still might not work out. That's baseball. His job is to put his players and his team in the best possible position to succeed, and I'm not sure he's done that consistently this month. I don't think Girardi should be fired or anything that. I'm just making an observation. This hasn't been a great month for the skipper.