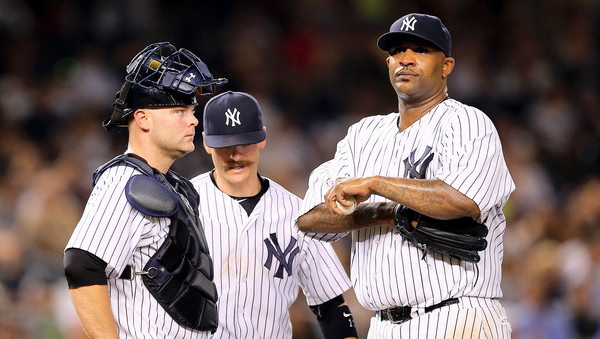 Two days ago the Yankees placed CC Sabathia on the 15-day DL with right knee inflammation after he left Sunday's start in the third inning. He does not need surgery, so that's good, and Sabathia is hopeful he can return once the 15 days are up. We'll see. I have some thoughts about the injury and stuff, so let's get to 'em.
1. Sabathia has been very bad this year — 5.27 ERA (74 ERA+) and 4.82 FIP in 138.1 innings — and it's easy to think the Yankees are better off without him, but remember, they only have four healthy starters right now. Michael Pineda and Bryan Mitchell are both on the DL, and while Pineda is set to return today, Andrew Miller's injury earlier this year is a reminder Pineda might not be 100% effective when he first returns. Hopefully he is. Adam Warren could move back into the rotation if need be but he's not stretched out. He's thrown more than 35 pitches just twice in the last two months. Removing an ineffective starter from the rotation is a good thing! Assuming you have the depth to replace him. Do the Yankees? Only if Pineda and Mitchell come back from their injuries with no issues, which are big ifs. The rotation was stretched thin even before Sabathia got hurt. Injuries are rarely — very rarely — a good thing.
2. Joe Girardi and Brian Cashman indicated the Yankees will shelve their plan to use a six-man rotation in September following Sabathia's injury, but I'm sure they'll still insert a spot sixth starter whenever possible. It'll be much easier to pull off once rosters expand a week from today. They could plug Mitchell — assuming he's healthy! — or Warren into the rotation once in a while and have all the call-ups serve as innings-eating arms. The Yankees have used a spot sixth starter whenever possible this season, even when it meant playing with a short bench or a short bullpen, so there's no reason to think they won't do it after the Sabathia injury. It just means Mitchell or Warren will make those starts and someone else will be the long man in the bullpen. So the Yankees sacrifice a good bullpen piece to plug their rotation hole. Maybe that's a sacrifice they can afford to make in September.
3. It's impossible to know what the injury means for Sabathia and the Yankees long-term. Clearly the knee will have to be managed going forward, but we knew that already. I'm not sure the injury changes anything in that regard. Sabathia said he is willing to pitch out of the bullpen, and that's great, so maybe that's where his future lies. Perhaps this latest scare convinced him the knee simply won't hold up for 100 or so pitches every fifth day. The injury definitely won't push Sabathia into retirement, I'm pretty confident about that. For starters, he's not leaving on all that money on the table. It wouldn't be honorable, it would be stupid. Secondly, Sabathia's not just going to quit and go out like that. This guy has pitched through everything and is a top of the line competitor. Like tippy top of the line. They're going to have to drag him off the mound. The Yankees reportedly have insurance on Sabathia's contract but the exact details are unknown. The policy might only cover his arm for all we know. Insurance usually doesn't kick in until after a certain number of days missed — the Mets didn't collect any insurance on David Wright until he missed 60 days, for example — and it might not kick in at all this year since the season is almost over. One thing at a time though. Sabathia's injury means the Yankees are short a pitcher right now. We'll have an entire offseason to wonder what it means for the 2016 Yankees. (And 2017 Yankees!)
4. Sabathia's velocity had ticked up in his recent starts …
… and he admitted Sunday the added velocity was the result of a "screw it" mentality. Sabathia told Ken Davidoff he had been pitching through knee discomfort and a recent cortisone shot provided minimal relief, so he decided to simply air it out because holding back and trying to protect the knee wasn't working. The options were a) pitch poorly while trying to protect the knee, or b) put the knee at risk and maybe pitch more effectively. Sabathia did (a) for much of the season, changed over to (b), and it lasted only a few starts. What an awful situation. Either pitch poorly with reduced stuff or increase the injury risk with no guarantee of performing better.
5. Gosh, how much pain must Sabathia have been in to come out of the game like that Sunday? This guy pitches through everything. Sabathia pitched through the bone spur in his elbow back in 2012 even though he couldn't fully extend his elbow and had limited range of motion. He suffered a Grade II hamstring strain in a September 2013 game and finished the start. Sabathia came right out of Sunday's game and didn't try to throw a test pitch or even lobby to stay. He must have been in some serious pain. Criticize his pitching all you want. Sabathia's always been a team first guy who never didn't take the ball. To bow out of a game without a fight like that tells you he'd reached the breaking point with his knee. It was too much.
6. The Yankees signed Sabathia to his five-year, $122M extension during the 2011-12 offseason, and he's now ended each season of the contract injured. In 2012 he had the bone spur in his elbow. In 2013 it was the hamstring. Last year it was his knee surgery, and this year it's the knee again. (Well, I guess he might not finish this season hurt, but you know what I mean. He's had physical problems each year.) Sabathia was very much on the Hall of Fame track before these injuries started to set in, and, after all the concern about all those innings on his arm, it's his legs that are giving out. The bone spur in his elbow has been his only arm injury. Remember when everyone was worried about A.J. Burnett's durability when the Yankees signed him? He was healthy during his entire contract and then some. Pitchers, man. They all seem to get hurt, but predicting how and when and why is an exercise in futility.