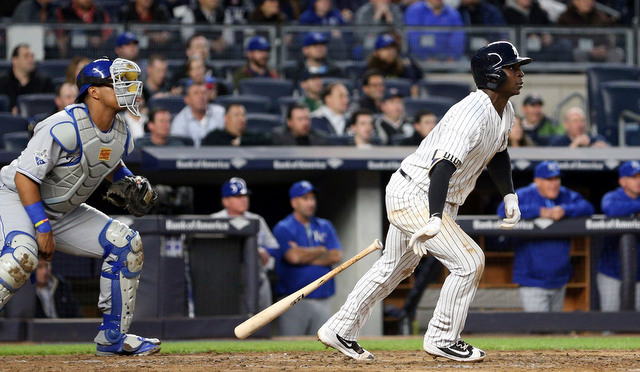 Year one of the Didi Gregorius era did not get off to the best start. Didi struggled big time both in the field and at the plate early last season, so much so there was talk about sending him to Triple-A and playing Stephen Drew at short. The Yankees weren't talking about that, but many fans were. He was playing that poorly. Thankfully, Gregorius turned things around in May and finished the season strong.
This season has not started well for Didi either. His defense has been more than fine, so it hasn't been a total repeat of last year, but the bat has started very slow. Only Chase Headley has performed worse among the regulars. Gregorius came into the homestand in a 3-for-30 (.100) slump and hitting .215/.241/.316 (48 wRC+) overall. I was hoping his Opening Day home run would be the jumping off point for a strong second season in New York, but it hasn't come together yet.
Things have gone a bit better on the homestand for Gregorius and the Yankees in general. The team has won four of five on the homestand, and Didi has gone 5-for-17 (.294) with a pair of bases clearing doubles in the five games. That has raised his season batting line to .229/.250/.344 (58 wRC+), which is still an eyesore. And yes, the caveat here is that those two bases clearing doubles were almost mistakes. This is the pitch he hit for the first: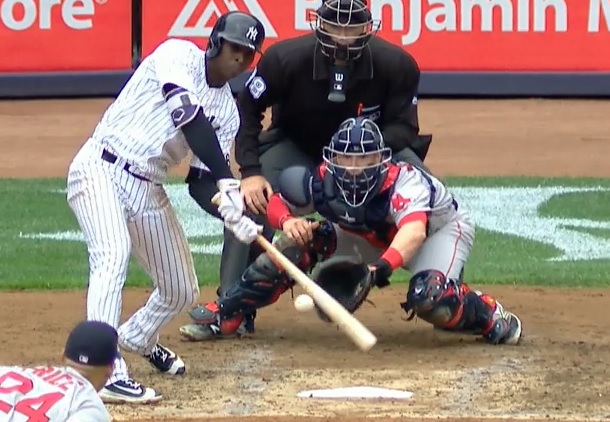 That's an 0-2 changeup almost in the dirt, the kind of pitch you typically want a hitter to take. Gregorius took a little defensive half-swing and dunked it into right field. Sometimes you can do everything wrong and it still works out. Baseball. Then, last night he took another little protect swing at an outside pitch and knocked it into shallow center. Didi almost threw his bat at the pitch.
Gregorius hasn't been driving the ball all around the yard on the homestand, but that's okay. Sometimes you just have to put the bat on the ball and hope to finds grass. You hear players and ex-players talk about it all the time: any little thing can help get you bust out of slump, even bloops and bobbles and bunts.
Most importantly, Gregorius is starting to hit the ball harder, and that's always a plus. A total of 196 players had enough plate appearances to qualify for the batting title in April, and Didi ranked 196th in hard contact rate (12.5%) and 189th in line drive rate (10.9%). Woof. Alcides Escobar had the second lowest hard contact rate at 14.3%, so the gap between Didi and the next worst hitter was substantial.
So far in May Gregorius has upped his hard contact and line drive rates up to 22.3% and 36.0%, respectively. He hard contact rate still isn't great, so it's not like he's tattooing the ball, but at least he's moving in the right direction. The next goal is being more disciplined. I know that 0-2 changeup from David Price went for a double, but if Didi keeps swinging at pitches like that, he's going to get himself out more often than not. Look at his swing rates on the season:
| | BB% | O-Swing% | Z-Swing% | Zone% |
| --- | --- | --- | --- | --- |
| 2015 | 5.7% | 33.8% | 71.7% | 47.0% |
| 2016 | 2.0% | 35.7% | 75.6% | 44.3% |
Gregorius has never shown great discipline as a big leaguer and I'm not sure he ever well, but geez, he's swinging at everything this year. Swinging at more pitches in the zone (Z-Swing%) is not automatically a bad thing. Swinging at pitches out of the zone (35.7%) is though, especially when pitchers are throwing you fewer pitches in the strike zone. Pitchers know they can get Didi to chase and he has obliged so far this year.
This isn't a matter of simply taking more pitches. Gregorius has to do a better job staying back and differentiating balls from strikes. Swing at the strikes and take the balls. It's easy and yet oh so difficult at the same time. Didi has made himself into too easy of an out because of how often he chases out of the zone. Pitchers have been exploiting that weakness big time this year. It's something he must improve.
It was around this time last year that Gregorius started to turn things around. I don't think anyone is asking him to be a force at the bottom of the lineup, but he needs to be more than a zero. Didi is hitting the ball harder this month and that's a positive. It helps that some of those defensive swings are turning into three-run doubles too. He has to continue to work on his plate discipline going forward though. That's the key. Gregorius has to make pitchers work harder to get him out.