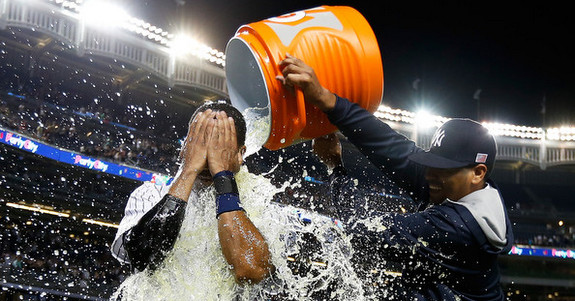 Even though the Yankees fell short of the playoffs this past season, they still had a bunch of memorable moments during the regular season. Big hits, specifically, and I think we can all agree Derek Jeter's walk-off single in his final game at Yankee Stadium was the most memorable hit of the year and maybe of the last 20 years. It was that amazing. I'm going to remember that hit for the rest of the my life.
But was that one of the most important hits of the season? Not really. The Yankees had already been eliminated from postseason contention at that point and the win didn't mean anything in the standings. In this post we're going to look at the team's biggest hits of the season using win probability added (WPA), a nice quick and dirty way to measure how much an event (hit, out, etc.) improves the club's chances of winning. Jeter's walk-off single clocked in at +0.31 WPA, meaning it improved their chances of winning 31%. That's high but not exactly mind-blowing.
Like every other stat, WPA is not perfect. It lacks context, such as the pitcher, the batter, postseason race position, all sorts of stuff. A division winning walk-off homer against Craig Kimbrel would have the same WPA as a walk-off homer against Esmil Rogers on April 2nd. That's alright though, I'm only putting this list together for fun and I don't intend to present it as some kind of detailed analysis. Here are the biggest hits posts for 2011 and 2012. Apparently I didn't do one last year. My bad.
t-5. May 6th: Brian Roberts homers off Ernesto Frieri (video above)
t-5. May 24th: Jacoby Ellsbury homers off Zach Putnam (video)
t-5. July 9th: Ellsbury homers off Vinnie Pestano (video)
Tied for fifth are three nearly identical homers — they're all solo shots in the ninth inning or later of a tie game on the road, giving the Yankees the lead. Same situation and same result for all three (extra innings are effectively the same thing as the ninth inning), hence the identical WPAs. Roberts ambushed a first pitch fastball from Frieri for his first homer of the season — this was right around the time it looked Roberts like could still hit a little and be useful — while Ellsbury clobbered a hanging changeup from Putnam and a hanging slider from Pestano. The three homers each checked in at +0.42 WPA.
4. September 4th: Mark Teixeira homers off Koji Uehara
After coming out of the gate strong and hitting homeruns left and right, Teixeira slumped big time in the second half. He went deep just five times after the All-Star break. His second to last homer of the season was this game-tying solo shot in the bottom of the ninth off a busted Uehara, who was in the middle of a stretch in which he allowed ten runs on 14 hits (four homers) in 4.2 innings. Uehara threw a two-strike splitter than didn't split and Teixeira clobbered the 81 mph nothingball left out over the plate. The homer was worth +0.44 WPA. Chase Headley followed with a walk-off homer later in the inning, as I'm sure you remember.
3. June 30th: Roberts homers off Joel Peralta
This is the token "huh, I don't remember that" hit of the five biggest hits list. I did remember it after watching the video though, which was nice. I wonder how much baseball I've forgotten over the years. A lot. Probably some cool stuff too. Anyway, Peralta's pitch was very similar to the Frieri pitch from earlier, a fastball down and in, the kind of pitch left-handed hitters can golf out to right. And that's exactly what Roberts did, golfed it out to tie the game in the bottom of the ninth. This one measured +0.47 WPA. Fun fact: the Yankees lost this game anyway. Jose Ramirez allowed a run in the top of the tenth and that was that. Losing the game in which you received your third biggest hit of the season by WPA is the most 2014 Yankees thing ever.
2. September 11th: Chris Young homers off Jake McGee
Alright, now we're talking. Those game-tying and go-ahead homers on the road were cute, but now it's time for the very big hits. The ones that turned a multi-run deficit into a win with one swing of the bat. First up is Chris Young's three-run walk-off homer against the Rays. He hit it a few pitches after Headley took a fastball to the chin. I know you remember that. Here's the WPA graph:

Source: FanGraphs
Young gets credit for the big hit, but this inning was set up by Headley's chin and Ichiro Suzuki's double to right field, which put the tying run in scoring position with one out. McGee seemed to stay away away away to every hitter after hitting Headley, and sure enough the pitch Young hit out was a fastball up in the zone and on the outer half. He got to it with his long swing and drove it out for the walk-off three-run homer, turning a 4-2 deficit into a 5-4 win with one swing. The WPA on this one: +0.72. That's huge. Bigger than the team's biggest hit in 2013, 2012, 2011, 2010 (tied for biggest), and 2009. But only the second biggest this year.
1. June 20th: Carlos Beltran homers off Zach Britton
Surely you knew this was number one, right? It was probably the most memorable non-Jeter moment of the season. The Yankees had just won three straight and seven of their last nine games, and it felt like they were finally starting to build some momentum at midseason. Ubaldo Jimenez of all people shut them down that night, and Britton inherited a 3-1 lead in the ninth.
Brett Gardner led the inning off with a single, but quick outs by Jeter and Ellsbury put the Yankees on the ropes. Teixeira drew a walk and pushed Gardner into scoring position, then Brian McCann drove him in a bloopy little bloop to center. The tying run was in scoring position and the winning run was on base. Britton, an extreme sinkerballer, was up in the zone all inning, and Beltran was able to work him into a favorable 3-1 count.
You know what happened next. Britton left another pitch up and Beltran hooked it into left for a walk-off three-run homer. To the WPA graph:

Source: FanGraphs
Yep. Beltran's homer clocked in at +0.84 WPA, which is off the charts. It was not only the team's biggest hit of the season, it was the biggest Yankees' hit (by WPA!) since Jason Giambi hit this walk-off homer against B.J. Ryan in June 2008. That video didn't work for the longest time and MLB.com finally fixed it. I'm so happy. That one registered +0.89 WPA, which is also nuts. Between Young and Beltran, the Yankees received two of their biggest hits of the last seven years in 2014. Those homers than turn an imminent loss into a win don't come around all that often.