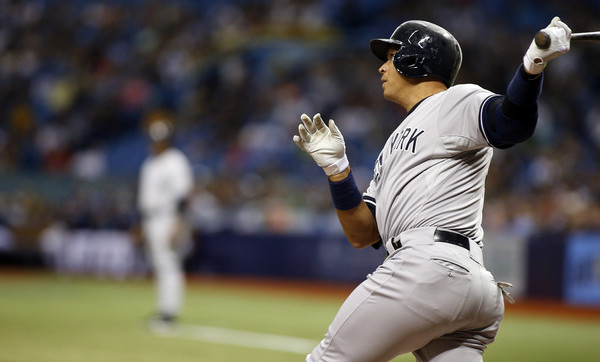 The Bronx Bombers returned in 2015. The team's power production slipped big time from 2013-14, mostly due to personnel (Ichiro Suzuki, Brian Roberts, etc.) and injuries (Curtis Granderson, Mark Teixeira, etc.), but they rebounded in a big way this year. The Yankees hit 212 home runs this season, fourth most in baseball behind the Blue Jays (232), Astros (230), and Orioles (217).
Naturally, some of those 212 home runs were very long. The Yankees hit some bombs this year, and in this post we're going to look back at the five longest. Because Statcast data is not fully available yet — the MLB.com Statcast leaderboard only runs 50 players deep and is not sortable by team for whatever reason — we're going to rely on good ol' Hit Tracker for home run distance data. Maybe next season the Statcast leaderboard will be a bit more user friendly. Anyway, on to the Yankees' five longest homers of 2015.
5. July 25th: A-Rod's third homer ties the game. (box score)
There's a lot to unpack with the fifth longest home run of the season. First, it tied the game in the top of the ninth. Second, it was Alex Rodriguez's third home run of the game. Third — and spoiler alert — it was only A-Rod's second longest home run of the game. This was one of those "it's the Twins, of course the Yankees are going to find a way to win" games, and, sure enough, Alex tied things up with this dead center bomb off Glen Perkins.
The Yankees won the game later that inning on
John Ryan Murphy
's three-run dinger. The A-Rod home run measured a healthy 438 feet. It had distance and impact. Alex tied that game with authority. That it was his third home run of the game made it even cooler.
4. October 1st: Refsnyder almost reaches the left field bleachers. (box score)
There's a whole lotta A-Rod in this post, and Refsnyder is not the player I would have guessed to break up the monopoly. If you'd asked me to predict the longest non-Rodriguez homer of the season, I would gone with Teixeira or Brian McCann. Maybe Carlos Beltran or Greg Bird, but Teixeira or McCann seem like better guesses. But nope, it's Rob Refsnyder, with this 439 foot blast against the Red Sox:
Refsnyder's home run gave the Yankees an insurance run in the eventual win, a win that clinched the team's first postseason berth since 2012. I didn't think Refsnyder had that in him. He really turned on that Heath Hembree fastball. When you see something like that, it's easy to understand why the Yankees are "
leaning towards
" using Refsnyder (and
Dustin Ackley
) at second base next year.
3. July 25th: A-Rod goes third deck at Target Field. (box score)
I think my favorite part of this home run was John Flaherty's call. Flaherty was talking about A-Rod and how he had never hit a home run at Target Field when Alex launched this Tommy Milone pitch into the third deck in left field. Check it out:
That's great. It was the first of A-Rod's three home runs that game and it measured 450 feet off the bat. Notice the score in the video: the Yankees were losing 5-0 at the time. A-Rod and his three home runs got the Yankees back in the game.
2. July 22nd: A-Rod takes Gausman to the bleachers. (box score)
This is the inevitable forgotten homer. The one I forgot about completely. Seems to happen with each and every one of these top five play posts I put together each year. Anyway, the Yankees were home against the Orioles, and A-Rod turned around a hanging 85 mph changeup from Kevin Gausman. It landed in the left field bleachers.
The unofficial but good enough for our purposes measurement: 453 feet. Aside from A-Rod's monster home run, this was one of those nondescript midsummer games that blends into the blob of baseball we watch then forget each year.
1. April 17th: A-Rod goes way deep at the Trop. (box score)
I remember this game and this home run specifically as the moment it became clear Alex still had something left in the tank and was going to help the Yankees. There were a ton of questions about him coming into the season given his age and suspension and all that, and while the early returns were promising, we still wanted to see more evidence A-Rod could contribute. Then he did this:
That home run traveled 477 feet. It was the longest by a Yankee since A-Rod hit a 488 foot home run off Cliff Lee back in 2006 (
video
). Yeah, it's been a while. It was also the longest home run by an American League player this season and the sixth longest in baseball overall. Only Giancarlo Stanton (484 twice), Paul Goldschmidt (482), Joc Pederson (480), and Michael Taylor (479) hit balls farther in 2015. Three of those five were hit at Coors Field, by way. (Pederson's, Taylor's, and one of Stanton's.)
The season-long home run was the highlight of A-Rod's monster game, in which he went 3-for-4 with two home runs and four runs driven in. He tied the game with a two-run blast in the sixth and drove in the go-ahead run with an eighth inning single. Huge home run and a huge game from Rodriguez.