Thanks to the Braves, the Yankees averaged a healthy 4.71 runs per game in August, right in line with the 4.88 runs per game they averaged from April through July. We all know the offense wasn't quite that good last month though. The Yankees scored 38 runs in three games against Atlanta over the weekend and only 94 runs in the other 25 games, or 3.76 per game.
The team-wide offensive malaise last month was not the result of any one thing. It was a combination of things. Lots of players slumped, perhaps none moreso than Brett Gardner. The first time All-Star hit a weak .208/.304/.257 (61 wRC+) in August, easily his worst month of the season. Easily. His second worst month was the .252/.322/.421 (105 wRC+) batting line he put up in May.
Gardner has always been a better first half player, but not to this extreme. He's a career .283/.360/.421 (116 wRC+) hitter in the first half and .240/.330/.356 (90 wRC+) in the second half. That 26 wRC+ point difference is pretty huge. Brett's a first half player, no doubt. This year though? This year he hit .302/.377/.484 (139 wRC+) in the first half and is at .212/.318/.291 (74 wRC+) in the second half. That's a 65 wRC+ point gap.
Anecdotally, it seems as though Gardner has been striking out more in the second half, but that's not really the case. He had a 19.8% strikeout rate in the first half and has a 22.5% strikeout rate in the second half. Basically three extra strikeouts per 100 plate appearances. No big deal. His 23.3% strikeout rate in August wasn't much worse either. So yes, he is striking out more, but not that much more.
Gardner's plate discipline was fine in August, at least in the sense that it didn't deviate from his season averages a whole lot. He swung at 20.7% of pitches out of the zone last month. His season rate is 21.4%. Gardner didn't start hitting more grounders (39.8%) or pop-ups (6.9%) in August either. His season averages are 45.4% and 6.0%, respectively. Too pull happy? Not enough hard contact?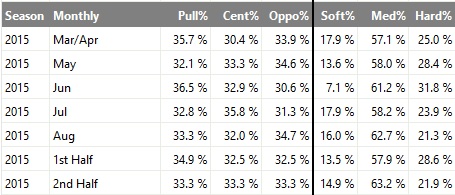 Eh. Not too much of a difference there. The 6.7 percentage point drop in hard contact from the first half to the second half is disconcerting, but most of it shifted over to medium contact, not weak contact. Is that enough to explain Gardner's .274 BABIP in August, by far his lowest month of the season? Maybe! The admittedly imperfect data suggests he was not hitting the ball as hard in August as he had earlier this season.
The more important question is why. Why isn't Gardner hitting the ball as hard as he did earlier this season? It's impossible to answer. It could be as simple as scorer bias — Baseball Info Solutions uses human stringers for their contact data, so one scorer's hard hit ball could be another's medium hit ball — or sample size issues. Maybe he's playing hurt again. Remember, Gardner played through an abdominal strain in the second half last year, which was severe enough that he needed offseason surgery. Maybe his swing is a mess. There could be a million reasons.
Regardless of what exactly is causing Gardner's slump, Gardner's slump has hurt the offense overall these last few weeks. The good news is he is starting to come out it. Brett went deep last night and is 6-for-22 (.273) on the road trip, which is a heck of a lot better than what he did the rest of August. You have to squint your eyes, but the signs are there. Gardner's hit the ball with some more authority of late, even his outs, which suggests he's getting better swings.
Unless Gardner is playing hurt and we don't know about it, I expect him to climb out of his slump soon enough. I have a hard time believing Brett is simply a bad hitter now. Great in the first half to zero in the second half? Not impossible, just unlikely. The Yankees will be without Mark Teixeira for the foreseeable future, so getting Gardner back on track as the No. 2 hitter is imperative. Runs are harder to come by these days, even moreso with Brett struggling.