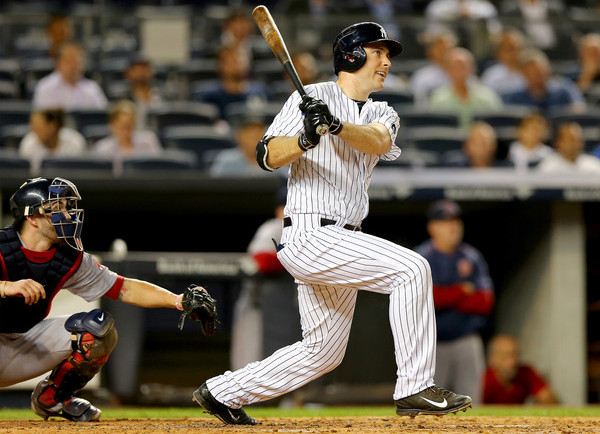 When the Yankees acquired Dustin Ackley at the trade deadline, they continued their recent trend of bringing in talented players who had fallen out of favor with their former teams. Ackley was a former tippy top prospect — Baseball America ranked him the No. 12 prospect in baseball in 2011 — who flopped, so the Yankees were able to get him for two players the Mariners have already traded elsewhere.
At worst, Ackley was going to be a more versatile Garrett Jones. Jones was the lefty hitting part-time outfielder/part-time first baseman who never played. Ackley would do the same, except add in the ability to play center field and second base, if necessary. Plus he's seven years younger and had two additional years of team control remaining. Considering what the Yankees gave up, the move made total sense.
Ackley ended up having a nice impact down the stretch in September, going 13-for-40 (.325) with two doubles, two triples, and four homers in the final three weeks of the season. The Yankees needed all the offense they could get at the time, so Ackley played, mostly at second base but also some first base. Small sample size? Oh yes. Those three weeks could have been a total mirage. At least one person thinks Ackley's big finish was for real though.
"(Former hitting coach Jeff Pentland) and I saw this pretty much the first BP session," said hitting coach Alan Cockrell to Chad Jennings earlier this offseason. "He was coming off his back side going out to get the baseball, and it's tough to hit when you've got something coming at you 95 and you're going towards it. So, Pent and I were in agreement; we were going to get him to stay on his back side a little bit longer. Stay behind the ball a little bit more."
Cockrell does have some history with Ackley. He was the Mariners hitting coach from December 2008 until May 2010, and Ackley was drafted in 2009, so the two worked together in some post-draft workouts and also during Spring Training in 2010. It's not much, but there was some familiarity there, and that's better than going in blind. Ackley was the No. 2 pick in the country, remember. Cockrell saw him at the peak of his prospect status.
"I saw Dustin when he was drafted out of the University of North Carolina … He could impact the baseball, and he was in a good position behind the ball. Had good hands and uses the whole field and the ball comes off his bat with a little different sound for a guy his size," added Cockrell. "(We needed to) stabilize his movement going forward and keeping him behind the ball a little bit and give him some room to let the hands get the barrel to the ball. And he literally got it in one or two cage sessions. When that started to happen it was a big bat for us down the end."
I don't speak hitting coach, though it sounds like Cockrell is saying the Yankees wanted Ackley to stay back a little longer. Let the pitch travel a little deeper before attacking. That sound right? I could be totally wrong here. Anyway, here's a look at Ackley's swing with the Mariners from earlier this season and his swing with the Yankees. Brad Boxberger is on the mound in both GIFs, so they're synced up based on when he starts his delivery.
I see … nothing. The two swings look exactly the same to me. It's always amazed me players and hitting coaches can look at a swing and see something that isn't right. Same deal with pitching coaches. They can pick up the littlest things in real time. I guess that's why they make the big bucks.
I looked at the two GIFs frame by frame to see if I could pick anything up, and this is what I found:

In the frame on the left, Ackley's front foot is down completely. At the same moment based on Boxberger's delivery, Ackley's foot is just beginning to touch down in the frame on the right. That at least suggests Ackley waited just a tiny bit longer before starting his swing in the frame on the right. That's what Cockrell was talking about. (I think.)
* * *
Update: A commenter noted Ackley's front foot landed closer to the pitcher while with the Mariners. I'm not sure if he's taking a smaller stride or simply moved back in the batter's box. Moving back could also be designed to allow him to wait a little longer before swinging.
* * *
While with the Mariners this year, Ackley had a 16.9% soft contact rate and a 30.5% hard contact rate. The league averages were 18.6% and 28.6% this season, respectively. With the Yankees he had a 13.0% soft contact rate and a 43.5% hard contact rate, so the difference was substantial. Ackley's time in pinstripes was absolutely a small sample. This also happened though. There's no taking it back. Ackley hit the ball way harder with the Yankees.
Is the increased hard hit rate the result of staying back on the ball better, and is it something that carry over to next season? That's what we're all wondering. I've done enough of these mechanical change posts to know most of them amount to nothing. This is more of a timing change than a mechanical change, but whatever. Same difference.
The Starlin Castro pickup means Ackley will open next season as a bench player, which is for the best. Let him show September was real before entrusting him with more playing time. The Yankees took a shot on Ackley's talent at the trade deadline and he rewarded them in September. Now the Yankees will see if he can be a long-term asset.