Buried behind the big market clubs atop the AL East for past decade, the Blue Jays managed to win 256 games from 2006 to 2008 (.527 winning percentage) yet never finished closer than ten games back of the division winner. Longtime GM J.P. Ricciardi was fired after the team won just 75 games last season, and was replaced by his assistant Alex Anthopoulos. He's launched the team into full rebuild mode, a process that won't bear many fruits in 2010.
We've already previewed the Red Sox, Rays, and Orioles this week, so let's wrap up this series by previewing the Yankees other division opponent, the Toronto Blue Jays.
Position Players
Usually when a team has a player under contract for the next five years at a cost of $98.5M, they would expect that player to be the face of the franchise and the centerpiece of their lineup. Instead, Vernon Wells represents a lesson in ill-advised contract extensions, as he'll soak up approximately 25% of the team's payroll going forward, assuming there's no dramatic increase in the budget.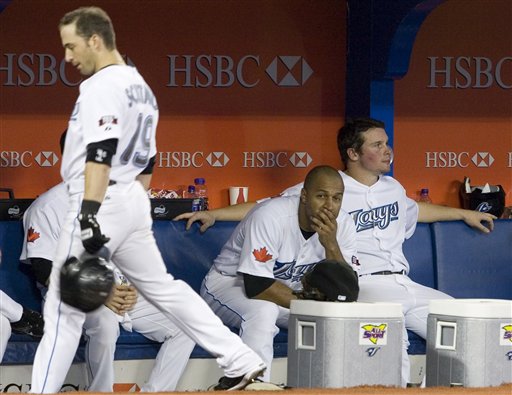 Since signing his deal in December of 2006, Wells has hit just .265-.317-.426 (.330 wOBA) with a -33.6 UZR (worst in the game among centerfielders), making him worth a total of 2.0 WAR. For comparison's sake, Melky Cabrera has hit .267-.323-.385 (.315 wOBA) with a -8.4 UZR in center during the same three year stretch, making him worth 2.4 WAR. Toronto only paid him $7.5M during that time, so the big money doesn't kick in until next year. Wells will pocket $12.5M in 2010 before earning $23M, $21M, $21M, and $21M from 2011 to 2014. Yikes.
The Jays aren't going to get lucky like they did with Alex Rios, when they were able to unload the entire $60M+ left on his deal on the White Sox after they claimed him on waivers. The good news/bad news scenario is that Wells' performance had improved as he got further away from the fractured left wrist he suffered in May of 2008, but the bad news is that he had surgery to repair cartilage damage in the same wrist this offseason. Toronto has to hope that's nothing more a minor bump in the road, and he'll be able to return to the four-plus win level of performance he showed from 2003 to 2006. As for a rebound in 2010, the Magic 8-Ball's sources say no.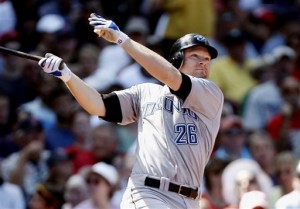 Luckily for Toronto, they do have a bonafide homegrown star in the middle of their lineup named Adam Lind. Freed from the shackles of inconsistent playing time once manager John Gibbons was fired in June of 2008, Lind was instantly installed into the lineup on an everyday basis when Cito Gaston took over. He hit a respectable .296-.329-.463 (.341 wOBA) after the managerial change in '08, but Lind broke out and emerged as one of the most dominant offensive forces in the league last season. His .394 wOBA was eighth best in the AL, and his 35 homers placed fifth in the circuit. Although he provides zero defensive value and is likely to spend the majority of his time in Toronto at the DH position, Lind represents the Jays' best offensive player since Carlos Delgado left town after the 2004 season, and he's under team control for another four years.
His running mate during the 2009 season was second baseman Aaron Hill, who enjoyed a breakout of his own by posting a .357 wOBA and a team leading 36 homers, five more than any other full time second baseman in the game. His 12 "just enough" homers (according to Hit Tracker) represent a third of his total, and chances are that'll even out a bit and he'll send fewer balls over the fence in 2010. A lack of plate discipline (swung at 26.3% of the pitches he saw out of the zone last year) and a weakness against breaking balls don't help his case either. Of course, getting further away from a concussion that caused him to miss most of the 2008 season surely helped his production, so maybe those 36 homers aren't as fluky as they appear on the surface.
Promising youngster Travis Snider will be given another chance to stick with the big league club this year, though he's had a poor spring and last year's .327 wOBA in close to 300 plate appearances doesn't inspire much confidence. He's way too young to give up on at just 22-years-old, especially when the organization just watched how long it took everything to click for Lind. At least Snider offers some defensive value in right, with okay range and one of the strongest arms no one knows about.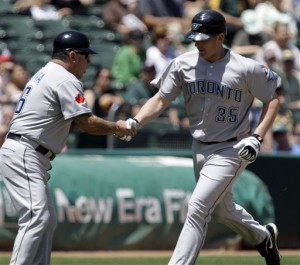 First basemen Lyle Overbay will be counted on to provide some thump behind Hill and Lind, though his days of 40+ doubles and 20+ homers are a thing of he past. He's a rock solid glove man with strong on-base skills. Edwin Encarnacion came over in the Scott Rolen deal at least year's trade deadline, and his M.O. is the same as it's always been: decent on-base ability, good power, and a hazard to those around him when he's playing defense at the hot corner. Leftfielder Jose Bautista shouldn't be a bad choice for the leadoff spot given his strong walk rate, but he's so bad at hitting for average that it drags his OBP down. Shortstop Alex Gonzalez was brought in strictly for his glove, while new catcher John Buck will run into the occasional fastball out of the eighth spot in the order.
The wildcard in all this is 32-year-old minor league journeyman and former Yankee farmhand Randy Ruiz, who figures to see some more action this season after hitting .313-.385-.635 (.428 wOBA) during a late season callup in 2009. You probably remember him hitting a homer off the rightfield foul pole against the Yanks in his first big league game of the season before doing this the very next day. He obviously won't maintain that pace over a full season, but his minor league line of .304-.378-.531 in over 4,600 plate appearances is pretty damn good, so it's not like he can't hit. If Ruiz proves to be a productive hitter for Gaston, you could see him steal time away from Overbay at first base, or force Lind into leftfield so he can DH.
It's likely the Jays' will summon top prospect Brett Wallace from the minor leagues at some point, perhaps after they unload Overbay to a contender at the trade deadline. The lefty swinger is a .305-.384-.475 hitter in the minors and projects to be a batting title contender with gap power down the road. He can fake it at third base but is destined to play first, where the Jays currently have a bit of a logjam.
Toronto's offense was pretty good as a whole last year, posting a .337 wOBA that was the sixth best in the league last year. They're going to miss the the .354 wOBA that Marco Scutaro brought to the table in 2009, but considering that he's bested a .316 wOBA only one other time in his eight year big league career, they shouldn't have counted on him to repeat that kind of performance if he was brought back anyway. Lind is an offensive star and Hill is one of the better offensive second baseman in the game even if his 36 homer power doesn't stick, but beyond that you don't have much more than a few complementary players and a pair of lottery tickets in Snider and Ruiz.
Pitchers
For the last decade, fans in Toronto were able to sit back and watch the masterful Roy Halladay go to work every five days. With durability that makes you think he could pitch year round if they let him, Halladay has put up a 3.13 ERA (3.28 FIP) since Opening Day 2002, the best in the American League. It's even more impressive when you consider that he's spent basically two full seasons (64 starts, 453.2 IP) facing the Yankees or Red Sox.
But Halladay's gone now, traded to the two-time defending NL Champs during the offseason for what amounts to three Top 100 prospects and close to $10M in salary relief.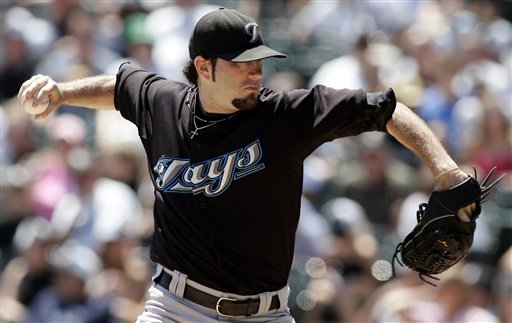 Taking Halladay's place as the Opening Day start is Shaun Marcum, who threw exactly zero big league innings last year as he recovered from Tommy John surgery. Prior to going under the knife, he posted a 3.77 ERA in 310.1 innings from 2007 to 2008, but his FIP told a different story at 4.59. The gap is in large part due to an inordinate number of stranded runners (76.9% in '07, 80.2% in '08), so expect his ERA to climb over four if those runners are left on base at the league average rate of 71% or so.
Backing him up in the number two spot will be Ricky Romero, who is probably better known among Blue Jays insiders as "the guy they drafted instead of Troy Tulowitzki."  The southpaw had a solid rookie season last year, making 29 starts and throwing 178 innings of 4.09 xFIP ball. With a rock solid 2.03 GB/FB rate, he'll look to cut down on the walks (3.99 BB/9) and give up fewer homers (0.91 HR/9) to take that next step in his age-25 season.
After Marcum and Romero, it's really anyone's guess how the rest of the Jays' rotation will shake out. The one thing there is not is a shortage of candidates for those 3-4-5 spots. I don't have a good way of sorting this mess out, so let's go through it alphabetically.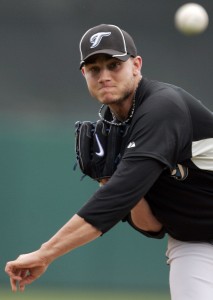 The youngster of the bunch, 2007 first rounder Brett Cecil is another example of a college reliever the Jays have successfully transitioned to the rotation (Marcum and current Brewer Dave Bush are examples). The former University of Maryland closer made 17 starts for Toronto last year, and even though his 4.68 xFIP is an eyesore, the 23-year-old lefty misses bats with a low-90's fastball, a hard slider, and a devastating split-change hybrid. All he needs is experience, and that will come with the typical growing pains associated with pitchers his age.
Dana Eveland, the well traveled southpaw who was acquired from the A's during the offseason, has been superb during Spring Training and is a favorite to land one of those three open rotation spots. The problem is that he hasn't been very good at all in the last few years, with his high water mark coming the form of a 4.55 xFIP in 29 starts for the A's in 2008. Long story short, he doesn't miss enough bats (6.45 career K/9), walks too many guys (4.62 BB/9), and gives up too many homers (1.39 HR/9) to do the starting thing long-term. Even with a rock solid 50.1% groundball rate, the AL East doesn't figure to be kind to Mr. Eveland.
The ace in hole of all this starting pitcher nonsense is Dustin McGowan, who missed the second half of 2008 and all of 2009 after having surgery to repair a torn rotator cuff and frayed labrum in his throwing shoulder. He was outstanding during his 2007 breakout season, finally free from the constant front office meddling that saw him bounce back and forth between the rotation and bullpen for the better part of his minor league career and prime development years. McGowan posted a 3.89 xFIP in 27 starts that year, then followed it with a 4.32 mark in 19 starts the next year before the shoulder injury put him down for the count. Neither the team nor McGowan are in any rush to get him back to the big leagues, especially after he experienced a little soreness in his surgically repaired joint earlier in camp, so he's going to start the season on the disabled list and slowly work his way back. Of all the pitchers in this post, McGowan is the only one that offers true front of the rotation potential.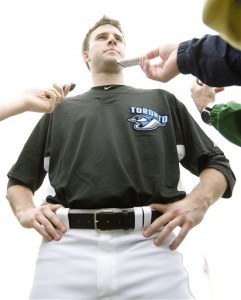 Righty Brandon Morrow, who came over from Seattle in a deal for Michael Kay favorite Brandon League, has been limited in Spring Training because of a sore shoulder. The poor kid has been Joba Rules'd more than Joba, bouncing back and forth between the bullpen and starting rotation since being drafted in 2006. In 15 career big league starts he owns a 4.42 ERA (5.23 FIP), and his numbers are predictably better when working as a reliever. The feeling at the time he was drafted was that Morrow would probably end up in the bullpen long term because of poor command and the lack of consistent second pitch, but a team like Toronto has nothing to lose by seeing what he can do as a starter. Presumably they won't jerk him around like he was in Seattle.
Swingman Brian Tallet stepped into the rotation last season to provide 25 awful starts (5.41 ERA, 4.59 FIP), and has continued to be pretty dreadful this spring. He might win a spot based on incumbency, but his nothing about his strikeout (6.72 K/9), walk (4.03 BB/9), homerun (1.12), or ground ball rates (36.3%) portend future success. Considering that he's lefthanded, breathing, and scheduled to make $2M this season, I suspect he'll stick around as a reliever once the rotation experiment fails.
One guy who took himself out of the running for a rotation spot is yet another lefty, the 23-year-old Marc Rzepczynski. After posting a 3.70 xFIP in eleven starts with the big boys last season, Rzepczynski tried a barehand a line drive two days ago and broke a finger on his throwing hand. He'll spend the next six weeks on the disabled list. Kyle Drabek, the centerpiece of the Halladay deal, will start the year in the minors and is unlikely to see any big league action, no matter how tempting it will be for the front office to call him up as a way of justifying the trade.
It appears as though Eveland, Tallet, and Morrow will start the year in the rotation (not necessarily in that order), and I'm sure Gaston is thankful that he's going to have a damn good bullpen to back them up.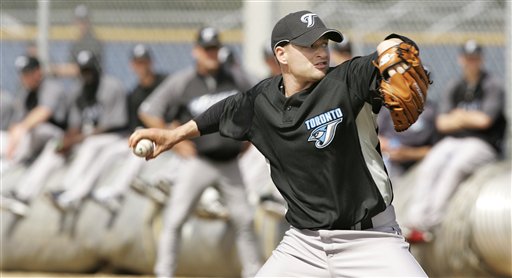 Starting at the back-end, Jason Frasor returns to the closer's role after picking up eleven saves last year and cutting his already strong walk rate down to just 2.50 BB/9. He's posted xFIP's under 3.83 in four of the last five years, and is one of the more unheralded relievers in the game. Former closer and current setup man Scott Downs is in the same boat, being one of the best relievers in the game that no one talks about. The lefty has lowered his xFIP every year since 2006, and hasn't topped 3.89 since he was a starter in 2004. Free agent signing Kevin Gregg will get some high leverage work despite not being very good; his career best 4.16 xFIP came just last year, when he served up one big fly for every five or so innings pitched.
Beyond the big two and a half at the end game, changeup ace Shawn Camp has enjoy his greatest big league success since joining the Jays in 2008, with an xFIP under four in over 100 innings with the club. He can go multiple innings if needed. Righty Casey Janssen had a sexy 2.35 ERA in 72.2 relief innings in 2007, but his 4.54 xFIP tells a different story. He missed all of 2008  and part of 2009 after having surgery to repair a torn labrum, so he's a bit of an known for this season. The rest of the bullpen will be filled out by guys like Jeremy Accardo, Josh Roenicke (another part of the Rolen deal), and Merkin Valdez, who all throw hard but battle command issues.
With no clear cut ace, Toronto's pitching is very much an unknown going into the season. They have some very interesting young arms with more on the way, but there's not enough here to compete in the unforgiving AL East. Barring some sort of miracle, the Jays are likely to finish in last place in the division for just the second time since 1997.