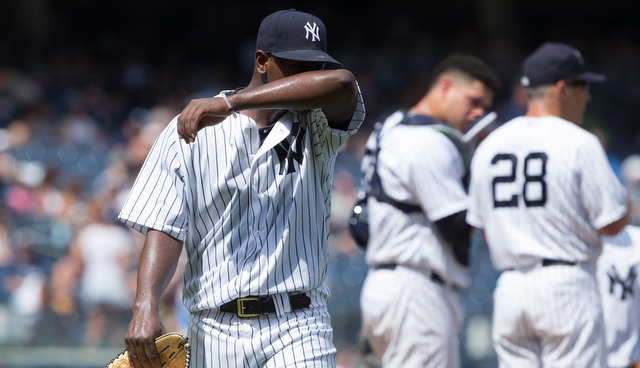 Right now, Luis Severino is not a Major League starting pitcher. I'm not just saying that because he was optioned to Triple-A yesterday. He's not a Major League caliber starting pitcher. Following yesterday's seven-run, 3.2-inning disaster, Severino is sitting on a 7.19 ERA (4.71 FIP) in 51.1 innings in 2016. Opponents are hitting .304/.349/.528 against him. He's basically turned everyone into Carlos Beltran (.300/.341/.540). You don't get to stay in the show with those numbers.
The Yankees were counting on Severino to be a big part of their rotation this season and man, he's been a huge letdown. The team is 0-9 in his nine starts this season. 0-9! Had Severino been slightly less awful and the team gone 4-5 in his nine starts instead of 0-9, the Yankees would be a half-game back of the second wildcard spot. It's not fair to pin the club's current spot in the standings on one player, but let's not kid ourselves here. Severino's hurt their postseason odds.
"I think all players hit bumps, whether you're young or old," said Joe Girardi to Chad Jennings yesterday. "But one thing I think part of our focus has to be is helping those kids get through those bumps, because you don't get here unless you're talented enough. You don't just come from nowhere and all of a sudden stay here. But you got to help them get through the ups and downs."
Severino was deservedly demoted to Triple-A after yesterday's game, just like he was demoted to Triple-A prior to his previous start as well. Nathan Eovaldi's elbow injury opened a rotation spot and prompted the Yankees to bring Severino back. What changed for Luis? Nothing. He wasn't suddenly more Major League ready just because Eovaldi got hurt. The Yankees said they were sending him down so he could focus on his changeup, and he didn't get a chance to do that. That's why this happened:
Tuesday vs. Red Sox: Two changeups
Sunday vs. Rays: Four changeups
Severino still didn't use his changeup yesterday even though the Rays had four lefty hitters in the lineup. Why would we expect anything different? Last week Severino admitted he's lost confidence in the changeup — "I'm not throwing it a lot because I don't have the same confidence I had two years ago. I have to figure it out and come back. It's difficult to be a starter with two pitches, so I have to work," he said to Mark Feinsand — and he didn't get a chance to work on it since that last start.
The Yankees didn't give Severino yesterday's start because he deserved it. They gave it to him almost out of necessity. Eovaldi got hurt and they were in a bit of a bind, so Severino got the ball. The Yankees had other options, namely Chad Green and Luis Cessa, but they went with Severino and he again gave them no chance to win. Even if you think the team has zero chance at the postseason, his performance doesn't meet the minimum acceptable standard of production to stay in MLB.
Had yesterday's start been a one-time blip, it would be a different story. But is a problem that has been repeated. And no, right now I'm not talking about Severino's performance. I'm talking about the team's decision to use him to fill a big league need when he wasn't ready for it. Remember, they called Severino up to fill Aroldis Chapman's roster spot after the trade a few weeks ago. Why? Because that was his day to start in Triple-A and he was available for long relief.
That's not a good reason to call a highly touted young pitcher up. Not in this case. The Yankees optioned Severino to Triple-A a few weeks back because he very clearly had some things to work on, and even with his improved slider, there are some problems here. Severino should have stayed in Triple-A to continue refining his secondary pitches, but no, he was called up to replace Chapman and then to replace Eovaldi. Not the best moves, those were.
Don't forget the Yankees were extremely aggressive with Severino. He spent one full season in the minors. One. Severino pitched a half-season of rookie ball in 2013, threw a full season in the minors in 2014, then threw a half-season in the minors in 2015 before being called up. Severino threw 256.1 minor league innings before being called up, so I guess it's not much of a surprise he's not close to a finished product right now.
Last season Severino had success during his eleven big league starts, but the red flags were there. There was a big disconnect between his ERA (2.89) and FIP (4.37 FIP) because he was exceptionally good at stranding runners (87.0%). Severino allowed 21 runs in 62.1 innings last year and 12 of them came on homers. He stranded almost everyone else and that just wasn't going to continue. No one is that good at stranding runners. (The highest strand rate of the last 30 years is 86.6% by 2000 Pedro Martinez, who had arguably the greatest pitching season in history.)
Even pitching coach Larry Rothschild admitted Severino's success last year was something of a mirage. "Last year, he came up when he was on a pretty good roll, which makes a difference. But he got away with some pitches because hitters hadn't seen him and he executed pitches to a degree — not a lot different, but I think a little bit better," said Rothschild to Brendan Kuty last month. Those warning signs from last year are showing up in Severino's performance this year.
The Yankees sent Severino back to Triple-A last night and I hope they keep him there through the end of the season and even the playoffs. At this point he's only going to make three Triple-A starts before rosters expand on September 1st, but forget about that. Let him pitch in the Triple-A postseason — the RailRiders have the best record in all of Triple-A (76-45) and should clinch a playoff spot soon — and keep working on things in games that don't mean anything.
"My confidence is good," said Severino to Jennings after being sent down yesterday. "I have to work more. Work on my changeup, work on my fastball command, and it will be good … It's been tough, but a lot of players have been through this and you just have to keep working."
Some of the club's top hitting prospects are starting to reach the big leagues and that's awfully exciting. There are a few more on the way too. The Yankees don't have the upper level pitching to match the bats though and that's something they'll have to work on going forward. Severino is, by frickin' far, their best young starting pitcher, and they have to make his development a priority. Using him like an up-and-down arm to plug roster holes doesn't help that cause.