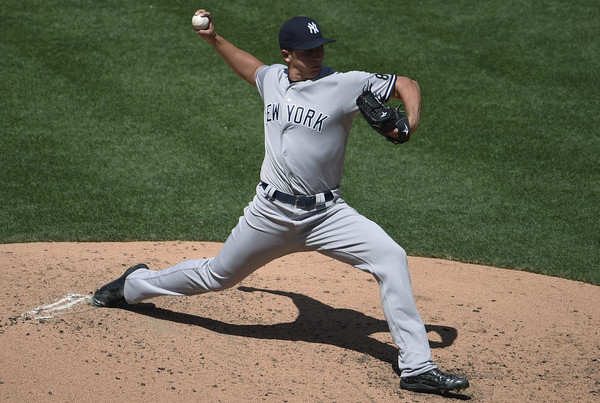 Thanks to CC Sabathia's balky knee, rookie right-hander Chad Green was called up to make a spot start for the Yankees over the weekend. The team didn't want Sabathia hitting and running the bases in San Diego, so they called up Green and pushed everyone else in the rotation back a day. They like to use a spot sixth starter whenever possible and Sunday was a perfect time to do it.
Green rewarded the club's faith in him by holding the Padres to one run on three hits and no walks in six innings. He struck out eight and generated a healthy eleven swings and misses out of 75 total pitches. Green could have remained in the game to pitch the seventh, but his lineup spot led off the inning, so Joe Girardi opted to pinch-hit and try to create some more offense with his team up only 2-1. Makes sense. Blame the NL, I guess.
Sunday's start went far better than Green's first start with the Yankees, when the Diamondbacks hammered him for six runs (four earned) in four innings back in May. That was his MLB debut and he looked jittery at times, which is understandable. He's not the first guy to struggle his big league debut. Green shook that rough debut off, pitched well Sunday, and earned himself another start Friday.
"Compared to my last start, it was different. From the first inning on, it just felt like another game. As soon as I got the first pitch out of the way, I felt a lot better after that," said Green to Randy Miller. Joe Girardi declined to say whether Green is in the rotation for good yesterday — "Let's not get too far ahead of ourselves," he said to Chad Jennings — but he's going to start again Friday and clearly the opportunity exists to stick a while. There are plenty of reasons to keep Green in the rotation too.
1. He dominated in Triple-A. This is sort of a prerequisite for a call-up. Unless it's an emergency situation, you have to pitch well in Triple-A to earn a promotion, and Green did exactly that. He currently leads all qualified International League pitchers in both ERA (1.54) and FIP (2.17), and by decent margins too. Wade LeBlanc is second in both categories (1.71 ERA and 2.47 FIP). Being great in the minors doesn't guarantee big league success or even a big league roster spot, but it certainly doesn't hurt. Green took care of business in Triple-A. He made the Yankees take notice.
2. He's added a cutter. During his debut against the D'Backs, Green struggled against Arizona's left-handed hitters because he doesn't have much of a changeup. He was out there with his fastball and slider only. On Sunday, he showed off a new cutter that he picked up in Triple-A to help combat batters of the opposite hand.
"From my last outing, I added a cutter. I've been working on that the past couple of weeks. I think that made a big difference, being able to throw that for strikes," he said to Miller. Green threw 17 cutters (12 for strikes) on Sunday after throwing zero cutters in his first start. (He threw zero in his first start because he didn't have the cutter at the time.)
How about that? Green came up, realized he needed something to better handle lefties, then added a cutter. Player development in action. Green has shown the ability to make adjustments and take to instruction in a relatively short amount of time. That's a reason to keep him around. To keep learning and to continue his development.
3. It's time to start thinking about the future. This is the big one. By all accounts Green is big league ready. He has good stuff, his command is solid, and he did what he had to do in Triple-A. The Yankees exist in a perpetual state of "what's best for me right now," but that's going to have to change at some point reasonably soon, preferably before the trade deadline in a few weeks.
Not counting Green, the Yankees have five starters in their rotation eligible to become free agents at some point in the next two years. They've been trying to acquire a young starter controllable beyond next year for that reason, and you know what? They may have done that with Green. Unless he starts getting hammered every fifth day, the Yankees owe it to themselves to run him out there and see what they have. Green might be able to help them win now. More importantly, he might be able to help him win in the future.
* * *
Friday's start is going to be a really good test for Green. He's going to face the first place Indians, a team with a good offense and a ton of quality left-handed batters. The only lefties in San Diego's lineup Sunday were Yangervis Solarte, Alex Dickerson, and Ryan friggin' Schimpf. The Indians figure to have Jason Kipnis, Carlos Santana, Francisco Lindor, and Lonnie Chisenhall in their lineup Friday, among others. Those guys are all quality hitters.
The All-Star break is coming up next week, so the Yankees can let Green make this start Friday, then take a step back next week and reevaluate their rotation options. Nathan Eovaldi is in the bullpen right now, Ivan Nova has not been good most of the year, and who knows what Michael Pineda will do from one start to the next. Even if Cleveland works him over Friday, there are still reasons to keep Green in the rotation going forward. He's put himself in position to earn a longer look for a team in desperate need of young building blocks.