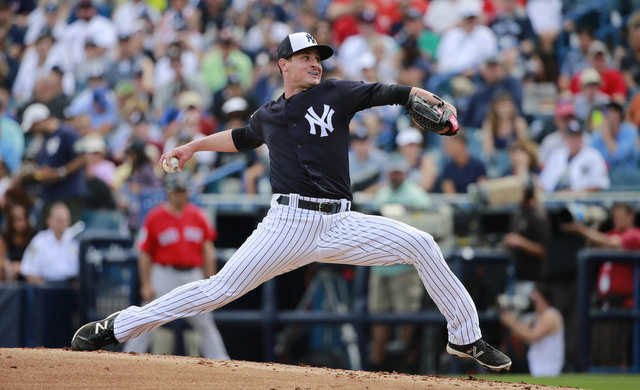 The Yankees opened their season yesterday, and tomorrow night, the team's four full season minor league affiliates will begin their seasons. That includes Triple-A Scranton, which will be the primary feeder team for the Yankees this summer. That's where all the depth players are stashed. Starters, relievers, position players, all of 'em.
Thanks to the Bryan Mitchell injury and Luis Cessa opening the season in the big league bullpen, the RailRiders are a bit short on starters this year. Shane Hennigan reports Chad Green, who came over from the Tigers with Cessa in the Justin Wilson trade, will be on the mound for Triple-A Opening Day tomorrow. Later in the week Nick Rumbelow will get a Triple-A start.
Rumbelow, 23, is a reliever by trade. He made one start in three years at LSU, and all 100 of his minor league appearances have come out of the bullpen. Only twice has he thrown as many as three innings in an outing. Only five times has he actually turned a lineup over and faced ten or more batters. This isn't just a spot start though. RailRiders manager Al Pedrique told Donnie Collins the team thinks Rumbelow has a chance to start.
Generally speaking, the best reliever-to-starter conversion candidates are guys with three pitches and some semblance of control. Rumbelow has a career 6.6% walk rate in the minors, which is an indication he can throw strikes, and both the scouting reports and PitchFX data confirm he has three pitches. Here are the numbers really quick (MLB averages in parentheses):
| | % Thrown | Avg. Velo. | GB% | Whiff% |
| --- | --- | --- | --- | --- |
| Fastball | 57.6% | 93.8 | 40.7% (37.9%) | 6.9% (6.9%) |
| Changeup | 29.7% | 86.9 | 52.4% (47.8%) | 19.5% (14.9%) |
| Curveball | 12.7% | 81.0 | 0.0% (48.7%) | 2.9% (11.1%) |
Remember, Rumbelow threw only 15.2 big league innings last season, so we're not talking about a big sample size at all. This is more of a "this is what he threw last year" look rather than a "this is what you could expect going forward" look. The scouting report on Rumbelow said he was a fastball/curveball guy with a show-me changeup out of college, but over the last few years, the changeup has taken over as his second best pitch.
This at-bat from last September is one of those at-bats that just stuck with me because it really showed how much Rumbelow trusts his changeup. The Yankees were up by one, but the Rays had runners at the corners with two outs, and Evan Longoria was at the plate. Rumbelow went changeup (called strike), changeup (swinging strike), changeup (swinging strike) for the three-pitch strikeout to escape the jam. You have to be pretty confident in your changeup to triple up on it in a big spot against a hitter like Longoria.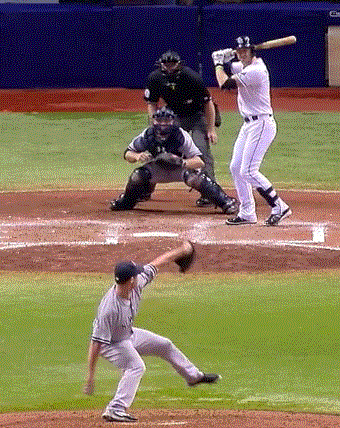 So yeah, Rumbelow trusts his changeup. At one point he trusted his curveball and he still might for all we know. It has since become his third pitch for whatever reason. The stuff and the control are there though. That's the most important thing.
Two years ago the Yankees took another three-pitch reliever with control and turned him into a starter: Chase Whitley. Whitley, like Rumbelow, was a career reliever. In fact, Whitley was a third baseman and pitcher in college, so he wasn't even a full-time moundsman until pro ball. The Yankees attempted the conversion and it worked. Whitley wasn't an ace or anything, but he gave the Yankees 16 starts in two years. That's not nothing.
As with Whitley, the question will be whether Rumbelow's stuff drops off as a starter. Well, it's not a really a question of "if" it drops off, but "how much." Whitley went from sitting 92-94 mph as a reliever to 89-91 mph as a starter. Rumbelow is a 93-95 mph guy out of the bullpen. What happens if he becomes a 90-92 mph starter? Does it hurt the effectiveness of his changeup? There's only one way to find out. You've got to see him start for yourself.
The Yankees came into the spring without a ton of Triple-A pitching depth. The Mitchell injury hasn't helped matters, and Cessa in the bullpen means the Yankees have one less option for emergency situations. They do have a ton of relievers though, and when you have as many relievers as New York, it only makes sense to see if one or two of them can start. The guy with three pitches and some control is the obvious choice, right?
(I should note Tyler Webb will also start for the RailRiders this year. He started some back in college but has been a full-time reliever the last four years. Webb is another guy with three pitches and control. I like Rumbelow quite a bit more as a prospect, however, plus he's already on the 40-man roster, which I think gives him a leg up when call-up time comes.)
For now, Rumbelow as a starter is nothing more than an experiment. There's no reason not to try it out at this point. There's no downside since the conversion is taking place in Triple-A. The games are meaningless. That said, if he has to come up to join the rotation at some point this summer, chances are something either went very right or very wrong. (For what it's worth, Whitley made only eleven Triple-A starts before being called up.)
If Rumbelow can hack as a starter, even as a replacement level sixth starter type like Whitley, it'll be a nice little boost to the team's rotation depth. And if it doesn't work, Rumbelow can go right back to where he started in the bullpen. The Yankees have had some success with the reliever-to-starter conversion in the recent past, and they are lacking starters and loaded with relievers, so it only makes sense to try it with Rumbelow.