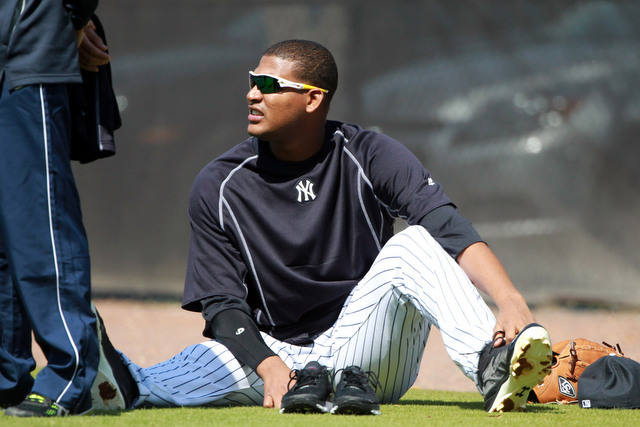 Since Spring Training officially opened last week, all eyes have been on Masahiro Tanaka and CC Sabathia. Well, at least the eyes that weren't glued to Alex Rodriguez's every step. Tanaka and Sabathia are by far the biggest pitching stories in camp since they are both being counted on as rotation anchors and are coming off pretty serious injuries. It has not yet been a week, but so far, so good with those two.
Early in the morning yesterday, before Sabathia threw his second bullpen session of his spring, rehabbing righty Ivan Nova was at the team's complex throwing his third bullpen as he works his way back from Tommy John surgery. It was a relatively light throwing session — 25 pitches, all fastballs — and he'll likely throw another all fastball bullpen before introducing offspeed pitches. When the team breaks camp in early-April, Nova will stay behind to continue rehabbing in Tampa.
The Yankees have taken it very slow with Nova's rehab so far — he had surgery in late-April, and according to Mike Dodd's classic Tommy John surgery rehab article, Nova should have been throwing bullpens by October or November — and that is by design. A lot of pitchers have rushed back from elbow reconstruction in the last year or two only to need another procedure almost immediately. Cory Luebke and Daniel Hudson didn't even complete the rehab from the first surgery when they blew out their elbows again. Brandon Beachy made it back for 30 innings. The Yankees are playing it safe.
"One good thing, you know you're not going to be ready in April," said Nova to Chad Jennings yesterday. "So you prepare yourself to be ready whenever they tell me. I don't have to be thinking right now that I've got to be ready in April, so that's kind of fortunate. I'm just taking it day by day, and I know that — I believe — a month before they think I'm going to be ready to go to the big leagues, they're going to tell me. So that's the time when I'm going to really prepare for that day."
Because he's been out of action for so long — Nova made only four starts last season before getting hurt — it's been pretty easy to forget he exists. Out of sight, out of mind, I guess. That doesn't make him any less important to the team, however. The Yankees have a risky rotation led by Tanaka and Sabathia, so getting Nova back healthy at midseason will be a boost to the starting staff. Hopefully an extra boost, not a "oh goodness we need him back as soon as possible" sort of boost.
Last year Jeff Zimmerman ran some numbers on performance before and after Tommy John surgery and confirmed that yeah, pitchers tend to struggle immediately after having their elbow ligament replaced. Their ERA increases 5.8% relative to projections, their walk rate increases 5.0%, and their strikeout rate drops 4.4%. It's not until two years after surgery that they really get back to being themselves. Using that info, here's a quick and dirty look at Nova's projected performance for 2015:
| | ERA | K% | BB% |
| --- | --- | --- | --- |
| 2013 Actual Performance | 3.10 | 19.8% | 7.5% |
| 2014 Actual Performance | 8.27 | 12.5% | 6.3% |
| 2015 ZiPS Projection | 4.08 | 19.6% | 7.2% |
| 2015 ZiPS + TJS Penalty | 4.32 | 18.7% | 7.6% |
Nova has been a perfectly league average pitcher overall so far in his career (career 100 ERA+!) though it's been a roller coaster. He's had some great years and some really bad years, including his brief four-start cameo in 2014. ZiPS, unsurprisingly, pegs him as a true talent league average pitcher for this coming season (99 ERA+) but it doesn't know he had his elbow rebuild. Add in the Tommy John surgery penalty from Zimmerman's research and he's a projected below average pitcher, more like a 93 ERA+ guy.
What does that mean? Not a whole lot, really. I just think it's important to remember the road back from Tommy John surgery can initially be a little bumpy. Pitchers on average have seen a slight performance dip, but each pitcher is a little snowflake that is different than everyone else. Thanks to the team's conservative approach to his rehab, Nova could shake off the usual pre-Tommy John issues and return in June, picking up right where he left off in 2013. That would be sweet. Or maybe the performance dip hits him extra hard. We'll find out when he gets back.
Personally, I hate relying on players coming back from major injury, but sometimes it's unavoidable. New York's rotation is what it is and I am comfortable saying with great certainty they are looking for upgrades at all times. Hopefully one pop up at some point. "Chris Capuano, fifth starter" is really "Chris Capuano, just keep us afloat until something better comes along." That sometime just might end up being when Nova returns in May or June (likely June). Hopefully not, but it's possible.
"I know they expect big things from me," said Nova to Bryan Hoch yesterday. "I know I've had an up and down career so far, but I know what I'm able to do. I just have to put things straight and hopefully by the time I have everything in line, I can contribute to the team and win some games."