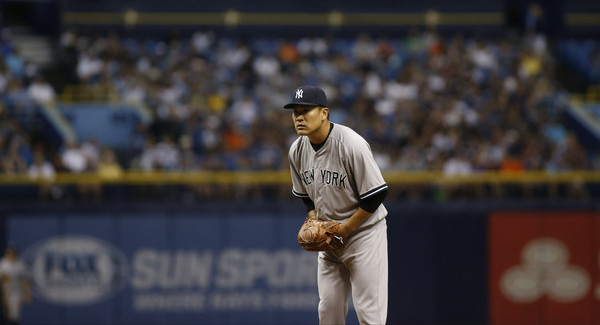 Despite talking for weeks about getting Masahiro Tanaka, CC Sabathia, and the other starters extra rest whenever possible early in the season, the Yankees are not planning to use a sixth starter this turn through the rotation, Joe Girardi told reporters yesterday. Everyone will stay on turn and pitch on normal rest this week.
"Right now we have Tanaka pitching Thursday,'' said Girardi to George King. "I didn't plan it that way, it's kind of the way it worked out. I think we will check on workloads and see how guys are doing … If a couple of our starters have difficult days, you might plug (a sixth starter) in before they pitch.''
Tanaka threw 85 low-stress pitches in seven dominant innings Saturday afternoon. He was removed from the game after sitting in the dugout during a long seven-run inning for the offense, not because he was ineffective or his pitch count climbed too high. Tanaka hasn't started on regular rest at all this year, either in the regular season or Spring Training.
Adam Warren (80 pitches), Michael Pineda (92 pitches), and Sabathia (98 pitches) didn't crack 100 pitches in their most recent starts either. In fact, only once in 13 games has a Yankees starter thrown 100+ pitches this season. That was Nathan Eovaldi in his last start (101 pitches). Eovaldi is starting tonight with an extra day of rest thanks to last Thursday's off-day.
Chase Whitley, Bryan Mitchell, and Kyle Davies seem like the most obvious sixth starter candidates at this point of the season. Whitley is scheduled to start for Triple-A Scranton tomorrow and is the only one of those three lined up to pitch before the big league rotation turns over, so he's the only possible sixth starter candidate this week if the Yankees do choose to use one.
The Yankees are not off again until next Thursday, so following the upcoming turn through the rotation, both Tanaka and Pineda would also make their next starts on regular rest unless the team uses a sixth starter. That's a full week away though. We'll see what happens after the weekend.