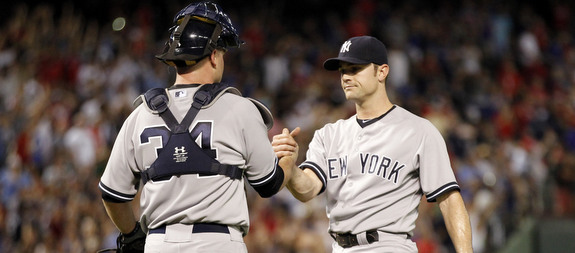 Yesterday we looked at the Yankees' five biggest hits of the season, so now it's time to turn around and look at their five biggest outs. Not offensively, defensively. These are the most important outs the pitching staff and the defense recorded this past season. Again, we're going to use win probability added (WPA) because it's nice and easy. Perfect? No. Good for an exercise like that? You bet.
Unlike big hits, big outs are a little less dramatic. Watching an outfielder catch a fly ball or a second baseman field a routine grounder isn't as exciting as watching a hit fall in and someone run around the bases in a big spot. But outs are important too, and given all the close games the Yankees played this year, they had more than their fair share of important outs. Here are the 2010 and 2012 biggest outs posts. I guess I never did one for 2011 and 2013. I'm such a slacker.
t-5. May 9th: Warren, McCann team up for strike 'em out, throw 'em out double play (video, 1:27-1:35)
t-5. August 7th: Shane Greene gets Victor Martinez to bang into twin killing (video above, 0:51-0:59)
Once again, we have a tie for fifth place. And, technically, each one of these plays involves two outs because they're double plays, but we'll count them as one to make life easy. The Yankees led the May 9th game against the Brewers by the score of 4-2 in the seventh inning when Masahiro Tanaka allowed back-to-back one-out singles. In came Warren, who helped escape the inning by fanning Overbay, his ex-teammate. Jordan Schafer was running on the pitch and McCann threw him out. Beautiful. A little less than three months later, Greene had runners at the corners with one out in the sixth inning against the Tigers. The Yankees were nursing a 1-0 lead at a time when they were weren't scoring a whole lot of runs. Martinez, who finished third in MLB with a 166 wRC+ this season, jumping on an 0-1 sinker and banged into an inning-ending 4-6-3 double play. Both double plays were worth +0.19 WPA.
4. May 11th: Warren strikes out Overbay (no video)
Same series, same matchup, different game. In the series finale in Milwaukee, the Yankees and Brewers were tied at 5-5 in the bottom of the ninth after Mark Teixeira clubbed a game-tying solo homer off Francisco Rodriguez in the top half. Overbay stepped to the plate with a runner at third and one out after Rickie Weeks doubled and moved to third on a wild pitch. All Overbay needed to do was hit the ball in the air and the game was over. Instead, Warren threw him five straight changeups (!) and got him to swing through three of them for the big strikeout. There's no easily accessible video anywhere but I assure you it looks like almost every other "left-handed batter swinging over a right-handed changeup" you've ever seen. The strikeout was the second out of the inning and it registered +0.20 WPA, but ultimately it didn't matter. Two pitches later, former Yankee Mark Reynolds singled through the left side of the infield for the walk-off win. Wah wah.
3. July 29th: David Robertson gets Adrian Beltre to fly out
This was either the best worst game or the worst best game of the season. I can't decide. The Yankees were up 1-0 after one inning. Then they were down 3-1 after three innings. Thanks to a seven-run sixth and a two-run seventh, they had a nice 10-4 lead. Then the Rangers scored four runs in the bottom of the seventh to make it 10-8, but that was fine, the Yankees scored two more in the top of the eighth to stretch their lead to 12-8. Texas scored a run in the eighth and the Bombers took a 12-9 lead into the ninth.
Robertson started the ninth with a strikeout (cool!) before Leonys Martin slapped a one-out single (no!). Then Robinson Chirinos drew a walk to bring the tying run to the plate. Yuck. Rougned Odor moved the runners up with a ground out, then Robertson walked Shin-Soo Choo to load the bases because that's pretty much the only thing Choo does. Elvis Andrus followed with a single to center, scoring Martin and pinch-runner Dan Robertson to cut the lead to 12-11. Alex Rios drew a walk to reload the bases and set things up for Beltre. Robertson did get ahead in the count 0-2 on Beltre, but three straight balls followed. Bases loaded, two outs, bottom of the ninth, full count … and Beltre unloaded on an inside fastball. I thought it was gone off the bat. I really did. Instead, Brett Gardner retreated in left, turned back towards the infield, and caught the routine fly ball for the 27th out. Ex-frickin-hale. That fly ball was worth +0.27 WPA.
2. August 3rd: Robertson gets lucky
They say it's lucky to be better than good, but sometimes you have to be both. The Yankees and Red Sox were playing one of their typical ESPN Sunday Night Games, which meant a back and forth game with a lot of runs that somehow resulted in a one-run game in the ninth. This time the Yankees were on the good end of that one-run lead. Robertson came in to protect an 8-7 lead and immediately walked the leadoff man — light-hitting rookie catcher Christian Vazquez — on four pitches. Not ideal.
Luckily for Robertson, the Red Sox and Chase Headley bailed him out. Brock Holt sliced a hard line drive to left field, but Headley was perfectly positioned and snared what looked like a double into the corner off the bat. Pinch-runner Mookie Betts took off on the pitch, so Headley was able to double him off first base easily. The twin-killing was worth +0.28 WPA. Robertson got Dustin Pedroia to ground out weakly to second base to end the game as the next batter, preserving the win. He's pitched his way out of so many jams over the years. About time the defense paid him back.
1. August 7th: Robertson get a double play from Miggy
That's right, two of the Yankees' five (well, six, really) biggest outs of 2014 came in the same game, in the span of about four innings. Greene made that 1-0 lead stand up through eight innings, but Joe Girardi send him back out for the ninth and he allowed a first pitch leadoff single to Ian Kinsler. That ended Greene's afternoon and brought Robertson into the game.
Once again, Robertson walked the first man he faced, though this time it was a good hitter (V-Mart) on five pitches instead of a bad hitter on four. Miguel Cabrera, who was not in the starting lineup that day due to his various nagging injuries, came off the bench to pinch-hit for J.D. Martinez. Even with those injuries, it was not exactly a comfortable situation. Robertson left a fastball out over the plate to Cabrera, but he hit the top of the ball and grounded it back up the middle. Second baseman du jour Brendan Ryan fielded it cleanly, stepped on second for the force, then fired to first for the double play. Here's the WPA graph:

Source: FanGraphs
That little spike in the ninth inning is the walk to V-Mart and the double play. The double play ball was worth +0.31 WPA, which is pretty ridiculous for a pair of outs. It takes a lot to record a high WPA on a defensive because the odds are always in favor of an out being made. Kinsler moved to third on the play and was stranded there when Don Kelly lined out softly to Ryan to end the game as the next batter. No surprise that Robertson was on the mound for the three (really five) biggest outs of the year. His job is to get precisely those outs.