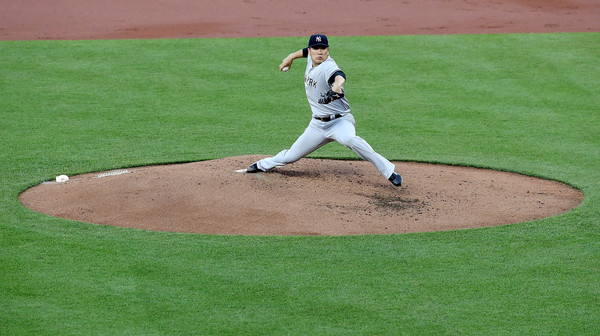 Last night, five days after manhandling the Athletics, Masahiro Tanaka got hit hard for the third time in his last four starts. He was behind everyone, and when he left a pitch out over the plate, the Orioles made him pay. We've seen a lot of that from Tanaka this season. His location wasn't there and he didn't have a finish pitch.
The O's don't have the most patient lineup in baseball. They have the fifth highest chase rate (31.7%) and the ninth highest swing rate (46.6%) in baseball, so they're going to take their hacks. And yet, Tanaka could not get them to expand the zone and chase off the plate. From Baseball Savant: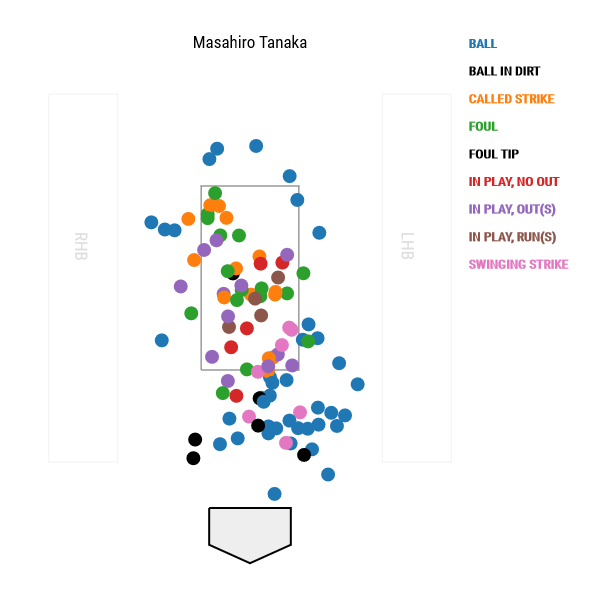 Not many swings out of the strike zone there, especially on pitches down and away to righties. (The O's had eight righties in the lineup tonight.) Luis Severino did a good job getting the Orioles to chase Tuesday, both with his slider and changeup. They're a lineup prone to expanding the zone and chasing off the plate. It's what they do.
For the Yankees, starts like last night's are uncommon. Their pitching staff collectively excels at getting hitters to chase pitches out of the strike zone. No team in baseball is better at it, in fact. Here's the chase rate leaderboard:
Yankees: 34.1%
Dodgers: 33.1%
Astros: 32.3%
Pretty big gap between the Yankees and the Dodgers. This isn't some fluky small sample size noise either. Well, it might be, but look at last season's chase rate leaderboard:
Yankees: 33.5%
Astros: 32.1%
Mariners: 32.0%
Again, there's a huge gap between the Yankees and everyone else. The gap between No. 1 and No. 2 is the same as the gap between No. 2 and No. 14. From 2014-16, New York's pitchers generated baseball's highest chase rate at 32.6%. The Nationals were a distant second at 31.9%. The MLB average was 30.5% those years. The Yankees were well above that.
On an individual level, it's no surprise the Yankees dominate the top of the chase rate leaderboard this year. Michael Pineda (40.3%), Jordan Montgomery (36.8%), and Tanaka (37.0%) have three of the five highest chase rates among qualified starters, alongside the great Zack Greinke (40.8%) and, uh, Clayton Richard (37.5%). Last season's chase rate leaders:
Michael Pineda: 37.8%
Masahiro Tanaka: 37.6%
Noah Syndergaard: 37.2%
Corey Kluber was a distant fourth at 35.4%. Go back to 2015 and Tanaka would have had the second highest chase rate in baseball at 36.6%, behind only Carlos Carrasco (38.7%), but he fell six innings short of qualifying for the ERA title.
Things are a little different among New York's relievers this season when it comes to getting chases out of the zone — Jonathan Holder (41.6%) is third among all relievers and the only Yankee among the top 30 relievers in chase rate — though those guys haven't thrown many innings. The starters have much more influence over the overall team chase rate.
Intuitively, getting hitters to chase out of the zone is a good thing. When they're offering at pitches out of the strike zone, they're usually either swinging and missing, or either getting jammed or hitting the ball of the end of the bat, resulting in weak contact. To wit:
2017 swings on pitches in the zone: .301 AVG and .519 SLG
2017 swings on pitches out of the zone: .177 AVG and .245 SLG
There is a pretty clear advantage to getting hitters to swing out of the strike zone. Every once in a while you'll see a hard-hit ball on a pitch out of the zone, but it doesn't happen often. When it does, you usually tip your cap to the hitter. Sometimes you get got.
It makes sense that Pineda and Tanaka would be near the top of the chase rate leaderboard given who they are as pitchers. For all his faults, Pineda has a nasty slider, and he gets hitters to chase it out of the strike zone. Those sexy strikeout and walk rates aren't an accident. Tanaka, when at his best, excels at keeping hitters off balance and getting them to expand the zone, mostly with his splitter but also his slider. He usually doesn't beat guys in the strike zone. He beats them on the edges.
Montgomery is new to the mix this season and it's still a little too early to say anything definitive about him as a pitcher. He's more Tanaka than Pineda in that he relies on a deep arsenal and messing with the hitter's timing rather than blowing them away, though we don't know if his sky high chase rate is the real him yet. Could be general baseball randomness. Pineda and Tanaka, on the other hand, have long track records with this stuff.
So the question begs to be asked: why have the Yankees consistently posted an elite chase rate in recent years? One possible answer is this is all one big coincidence and there's nothing really to it. Can't rule that out. I don't that's it though. Do something once and it's a fluke. Do it year after year, like the Yankees leading the league in chase rate, and it's a trend. Again, the Yankees have baseball's highest chase rate since 2014. That covers thousands and thousands of innings.
Why do the Yankees consistently post elite chase rates? I think it's by design. They value swings on pitches not over the plate, so they design their pitching staff accordingly, and they create their daily game plans to get those swings out of the zone. That seems much easier said than done, like everything else. To make hitters chase, you need to make your balls look like strikes, and it takes a certain level of talent to have the movement and command to do that consistently.
I'm not really sure where I'm going with this. I just find it fascinating the Yankees have been able to lead the league in getting chases out of the zone for several years now. This almost certainly isn't a fluke. It's intentional. And there's an obvious benefit to getting swings out of the zone too, especially since the Yankees play in an unforgiving ballpark and in an unforgiving division with other unforgiving ballparks. Being able to get swings on pitcher's pitches is a nifty little skill the Yankees seem to have perfected.