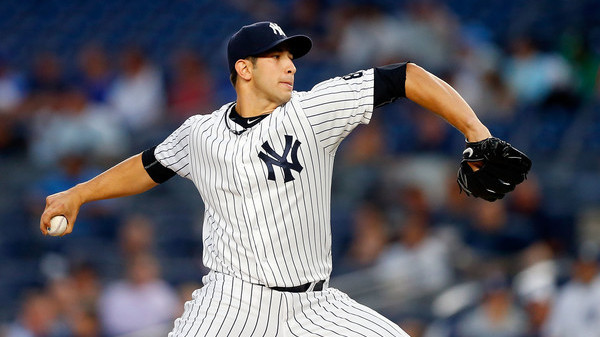 His performance is easy to overlook given the rest of the game, but young righty Luis Cessa turned in his fourth straight impressive start for the Yankees last night. The 24-year-old former shortstop held that ridiculously great Blue Jays' lineup to two runs on six hits and two walks in 5.1 innings, and his defense totally sabotaged him on the second run.
Cessa came over in the Justin Wilson trade over the winter, and he actually started the season in the Opening Day bullpen. He's spent most of the year starting in Triple-A though, which he needed to do at that point of his development. In four starts since replacing the injured Nathan Eovaldi, Cessa has allowed nine runs (eight earned) and 25 baserunners in 23.1 total innings. That's a 3.09 ERA and 1.07 WHIP from the what, seventh starter? Eighth?
"I had a little mistake in the first inning to (Edwin) Encarnacion, but after that I stayed with the same plan we had before the game with Larry (Rothschild) and Gary (Sanchez) and a couple coaches, and just make the pitches," said Cessa after last night's start (video link). "After (the homer), just continue fighting. Staying on the same page with Gary is the most important thing and we did a really nice job I think."
Cessa is not without his flaws. He's allowed five home runs in his four starts and ten (!) in his 42 big league innings, so that's is an obvious problem. Also, Cessa has struck out only 15 of 94 batters faced as a starter, or 17.0%, and you'd like to see that come up at some point. Overall though, Cessa has given the Yankees four nice starts and there are reasons to believe he can be part of the rotation going forward.
1. He seems to handle adversity well. Cessa was able to face a weak Angels lineup in his first big league start, and the next time put the offense but eight runs on the board against the Orioles in the first two innings. They gave him a lot of breathing room. The Yankees were able to ease Cessa into the rotation with a start against a bad team and then a ton of run support. Perfect.
The last two starts have been a bit more challenging. The Royals roughed Cessa up for four runs in the first three innings last week, including two home runs. The Yankees needed him to soak up more innings since the bullpen was taxed, and Cessa was able to settle down and retire 12 of the final 14 batters he faced to complete six full innings. Last night he gave up a monster first inning homer to Encarnacion and shook it right off.
Those are the kind of situations that can quickly unravel for a young pitcher. Giving up four runs in three innings to the defending World Series champs can spiral out of control quick. Giving up a second deck dinger to someone like Encarnacion can scare a pitcher out of the strike zone or away from the pitch that was hit out, in this case a fastball. That didn't happen. Cessa settled down and pitched effectively the rest of the way both times. Pretty impressive.
2. He uses four pitches regularly. When the Yankees acquired Cessa, the scouting report said he threw a slider and a changeup in addition to his mid-90s fastball. We've seen that and more. Cessa also throws a curveball, and he throws all four of his pitches regularly too. Here is his pitch selection in his four starts:
Fastball: 46.4%
Slider: 29.2%
Curveball: 15.3%
Changeup: 9.2%
I think we'll see more changeups going forward too. The Angels and Blue Jays both threw right-handed heavy lineups at Cessa, so he didn't need his changeup a whole lot in two of his four starts. Once he starts facing lefties we might see the changeup a bit more.
Either way, Cessa has thrown those four pitches regularly in his four starts, and that's a big plus. A lot of times a young pitcher comes up with a fastball and a breaking ball he trusts, and he'll still be trying to figure out a changeup. Cessa has a deep repertoire already. That's more than half the battle.
3. He can hold his velocity deep into games. Unless you're a freak like Eovaldi, most pitchers lose velocity within a start as their pitch count creeps up. It's just fatigue. It happens. The guys who go from, say, 94 mph to 90 mph have the most trouble. Cessa loses velocity like everyone else, yet in his four starts this year, he's been able to hold mid-90s into the sixth inning. From Brooks Baseball: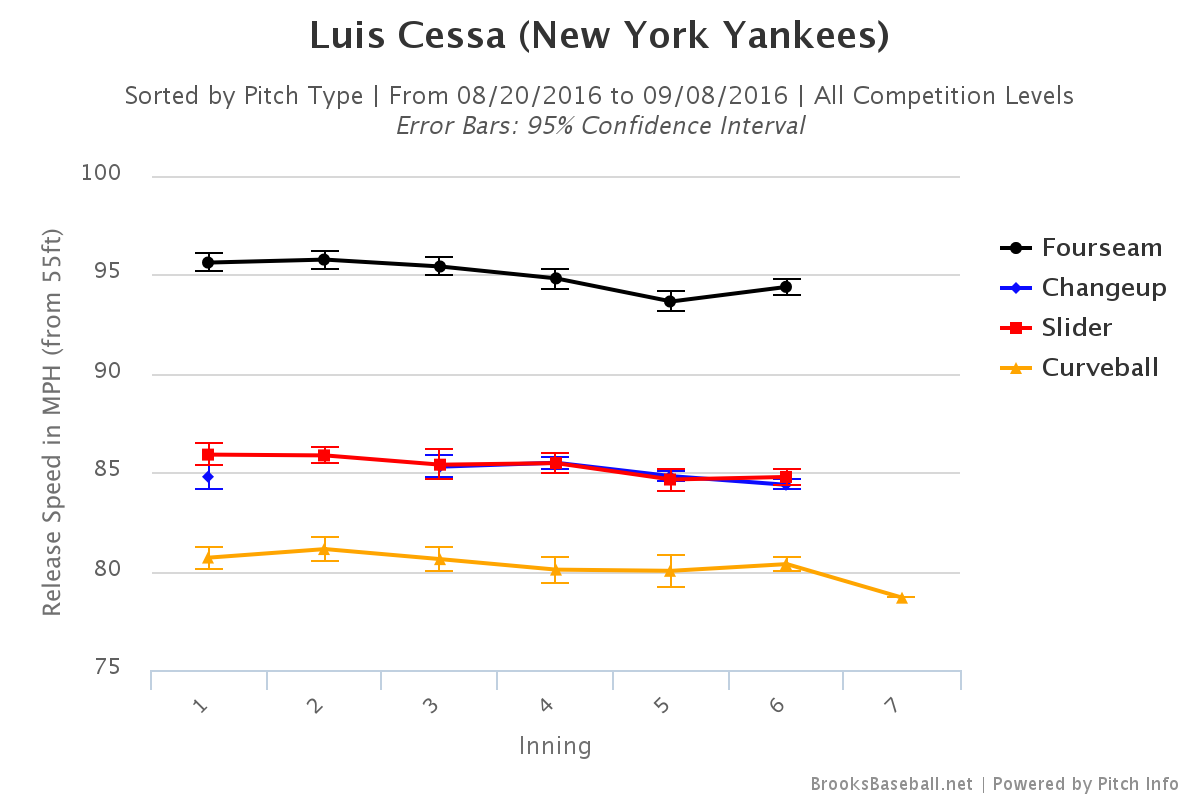 So far Cessa has averaged 95.6 mph in the first inning and 94.4 mph in the sixth inning in his four starts. (He's pitched into the sixth inning in all four starts and last night was the first time he didn't complete the sixth.) Losing roughly one mile an hour is not insignificant, though it's not a drastic either. Sitting 94.4 mph in the sixth is plenty good enough to get outs. Cessa's a young man and he's very athletic — he was a shortstop, after all — so it's not a surprise he's strong and able to retain most of his velocity as his pitch count increases.
4. He'll pitch inside regularly. I'm not sure how we can quantify this, but anecdotally, Cessa seems very willing to pitch inside, especially to righties. It was especially noticeable in his start against the Angels. He had no problem coming inside to set up the pitch outside and get hitters to move their feet. Cessa wasn't trying to hit anyone. He was just taking control of the plate. It's refreshing to see. The Yankees collectively do not seem to do enough of that as a team.
* * *
The Yankees have lost both Eovaldi and Chad Green to elbow injuries in recent weeks, plus they traded Ivan Nova, so they've had little choice but to give Cessa a starting spot. They're running out of arms. He's made the most of his opportunity so far, and he's starting to look like a possible answer to the team's search for controllable young pitching. Cessa won't solve their depth issues by himself, no one will, but he does seem to have the ingredients necessary to be a big league starter. Even if he's the fourth or fifth guy on the staff, that's still pretty darn valuable.