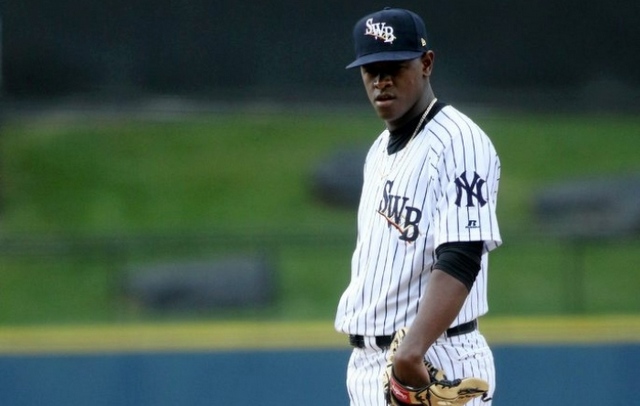 Without question, CC Sabathia's renaissance is the best story in an otherwise mediocre 2016 Yankees season. Sabathia has been able to overcome years of declining stuff and personal demons to turn in what is truly a Cy Young caliber performance to date. It's hard not to love what the big man is doing this season. It's so fun to watch.
On the other end of the spectrum, I don't think there has been a bigger disappointment this year than Luis Severino. The young right-hander impressed in his second half cameo last year and was poised to emerge as a rotation force this season. Instead, he struggled big time, pitching to a 7.46 ERA (5.50 FIP) in 35 innings before getting hurt and demoted to Triple-A. It was a well-earned demotion, no doubt.
Since joining the RailRiders, Severino has posted a 2.52 ERA (2.85 FIP) in four starts and 25 innings. It's not much, but it is right in line with what he did in the minors from 2014-15 (2.45 ERA and 2.42 FIP). That's good! Had Severino gone down to Triple-A and continued to struggle, it would be a big problem. A big problem and very scary. The top young pitcher in the organization would still be broken.
Severino's performance in Triple-A has been very good, and it stands to reason the Yankees want to get him back to the big leagues at some point, but right now there does not seem to be any urgency to do so. Joe Girardi told reporters the other day he's watched all of Severino's minor league starts and he still believes there is work to be done. From Randy Miller:
"It still needs some tuning up," Girardi said Sunday before the Yankees and Minnesota Twins finished up their four-game series at Target Field. "It's location. Consistency is the big thing. You see some really good pitches, some well-located pitches, but it's consistency and here (in the majors) you can't leave ball in the middle of the plate or they get hammered. So I think a lot of times you have to look beyond the numbers."

"I think sometimes you see the location is not where it needs to be," Girardi said. "He throws some really good sliders, then he throws some that are up or lack the downward movement that you want.

"I think he's making strides. I think he's becoming more consistent, but we're looking for some more."
Severino's biggest problem with the Yankees earlier this season was his command, particularly of his slider and changeup. The stuff was fine. He had the velocity and his slider had some bite to it, but he left too many pitches in the hitting zone and batters really made him pay. Opponents hit .316 with a measly 11.6% swing-and-miss rate against his slider, for example. That is legitimately awful. The league averages are .211 and 15.2%, respectively.
Unfortunately, we don't have access to any video of Severino's minor league starts, so we haven't been able to see him for ourselves. MiLB.com has just one highlight video from his time in Triple-A, and it's a full three-pitch strikeout at-bat. The first pitch was a fastball, the next two were nasty sliders down in the zone. Check it out:
Based on that three-pitch look, Severino's command is fixed! Those are two pretty good sliders. Too bad it doesn't work like that. That at-bat represents 0.898% of the pitches he's thrown with the RailRiders this year. They don't tell us much at all. Severino broke off some nasty sliders in the big leagues earlier this year too.
When Girardi says "sometimes you see the location is not where it needs to be" you can be sure that is an organizational opinion and not his alone. After all, Girardi doesn't make the roster moves. He might have input — I'm certain he does after 8+ years on the job — but at the end of the day, the front office is going to decide who is and who isn't on the roster. Right now Severino is not considered MLB ready.
And you know what? That is perfectly fine with me. I was on board with sending Severino down to the minors to work on things right before his injury and nothing has changed. He's too important to rush back just because the numbers are good. There are specific flaws that need to be addressed — again, the location of his secondary pitches — and if Girardi and the Yankees say there hasn't been enough progress, then there hasn't been enough progress.
Although the team insists they're trying to contend — of course they're going to say that, what do they have to gain by saying they're going to trade everyone and rebuild? — improving the 2017 Yankees has to be a priority right now, and part of that is getting Severino right. If that means more time in Triple-A, so be it. Severino is too important to the franchise long-term. His development should continue in the minors until it is certain his command has improved.