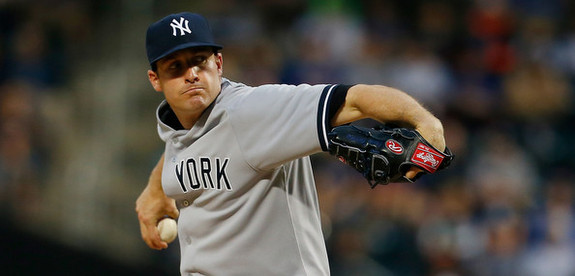 Prior to last night's drubbing at the hands of the Blue Jays, Chase Whitley had been a pleasantly surprising contributor in the wake of the rotation injuries. He rarely took the ball deep into games, but he went into Monday night with a 2.56 ERA (2.70 FIP) in 38.2 innings across seven starts. That's really good. That he got roughed up so much in Toronto and still owns a solid 4.07 ERA (3.16 FIP) in 42 innings tells you how good he was before last night.
Whitley, of course, did not become a full-time starter until the very end of last season, when he made a handful of spot starts for Triple-A Scranton. Last night was his 22nd career professional start since being drafted in 2010. That's all. This guy was a third baseman for most of his college career and a full-time reliever in the minors as recently as ten months ago, which makes his pre-Monday success as an MLB rotation member that much more impressive.
Therein lies something of a problem. Because Whitely has been a reliever for most of his life, he has never spent a full season as a starter and dealt with that type of workload before. The season is not even halfway over and Whitely is already rapidly approaching his career-high in innings pitched. Here is his career innings breakdown:
| | Total | MLB | MiLB | Playoffs | Other |
| --- | --- | --- | --- | --- | --- |
| 2014 | 68.1 | 42 | 26.1 | ? |  ? |
| 2013 | 67.2 | 0 | 67.2 | 0 |  0 |
| 2012 | 86.2 | 0 | 84.1 | 2.1 |  0 |
| 2011 | 107.2 | 0 | 91 | 0 | 16.2 (Az Fall League) |
| 2010 | 105.2 | 0 | 36.1 | 3.1 | 66 (college) |
Whitely has already thrown more innings this year than last year, mostly because he spent the first seven weeks of 2013 on the disabled list with an oblique problem. He'll probably surpass his 2012 innings total before the All-Star break and his career-high innings total — which was set three years ago now — either late next month or in early August, barring injury or something.
I'm sure you're all familiar with the "Verducci Effect" and the concept of controlling a young pitcher's workload in an effort to reduce future injury risk. It's common sense and teams do it every single year. The idea of a 30-inning year-to-year increase being the magic number is a little outdated, but there is definitely a point when a workload increase becomes too much. That usually applies to pitchers younger than Whitley, who turned 25 less than two weeks ago.
Because he was not a top prospect — remember, Whitley went undrafted in the Rule 5 Draft just last December — and there is a pretty strong likelihood he is currently enjoying the best stretch of his career, I'm not concerned about monitoring Whitley's workload to reduce future injury risk. That's not to say the Yankees should run him into the ground, they do still have a responsibility to try to keep him healthy, but he isn't as much of a priority as someone like, say, Ian Clarkin or Luis Severino. That's just baseball.
My biggest worry about Whitley's workload is plain ol' fatigue. He might just run out of gas sometime in the second half, when he approaches 130 or 140 or 150 or whatever number of innings. We don't know when or even if it will happen. But, just looking at him as a guy who has thrown more than 100 innings in a season twice in his life, it's not unreasonable to think he'll hit a wall at some point. Whitley's never started for an extended period of time before and he's about to enter uncharted workload waters.
In a perfect world, the Yankees would use off-days to skip Whitley's starts (or at least push them back a few days) whenever possible to help keep him fresh. They could call up a sixth starter for the day and skip one of his starts that way. They could even give him a little two-week vacation on the disabled list; that's another way they could control his innings and try to keep him fresh later in the season. The Yankees can't do any of that though because they're stretched so thin for pitching. They don't have that sixth starter to call-up and they need to use off-days to give their other pitchers an extra day whenever possible as well.
CC Sabathia will face hitters in a live batting practice session today and is expected to pitch in a minor league rehab game this weekend, but he is still several weeks away. Michael Pineda can't even get healthy enough to play catch these days, so the Yankees should just forget about him. If he manages to get healthy and pitch at some point, wonderful. But don't count on him. A trade? That seems inevitable, but it doesn't seem like it will happen anytime soon. Once it does happen, Vidal Nuno (the obvious candidate to lose his rotation spot) can be used as a spot starter to give Whitley occasional rest.
Right now, Whitley is pitching well as a starter and the Yankees should ride that out as long as possible. He's a young guy and he's big and strong (listed at 6-foot-3 and 215 lbs.), plus he has what looks like a relatively low-effort delivery to me, so maybe he'll be able to hold up deep into the season. That would be awesome. Whitley is at risk of hitting a wall in the second half though, only because he has never really started before and his workload is going to be pushed far behind his previous limits. It's just another reason the Yankees need to add a starter and soon.