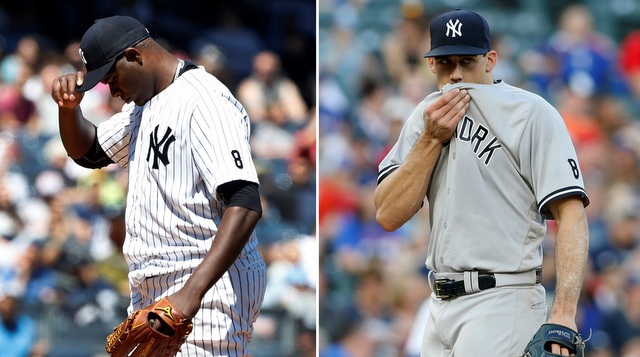 Three nights ago Nathan Eovaldi threw the best game by a Yankee this season. He took a no-hitter into the seventh inning and finished the night with two hits allowed in seven scoreless frames. Eovaldi has dazzled at times earlier this season, but it was always followed by the One Bad Inning. He avoided that bad inning Tuesday night.
"Uncomfortable swings. You can tell how good a guy is by the reaction of the hitters. They were swinging at pitches in the dirt. They were swinging at pitches over their heads," said Mark Teixeira to Randy Miller after the game. "It's just an uncomfortable at-bat. He's throwing 97-98. When he needs to throw a strike on the corner, he does. But when he needs to put guys away with tough offspeed pitches in the dirt or high fastballs, he did that as well."
Eovaldi's raw stuff and potential are obvious. He's one of the hardest throwing starters in baseball, and he's developed a pretty nasty splitter over the last year or so. On Tuesday he mixed in a quality slider as well. Eovaldi's impressive stuff has not yet translated to consistently impressive results, but every so often he has a game like Tuesday that reels you back in. Most of his starts are spent pitching around hits and trying to find a way to put guys away with two strikes.
Over the years we've learned things like strikeouts, walks, and home runs — stuff the pitcher can directly control — are more predictive than traditional stats like wins and ERA and WHIP. That's DIPS Theory, something the Yankees buy into big time. They targeted Eovaldi because from 2012-14, he whittled his FIP down from 4.13 to 3.59 to 3.37. The team likes high strikeout rates and low walk rates, and the more velocity, the better. Intuitively that's a no-brainer, but not every team emphasizes it as much as the Yankees.
As valuable as FIP (and xFIP and SIERA and all that) can be, there are exceptions to the rule. Guys like Bronson Arroyo and Mark Buehrle proved over hundreds and thousands of innings they can outperform their FIP. They did a better job preventing runs than their peripheral stats would lead you to believe. On the other side of the coin, guys like Ricky Nolasco and Edwin Jackson underperformed their FIP. They didn't prevent runs as well as their strikeout, walk, and homer rates suggested they could.
The exceptions exist because pitchers do have some control over the quality of the contact they allow. Some pitchers, like Arroyo and Buehrle and Mariano Rivera, were able to consistently miss the barrel of the bat and generate weak contact. They did it through location, late movement, and general craftiness. The Nolascos and Jacksons of the pitching world struggle to miss the sweet spot.
Based on what we've seen the last few years, Eovaldi and rotation mate Michael Pineda fit into the Nolasco/Jackson category. They've underperformed their FIP because have a hard time managing contact:
Eovaldi: 4.22 ERA and 3.44 FIP in 179 innings from 2015-16
Pineda: 4.68 ERA and 3.61 FIP in 182.2 innings from 2015-16
Their strikeout and walk rates are great! But when they make a mistake, hitters square it up and drive the ball with authority. Pineda and Eovaldi don't get weak contact. Not like Buehrle and Arroyo and other guys.
Here's a plot of the 99 pitchers who have thrown at least 150 innings since the start of last season. You've got FIP on the x-axis and BABIP on the y-axis. BABIP tells us how often the ball falls in for a hit when hitters do make contact, so it covers all the at-bats that don't end in a strikeout or walk (or homer). You can click the image for a larger view.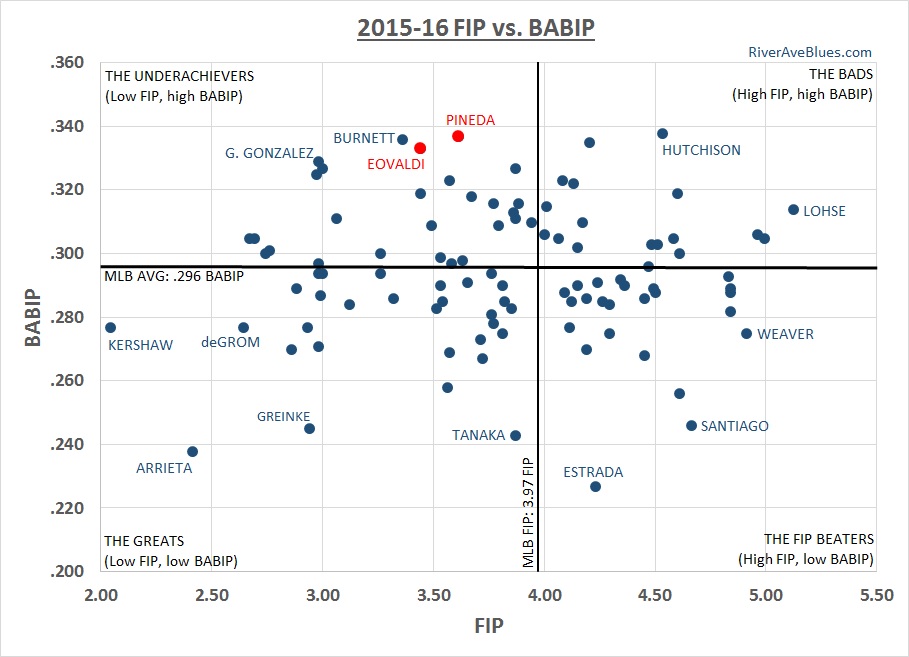 "Luck" has become such a crutch word in sabermetric writing — nowadays it's "sequencing," which is usually code for "I can't explain this" — but there absolutely exists some element of plain ol' luck in baseball. We're talking about a round ball and a round bat and a big swath of grass. Sometimes weird stuff happens. That's what makes it fun.
Pineda and Eovaldi, as you can see in the plot, find themselves among a group of pitchers who have posted low FIPs but high BABIPs since the start of the last season. They're right next to A.J. Burnett, which is a tad disheartening. Those guys have the sexy strikeout and walk rates, but when hitters make contact, the hits are falling in. The true greats — Clayton Kershaw, Jake Arrieta, Zack Greinke, etc. — run low FIPs and low BABIPs.
No one in their right mind is asking or expecting Pineda and Eovaldi to be Kershaw or Arrieta. It would be cool if they were, but come on. What the Yankees do want, however, are those two to do a better job managing the contact they allow. Mistake pitches happen. It's part of baseball. Not every mistake should be hit 500 feet though. That's the problem. When they miss their spots, they pay for it and pay big.
Eovaldi and Pineda are classic examples of good control/bad command pitchers. They throw plenty of strikes, we can see that in their low walk rates (7.0% and 3.4% since 2015, respectively), but they are unable to consistently locate on the edges. They're throwing strikes, and unfortunately sometimes those strikes are right down the middle. Look at the heat map of Pineda's fastball location since last season, via Brooks Baseball: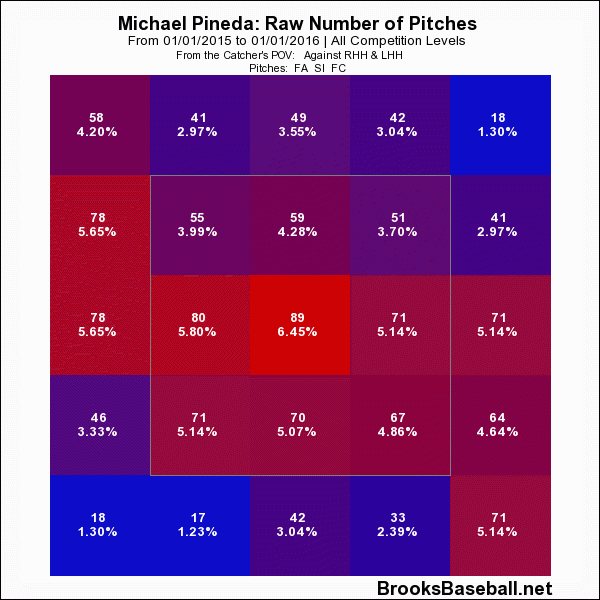 Good grief. There should not be that much red down the middle Michael! Eovaldi has a similar problem. He can throw strikes, but far too often they're in hittable locations, and the batters make them pay. There's a very fine line between a pitch being squared up and a pitch being nubbed off the end of the bat for weak contact. Eovaldi and Pineda have shown they can't miss the sweet spot consistently. We see it pretty much every five days.
Command is one of those things that can be taught but is very difficult to learn. And really, there's more to managing contact than command. Movement and deception play a huge role as well. The very best pitchers have all three. Pineda and Eovaldi have live arms. They're also missing that something that allows them to be truly great, the thing that makes their run prevention numbers match their peripheral stats. Nolasco, Jackson, Burnett, and others had the same problem.
Because they're still young and have power stuff, Pineda and Eovaldi are going to continue to get chances and big contracts as long as they stay healthy. It's good to throw in the upper-90s like Eovaldi and it's good to have a wicked slider like Pineda. Until they are able to do a better job managing contact and missing the barrel, either through improved command or increased movement or whatever, they seem destined to be the kind of pitchers who always leave you wanting more.