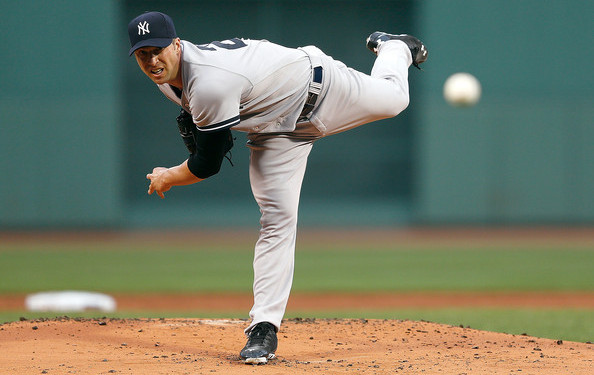 The Yankees came into the offseason in a need of at least one starting pitcher — preferably two! — and that was before they used Shane Greene to acquire Didi Gregorius. After that trade they definitely needed two starters. New York acquired one of those starters yesterday by re-signing Chris Capuano to a reasonable one-year contract, and Brian Cashman made it clear Capuano will be in the rotation during a conference call yesterday afternoon.
"He'll come to Spring Training as a starter. He's coming in as one of our starters," said the GM. Capuano joins CC Sabathia, Michael Pineda, and Masahiro Tanaka as rotation locks, assuming Sabathia's knee and Pineda's shoulder and Tanaka's elbow make it through camp in one piece. Both David Phelps and Adam Warren are coming to Spring Training as starters, and Cashman also named Bryan Mitchell, Chase Whitley, Jose DePaula, and Esmil Rogers as internal rotation options.
Needless to say, there's nothing particularly exciting about bringing Capuano back. He's a boringly serviceable back-end starter who seems to pitch just well enough to keep his team in the game while occasionally throwing a gem. (Over the last four years, Capuano has as many starts with an 85+ Game Score as Zack Greinke and Doug Fister. It seems like once or twice a year he'll unexpectedly throw a masterpiece.) Is he the fourth starter we were all hoping for? Nah. But does he help? Sure.
And Capuano is nothing more than that, a help. He's not the answer to the team's rotation problems all by himself. He's just a very small part of the solution, a solution that frankly the Yankees might not completely find this winter. There are two top free agent starters still on the board (Max Scherzer and James Shields), no more mid-rotation guys, and then a whole lotta Capuano types and reclamation projects. Unless Hiroki Kuroda decides to continue playing*, those middle of the rotation starters are all gone.
* I get the feeling that if Kuroda does decide to continue playing, there will be one big announcement. "Hiroki Kuroda has decided to pitch in 2015 … and oh by the way the Yankees have signed him for one year and $15M." Something like that. I don't think it'll be a prolonged free agency.
"We are never done or finished, so I will continue to be engaged in the free-agent and trade markets … I think it's safe to assume we are open to any legitimate possibilities to improve our club," said Cashman during yesterday's conference call (via Chad Jennings and George King). "Obviously making sense in the current circumstances that we have … The preference would be to never have to go to the free agent market to get what you need, but that's just not realistic."
Since the Yankees seem disinclined to pursue Scherzer — I assume the same is true for Shields, though I won't rule them out on either pitcher until they sign elsewhere — the only way they're going to get an impact starter this winter is through trade, which is always possible. The Padres and Mets have arms to spare, the Phillies are still looking to unload Cole Hamels, the Reds could still move Johnny Cueto or Mike Leake, so on and so forth. A trade is pretty much the only way the Yankees will get guys who pass the "better than Capuano" test unless they change course on Scherzer and/or Shields.
The Yankees re-signed Capuano because they need multiple starters and he was among the best of the non-elite remaining on the board. A signing like this was inevitable, even if they had signed Scherzer or Shields first. Capuano should only be part of the rotation fix and not the whole thing. At worst, he's a stopgap until Ivan Nova is healthy or Luis Severino is deemed ready. At best, he's 2011 Freddy Garcia. If the Yankees stop here and don't add anymore pitching, then yeah they have a problem. There's still a lot of offseason left and Cashman is clearly open to more moves. As long as Capuano is nothing more than one piece of the solution, then he's a fine depth addition.