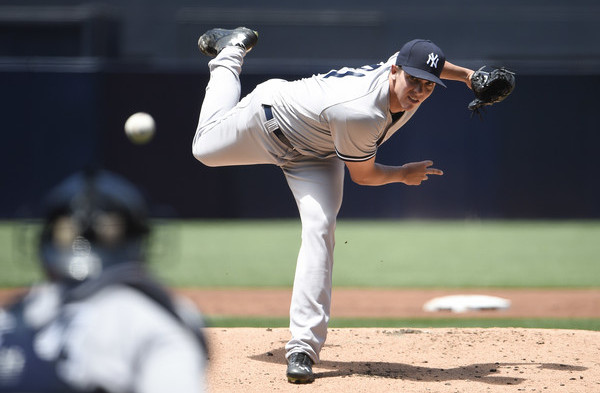 Later tonight, rookie right-hander Chad Green will make his second straight start and third overall for the Yankees. His first start back in May — his MLB debut — didn't go so well. Over the weekend Green rebounded to hold the Padres to one run on three hits in six innings of work. He fanned eight. That start combined with Nathan Eovaldi's recent struggles earned Green another start.
Tonight will be Green's last start for a while simply because the All-Star break is next week. The Yankees will be off from Monday through Thursday, then they figure to go with their veterans arms right out of the gate to start the second half. That leaves Green somewhere in rotation limbo, which stinks for him because he wants to pitch, but it also presents an opportunity for the Yankees to maximize their pitching staff in the short-term.
In a nutshell, the Yankees can take advantage of the All-Star break by sending Green to Triple-A and calling up an extra reliever. It's pretty simply, really. Green starts tonight, goes down tomorrow in favor of a fresh reliever, then comes back up sometime after the break. Here's why it works.
1. Green won't actually miss a start. As I said the other day, Green should get an extended look in the rotation because he's pitched well in Triple-A, he pitched well Sunday, and he added a new pitch (cutter) in recent weeks. The guy did everything he had to do to earn a longer look. Green has a chance to be part of the rotation long-term — an ace? no, but a mid-to-back-end guy? sure — and the Yankees should give him a chance to show he belongs.
The ten-day rule — once a player is sent down, he has to wait ten days before being called back up (unless there's an injury) — complicates things but it is not a deal-breaker. The Yankees could send Green down tomorrow and bring him back in ten days to make a start without any problem. Here's a rough pitching schedule:
Friday, July 8th: Green starts @ Indians
Saturday, July 9th: CC Sabathia starts @ Indians (Green sent down, day one of ten)
Sunday, July 10th: Masahiro Tanaka starts @ Indians (day two of ten for Green)
Monday, July 11th: All-Star break (day three of ten)
Tuesday, July 12th: All-Star break (day four of ten)
Wednesday, July 13th: All-Star break (day five of ten)
Thursday, July 14th: All-Star break (day six of ten)
Friday, July 15th: Sabathia starts vs. Red Sox (day seven of ten)
Saturday, July 16th: Tanaka starts vs. Red Sox (day eight of ten)
Sunday, July 17th: Michael Pineda starts vs. Red Sox (day nine of ten)
Monday, July 18th: Nova starts vs. Orioles (day ten of ten)
Tuesday, July 19th: Green returns to start vs. Orioles
See? Nice and easy. The Yankees have the option of starting their four veterans in any order from the 15th to the 18th — I assume they'll want to give Tanaka an extra day, so he probably won't start the 15th — before bringing Green back to start the fifth game of the second half. Eovaldi could also be a factor here too. He could start in place of Nova or start on the 19th with Green's return waiting one extra day until the 20th.
Point is, the Yankees have some options with how they can line up their rotation after the All-Star break. Every team does. The break is a chance to step back, catch your breath, and get your pitching in order. Everyone gets a nice breather. The All-Star break gives the Yankees the opportunity to send Green down and have him make his next start while dancing around the ten-day rule.
2. An eighth reliever is better than an unavailable starter. Once Green starts tonight, he's won't be able to pitch for a few days. That's just the way it goes. Sending Green down allows the Yankees to bring up an extra reliever, who for all we know may not even be used this weekend. You never know though. Blowouts and extra innings happen. You'd rather have the extra reliever and not need him than need him and not have him.
Keep in mind this extends beyond the weekend. The Yankees would be able to carry this eighth reliever until Green returns after the All-Star break. The extra reliever would be available for two games this weekend plus another four games to start the second half. The high-scoring Red Sox are coming to the Bronx next weekend too. They can score runs in a hurry and having the extra arm could come in handy. Same with the first game of the Orioles series.
3. Who could the Yankees call up to temporarily replace Green? Almost anyone. Kirby Yates and Nick Goody are eligible to be recalled because their ten days will be up. There's also Johnny Barbato, and heck, even Luis Severino. I wouldn't count on Severino though. The only guy they couldn't call up is Luis Cessa, who was just sent down Tuesday. Otherwise pretty much everyone is fair game. Finding a spare reliever for a few days won't be a problem.
4. What does Green do in the meantime? Good question with a good-ish answer: he gets to play in the Triple-A All-Star Game. Would Green rather be on the MLB roster collecting service time and big league salary? Of course. But this is the life of a rookie with a few days in a show. You go up and down a few times until you've established yourself as one of the 25 best players in the organization.
Green was indeed selected to the Triple-A All-Star Game along with RailRiders teammates Aaron Judge, Ben Gamel, and Gary Sanchez. The All-Star Game is Wednesday in Charlotte, so Green lines up perfectly to pitch that day. In fact, he should start for the International League. He still leads the league in ERA (1.54) and FIP (2.17), after all. The temporary demotion gives Green the opportunity to pitch in the Triple-A All-Star Game, which would double as a tune-up appearance to help him stay sharp before coming back in a few days.
* * *
I don't know about you, but this seems like a completely obvious move to me. So obvious that I don't expect it to happen. The Yankees have had chances to pull similar roster maneuvers in recent years but declined to do so. I do think there's something to be said for keeping Green on the roster through the All-Star break to let him know he is a big league player. Positive reinforcement like that can do wonders for a player's confidence. (Scott Boras just ripped the Brewers for making a move like this with Zach Davies.)
In the cold and heartless "baseball players are robots, not human beings with thoughts and emotions" world, sending Green down for a spare reliever following tonight's start is a perfectly sensible move. Being demoted is never fun, especially when it's undeserved, but it does happen. The weirdness of the All-Star break and Green's flexibility (read: ability to be sent to the minors without going through waivers) give the Yankees the option of beefing up their bullpen these next few games without having the young righty miss a start.