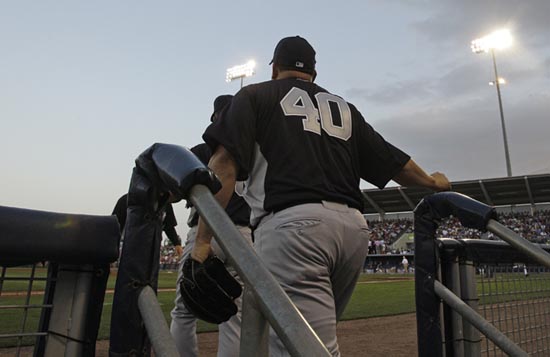 As we inch closer to Opening Day, things become settled. The AA and AAA kids are down at their respective camps, besides Manny Banuelos. The great mystery of Yankees Offseason-Spring Training '11, the starting rotation, has been solved. Bartolo Colon is in the bullpen. That's okay, though: if you thought that he would even have a fraction of a chance of making the rotation when we signed him, I'm calling BS until you show me proof. I don't think anyone had anything other than, 'eh, minor league deal, we'll cut him in March,' to say when this first happened. Understandably so, of course: Colon was an aged pitcher with an injury history who pitched only in winter ball last year and spent a grand total of 97 days on the 15-day DL in 2009, more than half of that with elbow problems. But Colon knew there was something still left in the tank. He was still a two-time 20-game winner and had a Cy Young award perched on his mantle, after all.
The first time Colon was mentioned on MLB Trade Rumors was November 15th, where he was said to continue to "maintain conversations" with Rockies, Cardinals, Tigers, and our very own Bronx Bombers. Keep in mind, though, that Cliff Lee didn't sign till December; at this point, the Yankees probably had very few eyes on Colon and were full steam ahead at working on wooing Lee, while we all pounded F5 on our computers waiting for the announcement that a deal was in place. Between then and January 26th, Lee would sign with the Phillies, shunning his AL Champion Texas Rangers and the giant bags of cash offered by the Yankees. While we waited on Andy Pettitte to return to the team like a knight in shining armor, Colon signed a minor league deal worth $900K and the ability to be cut if he wasn't on the Opening Day roster. Our article on this, written by the lovely Joe Pawlikowski, is about as skeptical as you'd expect. Joe wrote "there is little indication that Colon can handle a starting job in the majors at this point," and that he "[found] it nearly impossible to envision a scenario in which Colon can help the team." I think it's safe to say that many people, if not everyone, was on this bandwagon. The comments ranged from a handful of "eh, minor league deal, who cares" all the way to "Mark Prior has better odds of starting a regular season game for the 2011 Yankees than Colon" and "I would have taken a shot at Pedro." There were questions regarding his position on the 'Better than Mitre' scale. There were also, of course, the requisite fat jokes.  At that point, Justin Duchscherer was the pitcher most Yankees fans wanted to see the club sign.
Of course, about ten days later, Andy Pettitte retired, sending shockwaves through both the organization and the fans. There were suddenly two rotation spots open for Ivan Nova, Sergio Mitre, Colon, and the newly-signed Freddy Garcia. Let the pitching battle begin.
Out of everyone, Colon surprised me (and I imagine many of you) the most. While he could no longer pump out the high-powered gas he'd had before the bone spurs in his elbow, his reduced velocity hardly hindered him at all. In Colon's first outing, he threw what Mike referred to as "meh," allowing one run in two innings, walking one and striking out none. It was his second outing, on March 4th, that would raise some eyebrows: against the Boston's admittedly mostly minor-league team, he struck out five in three innings, giving up only two hits and no walks. While the hitters were not exactly the biggest challenge to throw at a guy, Colon located his pitches well and proved he was worth consideration. He followed this up with another fairly decent outing on March 9th, throwing four innings and allowing two runs on four hits, and striking out seven. According to his mlb.com game log, every one of his 30 pitches was a strike save for a single ball.
His crowning Spring Training achivement, though, would be his start against the Rays. Tampa Bay rolled out most of (if not all) their major leaguers, including Evan Longoria, Johnny Damon, Reid Brignac, BJ Upton, and noted Yankee killer Dan Johnson. Even against familiar names, Colon threw six strong innings, giving up two hits, a run, striking out five, and throwing all of his 32 pitches for strikes. Small sample size and Spring Training caveats apply, but had there been a true competition, I find it hard to believe this wouldn't win him a rotation spot: in his 15 IP (fourth-most on the team), he has a 2.40 ERA with 17 strikeouts, one walk, and one home run. He's getting the ground balls. He's pounding the strike zone. Even if he gets injured sometime during the season, the stuff itself is there.
I don't know about you, but I'm personally ready to give up my bias against Bartolo Colon. It's hard to get one's mindset back into the groove of thinking positively about a player when they've been racking up the disappointing numbers, but everything about Colon's spring performance is positive. Let's see if he can take these strong Spring Training numbers and turn them into something that counts. I've decided rather than spitting on everything he does, it's more fun to look forward to it.