Every team has an "ace," at least according to the rudimentary definition of the term. Yeah, someone has to be the best pitcher on the staff and someone has to start on Opening Day, but that doesn't make that person true aces. A true ace is the guy that can carry his team on his back for stretches of the season. He's the guy you give the ball to in big games without hesitation. He's the guy that when you sit down and turn the television on to watch the game, you expect a win. The Yankees have a true ace, and his name is CC Sabathia.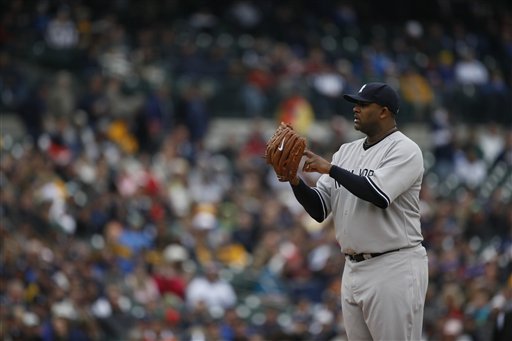 Sabathia's first season in New York was a smashing success; a brilliant regular season effort (3.39 FIP in 230 IP) followed by an even brilliant-er postseason capped off with a World Series victory. Building upon that success and being even better in 2010 would be damn near impossible, but CC gave it his best shot anyway.
Typically a slow starter, Sabathia skated through five April starts with a 3.12 ERA, taking a no-hitter into the eighth inning against the Rays in his second start of the season. He ran into a rough stretch after throwing eight innings of one run ball against the Orioles in his first May outing, dropping four of five starts thanks to 21 runs allowed in 28.2 IP. It was an uncharacteristic rough patch for CC, who battled fastball command more than anything, but once the calendar flipped to June, CC stood for Cruise Control.
Seven innings and three runs against the Orioles. Then seven innings and two runs against those sameOrioles. Then seven innings and three runs against the Phillies. Then 16 combined innings and one run against the Mets and Dodgers. It goes on like this for quite a while.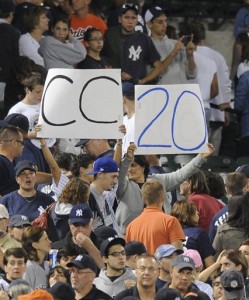 From May 30th through September 17th, Sabathia made 21 starts and threw no less than seven innings in 17 of them. The other four lasted 6.1, 6.2, 6.0, and 6.1 innings. He posted a 2.53 ERA in 152.2 innings during that stretch, holding opponents to a .273 wOBA. The Yankees won 17 of those 21 games, and most importantly CC was saving the bullpen. The rotation went from rock solid to down right disastrous during that time thanks to Andy Pettitte's injury and the general suckiness of Javy Vazquez, A.J. Burnett, and Dustin Moseley. The days that Sabathia pitched were the days everyone was able to rest easy, knowing that the big guy was going to take the ball deep into the game and if nothing else give the Yanks a chance to win. More often than not, they did.
Sabathia was also at his best when the team needed him to be. With a 6-14 record in their previous 20 games, the Yanks were stumbling through the final month of the season and had yet to clinch a playoff spot through 158 games. The natives were getting restless, but CC took the mound in Game 159 in Toronto and carried his team to a guaranteed playoff berth with 8.1 innings of one run ball. The only thing that stood in the way of a complete game win was the greatest reliever of all-time; Sabathia had plenty left in the tank if needed. Three weeks later, when the Yanks had their backs up against the wall in Game Five the ALCS, CC gave them six hard fought innings against the Rangers to extend their season another day.
The end result for Sabathia was a season that pleases both old school fans and saberists alike. He went 21-7 with a 3.18 ERA in 34 starts, numbers that have him squarely in the conversation for the Cy Young Award. CC also posted a 3.54 FIP and 5.1 fWAR, figures that made him one of the eight or ten most valuable pitchers in the league. If you prefer Baseball-Reference's version of WAR, only Felix Hernandez was better. No matter which demographic you below two, old school or nerdy stats, we can all agree that the Yankees were lucky enough to trot out one of the game's best every five days this season.
The CC Sabathia experience is now two years old for Yankee fans, and it's near impossible to call his tenure anything but masterful. The Yanks have won 45 of his 68 starts, and on an individual level CC has posted a 3.27 ERA (3.47 FIP) in an unbelievable 467.2 innings. As far as the Yankees are concerned, almost nothing went more right than Sabathia in 2010.