It all started with a challenge.
The Yankees, fresh off their 27th World Championship, let World Series MVP Hideki Matsui depart as a free agent after the 2009 season in their never-ending quest to get younger and more athletic. When camp opened up in February, it was unclear who would replace Godzilla as the fifth hitter in the lineup, protecting cleanup man Alex Rodriguez and mopping up any messes left behind by the middle of the order. Joe Girardi and the rest of the shot-callers could have taken the easy way out and stuck Jorge Posada in the five-hole. He's a long-time Yankee stalwart with plenty of credentials to claim that spot, so it was a natural fit. Even Nick Swisher, fresh off a 29 homer season, would have made sense.
They didn't take the easy way out though. Instead of going with the easy pick they issued a challenge to Robbie Cano, one of their youngest regulars. It's time for you to be more than just a (very good) complementary piece, we need you to be a cornerstone, a centerpiece off the offense. Robbie's excellent 2009 season (.370 wOBA, 4.4 fWAR) was marred by his failures with runners in scoring position (.207/.242/.332, .251 wOBA) and in high-leverage spots (.255 wOBA), understandably causing some to question the decision to move him up into the heart of the order. If he couldn't hit with runners on base, how is he supposed to protect Mark Teixeira and A-Rod? We all knew that Cano had all the talent in the world, but could he deliver in his new role?
Cano's response to those questions was a quick and emphatic YES. He opened the season with five hits (including a double and a homer) in three games at Fenway Park, and it wasn't until the 17th of April that Robbie went hitless in a game. His month of April was the best by a Yankee not named A-Rod in more than a decade, as he finished the season's first month with a .400/.436/.765 batting line (.497 wOBA) and eight homers. The hot hitting didn't stop after April ended either, Cano entered the All Star break with a .336/.389/.556 line (.400 wOBA) and as the league's first 4.0+ fWAR player.
The overall season performance is MVP worthy; a .319/.381/.534 batting line that featured career highs in wOBA (.389), homers (29), runs scored (103), runs driven in (109), walks (57, more than 2008 and 2009 combined), isolated power (.214), bWAR (6.1), and fWAR (6.4). Cano didn't stop there either, he was the team's best hitter in the postseason, a .343/.361/.771 (.464 wOBA) effort with four homers in the team's six ALCS games. When Tex's season ended in Game Four because of a hamstring injury, Robbie stepped right into the three-spot and homered the very next day. Regular season or postseason, Cano was an absolute monster in 2010, and it was all because of some subtle improvements.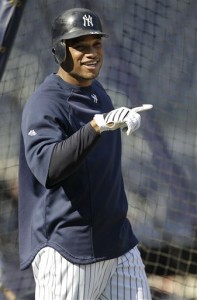 Remember those struggles in men on base in 2009? Forget about that. Robbie hit .322/.407/.515 (.352 wOBA) with runners in scoring position and an even sexier .449 wOBA in high leverage situations this year. He was even better away from the friendly confines of Yankee Stadium (.402 wOBA) than at home (.376), as hard as that can be to believe. Comparing his 2009 and 2010 spray charts (courtesy of Texas Leaguers), you'll see that he traded opposite field singles and doubles for balls yanked hard into rightfield, mostly over the wall. Cano's pre-game screen drill with hitting coach Kevin Long is the stuff of legend, designed to help him keep his hands in on pitches over the inner third of the plate while stilling hitting the ball with authority, and it certainly paid off this season. His defense went from strong to spectacular, with jaw-dropping plays on balls hit up-the-middle becoming his specialty.
On a personal level, Robbie also reached many career milestones in his sixth big league season. He picked up his 1,000th career hit with a bases loaded ground rule double in the eighth inning of a late July game against reliever Victor Marte of the Royals, reaching that milestone in fewer at-bats than any Yankee not named Derek Jeter and Don Mattingly. A fourth inning solo homer off Brian Moehler of the Astros a few weeks earlier tied the game and was Robbie's 100th career long ball. He also notched his 200th career double in his second plate appearance of the season and his 500th career RBI on the third to last day of the season, both again the Red Sox in Fenway.
Robinson turned just 28 years old two weeks ago, so he's very much in the prime of his career. In fact he should be just entering his prime years. That's pretty impressive considering he was a .306/.339/.480 (.356 wOBA) career hitter with a pair of 4.4+ fWAR seasons before 2010. Cano proved to everyone that the young kid with a knack for getting the bat on the ball hitting in the bottom third of the order was capable of carrying the Yankees as their older stars continue to fade into the background, and his emergence as one of the game's elite was far and away the highlight of the 2010 season. When he's locked in, few are more fun to watch that the guy with the smile on his face.