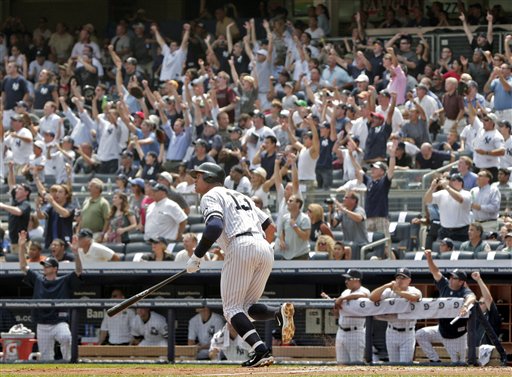 Once upon a time, Alex Rodriguez wanted nothing to do with the Yankees. Perhaps it was just a negotiating ploy; perhaps he had no desire to come to Derek Jeter's team and play another position. But that he wanted no point of the Yankees is what he said on November 3, 2000.
"I would like to sign with another team and help dethrone the Yankees — they've won too much already," the then 25-year-old said as teams prepared to bid on him. "I like playing shortstop and I'm young. I want to play it until I'm 35, and then I'll study the possibility of being moved."
Well, as the saying goes, the best laid plans of A-Rod often go astray. Just three years later and to escape a $250 million contract, the Texas Rangers shipped the short stop to New York in a deal for Joaquin Arias and Alfonso Soriano. By the time he turned 29, A-Rod would no longer be a short stop, and he would be on those damned Yankees, playing for the team that's won too much already and helping them win even more.
As far as all of that True Yankee™ hoodoo voodoo goes, A-Rod earned his stripes years ago on the day the Yanks acquired him. There is no rite of passage. Since arriving in the Bronx, he's won two MVP awards, destroyed the Twins in the playoffs, destroyed the Angels in the playoffs and even found a way to knock in a few runs against the Phillies. As the Yankees won the World Series in 2009, he was grinning like a little boy. The overpaid and unclutch prima donna, as the media likes to label him, had finally captured that elusive ring. At 33, just two years younger than when he expected to be moved from short, A-Rod the third baseman was the king.
This year marks A-Rod's seventh full year with the Yankees. He's already far surpassed the number of games he played with the Rangers and topped his Seattle totals in early 2009. He's hit 255 home runs as a Yankee, 99 more than he hit in three years with the Rangers and 66 more than he hit with the Mariners. He's driving in 803 runs; he's scored 726; and he's within spitting distance of 1100 hits. Doesn't it seem as though he just got here?
Meanwhile, as A-Rod's career totals climb, his place amongst the team's historical leader boards does as well. His 255th Yankee home run tied him with Jorge Posada for seventh all time among Yankees. Only Babe Ruth, Mickey Mantle, Lou Gehrig, Joe DiMaggio, Yogi Berra and Bernie Williams have hit more. His career Yankee slugging percentage is behind only Ruth, Gehrig and DiMaggio. Those are some historic names.
But the image many in New York — and especially in the media and especially at ESPN New York — have of A-Rod is one of a hired gun. He's the mercenary brought in by Brian Cashman to stymie the Red Sox and act as the interloper. He's the guy who isn't Derek Jeter. He doesn't have a pristine image as Jeter does. He isn't a tried-and-true Yankee, drafted by the team out of high school. He doesn't have five World Series rings and legions of swooning fans. He says the wrong thing at the wrong time and continues to put his foot into his mouth at seemingly every opportunity.
That isn't the A-Rod I see though. I see someone blessed with extraordinary talent and a lot of money who doesn't know how to fit in quite as well as some of his peers. I see a baseball player who pushes himself to be the best that he can be and gets frustrated when he isn't playing up to his standards. I see a player who tries to deliver on every pitch but can't hit a five-run home run when he wants to. He's A-Rod; he's a Yankee; he fits with the team. From now until the end, he's with us, faults and all, good times and bad.
It's also not the team I see either. A-Rod might be the highest paid player; Jeter might be the captain. But as the two play out their mid-30s, time is, inevitably, passing them by. The young guns — Nick Swisher, Robinson Cano, Mark Teixeira — are the big run producers who hit the flashy home runs. Still, as A-Rod has shown and as Jeter has shown, they'll still come through when the team needs them. They're not done yet with their great moments.
With all of the good A-Rod brings, though, definitely comes the bad. Thanks to an overzealous move by Hank Steinbrenner, the Yankees will be paying Rodriguez exorbitant amounts of money until he's far too old. During his age 38 season in 2014, he'll earn $25 million; during his age 39 season, he'll take home $21 million; and from ages 40-41, the Yankees are on the hook for a total of $40 million plus the historic home run milestone incentives. That's a lot of money for a guy hitting .264/.334/.473. and on pace for just 26 home runs, his lowest total since 1997. His hip has been a nagging issue for two years, and he has been showing signs of the inevitable decline. It happens to the greats.
But as he sits on 600, A-Rod's baseball prowess should be admired. His 600th was a swing for the tape, that majestic arc, that no-doubter reminiscent of the two-run blast he shot off of Joe Nathan in Game 2 of the ALDS. It was vintage A-Rod with a long wait, a great payoff and one relieved baseball player at the end of it, just as it was at the end of the World Series, just as it always is with Alex Rodriguez.