In each of the last four seasons and in five of the last six seasons overall, Joe Girardi had the luxury of having two top shelf relievers in his bullpen. The tandem has changed over the years — it was Mariano Rivera and Phil Hughes in 2009, Rivera and David Robertson in 2011, Rafael Soriano and Robertson in 2012, Rivera and Robertson in 2013, and Robertson and Dellin Betances in 2014 — though there were always two high-end relievers for Girardi to turn to in the late innings.
The tandem has again changed heading into 2015. Robertson was allowed to leave as a free agent and the Yankees signed ex-Red Sox southpaw Andrew Miller to a four-year, $36M contract to replace him. New York saved $2.5M per season by replacing Robertson with Miller and gained a supplemental first round draft pick in the process. Losing a stud homegrown Yankees sucks, like really sucks, but it was an understandable set of baseball moves.
Miller joins Betances to again give Girardi a pair of elite relievers, this time one righty and one lefty. Girardi has yet to name a closer with Opening Day two weeks away — he's hinted at using co-closers but I think that's unlikely — and my hunch is Betances will get the job heading into the season. Ultimately, it doesn't matter. Both Betances and Miller are capable of closing and both will be counted on in the late innings of close games.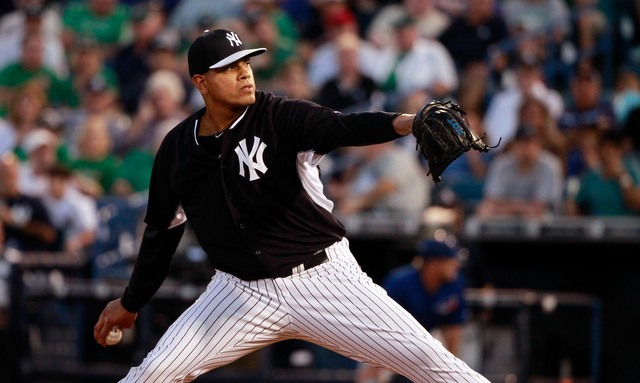 Dellin's Dominance: So Good It's Close To Impossible To Repeat
I've said this before and it's worth repeating for no reason other than because it's fun: Betances' career path is eerily similar to Rivera's. Both were good starting pitching prospects in the minors who shifted to the bullpen during their age 25 season, dominated as multi-inning setup men during their first full MLB season at age 26, then took over the ninth inning in their age 27 season after the Yankees let their veteran closer depart as a free agent. Well, we're assuming Betances will take over as closer, but you catch my drift. Freakishly similar career paths.
Of course, that doesn't mean Betances will be the next Rivera and we shouldn't think about him that way either. It's not fair to him. He's not the next Rivera, he's the first Betances. Dellin was by far the most exciting Yankees development last year, pitching to a 1.40 ERA (1.64 FIP) with an elite strikeout rate (13.5 K/9 and 39.6 K%) to go along with better than average walk (2.40 BB/9 and 7.0 BB%) and ground ball (46.6%) rates in 90 innings. Ninety innings! Betances was the best reliever in baseball in terms of bWAR (3.7) and fWAR (3.2) in 2014.
Dellin set the bar impossibly high last year. So high that I find it hard to believe he could do it again in 2015. Does that mean I expect him to stink? No! I fully expect Betances to dominate and again be one of the top bullpeners in the game in 2015. It just means I don't think he'll be that good again. Only 27 relievers in history have had a season with a sub-2.00 ERA and a sub-2.00 FIP while throwing at least 50 innings in baseball history. Only six have done it twice. (Rivera was not one of those six!) It's hard to do what Dellin did once. It's even harder to repeat it.
Betances has been out of sorts in Spring Training — his first two outings were typical Dellin but he's allowed one run on two hits in each of his last two times out — but I'm not particularly concerned with that. His fastball has been mostly mid-90s rather than high-90s like we saw at the end of last year, but he was sitting mid-90s at the outset of last season as well (via Brooks Baseball):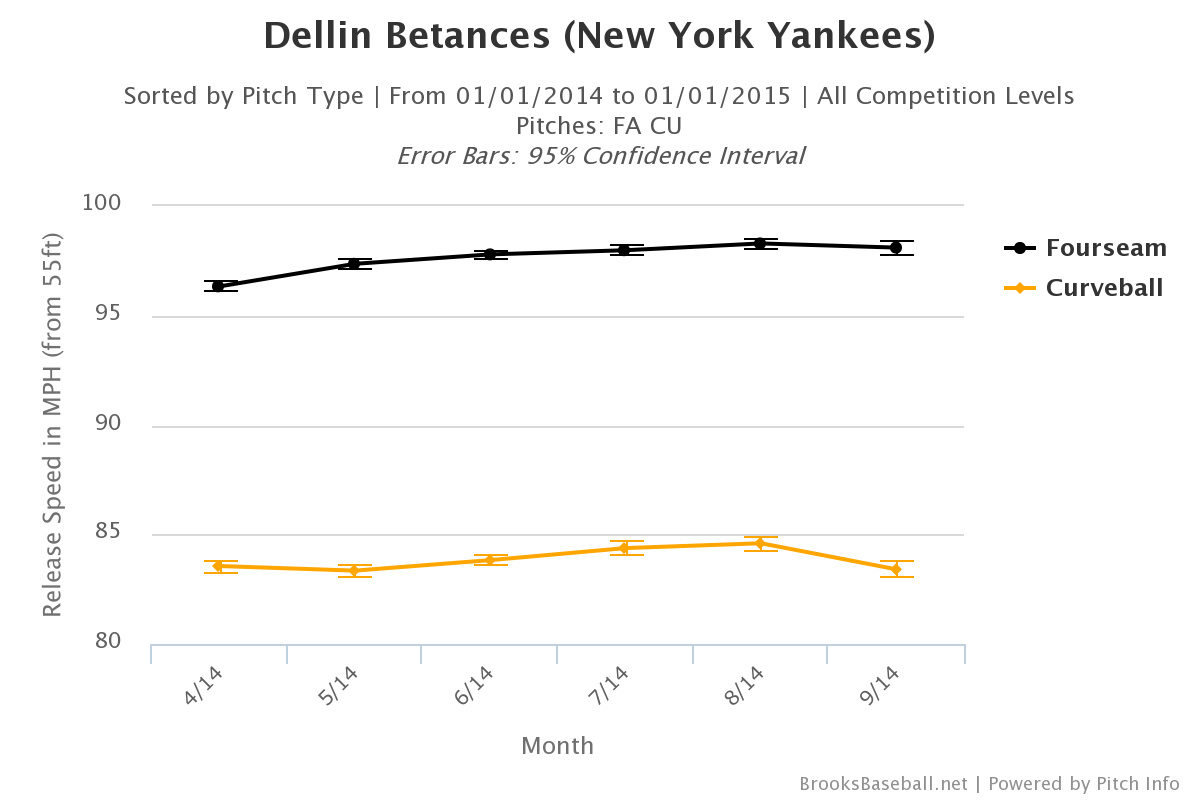 Dellin's curveball … or slurve … or slider … or whatever the hell we're calling it these days seems to have been giving him the most trouble. He simply hasn't had much control over it, so hopefully he irons that out before the season starts in two days. Betances' history as a prospect with basically zero control in the minors is always going to be in the back of my mind, but two Grapefruit League outings aren't enough of a cause for concern to me.
Regardless of whether he closes or sets up, Betances will be Girardi's ace right-handed reliever this year and someone he relies on for huge outs. I don't think we'll see him make as many multi-inning appearances this summer simply because throwing 90 innings out of the bullpen year after year isn't a thing that happens anymore, though Girardi can certainly use Dellin for six outs on occasion. Given the plan to win close games with pitching and defense, Betances is a crucial piece of the 2015 Yankees.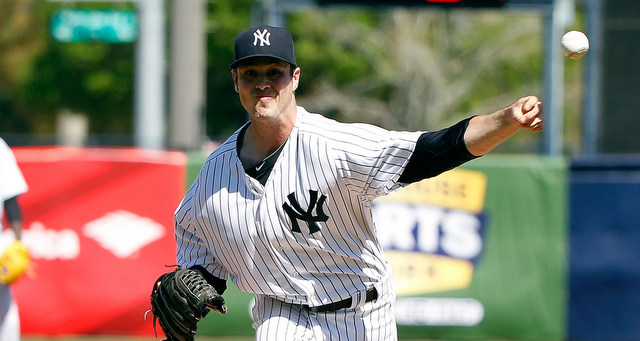 The New Guy: Not Just A Lefty Specialist
Aside from Aroldis Chapman, Andrew Miller was arguably the best left-handed reliever in baseball last season. He was outstanding, posting a 2.02 ERA (1.51 FIP) in 62.1 innings with a better strikeout rate than Betances (14.87 K/9 and 42.6 K%) and comparable walk (2.45 BB/9 and 7.0 BB%) and ground ball (46.9%) rates. It was the best season of Miller's career but it would be a mistake to call it his only good year. To wit:
| | IP | ERA | FIP | K% | BB% | GB% |
| --- | --- | --- | --- | --- | --- | --- |
| 2012 | 40.1 | 3.35 | 3.17 | 30.2% | 11.8% | 43.2% |
| 2013 | 30.2 | 2.64 | 3.05 | 35.6% | 12.6% | 56.1% |
| 2014 | 62.1 | 2.02 | 1.51 | 42.6% | 7.0% | 46.9% |
| 2012-14 | 133.1 | 2.57 | 2.37 | 37.0% | 9.9% | 47.8% |
Miller missed the start of the 2012 season with a hamstring injury and the end of the 2013 season with a ligament issue in his foot. (He didn't pitch in the postseason that year.) He was healthy all of last year and those aren't arm injuries, so they aren't much of a concern going forward.
Anyway, Miller has consistently improved since moving into the bullpen full-time at Bobby Valentine's behest in 2012. He was a high draft pick who never could get his mechanics right as a starter, but it's clicked in the bullpen and his mid-90s fastball/mid-80s slider combo is lethal. Robertson, by the way, had a 2.59 ERA (2.59 FIP!) in 191.1 innings from 2012-14, so Miller was on par with New York's ex-relief ace on a rate basis.
Left-handers have a way of getting pigeonholed into small roles in the bullpen, specifically left-on-left matchup guys. Miller is way too good for that though and I'm certain Girardi knows it. Miller is a late-inning reliever who can face righties and lefties just like Betances. He just so happens to throw left-handed. Here are his splits since moving into the bullpen:
| | IP | K% | BB% | GB% | FIP | wOBA |
| --- | --- | --- | --- | --- | --- | --- |
| vs. LHP | 66.0 | 40.1% | 7.6% | 40.9% | 1.90 | .236 |
| vs. RHP | 67.1 | 34.2% | 12.0% | 54.2% | 2.82 | .258 |
It's no surprise Miller has been better against lefties than righties these last three years — between his stuff and low-ish arm angle, lefty hitters have basically no chance against this guy, he's the bullpen version of Randy Johnson — though he's been better than good against batters of the opposite hand. A few too many walks against righties, sure, but lots of strikeouts and lots of grounders too. This isn't someone Girardi will have the shelter against righties late in a close game. Miller's someone Girardi should want to use in those spots.
There's really no wrong answer for the eighth and ninth innings in close games. The only wrong answer is one that doesn't involve Betances or Miller. Both are capable late-inning relievers and I assume one will close and one will setup. Co-closers is nice in theory but I'm going to have to see that one before believing the Yankees would actually do it. Betances and Miller are the best righty-lefty bullpen combination in the game, and like Rivera/Robertson in the past or Robertson/Betances last year, these two are going to log a lot of important inning in close games. That's the 2015 recipe.