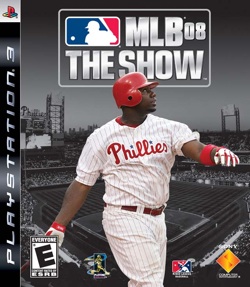 What would Opening Day be without a giveaway contest? Nothing. So here at RAB, we're presenting the Opening Day PS3 MLB'08 The Show Giveaway Contest. And this time, we'll run a tighter ship than we did with the photo caption contest last year.
The Prize: Copies of MLB '08 The Show for PlayStation 3. Even if you don't have a PS3, enter for the fun of it.
The Contest: Predict the New York Yankee firsts for the 2008 season. In the comments to this post, enter by taking your best guess at who will record following firsts for the Yankee season:
Hit (and what you think that hit will be)
Run
RBI
Extra-Base Hit
Stolen Base
Home Run
Strike Out
Walk
Error
Winning Pitcher
Save
Losing Pitcher
The Fine Print: Each answer is worth one point, and the top three finishers will each win a prize. In the event of a tie, we have up to five copies of the video game to award. In order to be eligible to win this contest, you must leave a valid e-mail address in the e-mail field on the comment submission form. One entry per person please. This contest is open until 1:05 p.m. Eastern time on Monday, March 31, 2008.