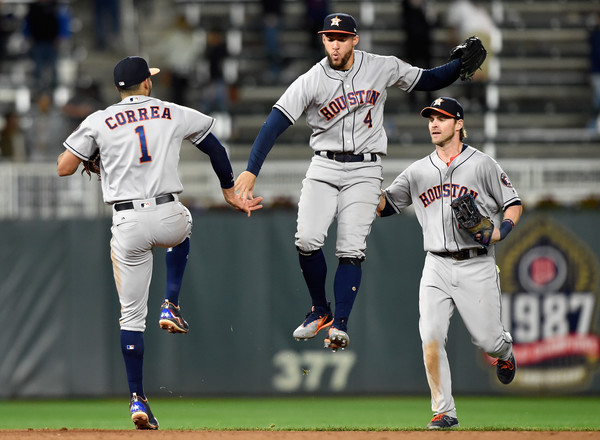 We are just ten days away from the beginning of the All-Star break, and it feels as though that time off cannot come quickly enough. Injuries, illnesses, and losses have pervaded the last several weeks for the Yankees, and that is only being exacerbated by this current sixteen games in sixteen days stretch. This weekend's visit to Houston is their last road series of the first-half.
The Last Time They Met
The Yankees dropped three of four to the Astros back in May (11th through 14th), which represented their first series loss since the first full weekend of the season. Both teams were playing brilliantly at the time, ranking in the top-five in all of baseball in most every relevant metric, but the Astros were the better team that weekend. Some points of interest:
Masahiro Tanaka had his worst start of the season (and possibly his career) in the final game of the series, pitching to the following line – 1.2 IP, 7 H, 8 ER, 1 BB, 3 K, 4 home runs allowed.
Giovanny Gallegos made his big league debut in the series, pitching twice. He allowed a hit, a walk, and an unearned run in 3.1 IP, striking out 3.
Jacoby Ellsbury "drove in" a run by garnering a catcher's interference call with the bases loaded in the first game. That's fascinating, and kind of hilarious. He also got thrown out at home to end that game, which is less so.
Check out Katie's Yankeemetrics post for more interesting stats.
Injury Report
Houston currently has three starting pitchers on the disabled list – ace Dallas Keuchel, Collin McHugh, and Charlie Morton. There is a chance that Morton will return and start the last game of this series for the Astros, but the other two aren't likely to be back until after the break.
Their Story So Far
The Astros are arguably the best team in baseball, as the holders of the best record (54-26) and the second-best run differential (+125, with the Dodgers leading the way at +141). They lead the majors with a 123 wRC+ (the Yankees are second at 114), and they're top-five in both runs scored and runs allowed. They're also 8-2 in their last 10.
While their pitching has been quite good, it's difficult to look at this team and think about anything other than their offense. They've given 200-plus PA to nine players, and five of those players of a wRC+ of 130 or better; and just one – Carlos Beltran – has a wRC+ below 101. If you drop that down to 100-plus PA, you add two more hitters with an above-average wRC+, meaning that the Astros can roll out an above-average hitter at every position on any given night.
Check out The Crawfish Boxes for more news and notes on the Astros.
The Lineup We Might See
At least some of the success of the offense has to be credited to manager A.J. Hinch, who does a good job of utilizing platoons and keeping his players rested. Brian McCann is essentially a case study in this, as he has sat out nearly 30 games, avoiding back-to-backs and tough southpaws – and his 115 wRC+ would be his best since 2013. All that being said, this is the Astros' most common lineup of late:
George Springer, RF/CF
Josh Reddick, LF/RF
Jose Altuve, 2B
Carlos Correa, SS
Brian McCann, C
Carlos Beltran, DH
Marwin Gonzalez, 1B
Alex Bregman, 3B
Jake Marisnick, CF / or / Nori Aoki, LF
You can also expect to see healthy doses of Evan Gattis and Yuli Gurriel.
The Starting Pitchers We Will See
Friday (8:10 PM EST): RHP Michael Pineda vs. RHP Lance McCullers Jr.
The Yankees faced McCullers on May 12, and he shut them down (6.0 IP, 4 H, 0 R, 0 BB, 7 K) by mixing his mid-90s fastball, mid-80s curveball, and upper-80s change-up with gusto. He actually relied on his curve a bit less than usual, throwing it just 41.1% of the time, as opposed to his season norm of 46.1%. Whether or not that was a matter of that pitching being off for a night or a strategy remains to be seen.
McCullers has a 2.53 ERA (156 ERA+) on the season, with 10.7 K/9 and 2.5 BB/9 in 81.2 IP.
Last Outing (vs. SEA on 6/24) – 5.0 IP, 4 H, 1 R, 0 BB, 8 K
Saturday (7:15 PM EST): LHP Jordan Montgomery vs. RHP Francis Martes
Martes entered the season as one of the best prospects in the game, peaking at number 15 on Baseball America's top-100 list. His call-up, however, was based on need more so than performance, as he had struggled mightily in his first taste of Triple-A (5.29 ERA, 7.8 BB/9). He currently has a 5.51 ERA (73 ERA+) in four major league games, but he's still only 21, and he's a top prospect for a reason.
That reason largely being his stuff, which includes a mid-to-high 90s fastball, a low-90s change-up, and a mid-80s power curve. The fastball and curve are usually graded as plus-plus, but there have been some concerns about the movement on his fastball.
Last Outing (vs. SEA on 6/25) – 2.0 IP, 2 H, 2 R, 4 BB, 3 K
Sunday (2:10 PM EST): RHP Luis Severino vs. TBA
As of Friday morning, the aforementioned Morton is expected to take the ball on Sunday. He has completed two rehab starts and he's already with the team, though a final determination does not seem to have been made. The Yankees faced Morton back on May 14, plating four runs in 5.2 IP (albeit while striking out ten times). He hasn't pitched since May 24 due to a lat strain, so, even with the rehab starts, rust could be a factor.
Last Outing (vs. DET on 5/24) – 7.0 IP, 4 H, 2 R, 3 BB, 6 K
The Bullpen
The Astros bullpen leads the majors in both K/9 and K%, and ranks in the top-ten in both park-adjusted ERA and WPA. Their greatest strength lay in the 7th and 8th innings, as set-up men Chris Devenski (2.23 ERA, 12.3 K/9, 2.2 BB/9) and Will Harris (2.16 ERA, 10.5 K/9, 1.1 BB/9) have been dominant throughout the season. Closer Ken Giles has been more good than great at times, but he's still a safe bet in the ninth. As is the case with the lineup, Hinch mixes and matches with his bullpen, with Michael Feliz, James Hoyt, and Luke Gregerson serving as solid options with defined roles.
It's worth noting that the Astros bullpen has been leaned upon heavily this year, particularly with Keuchel, McHugh, and Morton out. Their starters oftentimes struggle to pitch through the sixth. Last night's game was a good example of this, as they won 6-1, but still needed their bullpen for four innings as SP Brad Peacock needed 106 pitches to get through five.
Who (Or What) To Watch
If the Yankees can work the count early in the game, they may be able to get into the thinner portion of the Astros bullpen without necessarily teeing off on the starters. That might be the key to the team's success this weekend, given that they're going to have to go blow-for-blow with the only offense that outclasses the Bombers.
As was the case last time around, I'm always interested in watching a McCullers start. And this time we get to see Martes, as well, who has a similar overall profile.