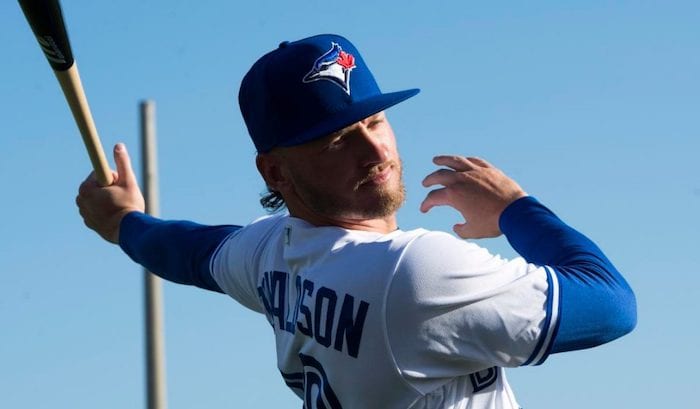 Meaningful baseball is back! Time to preview the first series of the new season.
The Last Time They Met
The Yankees lost the season series 10 games to 9 last year, despite outscoring the Blue Jays by 12 runs (90 to 78). Their Pythagorean win expectation with that run differential was 11 games, which might not mean much in and of itself, but that two-game swing was essentially the difference between winning the AL East and settling for the Wild Card last year. These two teams last met in the final series of the 2017 regular season, with the Yankees taking two of three in the Bronx. Some notes:
The Yankees ran wild on journeyman minor leaguer Rafael Lopez in the first game, stealing four bases in four attempts. Jacoby Ellsbury, Starlin Castro, Aaron Hicks, and Didi Gregorius were the culprits.
Masahiro Tanaka had his best start of the season in that game, pitching to the following line: 7 IP, 3 H, 0 R, 0 BB, 15 K. And 13 of those strikeouts were of the swing-and-miss variety.
Aaron Judge hit one of his more impressive home runs of the season in game two, against Marcus Stroman. It clocked in at 118.3 MPH off the bat (the 12th hardest-hit ball of the year), and traveled 484 feet (the fourth-deepest home run). You can marvel at it here.
The Yankees dropped the third game 2-1, dropping their record in one-run games to 18-26 for the season.
Check out Katie's Yankeemetrics post for both a series and season recap.
Injury Report
Troy Tulowitzki is on the disabled list with bone spurs in his right foot, and isn't expected back until late April at the earliest. And, while he will start the final game of the series, it's worth noting that Marcus Stroman was held back by right shoulder inflammation in the beginning of Spring Training. The Blue Jays are otherwise healthy to start the season.
Their Story So Far
It's the first series of the season for any team, so there's no real story to be told. That being said, here are what a few projection systems see for the Blue Jays this year:
FanGraphs – 86-76
PECOTA – 83-79
FiveThirtyEight – 81-81
The Lineup We Might See
Manager John Gibbons has been bandying about the idea of shaking up the lineup depending upon who's on the mound. Curtis Granderson and Devon Travis have been splitting the leadoff duties, most notably, and the expectation right now is that the former will leadoff against righties, and the latter against lefties. Where Granderson will bat against lefties (if he's starting at all) is another question entirely. This is the lineup we'll probably see on Opening Day:
Curtis Granderson, LF
Devon Travis, 2B
Josh Donaldson, 3B
Justin Smoak, 1B
Russell Martin, C
Kendrys Morales, DH
Randal Grichuk, RF
Kevin Pillar, CF
Aledmys Diaz, SS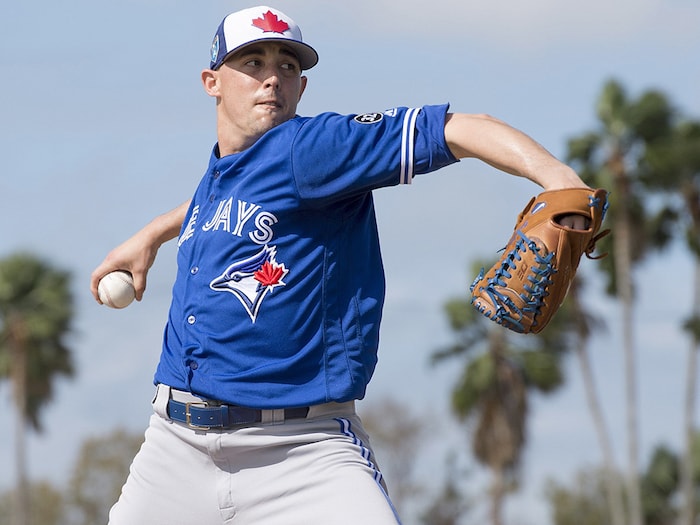 The Starting Pitchers We Will See
Thursday (3:37 PM EST): RHP Luis Severino vs. LHP J.A. Happ
Happ proved that his surprisingly stout 2016 wasn't a fluke by delivering another strong campaign in 2017, and even improving by some measures. His strikeout percentage (+2.2 percentage points), walk rate (-0.1 percentage points), and groundball rate (+4.4 percentage points) all improved, and his FIP dropped from 3.96 to 3.76 as a result. He did give up a few more runs, leading to an increased ERA – but that was almost entirely a product of the increased run environment, as his ERA+ only dropped from 134 to 130. Happ missed about six weeks (from mid-April to late-May) with elbow inflammation last season, though, and he'll spend most of this season at 35-years-old.
The southpaw is a five-pitch guy, with a low-90s four-seamer, a low-90s sinker, a mid-80s change-up, a mid-80s slider, and a high-70s curveball. The fastball and sinker are his bread and butter, and, when it's on, his curveball is a swing-and-miss pitch.
Friday (7:07 PM EST): RHP Masahiro Tanaka vs. RHP Aaron Sanchez
Sanchez led the American League in ERA in 2016, and followed that up with a blister-ridden, all but lost 2017 season. He made just 8 starts last year, tossing 36 IP with poor peripherals, and he bounced between the rotation and the disabled list until late-August, when he was finally shut down for good. Sanchez looked like an ace in 2016, and he's still only 25, so he could be a real difference-maker for the Blue Jays this year. You can bet that they'll pay close attention to his fingers throughout the season, regardless of how well he performs.
Sanchez has premium stuff, with a mid-90s four-seamer, a mid-90s sinker, and a big-breaking curveball, but he's more of a groundball pitcher than the strikeout artist that you'd expect from that profile.
Saturday (4:07 PM EST): LHP CC Sabathia vs. RHP Marco Estrada
For two years Estrada baffled opposing teams despite (or by) almost exclusively throwing an 89 MPH fastball and a 78 MPH change-up, and it was annoying to everyone that wasn't a fan of the Blue Jays. That changed in 2017, though, as he posted a 4.98 ERA (92 ERA+) in 186.0 IP, largely due to balls flying out of the park. Estrada was never a groundball pitcher, but he posted a career-low 30.3% groundball rate last year, which resulted in 31 longballs despite a better-than-average 11.2% home run per flyball rate. Grounders are good, flyballs are bad – and that was especially true last year. 2015 and 2016 were the best seasons of his career, and Estrada will be 34 for most of this season, so it'll be interesting to see if this is the beginning of the end.
Estrada plies his craft with a fastball in the high-80s to low-90s, a change-up in the upper-70s, and a cutter and a curve that he uses sparingly.
Sunday (1:07 PM EST): RHP Sonny Gray vs. RHP Marcus Stroman
The 26-year-old Stroman was excellent last year, leading all starting pitchers in groundball percentage (62.1%), and finishing 8th in the majors in bWAR (5.7) and tied for 9th in ERA+ (149). He doesn't strike out a ton of batters, with his 19.7% strikeout rate checking in at nearly two percentage points below league-average, but he limits walks and keeps the ball on the ground, so he can thrive with even a modest of whiffs. The Yankees lit him up last year, though, scoring 14 runs in just 23.2 innings.
Stroman is extremely reliant on his low-to-mid 90s sinker and mid-80s slider, so much so that those pitches often constitute 80% of his selection in a given game. He also dabbles in a mid-90s four-seamer, a low-80s change-up, and a low-80s curve, but there are games when he'll throw one or two of each and be done with them.
The Bullpen
The 23-year-old Roberto Osuna is entering his fourth season as the Blue Jays closer, and he's a darn good one. His ERA wasn't as sparkly as it had been in years past, checking in at 3.38 (137 ERA+), but he posted career-bests in strikeouts (33.3%), walks (3.6%), grounders (48.0%), and FIP (1.74), and he's one of the few relievers with four distinct pitches (four-seamer, sinker, cutter, slider). The Blue Jays have leaned on him heavily through three seasons, and his struggles mostly came after the break last year, so that does bear watching.
There isn't a lot of name value beyond Osuna, but the Blue Jays have depth with Ryan Tepera and Danny Barnes in high-leverage roles, Aaron Loup in the middle innings, and free agent addition Seung-Hwan Oh, who has a fairly strong resume. They also some free agent fliers on Tyler Clippard, John Axford, and Craig Breslow.
Yankees Connection
There are a lot of former Yankees in Toronto, including:
Russell Martin
Curtis Granderson
Jaime Garcia
Tyler Clippard
Yangervis Solarte
Danny Espinosa (this might be pushing it)
John Axford (this is definitely pushing it – he was in the Yankees farm system in 2007)
Who (Or What) to Watch
I'm intrigued to see how Aaron Sanchez looks this year, as he was the guy that was being hailed as a future ace this time last year … and it wasn't too much of a stretch, either. I'd also enjoy seeing Tyler Clippard give up some home runs for old time's sake.