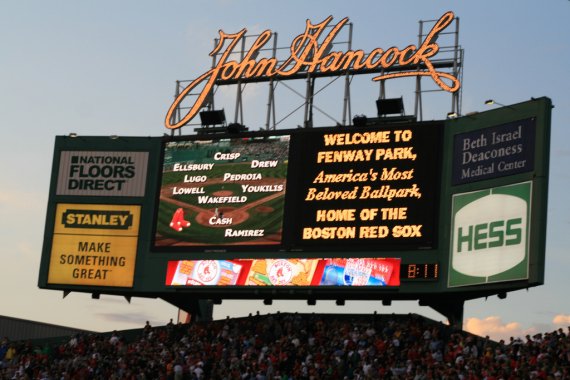 For the second time in three years, the Red Sox have dominated the Yankees in the first half. In 2009 it was 8-0, but this year the Yankees managed to squeak out a win in the first half, going 1-8 against their closest rivals. Last time around the Yankees closed the gap and finished 9-9 against the Sox. They have nine second half games to turn it around again, and it starts with three at Fenway Park this weekend.
What Have the Red Sox Done Lately?
The Red Sox, as anyone who pays attention to Bob Lorenz's in-game updates knows, just split a four-game series with Cleveland. Before that they took two of three from the White Sox and Royals, leaving them 6-4 in their last ten. It's hardly a poor mark; only nine teams are at that or better in their last 10. But the Yankees are 8-2 in that span, and have caught the Red Sox in the AL East race. That's always interesting, because it means one team will leave the series on top. There will be no ties.
Red Sox on Offense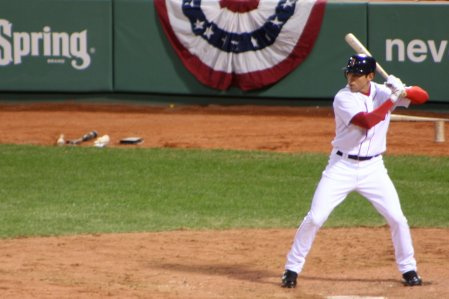 As a team the Red Sox lead the AL in basically every offensive category: BA, OBP, SLG, OPS, wOBA, etc. The Yankees are close behind, but Boston has held the edge since mid- to late-May, and has run with it. Only lately have the Yankees started to make up ground, as their recent play against the White Sox leaves them just eight runs behind the Sox for most in the majors.
There are 19 major leaguers with a wRC+ of 145 or better, and four of them are Red Sox: Adrian Gonzalez, Dustin Pedroia, Jacoby Ellsbury, and David Ortiz. Ellsbury is the big surprise there, returning from an injury riddled 2009 to produce numbers the likes of which no one thought him capable. His 18 home runs is just two shy of his entire career combined, his OBP is at its highest level by about 20 points, and he's still stealing bases along the way. A lot of this is BABIP fueled: his .344 mark is about 20 points higher than his career average. But if you watch him play, it makes sense. The dude is hitting everything on a line.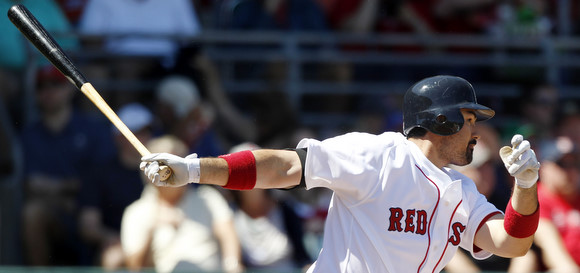 The media has recently brought up the notion of Adrian Gonzalez for MVP. That works, if your definition of MVP is, best player on a contending team. That's not to take away from the season Gonzalez has produced. He's created more runs than any player in the league — except Jose Bautista, of course, and he's far enough ahead that it's tough to not consider him the MVP. In any case, Gonzalez has been a dominant force in the middle of the Sox order, dismantling pitchers and spurring scoring frenzies. No doubt you'll hear that one of the "keys" for the Yankees is to neutralize Gonzalez. Yep. Key to the game: don't let the other team hit. Got it.
After a somewhat slow start, Pedroia has vaulted himself to the top of almost every offensive number among second basemen. The conversion really happened after April, and in 384 PA since then he's hit .331/.418/.526. He's also currently on not only a five-game hit streak, but a five-game multi-hit streak. It's been that kinda season for Pedroia, who, after fading a bit in the second baseman conversation after an injury plagued 2010, has regained his throne in his return.
The problem with the Sox offense for the Yankees, as it has been for so many years, is that it shows few weaknesses. The above guys are just a small listing of the guys who can do some damage. There's obviously Ortiz, who has put together a monster contract year. But there's also Jarrod Saltalamacchia, who is hitting .300/.366/.558 since June 1, Carl Crawford, who can still be a pest, Josh Reddick, a rookie on a hot streak, and of course Kevin Youkilis. As with the Yankees lineup, there is no break for the pitcher.
Red Sox on the Mound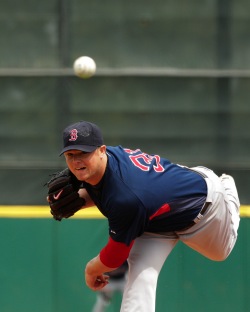 Friday: LHP Jon Lester. After years of failing against him, the Yankees have finally broken through against Lester this season — relatively, at least. They've faced him twice, scoring seven times in 12 innings while picking up 13 hits. Before that he pretty well dominated them, especially in 2010, when he held them to six runs in 25.1 innings. After a quick trip to the disabled list he's been back to his old self, allowing just three runs in 13.1 innings. Last time out was particularly good, as he struck out eight while allowing two runs in eight innings. Then again, that was against the White Sox, and we all saw this week how they hit. But don't let that undersell you on Lester. He's still one of the best in the game, and he always seems to bring his best when facing the Yankees.
Saturday: RHP John Lackey. Last year began poorly for Lackey, but it got somewhat better as the year progressed. After the All-Star break he had a 3.97 ERA (3.17 FIP) in 15 starts, after having a 4.78 ERA in 18 first-half starts. This year he started off poorly, allowing 15 runs in his first two starts. Things got something better, but they've gone up and down since then. He's even spent some time on the DL with elbow issues. In his last two starts, against Kansas City and Cleveland, he's allowed nine runs in 12.1 innings, raising his season ERA to 6.23. His peripherals look pretty bad, too, as he has a 4.72 FIP, 4.21 SIERA, and 4.51 xFIP to go along with the inflated ERA.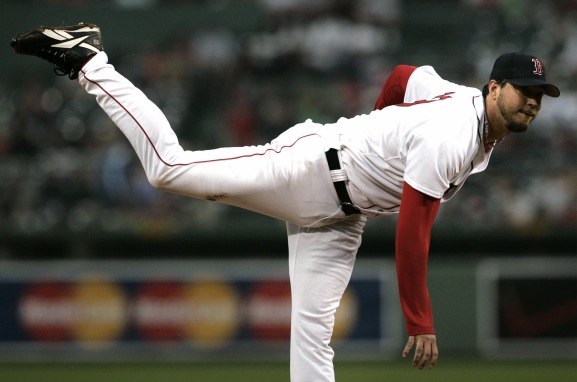 Sunday: RHP Josh Beckett. There was a time, as recently as last year, when the Yankees simply killed Beckett. Sure, he'd have a dominant start against them here and there, but for the most part the Yanks had as much success against him as they have any other ace-type pitcher. This year, however, he has been nothing but dominant against the Yankees, facing them three times and allowing just two runs in 21 innings, including two starts where he allowed no runs. He's kept up that dominance, too, allowing zero or one run in a start 11 times out of 21 starts. His 2.20 ERA is behind only Jered Weaver in the AL, though his 3.23 FIP and 3.57 xFIP place him a degree lower.
Bullpen: The Red Sox bullpen ranks fifth in the AL with a 3.53 ERA, though they're second with a 3.39 FIP. (The Yankees lead in both categories.) Jonathan Papelbon has had a quality bounce-back year, and his peripherals are much stronger than his results. Daniel Bard enjoys another dominant year in set-up, while the Sox have also gotten quality performances out of Matt Albers. The rest have stumbled, to some degree or another, but still represent one of the stronger bullpens in the league.
Recommended Red Sox Reading: Over The Monster.