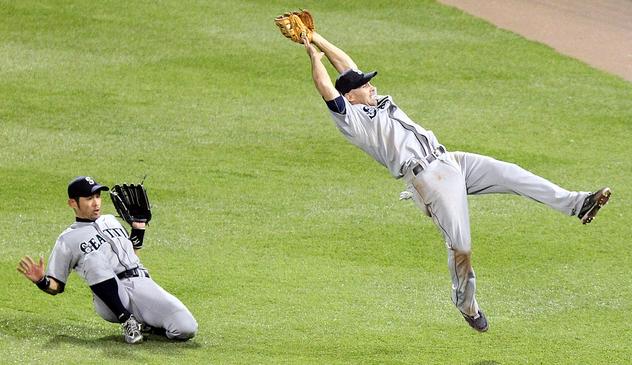 This one has trap series written all over it folks, and I'll explain why in a second. The Yankees and Mariners have met once before this season, in Seattle back at the end of May. The Yankees lost two of three but had leads in all three games, they just couldn't close things out.
What Have The Mariners Done Lately?
Losing. Lots and lots of losing. As in a franchise-record 15 losses in a row. Seriously. The Mariners haven't won a game since July 5th, when they beat the Athletics 4-2. They've been outscored 87-40 during the losing streak, and eight of those 40 runs came yesterday. All told, the Mariners are 43-58 with a -50 run differential, the third worst record and run differential in the AL. It seems inevitable that they'll end that ugly losing streak in the Bronx, if not win the series.
Mariners On Offense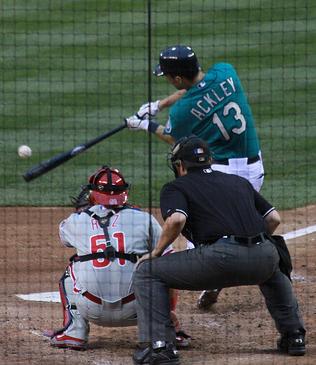 Seattle scored just 513 runs last season, the worst run production in the DH era. They're on pace for 533 this season, so I guess that's improvement. For comparison's sake, the Yankees have already scored 513 runs on the season. Think about that. The Mariners are hitting .226/.289/.334 with a .279 wOBA as a team, MLB worsts in everything but SLG. They're one point ahead of the Padres in that department.
It all starts at the top, where Ichiro Suzuki is going through the same kind of painful-to-watch age-related decline as Derek Jeter. He went 2-for-5 yesterday and that raised his season line to .268/.315/.318. Brutal. Brendan Ryan was a pain the last two times these two clubs met, and he's hitting .264/.324/.342 as the regular two-hitter. He did go 2-for-4 yesterday and is on a nice little .305/.362/.436 tear over the last 30 days though. Dustin Ackley was called up a little more than a month ago and has already emerged as the team's best hitter. He's up to .297/.347/.505 on the season following yesterday's 2-for-5. Everything kinda goes downhill from there.
When these two clubs met in May, Justin Smoak was at .263/.365/.461 on the season and making the Mariners looking very smart for taking him over Jesus Montero last July. He's hitting just .190/.278/.341 since then, and we're talking about 205 plate appearances. That's dragged Smoak's season line down to .244/.319/.396. Miguel Olivo has been hitting cleanup with his .223/.260/.395 batting line, and both Adam Kennedy (.251/.297/.382) and Jack Cust (.214/.347/.332) are getting regular at-bats. Franklin Gutierrez catches everything hit in the air and between the lines, but he's all the way down to .192/.230/.231. Mike Carp (.263/.344/.439 in limited action) is now the regular left fielder, but it's just 64 PA. That's their regular lineup, though Chone Figgins (.182/.236/.240), Greg Halman (.256/.284/.385), Jack Wilson (.229/.259/.252), and Josh Bard (.222/.243/.417) almost might make appearances. It's an ugly offense, as ugly as it gets.
Mariners On The Mound
Monday, LHP Jason Vargas (vs. Freddy Garcia): The Yankees tagged Vargas for six runs in three innings back in May, and he's coming off back-to-back five-run outings. His 3.94 ERA lines right up with his 3.96 FIP, and his peripheral stats aren't anything to write home about: 5.80 K/9, 2.35 uIBB/9, and 37.3% grounders. Vargas throws four pitches regularly but will mix in two others; his high-80's four and two-seamers set up his low-80's changeup, and he'll also throw some mid-80's cutters. Every once in a while you'll see a curveball or slider. He doesn't have much of a platoon split because of the changeup, but Vargas is a fly ball pitcher that doesn't miss bats. Handedness shouldn't matter much.
Tuesday, RHP Doug Fister (vs. CC Sabathia): The Yankees drafted Fister once upon a time, back in the sixth round of 2005. He didn't sign and went back to Fresno State for another year, then the Mariners grabbed him in the seventh round of the 2006 draft. Fister has developed into a very nice starting pitcher in his second full-season, backing up his 3.30 ERA with a 3.19 FIP. His strikeout rate sucks (5.44 K/9), but he's even stingier with the walks than Vargas (1.88 uIBB/9) and does a much better job of keeping the ball on the ground (45.5%). He gets good downhill plane from his 6-foot-8 frame and pounds the zone with his high-80's four and two-seamers. A mid-70's curveball and a mid-80s slider are his go-to secondary offerings, but we'll also see a low-80's change on occasion. The Yankees have not faced Fister this season or last, so the only experience they have against him is a pair of starts in 2009 (7 IP, 3 R and 4 IP, 6 R).
Wednesday, RHP Felix Hernandez (vs. Phil Hughes): Long live the king. Felix won the Cy Young Award with a 3.04 FIP and a 3.14 xFIP last season, and this year he's at 3.11 and 3.11, respectively. Don't be fooled by the 3.47 ERA, blame that on a low (for him) 72.0% strand rate. It had been north of 76% in the past. His .299 BABIP is also his highest in three years. Hernandez's peripherals are still as good as it gets (8.43 K/9, 2.73 uIBB/9, 48.9% grounders), and his stuff is world class: mid-90's with both the four and two-seamers, a high-80's changeup, a mid-80's slider, and a low-80's curve. There are few better than Felix, who has made a habit of wrecking the Yankees in recent years. Yeah, they got to him for four runs in seven innings earlier this year, but that was a minor miracle. When it comes to pitchers of this caliber, history doesn't matter.
Bullpen: The Red Sox did the Yankees a favor by taxing Seattle's bullpen yesterday, forcing four relievers to throw 72 pitches across 3.2 IP. One of those four relievers was lefty Aaron Laffey (4.65 FIP), who recorded zero outs but gave up four hits and three runs on a dozen pitches. He also threw 18 pitches on Saturday, so he might not be an option tonight. He's their only lefty in the 'pen.
Closer Brandon League (2.69 FIP) threw 18 pitches, but he was just getting work in the blowout. Sometimes setup guy Jamey Wright (4.76 FIP) threw 28 pitches, and garbage time reliever Josh Lueke (4.54 FIP in limiting time) threw 14 pitches. David Pauley (3.36) is the Mariners' relief ace, and you've also got some guy named Jeff Gray (3.42 FIP) and Yankees' punching bag Chris Ray (3.54 FIP). They typically get the job done, though most of these guys are no names.
Recommended Mariners Reading: U.S.S. Mariner and Lookout Landing. Remember that RAB Tickets can get you to any of the three games for cheap.