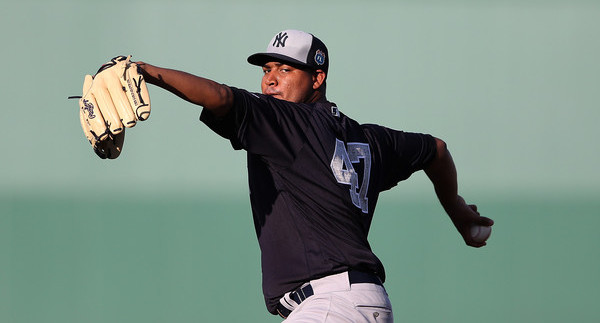 The fifth starter competition continues this afternoon, assuming there actually is a fifth starter competition. Ivan Nova is making his fourth Grapefruit League start, and he is likely scheduled for something like five innings or 75 pitches today. Ivan has pitched well this spring and that's pretty much all he can do if he wants to force the Yankees to make a tough decision. I have a hard time believing they'd go with Nova over CC Sabathia, but we'll see.
The Yankees are on the road in Fort Myers to play the Twins this afternoon. It's a two-hour ride, so most of the regulars are back at home in Tampa. Here is the Twins' lineup — former Yankee/serial killer John Ryan Murphy is starting and batting eighth — and here is the Yankees' lineup:
CF Aaron Hicks
DH Chris Denorfia
SS Pete Kozma
RF Ben Gamel
RHP Ivan Nova
Available Pitchers: RHP Bryan Mitchell is scheduled to follow Nova, according to Fred Kerber and George King. He and Nova might be the only pitchers used today since they're both pretty stretched out. RHP Anthony Swarzak is on the trip as well, says Rhett Bollinger.
Available Position Players: Bollinger says Chris Parmelee and Deibinson Romero made the trip as well. Not sure who else is there.
It is pretty cloudy in Fort Myers and there's some rain in the forecast this afternoon, though not a ton. Today's game will begin at 1:05pm ET and there is no YES or MLB Network broadcast. If you're in the Twins' home market, you can watch on FOX Sports North. Otherwise MLB.tv is your only option. Enjoy the game, folks.