The trade deadline is just about 24 hours away now. We've got a lot in the hopper for tomorrow between deadline stuff and Yankeemetrics and series previews and whatnot, so the options were post the mailbag a day early or not at all this week. I went with the former. Here's a trade deadline focused six-question mailbag.
Dan asks: What do you think about the Yanks getting Jose Reyes to play 2nd? Yes, he's having a down year, but he'd be a large upgrade over Stephen Drew. 2nd requires less range that SS, so his defense could rebound (after the early hiccups with him learning a new position). It's a lot of money, but he's only signed for 2 more years — his contract comes off the books the same time as A-Rod's and CC Sabathia's.
I fully expect the Rockies to flip Reyes at some point, either at the trade deadline or in the offseason. Keeping him doesn't make a whole lot of sense. Reyes is hitting .285/.325/.385 (95 wRC+) this year after hitting .287/.328/.398 (105 wRC+) last year, and his speed is nowhere near what it once was. He's stolen 17 bases this year and has zero triples. That's not surprising though — Reyes is 32 and he's had a ton of leg injuries over the years. The speed wasn't going to stay forever. There are two years and $48M left on his contract after the season, so he's very expensive, especially for a guy who is probably hitting eighth or ninth in the Yankees' lineup. Reyes has experience playing second base — the Mets moved him to second in deference to Kaz Matsui back in the day, if you can believe that — but he hasn't played there since 2004. A move back might not be so smooth. I think this is one to avoid. Peak Reyes was the most exciting player in MLB, but right now you're buying nothing but downside.
Brian asks: Any interest in Yasiel Puig and what would be needed to get it done?
Yes! Bring me Puig. The guy is 24, he's hitting .254/.326/.433 (114 wRC+) during his "down" year, and is owed just $24.6M through 2018. We're all hoping Aaron Judge one day turns into Puig. That said, there are legitimate makeup and clubhouse concerns with Puig (read this), and the Yankees usually stay away from those players. The Dodgers were reportedly listening to offers for Puig, though I'm not sure that means much. Every team listens to offers for every player. Jon Heyman says the Dodgers told Puig they aren't trading him, for what it's worth. Based purely on his talent, production, and contract, Puig is an "empty the system" guy. Multiple top prospects would have have to be involved. He's a star whose value transcends on-field production — Puig puts butts in the seats and sells merchandise. You can't take your eyes off the guy.
Zac asks: Is Alex Guerrero a realistic trade target for the Yankees? He offers the similar IF/OF versatility to Ben Zobrist and has shown some power, and doesn't have a position in LA.
Guerrero is a realistic target in the sense that he is available, but he's not very good at all. He smashed a bunch of homers in April and has been a total zero since, hitting .206/.232/.368 (65 wRC+) since the calendar flipped to May. Guerrero has played third base and left field this year but is really a DH because he's an awful defender. He's versatile in that he can stand at different positions, but he's a liability in the field. There are two years and $10M left on Guerrero's contract after the season and he can actually opt-out of the deal if traded, but would he top that on the open market? I doubt it. Unless you believe in the bat long-term, I don't see much appeal here at all. How does Guerrero help the Yankees? "He's not Brendan Ryan or Stephen Drew" isn't a good answer.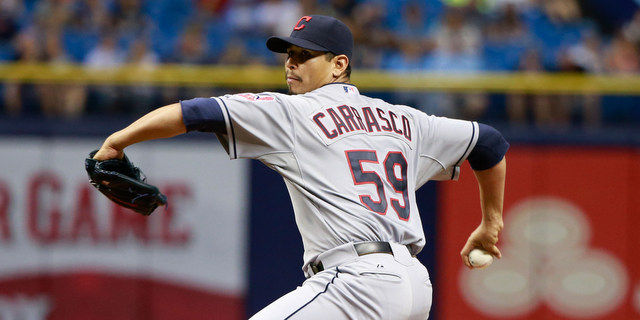 Dustin asks: Indians are apparently willing to part with Carlos Carrasco. I know the Yankees are suppose to be targeting rentals, but isn't he someone they should be in on. What would it take to get him?
Yes, they should be in on Carrasco if he is indeed available. (From the sound of it, the Indians floated his name to gauge his value, but would need to be blown away to move him.) The 28-year-old has a 3.17 ERA (2.47 FIP) with incredible strikeout (28.3%), walk (5.0%), and ground ball (49.6%) rates in 187.1 innings since moving into the rotation last year, and he's signed dirt cheap ($19M from 2016-18 with options for 2019 and 2020). The track record is on the short side, yeah, but Carrasco has been dominant since moving into the rotation and he's incredibly affordable. It would take a massive haul to get him. I'm thinking at least two top prospects plus two or three other pieces, some of which have to be MLB ready. If I'm the Indians, I want Judge and Luis Severino in the package. If the Yankees say no, big deal, I'll hang on to my prime-age cost-controlled low-level ace.
Albert: Would you trade Rob Refsnyder and Gary Sanchez for a guy like Dee Gordon?
In a vacuum, yes, that trade seems fair to me. (Which, of course, means it favors the Yankees and the Marlins wouldn't do it.) Gordon just came back from his dislocated thumb and he's hitting .307/.338/.392 (106 wRC+) in over 1,000 plate appearances since the start of last year. He's good now. He runs a high BABIP (.367 since 2014) because he puts the ball in play (16.4 K%) and is fast as hell. Gordon has also developed into an above-average defensive second baseman after making the transition from shortstop. He's under team control as an arbitration-eligible player through 2018 — his arbitration salaries will be on the high side because stolen bases pay — and is solidly a 3-4 WAR player at this point of his career. Gordon would be a wonderful pickup even if he only bats ninth and serves as a "second" leadoff man. I don't think the Marlins will make him available though. He's a building block going forward.
Chris asks: Do you think Andrew Cashner is a fit? If so, what do you think it would take to get him if the Padres are in true sell mode?
I do think he's a fit in the sense Cashner is a pitcher and the Yankees could really use one. I don't think he's a difference-maker like David Price or Cole Hamels — few are, of course — but he's a quality arm who'd boost the rotation. Cashner has some Edwin Jackson in him, meaning he has tremendous stuff but not the results to match, and everyone seems to think they can be the team to unlock his potential. Nathan Eovaldi fits in that group as well, though Cashner is three years older and has a much scarier injury history. As I wrote in our Scouting The Market post, two organizational top ten prospects — guys more in the 6-10 range than the 1-5 range — seems like the potential asking price for Cashner based on similar trades.