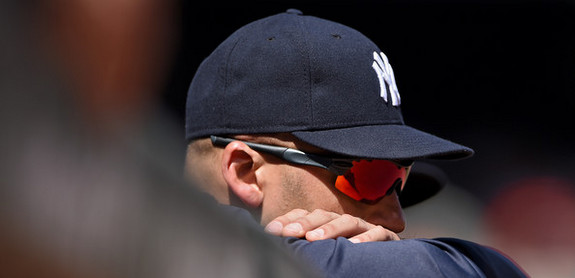 Following yesterday's doubleheader sweep (the bad kind), the Yankees are 75-71 and have scored 572 runs (3.92 per game) this season. They were 78-68 with 606 runs scored (4.15 per game) last season through 146 games. The Yankees need to go 10-6 and score 78 runs (4.88 per game) the rest of the way to match last year's total. Can they do that? I don't see it based on way they've played all year, but hey, I'm open to being surprised. The push to be only as bad as last season begins this afternoon. Here is the Orioles lineup and here is the Yankees lineup:
Now, the bad news: it's raining in Baltimore and has been all morning. It's supposed to clear up in the afternoon but it there is a good chance the game will begin in a delay. Hopefully not a long one. First pitch is scheduled for 1:05pm ET at the moment and you can watch on FOX. Not FOX Sports 1, regularly old FOX. Enjoy the game, whenever they play.
Update (1:07pm): The game is currently in a delay. The tentative start time is 1:40pm ET.