Archive for Mailbag
Got eight questions for you in this week's mailbag. The best way to send us anything is through the Submit A Tip box in the sidebar. We get a lot of questions each week, so don't take it personally if we don't get to yours. Also, I should probably mention that I tend to write these things on Thursday afternoon, so send in your questions before then if you want them answered that week.
Adam asks: You will probably hear this a lot this week, but reports say the Nationals are concerned with Desmond balking at a contract extension and that could force them into making a deal for a young shortstop. Is it possible for the Yankees to somehow be a third wheel in a three-team trade this off season for Desmond?
I don't know if it's possible but the Yankees should definitely explore it. Desmond will become a free agent after next season and he recently rejected a seven-year extension worth upwards of $98M according to Ken Rosenthal. The 28-year-old is hitting .241/.293/.429 (101 wRC+) with 16 homers and nine steals this year after putting up a .286/.333/.480 (122 wRC+) batting line with 45 homers and 42 steals from 2012-13. He's also graded out as a very good defensive shortstop. The Nationals are clearly a win now team, so I doubt they'd trade Desmond for prospects. A three-team deal in which the Yankees get Desmond, the Nationals get the young shortstop Rosenthal says they're seeking, and the third team gets prospects from New York makes sense, especially if the Yankees can convince him to sign an extension. We are talking about a two-way shortstop right smack in the prime of his career, after all.
Many asked: Can the Yankees still trade next year's international spending pool money? Can they ignore the rules and sign prospects for more than $300k in the next two signing periods? What are the attrition rates for international prospects? Can the Yankees add another minor league team to give these guys a place to play?
(We got a bunch of questions following the team's international spending spree, so I shortened them all up and lumped them together.)
Yes, the Yankees can still trade their international bonus slots next year despite this year's spending spree. They will receive a full spending pool next year, they just won't be able to hand out a bonus more than $300k. They also won't be able to say screw it and sign a player for more than that amount. The rules are the rules and I assume MLB would void the contract(s) in that case. The Yankees could always work out some under-the-table deals, of course. That happens all the time in Latin America.
The attrition rate question is a good one and I have never seen exact numbers or rates for kids that far down the ladder, but it's obviously going to be fairly high. The attrition rate only gets higher and higher the further away you get from the MLB level — approximately 25% of high school draft prospects get to MLB in general, not necessarily make an impact — and we're talking about 16-year-old kids here. The Yankees signed eight of Baseball America's top 20 international prospects. If they hit on two, I'd be pretty happy. Hit on three and I'd be thrilled. If you want to $/WAR it, then remember that by time these kids have an impact in the big leagues, teams will be paying like $9-10M per win. The Yankees spent around $30M on international free agents last week.
As for adding another minor league team, it's possible but not that easy. Minor league affiliations are a zero-sum game — there are only so many affiliates to go around in each league. The Yankees were able to add a second rookie Gulf Coast League affiliate last summer because the Mets shut down their GCL affiliate in a cost-cutting move (lol) and a spot opened up. Adding another affiliate is a very tough thing to do because you have to wait for another team to drop one of their affiliates, which rarely happens these days. Between the two Dominican Summer League teams and two GCL teams, the Yankees have four low level affiliates to sort these kids out. It'll get tricky after that, but it's a good problem to have.
Charlie asks: With all the chatter about Masahiro Tanaka's injury being the result of the transition to a five-day rotation, I'm wondering if Dice-K or Yu Darvish had an injury similar to Tanaka's in their first MLB season?
Darvish has not had any arm problems during his three years in the show. He missed a start with a blister last season and another start with a cut on his thumb this year, but that's nothing. Those weren't structural arm injuries. (Darvish has had some back and neck problems over the last year.) Daisuke Matsuzaka missed a month in 2008 (his second MLB season) with a shoulder strain and four months with shoulder issues in 2009. He eventually blew out his elbow and had Tommy John surgery in 2011, his fifth season with the Red Sox. Neither had arm problems in their first MLB season like Tanaka, however.
Gregg asks: Do the Yankees have the option to dip below the luxury tax threshold in the 2015 season? If so, what moves would they need to make to do potentially do so?
The luxury tax threshold for next season is again $189M, and, according to Cot's, the Yankees currently have approximately $166.8M on the books for the luxury tax next year. That doesn't include arbitration raises or replacing the guys who could leave as free agents. Unless Alex Rodriguez gets suspended again or the Yankees find a way to unload the Jacoby Ellsbury, Brian McCann, and/or Carlos Beltran contracts, it'll be close to impossible to get under the $189M threshold next year. As soon as they went on that spending spree over the winter, it all but eliminated any chance of getting under the luxury tax threshold before the current Collective Bargaining Agreement expires following the 2016 season.
Ghost of Horace Clarke asks: Many of all time Yankee records are mentioned for Derek Jeter. What about double plays, on both sides of the ball?
Jeter is, unsurprisingly, the franchise's all-time leader in ground ball double plays at 281. Bernie Williams is a distance second with 223. The Cap'n is 15th on the all-time GIDP list, right behind Joe Torre (284) and Albert Pujols (283). Defensively, Jeter ranks first in Yankees history and sixth all-time among shortstops in double plays turned at 1,395. Omar Vizquel (1,734), Ozzie Smith (1,590), Cal Ripken Jr. (1,565), Luis Aparicio (1,553), and Luke Appling (1,424) are the only guys ahead of him.
Luke asks: I was reading Chad Jennings' blog and he'd mentioned that Jeter was elected to the All-Star Game not only by fans, but by players as well (344 votes to Alexei Ramirez's 313). I haven't seen them publicized – are these player vote totals available somewhere for the public? I can't stand fan voting – every year fans ruin it, this year most notably Orioles and Brewers fans – and I'm wondering simply because I'm interested to see how closely the player votes match the fan votes.
I have not seen the full player votes released anywhere. Jennings mentioned Jeter led at shortstop and Jeff Passan says Tanaka received the most player votes among AL starting pitchers, but that's all I can find. Dellin Betances was voted in by the players as well, and since there were only four relievers on the initial roster, we know he received no fewer the fourth most player votes among AL relievers. Glen Perkins, Greg Holland, and Sean Doolittle were the other bullpeners on the initial AL roster. Pretty cool that Tanaka and Betances were voted into the game by their peers, no?
Mickey asks: Do you think Ichiro hits a homerun this year? I keep waiting for him to take advantage of the short porch but he seems more BA focused than trying to drive the ball.  
Yeah, I think he'll hit one out eventually. Just about everyone hits a cheapie over the short porch at some point during the season and I don't think Ichiro will be any different. If you're looking for a good laugh, here is Ichiro's spray chart for the season, courtesy of Texas Leaguers (doesn't include last night's game):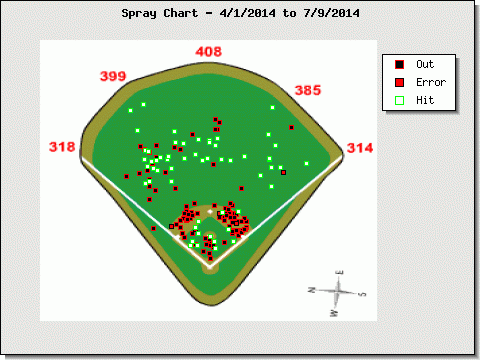 There is no reason for outfielders to play anything but shallow against Ichiro.
Danny asks: In hypothetical world because Jeter; Teams don't shift Brian McCann when runners are on base, wouldn't Joe Girardi want to bat him second behind a guy like Brett Gardner so he won't have some singles taken away?
That does make sense. The best possible spot for him seems like it would be behind both Gardner and Ellsbury, the team's two best on-base threats. The odds would be pretty high that at least one of those two would be on base for McCann, opening up the field a little bit more. Remember, opposing teams will have to guard against the stolen base, so they can't let the infielders wander too far away from second. McCann has made an effort to go the other way more often this year — he already has 18 opposite field hits in 2014, one fewer than last year and more than both 2011 (14) and 2012 (15) — but it's clear he is at his best when he pulls the ball.