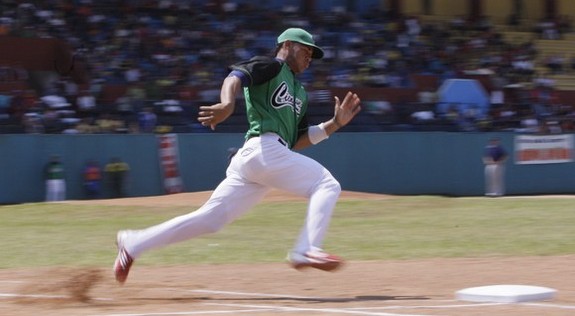 According to Jesse Sanchez, 19-year-old Cuban infielder Yoan Moncada has established residency in Guatemala and has a showcase for MLB teams tentatively scheduled for next Wednesday. He must still be unblocked by the Office of Foreign Assets Control and declared a free agent by MLB before he can sign. That is still a few weeks away at this point.
Moncada doesn't have a crazy defection story — Sanchez says he was granted his release from his team in Cuba, and the government gave him a visa and a passport so he can go to Central America. I don't think I've ever heard that one before. Sanchez adds that the Yankees and all 29 other teams are expected to be at Moncada's showcase because, unlike recent defectors Jose Fernandez and Andy Ibanez, he's considered a potential star. Here's some more from  Sanchez:
Scouts have called Moncada the next Jorge Soler and his skills have been matched up against Yasiel Puig's at the same age. He once beat new Red Sox outfielder Rusney Castillo in a base running competition during the Serie Nacional all-star festivities in Cuba and his power has been compared to Cuban slugger Yasmany Tomas.

Moncada, who also plays shortstop and third base, starred for Cuba's top team of 15- and 16-year-olds and made a name for himself at the U-16 IBAF World Baseball Championships in Mexico.
Back in August, Ben Badler said "there's no player in Cuba with Moncada's combination of youth, tools and hitting ability." He hit .273/.365/.406 in 195 plate appearances in the Cuban league as an 18-year-old this past season after hitting .283/.414/.348 in 172 plate appearances as a 17-year-old last year. Moncada also tore up international tournaments these last few summers as well.
Because of his age and limited experience in Cuba, Moncada is subject to MLB's international spending restrictions. That's actually a good thing for the Yankees even though this summer's spending spree means they will be unable to sign a player for more than $300,000 during both the 2015-16 and 2016-17 signing periods. Since he has already established residency, Moncada will likely be a declared a free agent before the end of the 2014-15 signing period on June 15th. The Yankees are well over their 2014-15 spending pool and can offer Moncada whatever they want, as long as they're willing to pay the associated 100% tax.
Soler signed a nine-year contract worth $30M with the Cubs two years ago, though Moncada will likely sign for more due to inflation. (I'm not sure how the 100% tax works with multi-year contracts. It might only apply to the signing bonus.) I think any time a player this young is talked about as a future star — Keith Law also said he's heard raves about Moncada, so that's three sources hearing nothing but praise — the Yankees have to get involved, especially since the only cost is money. I can understand passing on 27-year-old Castillo or 24-year-old Tomas due to his swing-and-miss issues. But a 19-year-old potential star infielder? Moncada is the type of talent that is too rare to ignore.