By

Carlos Beltran has two small facial fractures after being hit by a ball that ricocheted off the cage during batting practice, Joe Girardi announced. They still need to make sure he did not suffer a concussion, but there's a chance he will avoid the disabled list. The All-Star break is only four games away, after all. This team, man. · (13) ·
2B Rob Refsnyder, OF Aaron Judge, and RHP Luis Severino all made Baseball America's All-Prospect Team for the month of June, which is pretty cool. Refsnyder was also listed as a non-top 50 prospect to watch by Baseball America.
Triple-A Scranton Game One (7-2 win over Charlotte in seven innings) makeup of yesterday's rainout
2B Jose Pirela: 2-4, 2 R, 1 RBI, 1 SB
RF Rob Refsnyder: 1-4 — during a recent radio interview, Brian Cashman said that if they call up Refsnyder this year, it will be to play right field than second base … don't like it at all, just let Zoilo Almonte play right and let Refsnyder continue to work on his defense at second
3B Yangervis Solarte: 3-4, 1 2B, 2 RBI
1B Kyle Roller: 0-4, 2 K
C Austin Romine: 2-3, 2 R
RHP Chris Leroux: 7 IP, 8 H, 2 R, 2 ER, 1 BB, 5 K, 6/2 GB/FB — 61 of 92 pitches were strikes (66%)
The Yankees were dealt a rather significant blow this afternoon when Masahiro Tanaka's barking elbow forced the team to place their ace on the 15-day DL. The All-Star break is next week, so the best case scenario means he will miss only two starts. Still, I'd rather not see him miss any.
Tanaka's injury comes a few days after the Yankees swung a deal for Brandon McCarthy, who will make his debut for the team tonight. I think he might be their ace right now. Boy things really fell apart in a hurry, huh? Hopefully McCarthy makes a strong first impression and the Yankees can get back in the win column following last night's loss. Here is the Indians lineup and here is the Yankees lineup:
It is cloudy and cool in Cleveland, but there is no rain in the forecast. Shouldn't be any trouble getting this game in. First pitch is scheduled for 7:05pm ET and can be seen on YES. Enjoy.
Injury Updates: Brett Gardner is day-to-day with a lower abdominal strain and is day-to-day. Tests confirmed it is not a hernia and he hopes to play tomorrow … Carlos Beltran was scratched from tonight's lineup after a ball ricocheted off the cage and hit him below the eye during the batting practice. I'm not joking.
Roster Updates: Almonte was called up to take Tanaka's spot on the roster … the Yankees have not yet announced who will start Sunday's game in Tanaka's place. I assume it depends on whether Chase Whitley is needed in relief these next few days.
5:01pm: The Yankees have placed Tanaka on the 15-day disabled list with elbow inflammation, Joe Girardi told reporters. He had the MRI earlier today but the team doctors have yet to review the results. "I'm not saying it's a significant injury, but there's soreness," said the manager. "It's not how you draw it up, but injuries are a part of the game."
3:28pm: Masahiro Tanaka has left the Yankees to travel to New York for an MRI on his right elbow, according to George King. Jon Heyman says Tanaka told the team he was dealing with some discomfort following last night's start, so hopefully this is nothing more than a precaution.
The Indians roughed Tanaka up for five runs on ten hits in 6.2 innings last night, though after the game he told reporters he "didn't feel that bad." Last time out the Twins got to him for four runs on nine hits in seven innings. That had been his worst start of the season up until that point. It's worth noting Tanaka's fastball velocity has wavered in his last few starts, but last night he actually had his highest average fastball velocity of the season at 92.46 mph.
Here's the obligatory velocity graph from Brooks Baseball: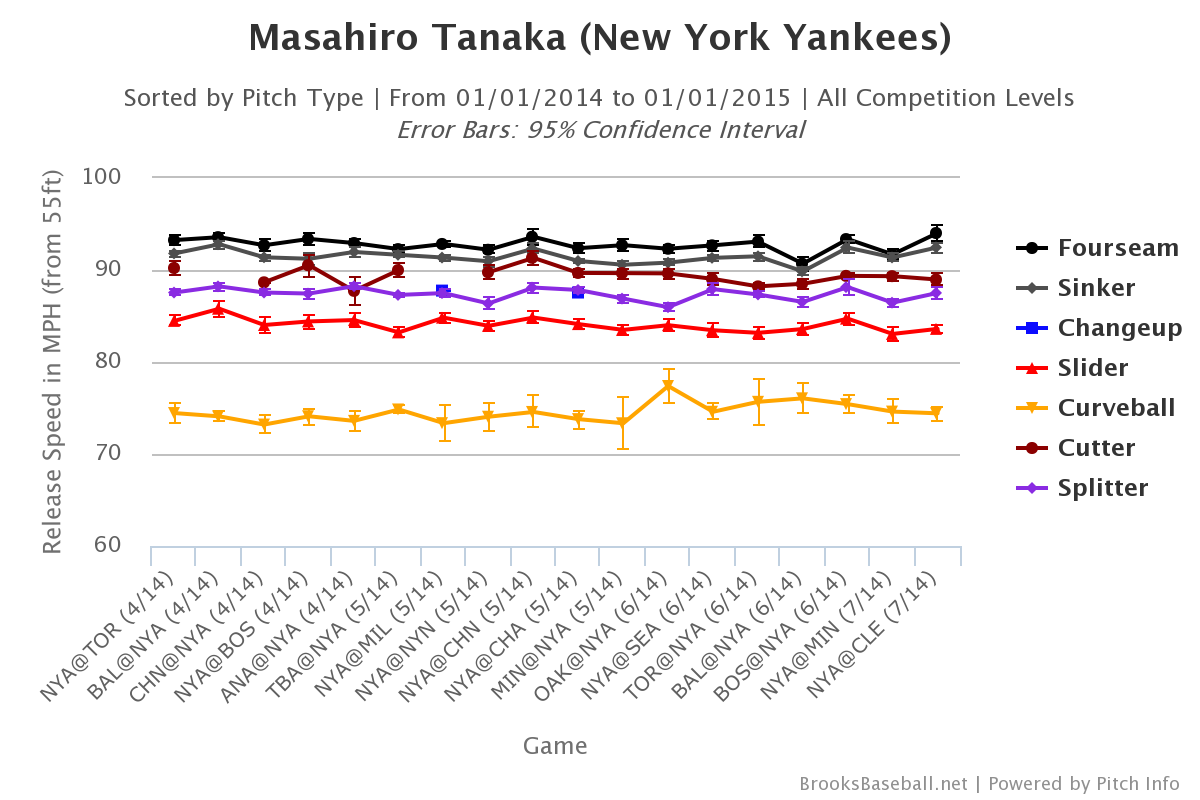 Tanaka has been relatively healthy throughout his career, though he did miss about a month with shoulder inflammation during the spring of 2012 while with the Rakuten Golden Eagles. His workload in Japan was a hot topic over the winter — Tanaka had thrown more than 1,300 innings before his 25th birthday, a number only Felix Hernandez has approached among MLB pitchers in recent years.
The Yankees have made sure to give Tanaka extra rest whenever possible this season — ten of his 18 starts this year have come with at least one extra day of rest — and only four times did he throw more than 110 pitches. They've been pretty careful with him as he transitioned from a seven-day schedule to a five-day schedule, no doubt about it.
Even if the MRI comes back perfectly clean, I would put money on Tanaka not making his scheduled start in Baltimore on Sunday. It's the final day of the first half and the Yankees have an opportunity to give him a nice extended rest during the All-Star break. No reason not to take advantage of it at this point. It goes without saying that losing Tanaka for any length of time would be devastating.
The following is a guest post from long-time reader Sung-Min Kim, who you can follow on Twitter at @SungMinKim116.
I don't know about you, but whenever I think of the offseason of 2006~07, I always think "what if?" the Yankees had signed Ted Lilly. Theodore Roosevelt Lilly, as you may recall, was a Yankee long time ago until the trade that brought Jeff Weaver to Bronx ("Lilly had cried the day in 2002 when Cashman traded him.") The lefty went on to have few solid seasons with the Athletics and the Jays – 9.7 cumulative fWAR from 2003-06 – until he hit free agency for the first time after the '06 season. Lilly strongly wanted to be a Yankee again but the team let him take the Cubs' offer. Actually, they had someone else in mind by the time Lilly agreed with the Cubs – on November 29, 2006, the Yankees had won the bidding to talk with the Japanese lefty, Kei Igawa. Lilly signed for a four-year, $40 million contract and the Yankees spent a total of $46 million dollars ($26 million in bidding, and $20 million in 5-year contract) for Igawa.
Safe to say, the Bronx Bombers probably should have gone the other way. During the four-year contract with the Cubs, and later the Dodgers, Lilly compiled 12.8 cumulative fWAR — a top 30 figure among the starters who pitched between 2007-10. Igawa, on the other hand, made only 16 total appearances during the five-year contract while compiling an abysmal -0.2 fWAR. Looking at it any shape or form, the Yankees lost out pretty big on this one. While in the Yankee organization, Igawa became the laughingstock of the fans, toiling in the minors for the most of his contract. But before the ill-advised decision by the Yankees front office, what got Igawa the Yankee attention? Who was he?
A winter's worth of rumors about an international spending spree proved true last week when the Yankees signed more than 20 players and spent more than six times their spending pool on the first day of the 2014-15 signing period. You can relive the day right here. Here's more breaking down the record-setting day, and here are some more stray signings and links:
The Yankees have signed 16-year-old Venezuelan OF Raymundo Moreno for $600k, reports Ben Badler. He is not among Baseball America's nor MLB.com's list of the top 30 international prospects. Balder says Moreno has "above-average speed, an average arm and gets good reads off the bat in the outfield. He has good bat speed and gap power from the right side."
Jesse Sanchez reports the Yankees have signed Dominican SS Griffin Garabito for $225k while Kiley McDaniel says they have also signed 19-year-old Dominican RHP Yossty Vargas. Both are older (relative term here) prospects who can begin playing right away. Neither was ranked among Baseball America's or MLB.com's top 30 international prospects.
In an Insider-only piece, Chris Crawford says that " in terms of both quality and quantity, [the Yankees had] the most impressive class by a considerable margin." He also notes that they are also considered the favorite to sign a few of the top players who are still available.
Total Known Bonuses: $15.335M. Total Penalties: ~$13.135M. Total Spent: ~$28.47M.
By

Via Joel Sherman: The Yankees have called to check in with the Cubs about their surplus of young shortstops. Chicago recently added Addison Russell to Javier Baez, Arismendy Alcantara, and Starlin Castro through the Jeff Samardzija/Jason Hammel trade. Sherman says the Cubbies plan to hold onto their young shortstops for now, however. I don't blame them.

It's easy to be jealous of that shortstop quartet, but remember, only Castro is proven at the MLB level. The Cubs really have one shortstop and three unproven shortstop prospects. Baez has been a strikeout machine at Double-A and above (30.5%), for example. The Yankees have an obvious need for a young shortstop with Derek Jeter retiring and they wouldn't be doing their job if they didn't give Cubs a call. It'd be interested to see how a trade for one of those guys would work — prospect for prospect swaps are rare (I doubt Chicago wants a veteran player), especially when they involve an elite prospect. · (95) ·

Source: FanGraphs
This was a tale of two games. It was all Yankees in the first two innings and all Indians after that. Masahiro Tanaka's worst start of the season and an offense that completely vanished after the third inning led the Yankees to a 5-3 loss to the Indians on Tuesday night. The little two-game winning streak is snapped and New York is back to being only one game over .500 at 45-44.
Something came up tonight (nothing bad, everything's fine), so I wasn't able to watch this game at all after the first inning and can't recap in much detail. Trevor Bauer was all over the place early on though, throwing 67 pitches in the first three innings while allowing three runs and putting seven of the first 14 men on base. Then he threw 45 pitches in the next four innings and retired 13 of the final 14 men he faced. The one base-runner came on a Nick Swisher error. It was a weak grounder right through his legs.
The Yankees did not have a hit after the third inning and did not have a base-runner after the fifth inning. They worked Bauer hard early on, scoring those three runs on a string of mostly singles — the sacrifice bunt in the second inning was silly with Bauer on the ropes, but in fairness, it was Zelous Wheeler at the plate. Two walks (of course) on the night, no extra-base hits. The 2014 Yankees in a nutshell.
Tanaka, meanwhile, got smacked around pretty good. He set a new season-high in hits (ten) and runs (five allowed) for the second straight start, surrendering a pair of homers to Michael Brantley and Swisher. Brantley was 3-for-4 with two doubles and the homer. He's really impressive. Tanaka struck out five and got another ten outs on the ground, plus Cleveland hitters swung and missed 14 times at his 99 pitches, but his mistakes were crushed. He was bound to hit a rough patch at some point. The All-Star break will do him some good.
The box score and video highlights are at MLB.com. FanGraphs has some other stats and ESPN has the updated standings. Brandon McCarthy will make his Yankees debut on Wednesday night, in the third game of this four-game series. Vidal Nuno threw seven shutout innings for the Diamondbacks tonight. Somewhere there is a Yankees fan lamenting the trade. Josh Tomlin will be on the bump for the Tribe.
Minor League Update: No time for the full update tonight, sorry. The box scores can be found right here. 2B Rob Refsnyder had two hits (single, double), OF Zoilo Almonte had three hits (triple, two singles), 1B Peter O'Brien had two hits (double, homer), RHP Luis Severino struck out eight in four innings, LHP Jacob Lindgren fanned three in two perfect innings, and fourth rounder LHP Jordan Montgomery allowed three runs in two-thirds of an inning in his pro debut. That's about it.
It's the best day of the week. Masahiro Tanaka is making his penultimate start of the unofficial first half and he has a chance to give the Yankees their third straight win (and fifth in the last six games). It's a good night for a win. Here is the Indians lineup and here is the Yankees lineup:
It's hot and humid in Cleveland, but there is no rain in the forecast. There was earlier today. First pitch is scheduled for a little after 7pm ET and you can watch on YES. Enjoy the game.
Injury Updates: Carlos Beltran's knee feels "a lot better" and he is available to pinch hit tonight … Brandon McCarthy has officially reported to the team. He is wearing No. 38, if you're curious. Bruce Billings was optioned to Triple-A Scranton in a corresponding move … Shane Greene is still listed with the starters on the lineup card while Chase Whitley remains listed with the relievers. Between that and Billings (the other long man) being sent down, it's likely Greene will make another start.
By

Via George King: The Yankees do not have much interest in acquiring A.J. Burnett from the Phillies. Philadelphia has the fourth worst record in baseball at 38-51 and there are more and more rumblings that they be ready to sell. Cliff Lee is hurt and Cole Hamels has a ton of money left on his deal, so Burnett is a lower cost option.

Burnett, 37, has a 3.92 ERA (3.89 FIP) in 19 starts and 124 innings this year, though his strikeout (19.1%), walk (9.9%), and ground ball (49.6%) rates have dropped off considerably from last season. After coming to New York with concerns about his durability, Burnett has made at least 30 starts and thrown at least 186.2 innings every year from 2008-13. He's a workhorse, if nothing else. The Yankees can use another innings eater even after acquiring Brandon McCarthy, but bringing Burnett back isn't happening. The Javy Vazquez reunion seems to have eliminated the "bring back a guy who stunk in pinstripes one before" option. · (28) ·