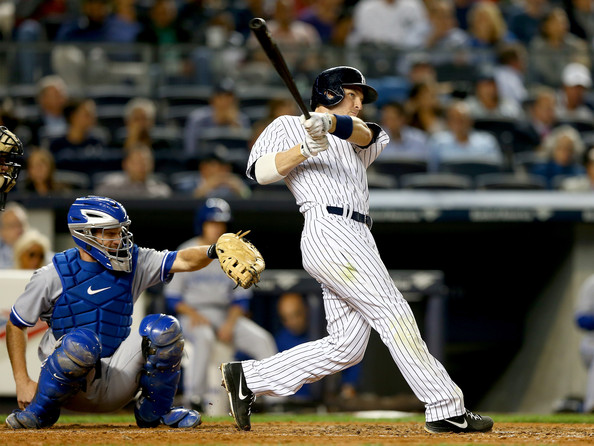 As discussed earlier, the return of Stephen Drew impacts the Yankees in many ways, particularly with their roster construction. Drew's return could mean the end of Brendan Ryan, it could mean Rob Refsnyder is going back to Triple-A, or it could mean Didi Gregorius is going to be flipped in a trade. Lots of possibilities.
What we do know is that Drew will play — at least at first, they didn't sign him not to play — and that means the Yankee will have five left-handed hitters in the regular starting lineup. Three of the remaining four regulars are switch-hitters and one's a righty. Here's the quick breakdown:
C – Brian McCann (L)
1B – Mark Teixeira (B)
2B – Drew (L)
SS – Gregorius (L)
3B – Chase Headley (B)
LF – Brett Gardner (L)
CF – Jacoby Ellsbury (L)
RF – Carlos Beltran (B)
DH – Alex Rodriguez! (R)
Dating back to the early-1990s, when then-GM Gene Michael was ahead of the curve in emphasizing patience and wearing down pitchers, the Yankees have prioritized switch-hitters. Bernie Williams and Jorge Posada are the most notable examples, but over the years there was also Ruben Sierra, Tim Raines, Chili Davis, Melky Cabrera, Nick Swisher, and others. The switch-hitters add balance and make it tough for opposing managers to match up.
The Yankees have a weird lineup dynamic right now because it's both left-handed heavy and balanced at the same. Against a right-handed pitcher, they'll have eight guys hitting from the left side of the plate. Nine if Garrett Jones plays instead of A-Rod. But, against a lefty starter, they'd still have four guys on the right side of the plate and two lefties (Gardner and Ellsbury) who can hold their own against southpaws. That doesn't include fourth outfielder Chris Young, who I have to think will play against lefties. What else would he do?
Once upon a time — as in last year before Jon Lester and David Price were traded — having five lefties in your regular lineup in the AL East was less than ideal. That isn't the case anymore. The best southpaw in the division at this point is probably Drew Smyly, at least until Matt Moore returns at midseason and proves he's all the way back from Tommy John surgery. Mark Buehrle, Wade Miley, and Wei-Yin Chen are the only other enemy southpaws in the division. And, as Buster Olney (subs. req'd) noted yesterday, those three aren't tough on lefties:
If you dig inside the numbers more, even the left-handers in the division don't wipe out left-handed hitters. Mark Buehrle is not a hard thrower, and left-handers typically have done about the same against him as right-handers; last year, lefties had a .718 OPS against him, while right-handers were at .752. Left-handed hitters had a .670 OPS against Wei-Yin Chen, right-handers .746. Wade Miley, acquired this winter by the Red Sox, had .727/.752 OPS splits last season against lefties and righties, respectively.
On paper, the Yankees' lineup seems to match up well with the right-handed heavy AL East pitching staffs. Plus there are more righty starters than lefty starters in baseball in general — last season, righty starting pitchers faced 43,945 batters while lefties faced 16,069, so it's roughly a 75/25 split — so the team is in good shape when it plays other opponents too. And of course left-handed hitters have a distinct advantage in Yankee Stadium. The Bombers have plenty of lefties for all those righty starters and enough switch-hitters to maintain balance.
Obviously the offense is a far cry from what it was a few years ago, when Swisher was hitting eighth and Curtis Granderson was clubbing 40+ dingers as the third or fourth best player on the team. I do think the Yankees have upgraded offensively at shortstop and third bases this year, maybe even at second base too, but it's still a below-average group overall. Being so lefty heavy will help in Yankee Stadium and against all those righty starters, yet the club isn't ultra-vulnerable against southpaws either.