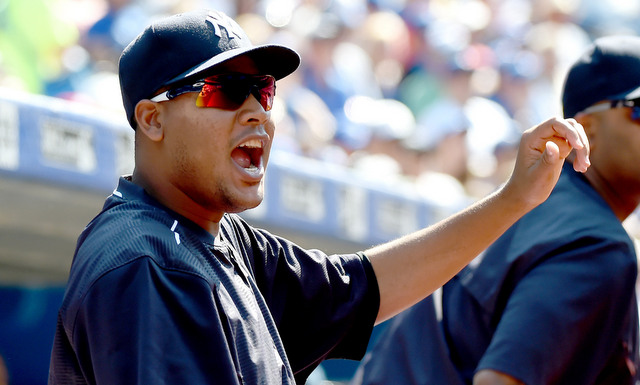 The ten-game homestand is off to a pretty swell start. The Yankees just swept the Twins, coming from behind in all three games, and they've stretched their lead in the AL East back to two full games. (Three in the loss column!) There's a lot of season left, but gosh, I would have signed up for being two games up on August 20th back in Spring Training in a heartbeat.
Ivan Nova will be on the mound tonight and although the raw results in his last two starts haven't been great (seven runs in 12.1 innings), I feel like he's finally starting to settle into a groove following Tommy John surgery. That last start in Toronto was pretty gutsy. That seems to be a common trait among the starters, these dudes really battle when they don't have their best stuff. Hopefully tonight goes a little more smoothly. Here is the Indians' lineup and here is the Yankees' lineup:
CF Jacoby Ellsbury
LF Brett Gardner
DH Alex Rodriguez
C Brian McCann
RF Carlos Beltran
1B Greg Bird
3B Chase Headley
SS Didi Gregorius
2B Stephen Drew
RHP Ivan Nova
It has been a lovely day in New York. Warm but not hot with a nice little breeze, bright blue sky with a few poofy clouds. The sky looks like a Bob Ross painting. I guess that would make them happy little clouds then, right? Not poofy? Anyway, tonight's game will begin at 7:05pm ET and you can watch on YES. Enjoy.
Injury Updates: Mark Teixeira (leg) is doing better but he is still not available off the bench. He hasn't started any baseball activities yet but should fairly soon … Bryan Mitchell (face) could start some physical activity soon. Nothing major yet, just some cardio work, but that's a good sign.