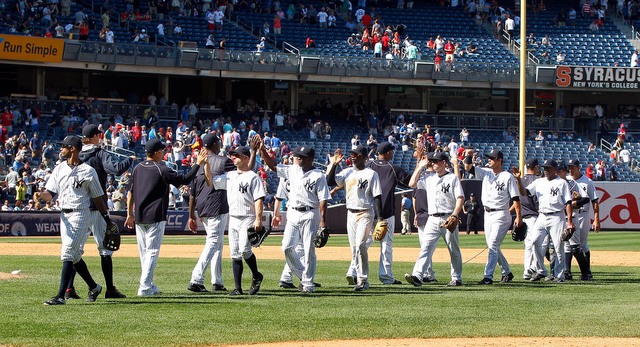 The Yankees dropped two of three to the lowly Phillies earlier this week, though at least they were able to salvage the series with a win yesterday. Now they're off to Houston for a four-game set with the Astros. The Astros are good now. That won't be an easy series. Anyway, here are some thoughts.
1. This year's Yankees seem to be the opposite of last year's Yankees. Last year the Yankees couldn't score but they always got competent pitching, even when starters were dropping like flies in the first half of the season. This year they always seem to be getting enough offense and the pitching is letting them down. It's not just the run of poor starts earlier this week either. The middle of the bullpen has been shaky for much of the season and earlier this year Adam Warren was pitching like a reliever masquerading as a starter. I'd rather have an all-hit/no-pitching team than a no-hit/all-pitching team if I had to pick one — you can slug your way into the postseason, the mid-2000s Yankees did it every year, but pure pitching and defense clubs seem to have a harder time getting to October — but the Yankees were supposed to be a strong prevention team this year. That part of their game has been woefully inadequate of late. The offense has better way better than expected.
2. I think the only player on the roster who is falling short of expectations is Chase Headley. I guess Michael Pineda too, but I wouldn't be completely shocked if he hovered around a 4.00 ERA going forward now that he's venturing into uncharted workload territory following shoulder surgery. Headley has underperformed but everyone else on the roster is either meeting reasonable preseason expectations or approaching the best case scenario. So Headley is pretty much the only guy on the roster we can point to and say "the Yankees will be in better shape once he turns it around." That's actually a good thing. You don't want to be waiting for multiple players to turn things around. That said, the Yankees have just one guy underperforming and they still aren't good enough to pull away in the AL East. I think Headley will turn things around. Eventually. At some point. I think. Then what?
3. Speaking of Headley, errors are a poor way to evaluate defense, we know that, but geez man, 16 errors already? As best I can remember only one of those errors came on a non-routine play too — this one against the Blue Jays. The other 15 have come on routine or at least makeable plays. Headley is still making non-routine and occasionally spectacular plays at what I consider an above-average rate compared to other third basemen, but the sudden inability to make routine plays is getting frustrating. (We're talking about 16 errors in roughly 200 total chances at third, so it's basically one error every dozen chances or so.) It's got to be a mental thing too, not a loss in skills, right? He's still picking hot shot grounders with the best of 'em. The infield defense was supposed to be a strength, and now that Didi Gregorius has gotten more comfortable, Headley is the weak link in the field. Baseball is weird, man.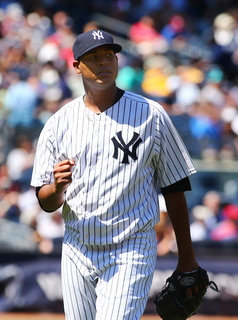 4. I'm not a fan of the whole "when this guy comes back from his injury it'll be like making a trade!" line of thinking. When guys come back from injury, you're right back where you started, not better off. Jacoby Ellsbury won't be like a trade deadline pickup, he'll just be making the team whole again. That said, I think Ivan Nova is a little different, because you can never really count on pitchers coming off a major injury to contribute, no matter how high the success rate for the surgery. Coming into the season I had the "anything he gives them this year is a bonus" mindset with Nova, and, based on what we saw yesterday, it sure looks like Ivan will be able to help this season. Yeah, it was just one start and that doesn't mean much in the grand scheme of things, but he looks healthy and he was consistently pumping 93-95 mph. If he'd come out struggling to top 90 mph with no command, it would be a red flag. Nova looked like the pre-Tommy John surgery of himself and that's a pitcher the Yankees didn't have earlier this season. He is like a trade deadline pickup. Sorta.
5. Mark Teixeira's recent neck injury scares me, probably more than it should. He had three hits yesterday but it seems like the kind of injury we could wind up pointing back to in August and September saying "Teixeira was mashing until he hurt his neck." Maybe the last few seasons have made me paranoid. That's probably it. Teixeira's been really good this year and the Yankees absolutely need him to continue being really good to contend. I'm not sure they'll be able to hang in the race if his offense tanks like it did in the second half last year. Carlos Beltran has been much better of late and Alex Rodriguez has raked all year, but those guys are still injury risks. Adding a bat may not be a top priority at the trade deadline but I do consider it a need. Second base is the obvious spot to upgrade and Ben Zobrist is the top target for me. He fits the roster too well. (He fits every roster well.) Yeah, Stephen Drew mashes homers, but a .190 AVG and a .258 OBP is not acceptable for an everyday player. The Yankees should be actively seeking an upgrade.
6. Either it's one hell of a coincidence or the Yankees have a pretty clear plan for Aaron Judge — he had 278 plate appearances with Low-A Charleston, 285 plate appearances with High-A Tampa, and 280 plate appearances with Double-A Trenton. Now he's at Triple-A and will get about 280 plate appearances there the rest of the season. Give the brain trust a truth serum and I think they'd tell you they want Judge to be their everyday right fielder in 2016. How that happens … I don't know. Beltran and A-Rod are still under contract next year. I guess the plan is wait until one gets hurt? A Brett Gardner trade is always possible but I find it very unlikely. He's the best player on the team. (There, I said it.) Anyway, I'm getting ahead of myself here. Judge has to master Triple-A first before becoming an MLB option, and who knows what the roster will look like heading into Spring Training next year. I do think the team's perfect world plan has Judge in right on Opening Day 2016 though.