By

Baseball America published their updated list of the top 50 prospects for this year's draft yesterday (no subs. req'd). NC State LHP Carlos Rodon came into the spring as the overwhelming favorite to go first overall, but his stuff has not been as electric this spring and he is no longer a lock to go even in the top three. California HS LHP Brady Aiken is the consensus top prospect for the draft right now.

The Yankees do not pick until the second round (55th overall) because of their offseason spending spree, but in all likelihood a few of the players in this edition of the top 50 will be available when that selection comes around. This draft is very deep in right-handed pitchers — 19 of the top 50 are righties — and really light on impact bats. The Yankees need some arms, and while drafting for need in the early rounds isn't ideal, they could definitely add a quality pitching prospect to the organization with that 55th pick this year. · (6) ·
By

Via Joel Sherman: MLB executive Joe Torre said the league is not planning to suspend Michael Pineda for last night's alleged pine tar incident. "The umpires did not observe an application of a foreign substance during the game and the issue was not raised by the Red Sox," said Torre. "Given those circumstances, there are no plans to issue a suspension, but we intend to talk to the Yankees regarding what occurred."

Pineda, 25, sure had what looked like a brown foreign substance on his right hand during innings one through four (photo). Replays showed nothing on his hand in the fifth inning or later. Neither the Red Sox nor the umpires raised an issue, and it's a bit of an open secret that most pitchers use some kind of substance to improve their grip. Pineda was just way too obvious about it. · (98) ·
Got seven questions in this week's mailbag. A few other really good ones came in too, but I'm holding those back because I need more time to think about them. Use the Submit A Tip box in the sidebar to send us questions, links, comments, whatever.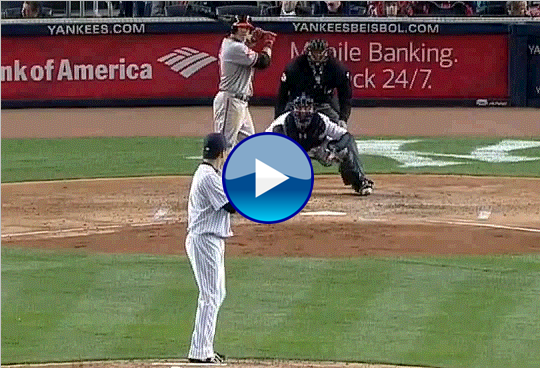 Paul asks: Am I reading this FanGraphs article correctly? Yankees have gotten +25 strikes (from pitch-framing), a strike is worth .14 runs, 10 runs = 1 win, so the Yankees have gotten about 1/3 WAR from pitch-framing in the first week of the season? Or are these wins different from wins above replacement?
According to the article, the Yankees have gotten 25 extra strikes than expected due to pitch-framing so far this year, the most in baseball. That's seems … reasonable, I guess? I don't really know. Brian McCann is an elite pitch-framer and Frankie Cervelli has graded out well in his sporadic playing time over the years, so it stands to reason they would be near the top. That +25 strikes number is just an estimate in that post, remember.
Here is an older list of the run value of events, like singles and homers and sacrifice flies and a bunch of other stuff. It does not include called strikes though, so I'm not sure where that 0.14 runs per called strike number came from. I know Jeff Sullivan though and I trust he got it from somewhere reliable. So anyway, 25 extra strikes at 0.14 runs per strike works out to +3.5 runs total. FanGraphs says 9.386 runs equals one win these days, so the Yankees have "earned" 0.37th of a win through framing alone in 2014. That's the straight forward math. A win is a win regardless of whether your starting point is replacement level or league average. In this case, the 25 extra strikes was compared to the league average.
There are two issues here, in my opinion. One, pitch-framing analysis still has a long way to go. I think it needs to be adjusted for umpire and for the pitcher, for starters. Maybe even treat it like a pitching stat and consider leverage. Two, that 0.14 runs per called strike number is an average for all situations, but not all called strikes are created equally. Turning a borderline pitch into a strike in a 3-2 count is more valuable than doing the same in a 3-0 count, for example. These win values we're seeing from pitch-framing seem way too high to me — it's basically the single most valuable thing in baseball, if you believe the numbers — but for a quick and dirty analysis, the FanGraphs stuff is fine. It's interesting but I don't think we can take these at face value yet.
JK5 asks: Do defensive metrics take 'shifts' into consideration? There was a play Jonathan Schoop (officially playing 3rd) made on a ball hit by McCann into shallow RF. Just reading the box score play-by-play would make one thing this play was a normal 5-3 putout, which it absolutely wasn't. So Schoop's range factor at 3b is helped by a ball hit nowhere near his normal position. So going forward, with increased 'shifts', are we gonna see sort of a manufactured rating for 3b (who are most often used as the primary 'shifted' fielder)?
Yes and no. Some defensive stats do recognize shifts, others don't. As far as I know, UZR basically has an on/off switch. If there is no shift, the play is recorded the same way it always is. If the shift is on, the play is not recorded and ignored. DRS does not consider shifts and assumes the defender starts every the play wherever the league usually sets up at that position. That's why Brett Lawrie had a good +4.5 UZR but an elite +20 DRS in 2012. UZR ignored all the times he was standing in shallow right on the shift while DRS thought he started all those plays at third base. I don't know how (or if) Total Zone and FRAA handle shifts.
The problems are obvious here. With shifts becoming more prevalent, UZR is reducing its own sample size by ignoring plays with the shift. DRS is assuming third basemen have superman range, which is worse. That only adds to the uncertainty of defensive stats. I think they are best used directionally with a multi-year sample. They can give us an idea of who is good, who is bad, and who is average. The exact values though? I don't think we can take them seriously. There's no way you can say Shortstop A is a better defender than Shortstop B because he had a +5.7 UZR/+9 DRS from 2010-13 while the other guy was at +5.3 UZR/+7 DRS. They're both good. Leave it at that.
Dan asks: If the Yankees even had an average infield in terms of range, do you think Joe would be employing the shift as much? Now that they are flipping the third baseman and Derek Jeter during the shift, if Jeter makes a play when he's the only one on the left side of the infield would he be the third baseman for purposes of scoring the game? He is the player furthest to the left side of the infield. Finally, how do the advanced stats take shifts into account? Thanks.
Just answered that last part, conveniently. As for the other questions, yes, I absolutely think the Yankees would still be shifting as much if they have rangier infielders. Heck, they might shift more if they had more mobile defenders. Like I said yesterday, the shift is here to stay. You're playing Super Nintendo while everyone else is on Playstation 4 if you're not shifting.
As for the position stuff, the defensive stats recognize everyone as whatever position they are playing. Jeter would still be a shortstop in the example Dan gave in his question. That's why Lawrie's DRS was so high a few years ago. He was still considered a third baseman while standing in shallow right, not a second baseman.
Ben asks: Seems like early scouting reports on Dante Bichette Jr. suggested he would need to move to the OF at some point in his MiLB career. Seeing as how he is DH'ing so much due to the presence of Eric Jagielo, don't you think now would be a good time to make the move? They're not doing him any favors DH'ing him this regularly.
I think the bat is the most important thing for Bichette. He always was and always will be a bat-first prospect, and they have to get him to start hitting more than anything. (He went into last night's game hitting .235/.458/.353 in six games.) They can stick him in left field or at first base a little later down the line. Right now, the most important thing is for Bichette to get his swing, his timing, his balance, his whatever else on track so he can produce at the plate. He is a huge reclamation project and they need to focus all their time and energy on his bat. It's the most important thing for him.
Nick asks: If Aaron Judge and Jagielo tear it up do you think the Yankees should keep moving them up or let them finish the year at the level they are at?
Definitely move them up. They are two college hitters who spent three years as starters at major college programs. Those aren't the guys you hold back. I fully expect Jagielo to end the year with Double-A Trenton and Judge to earn a promotion to at least High-A Tampa at some point. I think it's possible he'll go from Low-A Charleston to Tampa to Trenton this summer. I think the Yankees generally move their prospects a little too fast — ever notice how their prospects come to the big leagues still in need of refinement while the Cardinals and Rays call up guys who are so polished? Compare how much time they've spent in the minors — but these are two guys who should move up the ladder quick. Especially Jagielo.
Jeff asks: Would the Yankees be better served to have a quicker hook with CC Sabathia on the mound? I understand a lot of the value he has is as an innings eater, but it comes down to which would be better: ~200 league average or slightly below league average innings, or ~170-180 slightly above league average innings.
You know, I'm not sure. Is Sabathia at 90-100 pitches worse than, say, a fresh Dellin Betances or Vidal Nuno? I guess that depends on the day and how Sabathia has fared during those first 90 pitches. There is an obvious benefit to limiting his workload at this point, saving bullets and all that stuff, but an individual game is a different animal than the big picture. Even during his awful 2013 season, Sabathia really wasn't less effective from pitches 76+ than he was from pitches 1-75. I know he got knocked around in the final inning of his start last week, but that's one game. If the Yankees had a deeper and higher quality bullpen, I think the answer would be closer to yes. Since they don't, I'm not sure.
Bill asks: The Yanks had three different players steal a base on Sunday, none of whom was Jacoby Ellsbury. When was the last time the Yanks had steals from four different players in the same game?
It's actually not that uncommon and I didn't think it would be. We've seen quite a few games in recent years where the Yankees just had the opponent's battery down pat. They knew the pitcher's move, knew the catcher's arm, and were running wild. We saw it last Friday, when they stole four bases off Dustin McGowan in his 2.2 innings of work (and didn't attempt another steal after he left the game).
Anyway, the Yankees have had at least four different players steal a base in a game 15 times this century, including six times in the last three years. They had six (!) different players steal a base in one game against the Red Sox just last September. Here's the box score. Pretty clear they knew they could run on Ryan Lavarnway. Here is the list of all 15 games with at least four players stealing a base since 2000 for you to dig through.
Could you have asked for a better start to this long four-game series against the Red Sox? The Yankees took the opener on Thursday night by the score of 4-1 thanks to a dominant starting pitching performance, a total team effort on offense, and stellar work by a bullpen missing some key pieces. This might have been the best game of the season so far.
Big Time Big Mike
Well how about that for Michael Pineda's Yankee Stadium debut? Dominating the Red Sox for 6+ innings sure makes for one hell of a first impression. Pineda struck out seven in those six innings, allowing just one run on a solo homer by Daniel Nava, the second to last batter he faced. He walked two and surrendered only three hits besides the homer. Of his 94 pitches, 63 went for strikes and 15 went for swings and misses. Fifteen of 24 batters saw a first pitch strike, including the first eight men he faced. Dominant.
Here is the PitchFX breakdown from Brooks Baseball, if you're interested. The data says Pineda only threw six changeups (three whiffs), but it seemed like more than that. The pitch was very good for him in this game. (Just so you know, the pitch classifications at Brooks are updated overnight, so the data might change from what they have right now.) Here is Pineda's velocity graph for the night: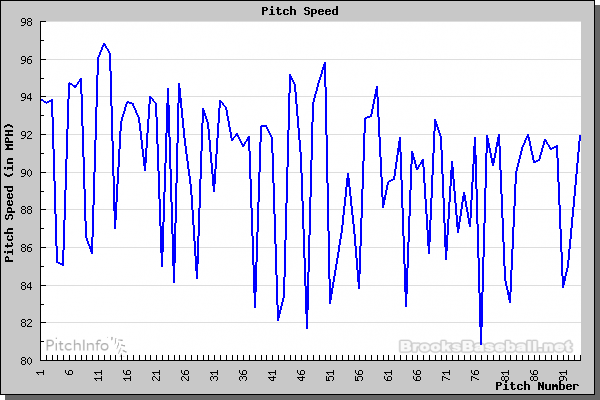 Pretty noticeable decline in the later innings there. That's not surprising for a pitcher making his second start of the season after missing two years following shoulder surgery. That's why the Yankees have to be careful with Pineda these first few weeks. You don't want to push him too hard when his pitch count is approaching 100 and he's fatigued. That's how pitchers get hurt, especially ones with a history of arm problems. The Yankees have done a good job of taking their foot off the gas so far.
Through the first two turns of the rotation, Pineda has been the Yankees best pitcher. He's shown very good swing-and-miss stuff and he pitches with some serious swagger. His body language screams "I belong here and you can't hit me." I didn't think there was any chance he would pitch this well after surgery, at least not so early in the season, but here we are. The old Michael Pineda is not back just yet, but this current version is pretty damn awesome as is. Hard to believe this guy was competing for a rotation spot a few weeks ago. Watching Pineda and Masahiro Tanaka pitch back-to-back days is just a joy.
One Run, Two Runs, Three Runs, Four
The first three innings of this game had the look of a classic pitcher's duel, something we don't see very much between these two teams. These games usually feature a ton of offense. The Yankees pushed two runs across in the fourth inning because their best players put together a rally for what felt like the first time all year. Jacoby Ellsbury started the inning by reaching on an error by the third baseman, then Carlos Beltran singled through the shift to right. Brian McCann broke an 0-for-way-too-long slump with a double down the right field, scoring Ellsbury and moving Beltran to third. Alfonso Soriano killed the rally but drove in a run with a ground ball double play.
The Yankees scored another two runs in the fifth inning, the first of which scored on a … Dean Anna homer? Yep. The team's seldom-used backup middle infielder swatted a solo homer off Clay Buchholz, taking a Raul Ibanez-esque hack and sending the ball into the short porch in right. Can't say I saw that coming. Derek Jeter (ground rule double) and Ellsbury (single) hooked up for a little two-out rally to score the club's fourth and final run of the night. The top of the lineup contributed, the middle of the lineup contributed, and the bottom of the lineup contributed.
Today, We Spell Redemption P-H-E-L-P-S
Before the game, Joe Girardi said both Shawn Kelley and Adam Warren were not available due to their recent workloads. That is kind of a big deal. Girardi would have to rely on his "B" relievers to get the job done, and he indicated he would hold the veteran Matt Thornton back for a save situation. Naturally, the game was reasonably close (Yankees up 4-1) when Pineda was pulled with a man on first and no outs in the seventh. Never easy.
First guy out of the 'pen was lefty Cesar Cabral, who did his job by striking out lefties Jackie Bradley Jr. and A.J. Pierzynski. He has struck out eight of twelve left-handed batters faced during his short big league career. Cabral gave way to David Phelps after the Red Sox lifted the lefty Jonathan Herrera for the righty pinch-hitter Ryan Roberts. Phelps retired him on a routine ground out to shortstop to end the seventh. Those were the first three of nine outs from the bullpen.
The next three outs actually came easier than the first three even though Boston sent the top of the lineup to the plate in the eighth. Phelps sat down Grady Sizemore (foul pop-up), Dustin Pedroia (grounder to short), and David Ortiz (strikeout) without much of an issue, though Ortiz did have a quality at-bat. Phelps really struggled in his first two appearances of the year, but he has rebounded well. That eighth inning was huge given who was at the plate. Great job.
The final three outs did not go to Thornton despite Girardi's pre-game comments. The manager stuck with Phelps after his strong eighth inning and his faith was rewarded with another perfect frame. Phelps struck out Mike Napoli for the 25th out, struck out Daniel Nava for the 26th out, and got Xander Bogaerts to fly out for the 27th out. Nine up, nine down for the bullpen. Seven up, seven down for Phelps. It was his first career save. What a big time performance. Excellent job by him.
Big Mike Is Cheatin' And Tryin'
It sure looks like Pineda had a big glop of pine tar on his hand during Thursday's start, doesn't it? Maybe it's sweat and dirt from the mound, who knows. Sure looks like a foreign substance though. For what it's worth, YES showed one image in which Pineda's hand was clean in the fifth inning, and MLB Network showed what appeared to be a similar brown goo on Clay Buchholz's forearm.
The Red Sox and manager John Farrell never bothered to call Pineda on the mystery substance, mostly because they would look like massive hypocrites after defending Buchholz (sunscreen) and Jon Lester (???) last year. One of baseball's many unwritten rules says you don't call out a pitcher for doctoring a ball because your pitchers are probably doing it too, and that is what seems to have happened in this game. Be a little less obvious next time, Mikey.
Leftovers
I think the Yankees need to start giving Brett Gardner the "steal" sign. Just call it from the dugout. I have no idea why he isn't attempting steals, but it's annoying. He singled with two outs in the third inning and didn't even budge against the eminently run-on-able Buchholz and Pierzynski battery. That is the most obvious time to steal there will ever be. Just start calling the steal from the bench. Force him to go. This is getting ridiculous.
Soriano, Kelly Johnson, and Yangervis Solarte all went 0-for-3 with a strikeout, though at least Soriano drove in the run with the double play ball. Jeter was the only player with two hits and the Yankees didn't draw a single walk either. Only struck out six times though, so the ball was in play all night. Also, Bradley and Nava made two excellent defensive plays after I trashed Boston's outfield defense this afternoon. Of course.
Box Score, WPA Graph & Standings
MLB.com has the box score and video highlights, FanGraphs has some other stats, and ESPN has the updated standings. In case you're wondering, that gray line "shadowing" the green line on the WPA graph is the projected game odds. Read this for the nuts and bolts.

Source: FanGraphs
Up Next
One down, three to go. The Yankees and Red Sox continue this series on Friday night — assuming the weather holds up, last I checked there was some rain in the forecast — when left-handers CC Sabathia and Jon Lester square off. If you want to catch the game, RAB Tickets can get you there.
Here is a really excellent article from Ben Badler about teams scouting 14-year-old kids down in Latin America. Agents are scouting 12-year-olds. Thanks to MLB's international spending restrictions, clubs are looking to find prospects and get them to agree to contracts as soon as possible to keep them away from the competition. You don't need a subscription to read the article, so make sure you check it out.
Triple-A Scranton (7-2 win over Syracuse)
3B Scott Sizemore: 1-3, 1 BB, 1 K
LF Zoilo Almonte: 0-3, 1 R, 1 RBI, 1 BB, 1CS
RF Ramon Flores: 0-3, 1 R, 1 BB, 2 K
C J.R. Murphy: 2-4, 1 R, 1 RBI, 1 K — four hits in his last nine at-bats after going 0-for-10 to start the year
SS Zelous Wheeler: 0-0, 1 E (throwing) – left the game with some kind of back or side injury according to Donnie Collins
RHP Graham Stoneburner: 5 IP, 4 H, 2 R, 2 ER, 2 BB, 5 K, 5/3 GB/FB — 48 of 76 pitches were strikes (63%)
RHP Danny Burawa: 2 IP, 1 H, 0 R, 0 ER, 1 BB, 4 K, 1 WP, 1/1 GB/FB — 20 of 30 pitches were strikes … 8/1 K/BB in four innings
RHP Mark Montgomery: 2 IP, 1 H, 0 R, 0 ER, 1 BB, 2 K, 1/1 GB/FB — 23 of 38 pitches were strikes (61%)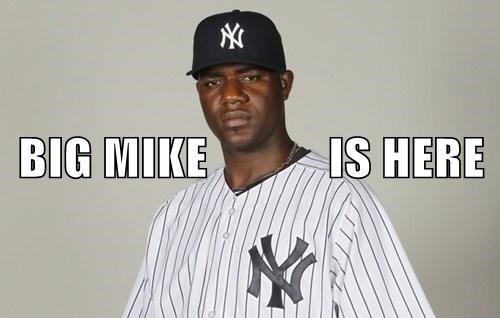 The Yankees got their second look at Masahiro Tanaka last night, so now it's Michael Pineda's turn. The big right-hander — Big Mike, if I may — held the hard-hitting Blue Jays to one run in six innings, striking out five and walking zero. More importantly, his fastball averaged 93.8 mph and topped out at 95.6 mph according to PitchFX. That's a great sign following major shoulder surgery. Velocity is important for a guy like Pineda, who needs to speed up bats to keep hitters off his slider.
Because he is coming back from surgery, the Yankees lifted Pineda after those six innings last week even though he had only thrown 83 pitches. He's too important to the present and future of the organization to push him hard this early in the season. I'm guessing Pineda will be allowed to throw 90-95 pitches tonight, though that probably depends on the intensity of those pitches. If he's cruising, maybe it'll be 100 pitches. If this start is a grind, they might cap him at 85. We'll see.
The Yankees have lost their last two games, one a blowout and the other a close, late-inning defeat. Far too much will be made of this series against the Red Sox, that's always the case, but that doesn't mean these games aren't important. I think the AL East will be crazy tight all year, so these head-to-head matchups are imperative, even looking at simple tie-breaker scenarios come the end of the season. Plus, you know, beating the Red Sox is always fun. Here is the Boston lineup and here is Joe Girardi's lineup:
It is just a lovely day in New York. Wish I had spent more of it outside instead of in the dentist's chair. Blue sky, temperatures in the high-50s/low-60s, no clouds, no threat of rain … just a wonderful night for baseball. They should all be like this. First pitch is scheduled for 7:05pm ET and you can watch the game on YES locally and, depending on where you live, MLB Network nationally. Enjoy.
Yesterday, Major League Baseball announced a new award that will honor the best relief pitcher in each league, replacing the Delivery Man of the Year award. Yes, that existed. The AL version of the new award will be called the Mariano Rivera Reliever of the Year Award. The NL version has been named after Trevor Hoffman. Both players spent their entire careers in their respective leagues.
"Both Mariano and Trevor represented our sport magnificently on and off the mound and earned the universal respect of our fans in their legendary careers," said commissioner Bud Selig in a statement. "I believe it is appropriate to redefine an existing award in honor of their contributions to Baseball, and I am delighted that many of the most decorated relievers in history will select the winners."
From the press release, here are the nuts and bolts of how the new awards will work:
A panel of nine of the greatest relief pitchers in history will vote on the recipients of the new awards. In addition to Rivera and Hoffman, other voters will include the four living Hall of Fame relief pitchers – Dennis Eckersley, Rollie Fingers, Rich "Goose" Gossage and Bruce Sutter – and the three relievers who round out the top five in career saves – Lee Smith (478 saves), John Franco (424 saves) and Billy Wagner (422 saves).

The nine voters will rank the top three A.L. relief pitchers and the top three N.L. relief pitchers, based solely on regular season performance. Using a 5-3-1 weighted point system (i.e., five points for a first-place vote; three points for a second-place vote; and one point for a third-place vote), the Award in each League will be given to the relief pitcher who accrues the most total points.
Based on the voting panel, something tells me the new awards will go to whoever leads the league in saves. Or maybe the guy who finishes second if he has a really low ERA. I'm not expecting a whole lot of objectivity out of that group. Whatever.
Rivera, as you know, retired after last season and was the greatest relief pitcher in the history of the universe. Hoffman was very good himself, but Rivera was on another level. For example, Rivera allowed 38 fewer runs than Hoffman despite throwing 194.1 more innings, and that doesn't consider ballparks and divisions and all that. Let's not even bring up the postseason.
Anyway, awards are fun and I'm glad Mo has one named after him. He certainly deserves it not only because of the career he had, but because of the person he was and how he represented both the Yankees and MLB. I wonder who will be the first Yankees reliever to win the award? David Robertson is as good a guess as anyone, but who knows with this stuff. It'll be cool when it happens though. Congrats to Rivera for having the award named after him.
The Yankees and Red Sox rekindle their rivalry tonight and this weekend with a four-game series at Yankee Stadium. As usual, expect the media coverage to be insane. It always is. The Red Sox have actually played quite well in the new Stadium, winning seven of ten games in the Bronx last season and 22 of 37 games since 2010. That's annoying.
What Have They Done Lately?
Boston came from behind late to beat the Rangers yesterday afternoon, upping their record to 4-5 in the early going. Same record as the Yankees. The Sawx took two of three from Texas but before that they were swept at home by the Brewers. Can't say I expected that to happen when the series started.
Offense
The Red Sox had a relentless offense last season, leading baseball with a team 115 wRC+ and an average of 5.27 runs per game. No other team was within a quarter of a run of that rate. This year as been a different story though, perhaps because Boston said goodbye to Jacoby Ellsbury, Jarrod Saltalamacchia, and Stephen Drew this winter. They have a team 102 wRC+ so far in 2014, and are averaging just 3.89 runs per game. Injuries to OF Shane Victorino (119 wRC+ in 2013) and 3B Will Middlebrooks (83 wRC+ in 2013/122 wRC+ in 2014) haven't helped either. Neither will return this series.
As usual, the Red Sox offense is led by 2B Dustin Pedroia (115/65) and DH David Ortiz (152/114). 1B Mike Napoli (129/160) does plenty of damage as well. OF Daniel Nava (128/-2) and OF Jonny Gomes (109/60) have been platooning at the leadoff spot recently, though they will typically stay in the lineup and bat lower in the order against same-side hitters. SS Xander Bogaerts (86/117) is a Rookie of the Year candidate and OF Grady Sizemore (183 wRC+ in 2014) is a Comeback Player of the Year candidate. Sizemore doesn't play everyday though. He gets regular rest so he doesn't break down.
1B/OF Mike Carp (139/90) was a force off the bench a year ago, but otherwise C A.J. Pierzynski (90/97), IF Jonathan Herrera (77/111), and IF Ryan Roberts (90/36) aren't scaring anyone. Herrera and Roberts are platooning at third while Middlebrooks is out. OF Jackie Bradley Jr. (69/174) sees regular time in center and right fields. C David Ross (86/48) is the backup catcher and will usually start against lefties. It's worth pointing out that other than Bradley, Boston's outfield defense is a disaster. Among the worst in the game. Hit the ball in the air this weekend.
Pitching Matchups
Thursday: RHP Michael Pineda vs. RHP Clay Buchholz (Career vs. NYY) (Pitcher GIFs)
Not many pitchers leaving you wanting more than Buchholz. The 29-year-old pitched like an ace last season — 1.74 ERA (2.78 FIP), 7.98 K/9 (23.1 K%), 2.99 BB/9 (8.7 BB%), and 47.7% grounders — but he was only on the mound for 108.1 innings because of a neck problem. He has yet to throw 190 innings in a season and only twice has eclipsed even 110 innings. Buchholz has nasty stuff, but his fastball has been sitting mostly upper-80s since returning from the neck problem. Once upon a time it was regularly in the mid-90s. He also throws a mid-80s cutter, a low-80s changeup, and a mid-70s curveball. The changeup is his bread and butter and the reason why he has had just a tiny platoon split throughout his career. Buchholz allowed six runs on 13 hits in only 4.2 innings in his first starter, which is pretty terrible.
Friday: LHP CC Sabathia vs. LHP Jon Lester (Career vs. NYY) (Pitcher GIFs)
Lester, 30, turned back in the ace midway through last season and helped carry his club to the World Series title last fall. He had a 3.75 ERA (3.59 FIP) overall in 213.1 innings in 2013, pairing an okay strikeout rate (7.47 K/9 and 19.6 K%) with good walk (2.83 BB/9 and 7.8 BB%) and ground ball (45.0%) numbers. Lester pitched much better against same-side hitters, holding lefties to a .294 wOBA while righties got to him for a .317 mark. A low-90s fastball and upper-80s cutter are his top two weapons, which he'll use to set up a mid-80s changeup and a mid-70s curveball. Lester allowed four runs (two earned) in 7.1 innings in his first start and two runs (both earned) in seven innings in his second start. He has faced the Yankees a ton over the years, but this is a different lineup. Lots of new faces.
Saturday: RHP Hiroki Kuroda vs. RHP John Lackey (Career vs. NYY) (Pitcher GIFs)
Lackey brought his career back from the dead last summer, returning from Tommy John surgery and two terrible years to become a rock solid mid-rotation workhorse. He had a 3.52 ERA (3.86 FIP) in 189.1 innings last year, with an excellent walk rate (1.90 BB/9 and 5.1 BB%) and good strikeout (7.65 K/9 and 20.7 K%) and ground ball (46.8%) rates. The 35-year-old also had a big reverse split, holding left-handed batters to a .290 wOBA while righties tagged him for a .331 wOBA. Lackey's fastball sits in the low-90s these days, and he'll also throw a mid-80s cutter. An upper-70s curveball is his trademark pitch. He rarely throws his changeup anymore, believe it or not. Lackey allowed one unearned run in seven innings in his first start and two earned runs in six innings his second time out.
Sunday: RHP Ivan Nova vs. LHP Felix Doubront (Career vs. NYY) (Pitcher GIFs)
Man, Doubront owned the Yankees back in 2012. He held them to seven earned runs in 25 innings across four starts, and I'm surprised they scored that much. He really seemed to have their number. Doubront, 26, pitched to a 4.32 ERA (3.78 FIP) in 162.1 innings last year, though his strikeout rate took a tumble to 7.71 K/9 (19.7 K%). It was 9.34 K/9 (23.6 K%) the year before. Doubront got some grounders (45.6%) though his walk rate (3.94 BB/9 and 10.1 BB%) was a bit too high. Righties (.336 wOBA) hit him quite a bit harder than lefties (.290 wOBA). Doubront lives off his big breaking mid-70s curveball, setting it up with low-90s heaters and mid-80s cutters. He'll also throw low-80s changeups to righties. His first start of the season was okay (three runs in 5.1 innings), but his second one stunk (five runs in 2.2 innings).
Bullpen Status
RHP Koji Uehara (1.61 FIP in 2013/0.42 FIP in 2014) was arguably the best reliever in baseball last season and definitely the best in the second half. He was unhittable. RHP Junichi Tazawa (3.22/1.14) is his primary setup man right now, but I think LHP Craig Breslow (3.60 FIP in 2013) will see some late-inning time now that he's just off the DL. Both Uehara and Tazawa pitched yesterday.
The middle relief crew is a little shaky right now, at least compared to last season. RHP Edward Mujica (3.71/2.79) still looks like the guy who lost the closer's job with the Cardinals late in the season (15.43 ERA), and RHP Burke Badenhop (3.53/3.02) has been hit hard early this year (9.00 ERA). LHP Andrew Miller (3.05/3.22) is unpredictable and soft-tossing LHP Chris Capuano (3.55/0.72) is the long man. Mujica, Badenhop, and Miller have been lights out in the past, but that isn't the case right now.
As for the Yankees, they're without closer David Robertson, who will be on the DL for another eleven days at the very least. He can't be activated until April 22nd. Check out our Bullpen Workload page for the recent reliever usage. Seems like Shawn Kelley will be unavailable tonight. For the latest and greatest on the Red Sox, Over the Monster is the place to go. There is a surprising shortage of quality Sawx blogs.
These last two games against the Orioles didn't go according to plan, and while I think intra-division games are going to be extra important this season, the two losses aren't the end of the world this early in the season. Yes, every game counts, but there are still 153 games left to make up ground. If you're going to drop two of three to an AL East rival, this is the time to do it. Here are some thoughts before the Red Sox come to town for another division matchup.
1. There's been a lot of talk about infield shifts so far this season, and not just from the YES booth either. I've heard it on other broadcasts as well. I understand that people don't like them because they've drastically hurt some players (Mark Teixeira, for example) and are taking a bite out of offense around the game in general, but shifts are here to stay. Think about what it was like when pitchers starting throwing curveballs and sliders. Breaking balls were once a new fad that especially hurt some players and lowered offense around the game. That's life. The strong survive. If you can avoid the shift with some kind of regularity, you will be in high demand. Few things are as annoying as a player beating a ball into the shift, but once upon a time the same was true of players swinging over a slider in the dirt. Baseball is changing and this is just something players and teams will have to adjust to.
2. The Teixeira injury really exposes how inflexible the 40-man roster is right now. The Yankees have too many good but not great prospects — Nik Turley, Jose Campos, Bryan Mitchell, and Ramon Flores jump to mind — occupying 40-man spots even though they are in no real position to help the big league team this year. The Yankees can't designate those guys for assignment because they'll lose them on waivers for nothing, meaning they're essentially working with a 36-man roster. That's how you end up recalling a third catcher when your starting first baseman gets hurt. In a perfect world, the Yankees would package three or four of those good but not great 40-man prospects for one player, a young infielder or something, clearing the logjam and addressing a need in one fell swoop. Too bad it's not that easy. Teams usually aren't looking to take on some other team's clutter.
3. Carlos Beltran has started to snap out of his early-season slump, and of all the guys who struggled early in the year, he surprised me the most. That's not necessarily because he is the best hitter of the bunch, but because he's the most complete hitter on the team (average, power, discipline, etc.) and never has the platoon disadvantage as a switch-hitter. Those guys, like Bernie Williams and Chipper Jones, usually don't struggle very long. Of course, Beltran will be 37 in two weeks and there's always a chance he's starting to slip as a hitter, but I didn't believe he had fell off the cliff that hard, that soon after one bad week. Dude is a force when right. I didn't expect Beltran to struggle out of the gate and I certainly didn't expect it to last very long.
4. I get that he's hitting well right now and Teixeira is injured (and Brett Gardner is on the roster), but I'm not a fan of Jacoby Ellsbury batting third. He's hit with two outs and the bases empty four times in the last two games, including both first innings. Ellsbury doesn't have much power and it's really hard to create runs in those situations because it takes at least two hits to do it — one to get him on base, one to drive him in. (To be fair, they did score a run after he singled in the first inning of Tuesday's game.) I like Ellsbury much better as a leadoff hitter, especially because he steals so much and gives the guys behind him so much of an opportunity to drive him in. I mean, batting third is fine, it's not like he's batting fifth or something. I just think the lineup is at its absolute best when he's setting the table, not being counted on as a run producer.
5. It has only been a week, but things seem to be going well so far in the farm system. The pitchers have barely gotten any work in, but 3B Eric Jagielo and RF Aaron Judge are hitting and so have OF Mason Williams and C Gary Sanchez. You can make a pretty strong case that those are the four most important prospects in the system. Others like C Peter O'Brien are off to nice starts as well. The only top prospect who has not hit so far is C John Ryan Murphy. One week doesn't mean much of anything, but I am glad to see some of these guys start the new season on the right foot. If, say, Williams came out of gate struggling, it would have been hard not to think "here we go again." The good starts are nice, now they have to keep them going into the dog days of summer.
6. Now that he has two starts under his belt, what do you think about Masahiro Tanaka? I'm pretty excited even though he's shown a penchant for the longball. He's getting a ton of strikeouts and swings and misses, which I kinda expected to happen. He also doesn't seem to get rattled by anything. Kei Igawa used to practically curl up in the fetal position after giving up a base hit. That is reportedly one of things that made Tanaka so appealing to the Yankees, his toughness and competitiveness. It's not often you can see that stuff on the field, but the guy is coming into a new culture in a brutal division in a new league. I don't think anyone could blame him if he looked like a deer in the headlights early on, but we haven't see that. I really think Tanaka's going to be ace-like once he really settles in acclimates himself. Everything is there for him to be that type of pitcher.
This one stung. Getting blown out like the Yankees did on Tuesday is no big deal, but dropping a close game in which the go-ahead and tying run was on base multiple times is a tough pill to swallow. The Orioles bested the Yankees in the late innings to win the series finale 5-4.
Second Start, Same As The First
In his first big league start last week, Masahiro Tanaka held the Blue Jays to three runs in seven innings of work. He struggled in the early innings before rolling late. It was a fine first impression. On Wednesday, Tanaka again allowed three runs in seven innings, this time to the Orioles. He again struggling early before settling in later in the game. Does this qualify as a pattern? Who cares.
The Orioles threatened in the first inning with Delmon Young's one-out double — the Yankees will get him out one of these years, I think — and threatened again in the second, this time capitalizing when Tanaka hung a slider to Jonathan Schoop. The rookie infielder clubbed a two-out, three-run homer down the left field line that stayed fair and wrapped around the foul pole. After the homer, Tanaka retired 16 of the final 20 men he faced, including the last seven in a row. One of the final ten Orioles hit the ball in the air.
Tanaka gave up the homer on a hanging slider, and while it's cliche to say that was his only mistake since they were the only runs he allowed, it sure wasn't his only mistake. He got away with a number of hangers and high pitches in general. Tanaka needs to cut down on that going forward, but, at the same time, I think his unpredictable pitching style helps him get away with those more than the average pitcher. Here's the pitch breakdown, courtesy of Brooks Baseball:
101 total pitches, 71 strikes, 22 swings and misses
41 sinkers, 30 strikes, five swings and misses, averaged 92.1 mph and topped out at 94.4
31 splitters, 23 strikes, 11 swings and misses (!), averaged 86.5 mph and topped out at 89.3
18 four-seamers, 12 strikes, three swings and misses, averaged 92.6 mph and topped out at 95.5
Five sliders and six curveballs. I'm pretty sure PitchFX misclassified some sliders somewhere. Seems like he threw a lot more than five.
I didn't think Tanaka's stuff was as crisp as it was in his first start, especially his slider, but he still struck out ten and generated those 22 swings and misses. That's pretty great. He shook off the homer like a champ and pitched deep into the game, which is exactly what you want to see after early struggles. The guy doesn't get rattled. It's awesome. Tanaka is still adjusting to the new league and a new culture and all that, and I think once he gets more comfortable and gets to know some of hitters around the league, he's really going to be dynamite. Three runs and seven innings with less than his best stuff? That'll do.
Death By Bullpen
For the second straight game, the bullpen let the Yankees down. Tuesday's game was mostly out of reach by time Vidal Nuno took over, but the score was still tied when interim closer Shawn Kelley got the ball in the ninth inning on Wednesday. Ryan Flaherty slashed a double to leadoff the frame, then Schoop, Nick Markakis, and Young dunked singles in front of outfielders. Every hit except Markakis' came in a two-strike count.
Once Flaherty moved to third with no outs on Schoop's single, the game was just about over. Kelley is extremely fly ball prone and it was only matter of time before someone lifted a ball to the outfield for a sac fly. Markakis just did one better and singled. An insurance run came around to score on Chris Davis' sac fly. Maybe replacing Mariano Rivera with no one in particular wasn't a good idea? Matt Thornton and mostly Adam Warren escaped a jam in the eighth inning to give the Yankees a chance, but no dice.
Blown Chances
The Yankees had an opportunity to take the lead in the eighth inning, when Brett Gardner led off with a double into the right field corner. He moved to third on Derek Jeter's bunt — I'm usually anti-bunt, but I liked it there because a) I don't trust Jeter to do anything productive against a hard-throwing right-hander, and b) Jacoby Ellsbury is a high-contact hitter — but Ellsbury popped up in foul territory and Brian McCann flew out to center. Carlos Beltran was intentionally walked in between. Ellsbury's the goat there, if you must assign blame.
The ninth inning rally came to an abrupt end when Yangervis Solarte banged into a game-ending double play. Alfonso Soriano poked a leadoff double to second and Kelly Johnson followed with an infield single off Davis' glove, putting runners at the corners with no outs. Brian Roberts put together a long at-bat (surprise surprise) against Tommy Hunter, eventually lifting a sac fly into the right field corner. He juuust missed the pitch. Solarte ended the game as the next batter. Teases.
Signs of Life
It sure looks like the middle of the lineup is starting to snap out of their collective slump. Soriano homered on Tuesday and has been hitting the ball hard for a few games now. McCann did not have a hit on Wednesday, but he did lace a line drive right at the right fielder and I thought he had better at-bats as well. Beltran doubled on Tuesday and continued to rake on Wednesday, with a solo homer (into the second deck) for the team's first run and a double to help create their third run.
The third run was the essence of Beltran as a player. He pulled a double down the right field line, moved to third on McCann's line out to right, and scored when Soriano grounded out to shortstop. Beltran is nowhere near the runner he was during his prime, but he's an incredibly intelligent player who still runs the bases well because his instincts are so good. The double set it up, but getting to third and scoring on the ground ball was all about Beltran being such a smart base-runner.
Defense? Defense!
The Yankees lost Tuesday's game partly due to their atrocious infield defense. In the sixth inning of Wednesday's game, the team flashed some serious leather. First, Gardner ran down a line drive in center field, a ball that kinda knuckled from left to right and couldn't have been easy to read. Next, Soriano made a diving/lunging catch on a would-be bloop hit near the left field foul line. Finally, Roberts made a ridiculous grab on a hard-hit ground ball, going to his knees before having to reach up to snare the ball. It was awesome.
Leftovers
Johnson swatted a solo homer for New York's second run, his second homer in as many days. He also mishandled a hard pickoff throw in the eighth inning, allowing the runner to advance to second base in a tie game. It didn't come back to hurt them, but that was a clear example of inexperience burning the Yankees at first base.
Tanaka walked Matt Wieters with two outs in the third inning, the first walk by one of the team's starters since Ivan Nova last Thursday. They went 33 innings between walks, by my count. That is the longest such streak since … I have no idea. No clue how to look that up. Sorry. Probably been a while though.
Also, with the ten strikeouts, Tanaka is the first rookie pitcher in team history to strike out at least eight batters in his first two starts. That's kinda ridiculous. The last Yankee to strike out at least eight batters in his first two starts? Mike Mussina, who did it in seven straight starts to open the 2003 season.
And finally, Jeter's plate appearance in the eighth inning was the 12,000th of his career, the 18th most in history. Hooray for round number milestones.
Box Score, WPA Graph & Standings
For the box score and video highlights, go to MLB.com. For some other stats, go to FanGraphs. For the up to the minute standings, go to ESPN.

Source: FanGraphs
Up Next
The Red Sox are coming to town for a long four-game weekend series. That'll be fun. CC Sabathia Michael Pineda and Clay Buchholz will be the pitching matchup for the series-opener on Thursday night. If you want to catch any or all of those games live, RAB Tickets can help get you in the door.