The 2015 season is weird, man. The Astros are actually good now after spending the last half-decade as the worst team in baseball. Intentionally, I might add. Houston basically went through the baseball version of tanking. They hoarded draft picks and traded every last veteran for prospects. I guess it worked. For the first half of the season, anyway.
What Have The Astros Done Lately?
The Angels beat the Astros in 13 innings yesterday and Houston dropped two of three in the series overall. They've lost four of their last six games. The 'Stros are still in first place in the AL West at 42-32 with a +47 run differential. That's the second best record and third best run differential in the AL.
Offense & Defense
The Astros have an extreme offense. They lead MLB in home runs (107) and strikeout rate (24.9%), rank third in stolen bases (57), and bottom ten in both AVG (.241) and OBP (.308). It all adds up an average of 4.47 runs per game and a team 104 wRC+. The Yankees have scored 45% of their runs on homers. That's a lot. The Astros? They're at 48%. I guess no one told them they'll never win anything hitting all these home runs, amirite? Anyway, the Astros are without IF Jed Lowrie (finger) and OF Jake Marisnick (hamstring), neither of whom is due back to this series.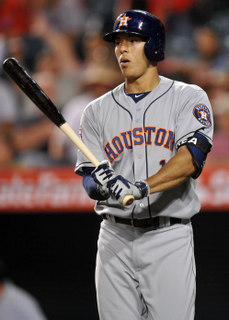 Manager A.J. Hinch builds his lineup around OF George Springer (141 wRC+), or, rather, behind Springer because he's been hitting leadoff. The recently called up SS Carlos Correa (146 wRC+ in limited time) bats second. OF Colby Rasmus (125 wRC+) has played well in a platoon role and OF Preston Tucker (109 wRC+) has also done well since being called up a few weeks ago. 1B Chris Carter (101 wRC+) has been league average-ish thanks to his power (12 HR), not his batting average (.198).
2B Jose Altuve (93 wRC+) has somewhat predictably been unable to repeat last year's success — I'm not sure anyone is a true talent .341 hitter these days — but he's still a solid and very aggressive hitter. He never walks (5.9%) or strikes out (10.0%). DH Evan Gattis (87 wRC+) mashes taters and does little else at the plate. C Jason Castro (89 wRC+) has been okay for a catcher and UTIL Luis Valbuena (103 wRC+) has 19 homers and a .201 AVG. I guess that makes him the rich man's Stephen Drew. C Hank Conger (114 wRC+), IF Marwin Gonzalez (82 wRC+), and OF Domingo Santana (132 wRC+ in very limited time) fill out the bench with their small sample size stats.
Depending on your choice of metric, the Astros are either a great defensive team (UZR) or a poor defensive team (DRS). Defense stats, man. Springer and Rasmus are great in the outfield and both Altuve and Correa are strong on the middle infield. Altuve seems to have the Brett Gardner problem — the defensive stats hate him even though everything else says he's really good. Carter is basically a DH at first base and Valbuena's fine in the field. Castro and Conger are both top notch pitch-framers. You can run on Conger (6% caught steal rate!) but not Castro (38%).
Pitching Matchups
Thursday (8pm ET): RHP Adam Warren (vs. HOU) vs. LHP Dallas Keuchel (vs. NYY)
Over the last year and a half, the 27-year-old Keuchel has developed into a bonafide top of the rotation starter, pitching to 2.72 ERA (3.22 FIP) in his last 307.1 innings. He has a 2.35 ERA (3.25 FIP) in 15 starts and 107.1 innings this season, and he does it by being the most extreme ground ball pitcher in the majors. Keuchel owns 64.1% ground ball rate in 2015, one year after posting a 63.5% ground ball rate, which was MLB's highest grounder rate by a qualified starter in four seasons. He doesn't give up homers as you'd expect (0.59 HR/9), and both his strikeout (19.9%) and walk (7.2%) rates are league average-ish. Righties (.255 wOBA) have had a lot more success again him than lefties (.172 wOBA), relatively speaking. Keuchel gets all those grounders with three pitches: upper-80s two-seamer (75.4 GB% vs. 49.5 GB% MLB average), upper-70s slider (52.7 GB% vs. 43.9 GB% average), and an upper-70s changeup (59.6 GB% vs. 47.8 GB% average). He also throws an upper-80s four-seamer to keep hitters honest. Keuchel's an elite ground ball pitcher. His success is not a fluke.
Friday (8pm ET): RHP Nathan Eovaldi (vs. HOU) vs. RHP Vincent Velasquez (No vs. NYY)
The Astros called up the 23-year-old Velasquez earlier this month and he has a 4.15 ERA (3.80 FIP) in three starts and 13 innings. His strikeout rate (29.3%) is great but Velasquez has walked way too many batters (17.2%) and not gotten any ground balls (22.6%). He's been able to keep the ball in the park for the time being (0.69 HR/9). Either his home run rate or his ground ball rate will climb going forward. Rates that low coexist only in small sample size land. Velasquez is your classic power arm with a mid-90 four-seam fastball. He's thrown his low-80s curveball more than his low-80s changeup in his brief MLB time, but scouting reports from his prospect days (you know, April and May) say the change is actually his second best pitch, not the curve.
Saturday (4pm ET): RHP Masahiro Tanaka (vs. HOU) vs. LHP Brett Oberholtzer (vs. NYY)
Oberholtzer, 25, has been limited to six starts and 32 innings this season by a nagging blister problem. He has a 2.81 ERA (3.39 FIP) in his limited action with great ground ball (54.0%) and home run (0.28 HR/9) numbers but below-average strikeout (16.7%) and walk (9.4%) rates. Lefties (.344 wOBA) have hit him harder than righties (.301 wOBA), which has actually been the case his entire career, though not to that extreme. Oberholtzer operates with upper-80s two and four-seam fastballs, and his low-80s changeup is his primary secondary offering. He'll also throw some low-80s sliders and upper-70s curveballs per start, but not many.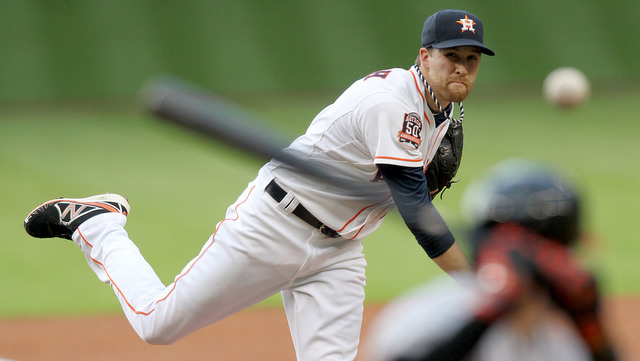 Sunday (2pm ET): RHP Michael Pineda (vs. HOU) vs. RHP Collin McHugh (vs. NYY)
The Astros got great work out of McHugh last season (2.73 ERA and 3.11 FIP) but he's crashed back to Earth this year (4.80 ERA and 4.21 FIP) because his strikeout (19.0%) and home run (1.25 HR/9) rates have both taken a step back. The 28-year-old still isn't walking anyone (5.5%) and is getting an average amount of ground balls (44.4%), but his reverse platoon split (.359 vs. .321 wOBA in favor of righties) doesn't match up with the rest of his career. McHugh has a four-seam fastball right around 90 mph and he uses it only 35% of the time or so. He leans heavily on his mid-80s slider and low-70s curveball, throwing them almost 60% of the time combined. Crazy. He'll also throw a handful of low-80s changeups per start.
Bullpen Status
A big reason for Houston's success this year is their greatly improved bullpen. This group has a 2.61 ERA (3.18 FIP) overall compared to a 4.80 ERA (4.11 FIP) last year and a 4.92 ERA (5.09 FIP) the year before that. Closer RHP Luke Gregerson (3.38 FIP) is set up by RHP Pat Neshek (3.36 FIP) and RHP Will Harris (3.05 FIP) most nights.
LHP Tony Sipp (2.99 FIP) is Hinch's high-leverage lefty guy while LHP Joe Thatcher (1.85 FIP) is more of middle innings matchup guy. RHP Chad Qualls (4.44 FIP) and RHP Josh Fields (1.76 FIP) round out the bullpen. They don't have a true long man at the moment, just a bunch of short relief guys. Also, literally everyone pitched in the 13-inning game yesterday, so the 'pen won't be very fresh tonight. Check out the status of Joe Girardi's bullpen with our Bullpen Workload page, then head over to Crawfish Boxes and Astros County for the latest and greatest on the 'Stros.