It's tough to sweep any team in a four-game series, even a bad team like the Twins, but the Yankees had a chance to do so Sunday afternoon. Instead, they blew an early lead and lost 7-4 in the series finale, which once again dropped them a game below .500. The 2016 Yankees: mediocre as hell.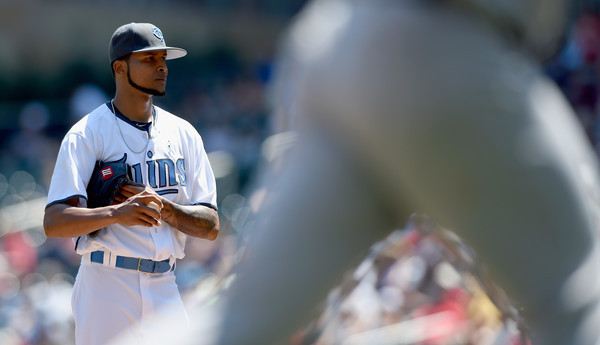 Build A Lead
Brian McCann has been so bad these last few weeks — he went into Sunday's game in a 5-for-55 (.091) slump over his last 20 games — that I wondered if he was hurt. He had the toe injury a few weeks back and more recently dealt with a hyper-extended elbow. Catchers get hurt. It's a brutal position. McCann was slumping so hard that you couldn't help but wonder if he was playing through something painful.
In the second inning Sunday, McCann snapped an 0-for-15 skid with a long solo home run off Ervin Santana to give the Yankees a 1-0 lead. It was a quality at-bat — he fouled off three tough pitches and worked the count full — before unloading on Santana's center cut 3-2 fastball. Look at the location: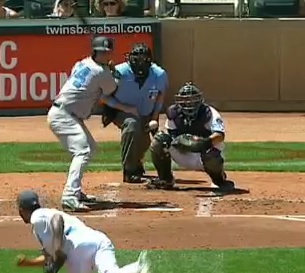 When you're struggling like McCann, you can get pitches like that and still miss them. They get popped up or rolled over for a ground ball, something like that. It was good to see McCann really lay into that pitch and drive it a long way. The ball hit off the facing of the upper deck in right-center. Statcast measured it at 421 feet, his longest dinger of the season to date.
The Yankees scored their second run thanks to some bad Twins defense and good Brett Gardner baserunning. Gardner hit a high fly ball to center that went over Danny Santana's head for a double — it really should have been caught, it appeared Santana misread the distance due to the wind — then scored on Alex Rodriguez's bloop single. Gardner read the ball off the bat perfectly and took off for home. He didn't need to wait to make sure it would fall in. That gave the Yankees a 2-0 lead.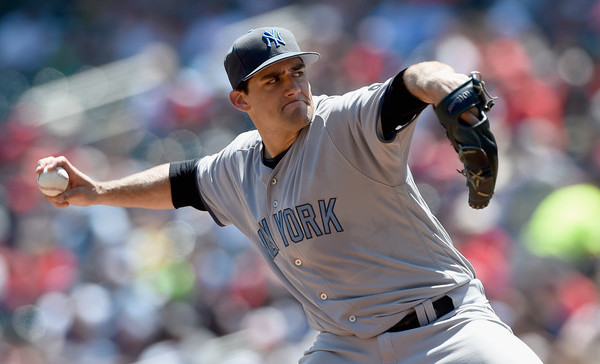 Give It Back (And Then Some)
Nathan Eovaldi pitched pretty well for the first five innings of Sunday's game. He did wiggle out of trouble in the first inning after walking two, but after that, he retired 14 of the next 17 batters he faced. Once of the three baserunners was a Max Kepler solo homer into the right field flowerbed. It was a line drive that just barely made it into the overhang. The ball actually hit the first row of flowers and fell back onto the field, so yeah, it barely made it over.
Things fell apart in the sixth inning, and really, a bunch of weakly hit base hits got the wheels in motion. Brian Dozier blooped a one-out single in front of Jacoby Ellsbury, then Trevor Plouffe followed with a little ground ball poked the other way against the shift. That put runners on the corners. Eduardo Escobar ended Eovaldi's afternoon with a broken bat dinker over Ike Davis' head at first base. Dozier scored and Plouffe came all the way around the score too. He was originally called out on the play at the plate before it was overturned on replay.
Dellin Betances
was warming in the bullpen during Escobar's at-bat, with the Yankees still leading 2-1. It seemed as though
Joe Girardi
only wanted to use Betances for four outs, not five, which is why Eovaldi remained in the game to face Escobar even though his location seemed to be waning.
Ultimately, it didn't really matter. Escobar's triple — he raced all the way around the bases as the throw went to home plate — gave the Twins a 3-2 lead. Betances entered and allowed a bloop single to Kepler to make it 4-2 Twins — Statcast measured Escobar's triple and Kepler's single at 62 mph and 61 mph off the bat, respectively, which is nothing — then Kurt Suzuki followed with a hard-hit double to left to make it 5-2 Twins. Suzuki's double was, by far, the most well-struck ball of the inning.
Eovaldi was charged with four runs on six hits and two walks in 5.1 innings, giving him a 5.02 ERA (4.31 FIP) on the season. He struck out only two. Eovaldi has now allowed at least four runs in each of his last four starts, something he's never done before. A month ago he looked like he was on track and riding the splitter to consistent success. Now the splitter seems to have deserted Eovaldi, making him much less effective. For shame.
Leftovers
The Yankees scored a run in the eighth inning thanks to back-to-back errors by Taylor Rogers and Plouffe. Rogers pulled Plouffe off the first base bag with a throw on Ellsbury's infield grounder, then Plouffe let a routine grounder go right through his legs. Of course, Kirby Yates gave up a bomb to Dozier in the previous half-inning, so that eighth inning run only cut the deficit to 6-3. Yates has allowed eleven runs in his last ten innings.
Nick Goody put the game further out of reach by allowing a run in the ninth inning. He's now allowed eight runs in his last 9.2 innings. For all the preseason talk about the Yankees possibly having the best bullpen ever, the team's relievers now have a combined 3.96 ERA in 202 innings. The non-big three relievers have a 4.94 ERA in 122 innings. Imagine how much worse the bullpen will be once the Yankees trade Andrew Miller and Aroldis Chapman.
McCann added a single and another solo homer later in the game. The second homer measured at 450 feet, per Statcast, so that's a new season high. McCann went 3-for-4 on the afternoon. Hopefully that gets him going. Gardner had two hits as well while A-Rod and Davis had one each. The Yankees did not draw a walk for sixth time in 69 games this season. They did it eight times all of last year, and from 2002-11, they averaged 4.6 walk-less games per season. Not making outs is overrated anyway.
Fun fact: in his first inning at-bat, Ellsbury swung and missed at a pitch for the first time in 19 plate appearances, according to Inside Edge. He went 84 total pitches and 41 swings between swings and misses by my unofficial count. Ellsbury went into Sunday's game with a 6.1% swinging strike rate, 22nd best out of the 171 players qualified for the batting title. (Gardner is fourth at 4.4%.)
And finally, the Yankees went 3-3 on their trip through Colorado and Minnesota. They lost a game in both the AL East and wildcard races, and are now four games back of a playoff spot with four teams ahead of them. Their postseason odds sit at 14.5%, per FanGraphs. Trade 'em. Trade 'em all.
Box Score, WPA Graph & Standings
Head over to ESPN for the box score and updated standings. MLB.com has the video highlights. Check out our Bullpen Workload and Announcer Standings pages too. Here's the win probability graph:

Source: FanGraphs
Up Next
The Yankees are heading home for a nine-game homestand, but first, they have an off-day Monday. It's their second off-day in a week after having one off-day in the previous seven weeks. The Rockies are coming to town for a two-game series after that. Ivan Nova and Chad Bettis is the scheduled pitching matchup for Tuesday night's series opener. RAB Tickets can get you in the door if you want to catch that game or any of the other eight games on the homestand at Yankee Stadium.