Got nine questions for you in this week's mailbag. I'm trying to shorten the mailbag up a bit because the season started and there's so much other stuff going on, but I'm mostly failing. Anyway, use the For The Mailbag form in the sidebar to send us any questions.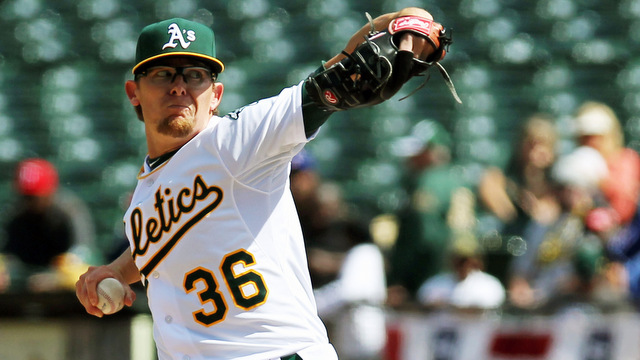 Chris asks: I hear all the time "Yanks are trading their young guys" and they do … But to be fair, who was the last young player they traded that turned out to be better than the guy they got in the Brian Cashman era? Does the fact they CAN trade for people or buy players change how the Yankees view player development in general and thus didn't take it as seriously as they should have?
Hmmm, Danny Farquhar? He wasn't a homegrown guy or particularly young though. The Yankees plucked him off waivers then traded him for Ichiro Suzuki, who helped the team get to the 2012 postseason. Farquhar might not be the best example. Looking through MLBTR's Transactions Tracker, I think the last trade involving a young player that the Yankees clearly lost was Mark Melancon (and Jimmy Paredes) for Lance Berkman back in 2010. Melancon's become one of the best relievers in the game and while Berkman's time in pinstripes was underrated (.359 OBP!), that's one New York would like to do over. Tyler Clippard for Jonathan Albaladejo is the gold standard for awful Brian Cashman trades. That was a total dud. Young players and prospects don't work out more often than not. Everyone seems so willing to overlook that. And nah, I wouldn't change how I feel about the team's player development in general. They always seem to have just enough trade chips to get what they need but not enough to be in the mix for any big names, like Cole Hamels or David Price.
Rob asks: With the emergence of Ramon Flores, Jake Cave, Tyler Austin and even Mark Payton, do you think the Yankees regret giving Jacoby Ellsbury a long term deal? Do you think at any point his contract becomes tradeable?
Teams come to regret the vast majority of long-term contracts within the first two or three years it seems, even if they won't admit it. So yes, I think the Yankees either already regret signing Ellsbury or will in a year or two. I've been critical of the signing since the start because it was elite dollars for a non-elite player (Ellsbury's good! just not a $153M player) so if the Yankees can trade him at some point, I absolutely think they should. When a top Scott Boras client signs the week before the Winter Meetings, it means you blew them away with the offer. It's a bad sign when Boras is that quick to take a deal. Anyway, even if the Yankees do regret signing Ellsbury, I don't expect them to be able to trade him anyway. He has a full no-trade clause because, you know, the $153M wasn't enough to get it done.
Johnny asks: If any of the minor leaguers push for a place on the MLB team — example: Tyler Austin continues to rake at AAA — do you see the Yankees benching Carlos Beltran?
I really doubt it. They only kinda sorta benched Alfonso Soriano last year when it was clear he was cooked. They're still batting Beltran third in the lineup and he's signed for next year too. Beltran's leash is going to be really, really long. Best case scenario if he doesn't start hitting is he gets bumped lower in the order. For someone like Austin or Flores to get a chance, it'll take a long-term injury to a starting outfielder. Maybe two long-term injuries given Chris Young's start to the season. Benching Beltran, Brian McCann, Mark Teixeira, or whoever just isn't something the Yankees have indicated they are willing to do. Their contracts keep their jobs safe.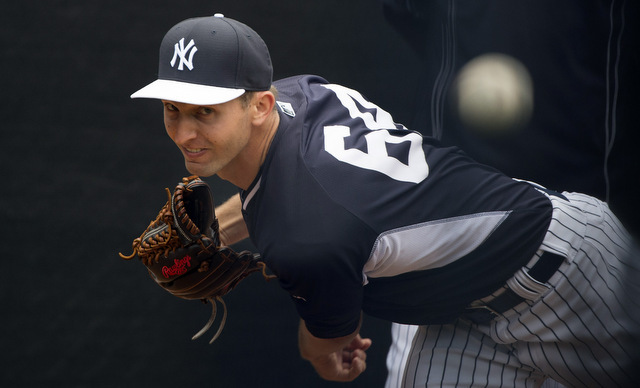 Dan asks: How much does it stink for Chasen Shreve that he won the job in Spring Training, and got sent to the minor leagues just because he had a long outing?
It stinks but that's baseball. My guess is Shreve was happy to get the opportunity — he capitalized on that opportunity too, he showed the Yankees he's a big leaguer — after spending so much time as an afterthought in the minors. Remember, Shreve was a non-prospect who had to reinvent himself last year to get on the radar. This is life for young relievers. They go up and down a bunch of times early in their careers and wait until they get enough innings to show what they can do. Shreve will be back and fairly soon, I suspect. (His ten days are up Tuesday.)
Tom asks: Obviously, very hypothetical, but say the Yankees made the Nathan Eovaldi trade before acquiring Didi Gregorius, do you think the Tigers would have accepted Eovaldi instead of Shane Greene? Who would you rather have?
I don't think the Tigers  would have taken Eovaldi over Greene. GM Dave Dombrowski had reportedly been trying to get Greene for a while — Cashman told Chad Jennings that Dombrowski inquired about Greene multiple times — and it seems like he was their guy, not Eovaldi. Dombrowski's been known to fall in love with certain player and go after them, hence the surprising Doug Fister for Robbie Ray trade. He just really liked Robbie Ray. I'd prefer Greene to Eovaldi mostly because he's under control an extra three years. Eovaldi's way ahead of where Greene was at his age though. Like, waaay ahead.
Steve asks: Is Peter O'Brien a successful draft pick? Including everything.
Oh yes, absolutely. The Yankees took O'Brien in the second round of the 2012 draft and used him to get Martin Prado, who they then flipped to the Marlins for Eovaldi & Co. They drafted him with the 94th overall pick and less than three years later they turned him into a young power arm like Eovaldi, who is only five months older than O'Brien. Regardless of what O'Brien does from here on out — he's in a different organization now with different coaches and everything, the Yankees have no influence — the Yankees turned that pick into a quality young player on their MLB roster in less than three years. It would be nice if more picks in the second round were that productive.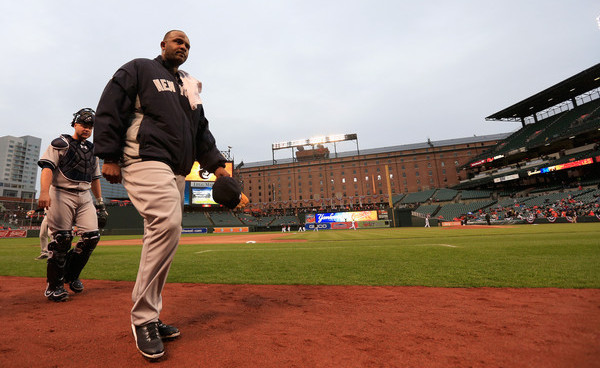 Conor asks: Does CC Sabathia now have a problem pitching out of the stretch?
It's too early to say. Believe it or not, Sabathia has actually been more effective with men on base in his two starts this season than with the bases empty. Here are the super duper small sample size numbers from Baseball-Reference:
| Split | G | PA | R | H | 2B | 3B | HR | BB | SO | BA | OBP | SLG | OPS | BAbip | OPS+ |
| --- | --- | --- | --- | --- | --- | --- | --- | --- | --- | --- | --- | --- | --- | --- | --- |
| — | 2 | 28 | 1 | 8 | 0 | 1 | 1 | 1 | 10 | .296 | .321 | .481 | .803 | .438 | 138 |
| Men On | 2 | 25 | 8 | 7 | 0 | 0 | 0 | 0 | 5 | .304 | .280 | .304 | .584 | .350 | 61 |
For what it's worth, Sabathia was less effective with men on base than with the bases empty back in 2013, his last full and healthy-ish season. Most pitchers are less effective from the stretch — batters hit .245/.303/.379 with the bases empty and .259/.327/.397 with men on base last year — because they're sacrificing some stuff in order to be quicker to the plate. I'm sure that will be true with Sabathia this year, but it's too early to know how precisely much less effective he really is from the stretch.
Paul asks: Any news about Andrew Bailey?
Actually, yes. Bailey threw one inning and 13 pitches for High-A Tampa on Tuesday and George King says he followed that by throwing live batting practice Wednesday, so while he hasn't pitched in back-to-back games yet, he has thrown on back-to-back days. He's getting there. I think the earliest we'll see Bailey — if we see him at all, he's coming back from a major injury remember — is early-to-mid-May. Hopefully he can stay healthy and contribute. Another quality reliever is never a bad thing.
Mike asks: Heard John Kruk and Curt Schilling discussing the idea that rosters should be expanded in April, not September. I've never really considered this. What do you think of their idea of a 35-man roster in April and regular 25-man limit in September?
I'm not a fan of expanding rosters in April, I like the extra players in September. Players are most fatigued and in need of rest later in the season, so it's good to have the extra bodies in September, plus it gives teams an opportunity to reward minor leaguers who had good seasons. Maybe there's a compromise to be made and rosters can be expanded in both April and September. Keep the September rules as they are, but let teams carry 27-28 players instead of 25 in April, when pitchers are still getting stretched out and stuff. That work? If it's either/or, give me expanded rosters in September over April, all day every day.