Robinson Cano returned to the Bronx as a visiting player for the first time Tuesday night. It was kinda weird. When he defected to the Mariners over the winter, it left the Yankees with a blank canvas at second base. I mean a really, really blank canvas. The team did not have a big league ready second base prospect to step into the lineup, hence the Brian Roberts, Scott Sizemore, and Dean Anna pickups. Those guys are the definition of stopgaps. They were added to play second base because the rules say someone has to do it.
True second base prospects are not all that common — most big league second basemen are failed shortstops. Cano is a failed shortstop, as are Roberts and Dustin Pedroia and Aaron Hill and pretty much every other second baseman. It's the least-premium premium position, if that makes sense. The Yankees came into the season with two good but not great second base prospects, with the most notable being Gosuke Katoh following his huge pro debut last summer. This year has not been so kind to him, however.
The other good second base prospect is 23-year-old Rob Refsnyder, the team's fifth round pick in 2012. I ranked him as their 27th best prospect back in February after he hit .293/.413/.413 (~143 wRC+) with 32 doubles, 23 steals, and more walks (84) than strikeouts (82) in 573 plate appearances split between Low-A Charleston and High-A Tampa last season. Refsnyder got off to a brutally slow start at Double-A Trenton this year (5-for-35 with 15 strikeouts), but he has gone 18-for-51 (.353) with seven walks and five strikeouts in 14 games since. His season batting line now sits at .267/.344/.384 (109 wRC+), and, according to Baseball Reference, he is 1.6 years younger than the average Double-A player.
Refsnyder's backstory alone makes him pretty interesting. He was born in South Korea and adopted by a family in Orange County when he was only three months old. He played second base in high school, moved to the outfield at the University of Arizona, and was named the Most Outstanding Player of the College World Series en route to helping the Wildcats win the 2012 National Championship. Pretty neat. Baseball America ranked Refsnyder as the 29th best prospect in New York's system in their 2014 Prospect Handbook, and here is a snippet of their scouting report:
Refsnyder has enough athleticism to become an average defender at the position in time, but he needs plenty of repetitions. He's a smart, above-average runner, but not a burner … He's an extremely patient hitter (who) recognizes spin well and knows when and how to go with a pitch. Refsnyder sprays line drives all over the field and has the ability to keep the head of the bat in the zone for a long time. He doesn't get much lift, so he's not going to hit more than 10-12 home runs going forth.
We aren't talking about the next Cano here. Cano was a second year big leaguer when he was Refsnyder's age, not a first year Double-A player. Refsnyder's strengths are a potentially solid glove, his knowledge of the strike zone, his ability to differentiate pitches, and his ability drive the ball to all fields. Here is his 2013-14 spray chart, if you need a visual. (MLB Farm is a truly excellent site, by the way.) That is a pretty promising skillset even if it doesn't make for the sexiest prospect ever.
Any time a player gets to the Double-A level and has success, especially a player drafted out of a major college program, he puts himself on the map for a potential big league role. Obviously the season is very young and Refsnyder still has another 120-something games left in his season, but I'm encouraged he shook off the really poor start and has started to hit like he did last year. The Double-A level has always been something of a separator between actual potential big leaguers and regular ol' prospects. You know what I mean. Refsnyder is starting to separate himself a bit.
The perfect world scenario would see Refsnyder dominate Double-A these next few weeks, earn a midseason promotion, dominate Triple-A, and open 2015 as the team's regular second baseman, but I don't know how realistic that is. It's a tad aggressive. The Cardinals had a top notch second base prospect in Kolten Wong ready to take over this year and they still added a veteran backup plan in Mark Ellis over the winter. (Wong hasn't hit a lick and was just demoted to Triple-A, but that's besides the point.) Copying the Cardinals is not a bad idea. Signing another stopgap veteran and letting Refsnyder force his way into the lineup seems like reasonable 2015 plan to me.
Thanks to that blank canvas Cano left behind, the Yankees have a very clear opening for Refsnyder in the near future. The potential is there for him to be a solid and cheap bottom of the lineup option, something others like David Adams and Corban Joseph failed to become for different reasons. I hesitate to use Brett Gardner as a comparison for Refsnyder because Gardner turned into one hell of a player, but the idea is similar. An unheralded mid-round pick who comes up through the system and develops into a strong complementary player. I'd take that from Refsnyder in a heartbeat, and he isn't all that far away from entering the big league second base picture.
By

Via Jon Heyman: The Yankees are among at least five times with "strong interest" in free agent right-hander Joel Hanrahan. He is believed to have multiple offers on the table and is likely to sign rather than hold another showcase for teams. Hanrahan is working his way back from Tommy John surgery and two other elbow procedures (bone chips, flexor tendon).

Hanrahan, 32, was said to be sitting in the low-90s during a workout for teams a few weeks ago. He is not quite a full year out from surgery, but as a reliever it won't take him very long to get game ready. There is always room for a guy like Hanrahan in the bullpen, especially since the Yankees are in position to ease him back into things after surgery and not ask him to be a late-inning guy right away. With both Vidal Nuno and David Phelps in the rotation, adding a reliever like Hanrahan to replace the bullpen depth sure makes a lot of sense. · (39) ·
The mailbag is our Friday staple, but this week we received a question worth its own post.
Jonathan asks: Hey Mike, have you noticed any change in Mark Teixeira's stance so far? He's standing up much more straight with less of a crouch and his hands are starting in a lower position.
I hadn't noticed anything different until I read Jonathan's question the other day, so I paid extra attention during Tuesday night's game against the Mariners. Sure enough, it looks like Teixeira has changed his setup at the plate. To the action GIFs:
That is 2013 on the left and 2014 on the right, both homerun swings (not that the outcome matters much, but just in case) and both at Yankee Stadium so the camera angle is the same. I'm not much when it comes to media editing and all that, but I did my best to sync the two GIFs at the moment his front foot hits the ground.
There are definitely some differences between last year and this year, as Jonathan pointed out. Four that I see, in fact.
Closed Stance: Teixeira's front foot was further away from the plate than his back foot last season. He'd been like his entire career. The same is still true this year, but it isn't nearly as exaggerated.
More Upright: Look at his knees. He was in a bit more of a crouch last season. This year he's standing close to straight up.
Lower Hands: They wind up in the same place once he starts to load his swing, but Teixeira has brought his hands out in front of his body before the pitch is delivered. Before they were almost behind his head.
Follow-Through: Last year Teixeira still had his big one-handed follow-through. This year it's a more compact two-handed follow-through.
Do those adjustments sound familiar? They should. You're a bad fan if they don't. (Not really.) Those are the same exact adjustments Curtis Granderson made when he revamped his batting stance in August 2010 and turned into one of the game's premier power hitters almost literally overnight. Here's a pair of screen caps from a post I wrote about Granderson's overhaul back in the day: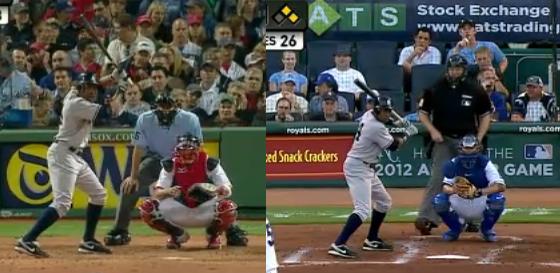 Granderson's very first at-bat of the 2010 season is on the left (homer off Josh Beckett!) and an at-bat from August 2010 is on the right. It's from the series immediately after he went through his crash course with hitting coach Kevin Long, so right after Curtis went through the overhaul.
The camera angle isn't the same but you can see Granderson closed his stance and dropped his hands, pretty drastically too. Much more than Teixeira. (Lower hands is a classic adjustment players make in an effort to get their bat moving quicker.) He is not standing more upright, though he did replace his one-handed follow-through with a two-handed follow-through. I'm not going to make a GIF of that; I trust you remember Grandy following through with two hands these last few years.
Alright, back to Teixeira. Here's a snippet of a relevant Mark Feinsand article from late in Spring Training, just before the Yankees traveled to Houston to open the season:
Kevin Long noticed that Teixeira had been letting the bat go early when he hit lefty, protecting his right wrist in the process. Teixeira said he fell into that habit last year when he tried to play through the injury, but until Long picked it up on video earlier in the week, he didn't realize it was still happening.

"Lefthanded, mentally I have to continue to remember that it's healthy now and even though it might be a little bit tight, and every now and then it's a little bit sore, I can still take that full swing," Teixeira said. "It was unbelievable how early I was letting go of my (left) hand to protect the (right) wrist. Just really a bad mechanical thing."

Long and Teixeira worked on the adjustment in the cage and during batting practice, but it wasn't until Thursday's game against the Pirates in Bradenton that the first baseman truly felt he let loose during his lefthanded at-bats.

"It looked like a whole different animal," Long said. "The problem is it wasn't allowing him to drive the ball and he was cutting his swing off. I can't tell you how positive the Bradenton game was for him and for us.
That's the kinda thing I read in Spring Training and completely ignore. We hear that sorta stuff everyday and most of it means nothing, both short and long-term. Teixeira has noticeably revamped his stance though, and both he and the hitting coach talked about making adjustments back in camp. The early returns are positive too: .231/.375/.487 (140 wRC+) with three homers in 48 plate appearances this season, including two homers in his last two games. Suddenly that little blurb from March seems more meaningful.
Teixeira is a switch-hitter, but his left-handed swing has been the concern in recent years. I didn't bother to look to see if he changed his righty stance as well. He never stopped mashing lefties (144 wRC+ from 2011-13), so there was never a reason to worry about him from that side of the plate. Teixeira's production against righties took a hit though (104 wRC+ from 2011-13), plus a right wrist injury is more worrisome for a lefty hitter. The front arm is the power arm, so if any part of that is compromised, it's tough to drive the ball. Teixeira has hit those two homers off righty pitchers the last two games, which is encouraging.
Will the adjustments Teixeira made this year be as effective as the ones Granderson made in 2010? Man that would be so cool. It is the same basic stuff, after all. Closed stance, lower hands, two-handed follow-through, etc. That said, no. Probably not. Granderson's fix was 95th percentile stuff. Turning into a 40+ homer guy with a few mechanical tweaks is damn near the best case scenario. I wouldn't expect the same results from Teixeira just because they made the same adjustments. They are two different players at two different points of their careers.
Still, can this new stance help Teixeira regain some of his lost production as a left-handed batter? It's possible and I hope so. There's really no way of knowing at this point though. Teixeira wasn't bad in his last full, healthy season (116 wRC+), he just wasn't as good as he had been during his prime. The easiest way for him to improve his overall production is to improve against righties, and these recent changes could help him do just that. Hopefully this recent power surge is a sign of things to come and an indication Teixeira's new batting stance is paying real dividends.
RHP Luis Severino was included in today's Prospect Watch at FanGraphs, so head on over for a few paragraphs on the 20-year-old right-hander. HE has a 1.89 ERA (2.39 FIP) with a 22/6 K/BB in 19 innings for Low-A Charleston this season. Baseball Reference says Severino is 1.8 years younger than the average player in the league.
Triple-A Scranton had a scheduled off-day.
Double-A Trenton was rained out. They'll play a doubleheader tomorrow.
High-A Tampa (6-0 win over Dunedin)
CF Jake Cave: 0-4, 1 K
SS Brendan Ryan: 1-3, 1 R, 1 BB, 1 K — 4-for-14 (.286) in his four rehab games
DH Eric Jagielo: 2-4, 1 R — had been in a 5-for-27 slump (.185)
3B Dante Bichette Jr.: 2-4, 1 R, 1 RBI — second straight two-hit game
C Peter O'Brien: 1-4, 3 K
2B Angelo Gumbs: 1-3, 2 R, 1 RBI, 1 BB
RHP Brett Gerritse: 6 IP, 2 H, 0 R, 0 ER, 2 BB, 0 K, 1 HB, 10/3 GB/FB
LHP Tyler Webb: 2 IP, zeroes, 4/1 GB/FB — last year's tenth rounder has a 65/9 K/BB in 48.1 pro innings
Low-A Charleston's game as suspended due to rain with two outs in the bottom of the first inning. Probably not the wisest decision to start the game, in hindsight. Anyway, they'll complete the game as part of a doubleheader tomorrow. Here's the box score if you can't wait until then for the stats.
By

Via Andrew Marchand: The Yankees are not allowed to place Michael Pineda on the disabled list until his ten-game pine tar related suspension ends. Thanks to today's rainout, the team is now stuck playing with a 24-man roster until Tuesday instead of Monday.

Pineda, 25, will miss at least 3-4 weeks with a Grade I teres major strain, so they'll stick him on the DL as soon as the suspension ends. Brendan Ryan is currently on a minor league rehab assignment and it seems likely he will be activated to fill the extra roster spot next week. The Yankees are currently carrying seven relievers and only a three-man bench. · (13) ·
The Yankees and Mariners were rained out tonight and, looking out my window, it was a wise decision to call the game so early. It's been raining all day and it's supposed to rain all through tomorrow afternoon. Even if they wanted to play a doubleheader on Thursday, I don't know that they would be able to get the first game in. The weather is supposed to clear up in time for the regularly scheduled night game, however.
Anyway, here is the open thread. There were a lot of rainouts today, so it doesn't look like there is any baseball on national television. There are three NBA and three NHL playoff games though. All three hockey games are Game Sevens too (including the Rangers!), and those are always a blast. Talk about whatever you like here.
By

Thanks to today's rainout, the Yankees will skill David Phelps' scheduled start and instead keep the rotation on turn, the team announced. That means Hiroki Kuroda will start tomorrow night's game as originally planned. Phelps will have to start sometime in the next five days, obviously.

More importantly, the Mariners announced they are using the rainout to push their starters back a day and give everyone extra rest, which means lefty Roenis Elias will start Thursday's series finale rather than Felix Hernandez. Oh happy day. That's a really nice break for the Yankees. · (15) ·
Foster Griffin | LHP
Background
Griffin, 18, attends the First Academy in Orlando, which has only had two players drafted (zero big leaguers) in its history. Not exactly a baseball hotbed. Griffin is a lock to be the highest drafted player in school history. He is committed to Ole Miss.
Scouting Report
Griffin is a classic big, projectable, high school left-hander. He is listed at 6-foot-5 and 190 lbs., and his fastball currently sits in the 88-90 mph range. Obviously whoever drafts him will be banking on a few extra miles an hour showing up as he fills out. Griffin also throws a big-breaking mid-70s curveball that has the look of a potential out pitch, but it's inconsistent right now. He also throws a changeup, which is probably his best secondary pitch. Griffin's delivery is pretty simply but it can fall out of whack from time to time, so his command comes and goes. Classic project pitcher.
Miscellany
In their latest rankings, Keith Law (subs. req'd) and Baseball America (no subs. req'd) ranked Griffin as the 35th and 44th best player in the draft, respectively. That will change in the coming weeks and so far he has only moved up the rankings, not down. The Yankees' first pick is in the second round (55th overall), so Griffin would have to slip through the cracks a bit to be available to them. The Bombers sure do love their big, tall, projectable high school pitchers though. Griffin is right up their alley.
By

5:04pm: It's official, the game will be made up at 7pm ET on June 2nd, the Yankees announced.

3:04pm: Joel Sherman says they are likely to make the game up on June 2nd. That is right smack in the middle of a homestand for the Yankees, though it will force them to play 17 games in 17 days. No biggie. Sherman says the Mariners didn't want a doubleheader tomorrow because they already have one scheduled for next week.

2:47pm: Bryan Hoch says there will be no doubleheader tomorrow. The two teams will lose an off-day and the Mariners will have to make a trip back to New York.

2:25pm: Tonight's game against the Mariners has been postponed due to rain, the Yankees announced. A makeup date has not yet been determined. I guess that means no doubleheader tomorrow? We'll find out soon enough. The Mariners are not scheduled to return to Yankee Stadium this season.

If they don't play a doubleheader tomorrow, the Yankees could either skip David Phelps (tonight's scheduled starter) or simply push their rotation back a day. I'd bet on the the latter. If they play a doubleheader, the Yankees will need to dig up a spot starter at some point. The real question is whether Mariners push their rotation back a day in the event of no doubleheader, which would mean no Felix Hernandez tomorrow night. Fingers crossed.

The Yankees and Mariners only have four mutual off-days remaining this year: May 19th, June 2nd, June 26th, and August 14th. June 2nd and 14th are the most likely makeup dates because the Mariners will be on the East Coast at the time. Losing an off-day stinks, but the silver lining is that the Mariners have to come to the Bronx to make this game up. The Yankees don't have to travel all the way out to Seattle. · (34) ·
Just last week, the Yankees scored 45 runs on a seven-game road trip through Tampa and Boston, scoring at least five runs in five of the seven games. The rebuilt lineup started the season slowly but that wasn't going to last forever. The Yankees were getting on base, smacking homers, stealing bases, coming up with timely walks, hitting good pitching (14 runs in 9.2 innings against Jon Lester and David Price), and hitting bad pitching (11 runs in 6.1 innings against Erik Bedard and Felix Doubront). It was great.
The first four games of this homestand have not gone as well. The Bombers scored eight total runs in three games against the Angels over the weekend (still won two of three!) and last night they were shut down by whatever's left of Chris Young's career. Two of their last four runs have scored because of defensive miscues — Nick Maronde wild pitch, Mike Zunino throwing error — so they've needed some help getting on the board these last two games. It's annoying but every team goes through (multiple) stretches like this each year.
The Yankees haven't been scoring lately simply because the top half of the lineup is in a collective funk. Here is what they've done over the last seven days, which includes that 14-5 beatdown of the Red Sox:
The fivesome has combined for seven extra-base hits during that time, all doubles. Obviously some parts have been mixed in the last few days (Brett Gardner leading off yesterday, for example), but that has been the team's most used one through five lineup combination so far this season according to Baseball Reference. You're not going to score many runs when your top five hitters do that. Guys like Brian Roberts, Mark Teixeira, and Yangervis Solarte are not going to carry a lineup all by themselves.
McCann had a good 6-7 game stretch a few weeks ago but otherwise he has not hit this year and it's starting to get annoying. He isn't striking out much — his 13.3% strikeout rate is well below the league average and his lowest rate in seven years — but he also isn't walking much either (4.4%). Considering he walked in 9.7% of his plate appearances last year and in 9.4% for his career, I don't think this will last. McCann is being victimized by the fourth highest infield pop-up rate (9.6%) among baseball's 193 qualified hitters, which is by far a career high. Pop-ups are basically automatic outs. It seems like McCann is juuust missing and popping up some pitches he should be creaming. Since he isn't struggling to make contact and his ground ball rate hasn't spiked like it does for most players when they start to lose bat speed (his grounder rate has actually dropped this year), it seems like it's only a matter of time before he breaks out.
Ellsbury and Beltran were hitting earlier this season, quite a bit too. They just hit the skids recently. It happens. Perhaps Ellsbury's sore hand explains his slump, who knows. Soriano has long been one of the streakiest hitters in baseball, we all know this from his first stint in pinstripes, and right now he's not hitting. A few weeks ago he was, also quite a bit. Jeter … I don't really know what to expect from him going forward. He isn't hitting for any power whatsoever but his overall .352 OBP is more than respectable. I'd be happy if he maintains that all season at his age and after all those injuries. Baseball is hard enough as it is. It's extra hard for a soon-to-be 40-year-old coming off some serious leg problems.
When the Yankees struggled to score at the start of the season, I said it was way too early to worry and it was. They started hitting a day or two later. The same is true now. The top half of the lineup has stunk for a week now and the team has struggled to score runs on the homestand, but it is only a handful of games. McCann is the only one of these guys who hasn't hit much all season but it's not like the Yankees will bench him. That's be pretty silly. They just need to work through it. Otherwise Ellsbury, Jeter, Beltran, and Soriano have just stopped hitting at the same time. It stinks but it won't last forever. It's just baseball.