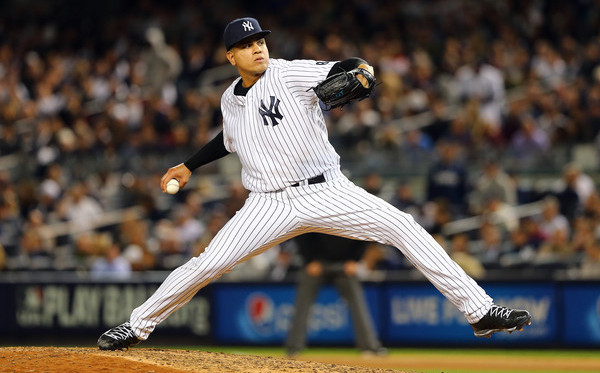 Admittedly, it's hard to imagine a scenario in which Dellin Betances pitches better than he has in the last two years. When thinking about room for improvement, there really isn't much left for the to-be-28-year-old to grow into. If 2014 was his coming out party, 2015 was the year we realized this was for real. This past season, Dellin finished second in the league in fWAR and produced his second straight sub 1.60 ERA season (1.50 in 2015; 1.40 in 2014). Again, he racked up a ton of strikeouts (131 total; 14.04 K/9; 39.5 K%) and limited hits (4.8 H/9!). Despite all that, there were some causes for concern.
When he was in the minors, control was a big issue for Dellin; he didn't seem to know where the ball was going and he racked up a ton of walks. To say he did that in 2015 would be unfair, but he did walk 16 more batters (40) in six fewer innings (84) than he did in 2014 (24; 90). He also surrendered home runs at higher rates in 2015 than he did in 2014. In total, he gave up two more (6) than he did in 2014 (4). On a per-nine-innings basis, the difference wasn't that big: 0.4 in '14 and 0.6 in '15. However, that he gave up more homers in fewer innings is concerning, and the concern is greatly indicated by his HR/FB% jump from 6.9 in 2014 to 12.2% in 2015. The culprit responsible for these walks and homers might actual be Betances' greatest ally: his curveball.
Before getting into the concerns with the curve, let's highlight some of the good things. From 2014 to 2015 with his curve, Betances upped his Whiff/Swing% (50.90 to 51.18) and groundball/balls in play rate (52.94 to 59.38) while lowering his line drives/balls in plate rate (19.61 to 17.19) and fly ball/balls in play rate (19.61-12.50). He also increased the rate at which batters popped up per ball in play from 7.84 to 10.94. These are all generally good things. We want to see pitchers getting batters to swing and miss more while limiting air-based contact, save for weak pop-ups. The problems, however, Betances had with his Uncle Charlie in 2015 were with regards to control and homers.
In 2014, Betances threw 644 curves in 90 innings (7.15 per inning); in 2015, he threw 713 in 84 innings (8.49 per inning), so a little more than one curve per inning. That's not a huge difference, but if we take a look at where those pitches landed, we see a difference. In 2014, Betances threw his curveball for strikes 43.63% of the time. That number dropped by almost three percent in 2015. Uncoincidentally, the rates for his fastball took similar turns. In turns of HR(FB/LD), Betances saw big jumps with both his fastball (just under 4%) and his curveball (5.53%), something we obviously don't want to see. Considering the uptick in grounders from the curveball Dellin got, this number is troubling because it means that there were fewer fly balls and line drives in general, but that more of them ended up as dingers.
A problem Betances had in the minors with regard to his control was lack of repetition of his delivery and, in turn, his release point. That may have returned with his curveball in 2015. If we look at 2014, we see a tighter grouping of release points than we did in 2015. Perhaps that consistency in release in 2014 made his curveball so effective in 2014. Granted, it was still effective in 2015–and improved in some cases–but the differences could be responsible for the increased walks and homers. And while we saw a seemingly more consistent fastball release in 2015 than we did in 2014,  it was still a touch different from 2014 and that could've affected his control and command, leading to more walks and homers.
Dellin Betances is an elite relief pitcher and is probably no worse than a top 5 non-starter in all of baseball. There is certainly a degree of nitpicking to this post, but every player is always looking to get better, and I imagine Dellin is no different. If he can figure out how to bring those walks and homers back down to his 2014 totals, he'll have a chance to be even better than he was then, and that's scary. I'm glad he's on our side.