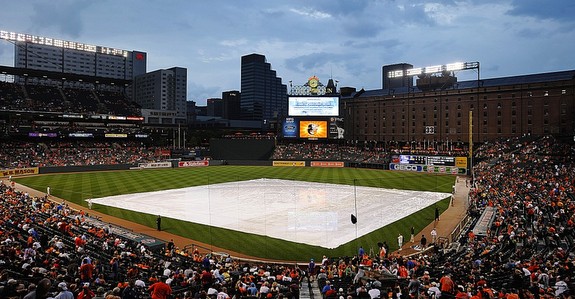 For the second time this season, the Yankees have a chance to win their first series of the year tonight. They dropped the rubber game with the Blue Jays last Thursday and have lost their first two series of 2015. Last night's win means the Yankees will have not one, but two chances to win this series at Camden Yards, though I think we all want to see a win tonight and a shot at the sweep tomorrow.
Now, the bad news: it's raining in Baltimore. Has been for most of the day. The forecast says it's supposed to clear up later tonight and there's a pretty good chance the game will begin in a delay. That's a bummer. It doesn't look like they will need to postpone the game, however. Just a delay. That's better than no baseball. Here is the starting lineup for Joe Girardi's club:
The Orioles are starting right-hander and, for at least a short time in 2012, Yankee killer Miguel Gonzalez. He had a 2.17 ERA in 20.2 innings against New York in 2012 (including postseason) but has a 4.22 ERA in 49 innings against the Yankees since. Here is the O's lineup.
Like I said before, it's been raining at Camden Yards all day and the game will probably begin in a delay. Whenever it does start, you can watch on YES locally and MLB Network nationally. Enjoy the game.