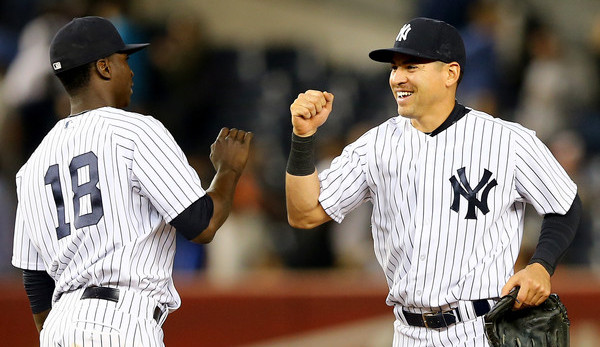 On paper, this looks like a game the Yankees will have a very tough time winning. First of all, Chase Whitley is starting, and while he was phenomenal last time out and very good in his two starts overall, I'm not sure anyone is truly comfortable expecting Whitley to take the ball deep into the game and pitch well given his fade last year. Maybe it's just me.
Secondly, the bullpen is taxed. Check out our Bullpen Workload page for details. Andrew Miller, Dellin Betances, and Justin Wilson have all pitched three days in a row, and Joe Girardi hates asking his guys to pitch three straight days, especially this early in the season. Furthermore, Esmil Rogers has warmed up in each of the last two games after pitching Wednesday. His arm is not exactly fresh. This is a game the Yankees shouldn't win on paper, but they've already won a lot of those types of games this season. Here is the Orioles' lineup and here is the Yankees' lineup:
The weather is kinda yucky in New York today. I was disappointed to not see the sun when I went out for breakfast this morning. It's cloudy and gray out, but there is no rain in the forecast, so that's good. Not the prettiest day for baseball. It happens. This afternoon's game will begin at 1:05pm ET and you can watch on YES. Enjoy.
Late Roster Move: Branden Pinder is with the Yankees, according to Meredith Marakovits. Chris Martin has been send down to clear a roster spot placed on the 15-day DL. No word on the injury yet.