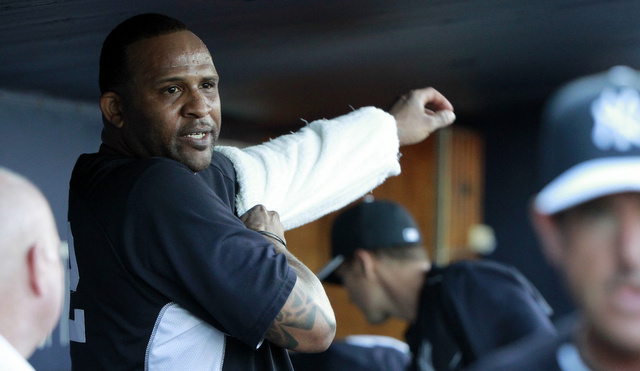 Finally. After six weeks of Spring Training and a month of meaningless yet necessary Grapefruit League games, the Yankees get to leave Tampa later today. They still have one last Grapefruit League game to play first, however. Only nine innings to freedom!
Today's reason to watch: CC Sabathia is starting and these days he's a must watch not because he's a dominant ace, but because we're looking for signs of improvement. Sabathia's had a rough spring and I'm not too concerned about the stats. His velocity has been better but his location has been bad. He needs to iron that out. Like, right now. His next start will be Game Three of the regular season.
The poor Nationals had to make the two-hour bus trip across Florida for this afternoon's game. They have to bus all the way back to Viera after the game, then fly up to Washington for tomorrow's exhibition game against the Yankees at Nationals Park. Crummy travel day for them. Such is life. Here is the Nats' lineup and here is the Yanks' lineup:
Available Position Players: C Austin Romine, 1B Jonathan Galvez, 2B Rob Refsnyder, SS Nick Noonan, 3B Eric Jagielo, LF Ben Gamel, CF Slade Heathcott, RF Ramon Flores, and DH Stephen Drew will be the second string off the bench. C Eddy Rodriguez and IF Dan Fiorito are the extra players.
Available Pitchers: LHP Chasen Shreve, RHP Andrew Bailey, RHP Branden Pinder, RHP Cesar Vargas, and RHP Nick Goody are all listed as available while LHP Tyler Webb, RHP Nick Rumbelow, RHP Chris Martin, RHP Danny Burawa, and RHP Jose Ramirez are listed as the extra arms.
The last day in Tampa is a nice one. Clear sky and temperatures in the mid-80s with only a little bit of humidity. The weather this spring was pretty great. This afternoon's game will begin just after 1pm ET and you can watch live on YES and MLB.tv. Apparently this is the MLB.tv Free Game of the Day too, so you don't need a subscription to watch. The game won't be blacked out in the Yankees' home market on MLB.tv. Enjoy the last game from George M. Steinbrenner Field of 2015.