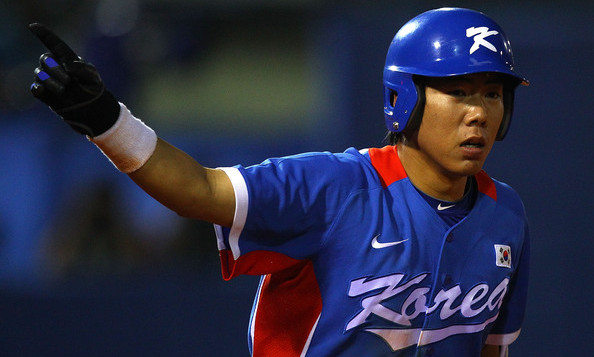 It's safe to say the the Yankees have a glaring hole at the shortstop position following Derek Jeter's retirement. There are options in free agency (Stephen Drew, Asdrubal Cabrera, etc.) and in trades (Didi Gregorious? Starlin Castro? Elvis Andrus?) to fill the position. However, there is an intriguing unknown commodity that can arise as an option: SS Jung-Ho Kang of the Nexen Heroes in the Korean Baseball Organization.
Reports have indicated Kang will not be posted until "after the Winter Meetings," which are next week. Two Korean pitchers have already been posted to the big league teams — LHP Kwang-Hyun Kim and LHP Hyeon-Jong Yang — and it looks like the Kang market is not in a huge rush. In fact, with two of the big infield names (Pablo Sandoval and Hanley Ramirez) gone in the free agent market, Kang will get more attention from teams that will look to bolster their infield.
The shortstop has been interested in moving over to majors for awhile. In an article from Newsis from Dec. 2013, Kang expressed desire to face pitchers "like Craig Kimbrel and Aroldis Chapman," saying "I am confident in the power versus power matchup." The article also mentions that Kang's favorite players are Alex Rodriguez and Miguel Cabrera, two Major League infielders who are known for their power displays — something Kang aspires to be in the majors.
Speculation of the Yankees looking at Kang isn't surprising given their positional need and the team's history of tapping into Asian talents. Just like Masahiro Tanaka, Hideki Irabu and Kei Igawa, Kang would be expected to be ready to contribute to the ML team. However, Kang differs in that he is a positional player. There definitely have been hitters that enjoyed immense (Ichiro Suzuki and Hideki Matsui) to considerable (Norichika Aoki) success coming from their nation's league to MLB, but the track record of Asian infielders in MLB isn't too pretty.
In past few years, two of the top Japanese infielders went stateside — Tsuyoshi Nishioka and Hiroyuki Nakajima — and neither lived up to the hype. Nishioka, who had hit .346/.423/.482 in 2010 for Chiba Lotte of NPB before signing with the Twins, totaled an awful .503 OPS in 233 AB in two years with Minnesota. Hiroyuki Nakajima, an eight-time NPB All-Star with the Saitama Seibu Lions, never played in majors during his two-year contract with the Athletics that just terminated, hitting a total of .682 OPS in Triple-A and Double-A. In the past, other Japanese infielders like Kaz Matsui, who once hit for a 1.006 OPS in the 2002 season, also did not perform as expected. One player who turned out to be a solid contributor was 2B Tadahito Iguchi, who played for the World Series Champs 2005 White Sox and posted a solid 3.5 fWAR that year. But the overall history of Asian infielders in U.S. is too shaky to feel confident about Kang's success as a major leaguer.
Kang is the best position player in Korean Baseball Organization right now. As the starting shortstop for the Nexen Heroes (based in Seoul), Kang demolished pitching in 2014. In 117 games, Kang put up a .356/.461/.739 slash line, good for a whopping 1.200 OPS. He also had 78 extra base hits, with 40 of them being homers. Many consider KBO to be lesser in talent than NPB, but those are still very impressive numbers. Here are his career stats:
Year
Age
Tm
G
PA
R
H
2B
3B
HR
RBI
SB
CS
BB
SO
BA
OBP
SLG
OPS
2006
19
Hyundai
10
21
1
3
1
0
0
1
0
1
0
8
.150
.150
.200
.350
2007
20
Hyundai
20
15
0
2
0
0
0
0
0
0
0
5
.133
.133
.133
.267
2008
21
Woori
116
408
36
98
18
1
8
47
3
1
31
65
.271
.334
.392
.726
2009
22
Woori
133
538
73
136
33
2
23
81
3
2
45
81
.286
.349
.508
.857
2010
23
Nexen
133
522
60
135
30
2
12
58
2
2
61
87
.301
.391
.457
.848
2011
24
Nexen
123
504
53
125
22
2
9
63
4
6
43
62
.282
.353
.401
.754
2012
25
Nexen
124
519
77
137
32
0
25
82
21
5
71
78
.314
.413
.560
.973
2013
26
Nexen
126
532
67
131
21
1
22
96
15
8
68
109
.291
.387
.489
.876
2014
27
Nexen
116
497
102
147
36
2
39
115
3
3
67
106
.354
.457
.733
1.189
9 Seasons
901
3556
469
914
193
10
138
543
51
28
386
601
.298
.382
.502
.885
As you may notice, he has power. According to Keith Law, who ranked Kang as the No. 15 free agent in his top 50 free agents list, the shortstop has a "swing that will generate legit plus power." Law also notes that Kang's swing is more of a "power swing" than for contact. Here's a video of all of his 40 regular-season homers from this season. A lot of his dingers are pulled but there are some that go to dead center or to right. He has good enough power to hit home runs to any part of the field, and that is what makes him desirable to scouts and fans.
How will Kang hit in the majors? While the shortstop did hit for a high .356 average, he also struck out 106 times in 117 games, the third most in the league. His BABIP in 2014 is .398 — a rate that certainly shouldn't be expected when he transitions to MLB. He also shows a league above-average plate discipline — his 13.6 BB% ranks eighth in league. I expect that to go down and strikeout rate (21.2%) to go up as he moves to the majors. How much? I'd say it depends on how well he adapts on seeing Major League-caliber pitches.
Relatively high strikeout rates and a high batting average tells me that he has an aggressive power swing approach most of the time — while he can be fooled by certain pitches, his bat speed and control is good enough to be deadly when he makes contacts. It is a plus that he's been able to draw walks as well. The challenge for him in majors will be laying off more advanced secondary pitches, challenging faster and more difficult fastballs, facing more advanced set of pitches overall, etc.
In 2014, only one qualified shortstop put up an OPS higher than .800 (Hanley Ramirez with .817) with two between .750 and .800 (Jhonny Peralta at .779 and Starlin Castro at .777). If Kang can put up one around .750, barring a league-wide offensive explosion, he could be considered as one of the top hitting shortstops in ML, which would be deemed quite valuable in the market. Can Kang hit well against Major-League caliber pitchers? A 1.200 OPS to .750-ish is quite a sink, but keep in mind a good amount of Asian hitters never became competent on hitting ML-level fastballs and breaking balls and completely tanked. Also, it should be noted that not all ML scouts think his power will translate in states. According to Joel Sherman, MLB executives aren't sure how his power will do in states considering that "competition in Korea is inferior to even that in Japan." The only way to find out how he will do in majors is for him to actually play over stateside and see the results.
Kang's defense has been a topic of ambivalence for the scouts. As I have mentioned, the history of Asian infielders in ML is not great. The history of Asian shortstops, by the way, is even worse. The aforementioned Nishioka and Nakajima have been failed projects. Kaz Matsui, who won four Mitsui Gold Glove Awards in Japan, became such a defensive liability that the Mets converted him to second base. Munenori Kawasaki has been a solid ML shortstop, but he has suffered with hitting. Kang, while possessing a strong arm, has gathered doubts with range. Law wrote that Kang is "not as fleet foot as you would want a shortstop to be."
The Korean infielder's homefield, the Mokdong Stadium, uses artificial turf, which makes fielding grounders easier due to the smooth surface. Unfortunately, there are no in-depth fielding data from Korean Baseball Organization a la Ultimate Zone Rating to give more analysis for his range. The consensus is that he is not the most mobile shortstop but he gets a good read of ball off the bat and has a strong arm. It also remains to be seen if Major League teams see him something other than shortstop. Third base and second base are definite possibilities, as Kang has played in those two spots before becoming the starting shortstop for the Heroes.
Another factor to consider: Kang has been quite durable. Since becoming a regular in 2008, he never missed a significant amount of playing time due to injuries, though he will have to play a chunk of more games in a ML season (128 games per season in KBO). What also works to his advantage is that he is younger than most of the infielders named in the trade and free agent markets. The infielder will turn 28 this upcoming April. If his tools translate well into the majors, a team that signs him may enjoy the best years of his career. But then again, it is a big "if."
Two other Korean players posted this winter — the lefties Kim and Yang — did not garner as much of a posting fee as their respective teams had hoped. The Padres bid $2 million for Kim, and though the high bid for Yang is not yet reported, it is speculated to be less than that since the Kia Tigers decided not to let the pitcher go. While Kim and Yang are not the same caliber of pitcher as Hyun-Jin Ryu (whom the Dodgers bid $25 million to the Hanhwa Eagles for), the amounts were quite low for the teams to confidently let go of their top pitchers. But it does speak for the scouts' opinion of how well they would survive in the majors.
As for Kang, I do think that the Nexen Heroes will get more than the Tigers and Wyverns for their pitchers. First off, there's the pedigree of an infielder with power being in the prime time of his career. With Hanley and Sandoval off the market, two of the biggest bats and infielders are out, which makes Kang an attractive non-trade option for teams that are willing to gamble some money. While the scouts don't love him ubiquitously, I bet some do see him as a Major League starter talent.
While the Kang posting will not be a subject to a $20 million cap as it applies to NPB players, I don't think teams will have to break serious bank to win. Nakajima, who hit for .300 average and 20 HR power in NPB, gathered only a $2 million posting fee for the Seibu Lions (from the Yankees, actually. But they didn't sign him). Nishioka, who had a breakout 2010 with the Chiba Lotte Marines by hitting a .346/.423/.482, garnered a $5.32 million bid from the Twins, not a small amount but not intriguing either.
Of course, Kang is a different player than those two. But given that the top hitters in NPB were not treated top-notch, I don't know if Kang, from KBO (considered in a lower level of play than NPB by many), would garner much more. Also, I assume many Major League scouts and teams are aware that KBO had a high-octane offense season.  His 40 homers are very impressive — especially as a shortstop — but before this past season, his career-high was 25 in 2012. Did he actually tap into his true power potential or is it a by-product of the bat-heavy KBO season?
C.J. Nitkowski of FOX Sports, who played with Kang in the second half of the 2010 season, is calling for a range of $5-8 million in posting with a "reasonable big league contract" to acquire Kang. Ryan Sadowski, another former major leaguer who played in Korea, wrote for Global Sporting Integration that he expects around $6-9 million range, citing that Kang has the "raw power necessary" despite the offensive outburst in the league. Sadowski also notes taht the Yankees probably monitored on Kang while looking at the IFA signee, SS Hyo-Jun Park.
I'd say I agree with both Nitkowski and Sadowski's outlook. Kang's salary for 2014 was around $378,000, which is less than the MLB minimum of $500,000. Nishioka (3 yr, $9.25 million) and Nakajima (2 yr, $6.5 million) both got a ML contact around $3 million per year and that would be a huge raise over Kang's KBO salary. For comparison's sake, the highest paid player in KBO, 1B Tae-Kyun Kim, was paid around $1.35 million in 2014. It is possible that Kang may get a figure quite different than Nakajima or Nishioka's, but I don't think he'll get any close to Ryu's 6 year, $36 million contract.
Assuming that Kang is willing to settle for a two or three-year contract, the possible amount of total money to get the shortstop, including the posting fee, could be anywhere between $12 million to $20 million. If Kang turns out to be a middle infielder that can hit in the neighborhood of .750 OPS and provide an acceptable defense for two or three years, it will be a good investment. I don't think money would be a problem for the Yankees to get Kang. But are they willing to invest much on a KBO shortstop that has seen zero Major League action? We shall see. My bet at this moment is that the team will work the hardest towards acquiring a shortstop that's already in the Major League market, whether it be via trade or free agency. If the Yanks can get a known commodity that is sure to produce in 2015 and beyond, great! If New York don't acquire anyone until the posting starts, it wouldn't be a bad idea to monitor if the team will bid on Kang.