For the first time in more than two weeks — since the series in Houston — the Yankees have won back-to-back games. They rallied from behind to beat the Red Sox in the final road game of Alex Rodriguez's career Thursday night. The final score was 4-2. That was a good game. I enjoyed it.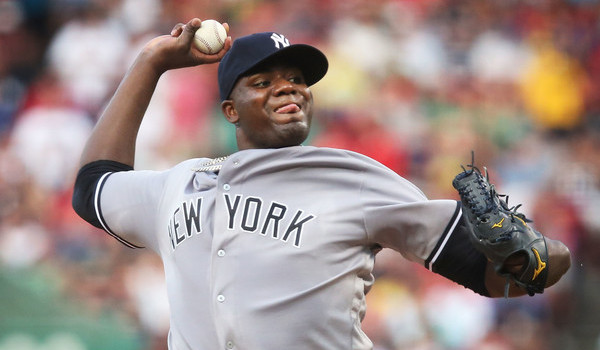 Pineda's Tight Rope
That was a good start from Michael Pineda even though it didn't feel like a good start. He put eleven runners on base in six innings and really had to wiggle out of some jams, but the important thing is he did wiggle out of those jams en route to holding the Red Sox to two runs in six innings. A well-timed double play and a few clutch strikeouts helped Pineda along the way.
The BoSox scored their two runs with two outs, because of course. Two-out runs are Pineda's thing. The first run came in the first inning. David Ortiz ground-rule doubled and Hanley Ramirez singled him in. Ortiz and the Red Sox had zero regard for Jacoby Ellsbury's arm. It was a hard hit single to center and they sent Ortiz home anyway — remember, he was hobbled after hitting that foul ball off his shin last night — and he beat it out easily. Blah.
The second run scored in the fifth inning. Xander Bogaerts blooped a one-out single and Hanley drove him in with a two-out double into the gap. That gave the Red Sox a 2-1 lead. Pineda struck out three and got nine of his other 15 outs on the infield. Was it the prettiest outing? No. Not at all. Pineda's outings are rarely pretty. But, at the end of the day, two runs in six innings against the best offense in baseball is pretty good. Nice work, Big Mike.
Come From Behind, Again
The Yankees put a hurting on Boston's bullpen Wednesday night, and they did it again in this game. They scored their first run of the night in the third inning on Austin Romine's long solo homer — did you realize he has four homers this year? where have I been — which I'm pretty sure cleared the Green Monster and left the ballpark entirely. If it didn't, it came damn close. Romine really laid into that Eduardo Rodriguez fastball.
It wasn't until the eighth inning, after Rodriguez was out of the game, that the Yankees scored again. The Red Sox were nursing their 2-1 lead, and Gary Sanchez started the rally by running over Hanley at first base. I'm not joking. He hit a grounder that Dustin Pedroia ranged far to his right to grab, but his throw short-hopped Ramirez and more or less pushed him backwards into Sanchez's path.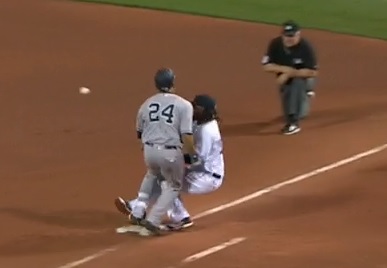 Hanley was on the ground for a few minutes in obvious pain. He stayed in the game but only briefly; he was lifted for a pinch-hitter the next half-inning. Ramirez told reporters after the game he was a) kneed in the thigh, and b) felt something in his lower back on the fall. The back was the reason he was on writhing in pain.
Anyway, that play gave the Yankees a leadoff baserunner. Aaron Hicks and Brett Gardner followed with singles to load the bases with one out. The Yankees were in business against funky submariner Brad Ziegler. A fly ball would have tied the game, and Ellsbury did indeed get that fly ball, but it did more than tie the game. Rookie outfielder Andrew Benintendi appeared to lose it in the lights and let a catchable ball sail over his head for a two-run double. The play was originally called a sac fly and an error, but nah. They changed it to a double later.
That double turned a 2-1 deficit into a 3-2 lead, then, naturally, it came down to A-Rod. It always comes downs to A-Rod. The Red Sox intentionally walked Chase Headley to load the bases with one out for Alex because they didn't think he could do damage. I don't blame them. Rodriguez hasn't done much of anything since last year. Sure enough, A-Rod managed to hit the ball this far …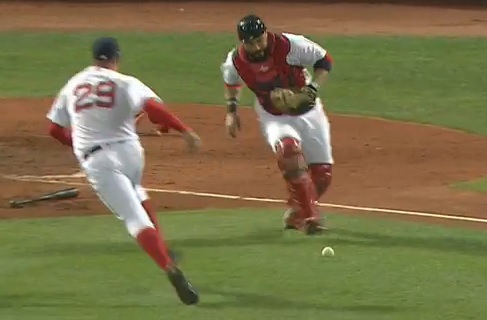 … which was just far enough to score Gardner from third. A younger A-Rod beats that little nubber out for an infield single. The current version of A-Rod had to settle for an RBI fielder's choice. Hey, it got the run in! That gave the Yankees an always appreciated insurance run and a 4-2 lead. Sanchez running over Hanley and Benintendi doing whatever the hell he did were the keys to that inning.
Nine Outs From Glory
Welcome back to the big leagues, Luis Cessa. He picked up his first second career win with two innings of no effs given relief. Six up, six down against the 1-6 hitters with one ball out of the infield. Cessa struck out two and Joe Girardi let him stay in for the eighth inning with a two-run lead and the bullpen gassed. It was no problem. Heck of a job by Cessa. He really shoved for those two innings. I wonder if he starts Monday in place of Nathan Eovaldi?
Dellin Betances came in for the ninth and things got a little interesting, as they tend to do in Fenway Park. Sandy friggin' Leon doubled with one out to bring the tying run to the plate. So annoying. A wild pitch moved Leon to third, and a walk to Benintendi put the tying run on base. Betances then rebounded to strike out Pedroia and Bogaerts to end the game. All three outs were strikeouts, and each one was more embarrassing than the last. Dellin made those guys look foolish.
Leftovers
The 3-4-5 hitters went a combined 0-for-11 with a walk and three strikeouts. The rest of the lineup went 7-for-22 (.318). The top and bottom of the order really picked up the guys in the middle. Romine (homer, walk) and Hicks (two singles) were the only Yankees to reach base twice. The eight and nine hitters. Go figure.
How about Sanchez's arm? Good gravy does that kid have a rocket. He threw Jackie Bradley Jr. out trying to steal by a mile in the fourth inning. It wasn't even close. Sanchez has thrown out three of five basestealers since coming up — the two successful steals came with Betances on the mound, and Dellin can't control the running game at all — plus two others on wild pitches. He is: good.
Hicks ran into a brutal double play in the third. He was on first, Gardner hit a soft little humpback line drive to Pedroia at second, and Hicks wandered way too far off the base, so he couldn't get back in time. The Yankees' baserunning was really bad this entire series. Really, really bad.
And finally, the Yankees are now 58-56 on the season, and thanks to this win, they're only 3.5 games back of a wildcard spot. They haven't been this close to a postseason berth since July 28th. The last time they were this close before that was July 3rd. Nothing better to do the rest of the season than make a run for it, right? Right.
Box Score, WPA Graph & Standings
Here are the box score, video highlights, and updated standings. The Yankees (58-56) have a better record than the Mets (57-57) and that pleases me. Feels right, you know? Don't miss our Bullpen Workload and Announcer Standings pages. Here's the very fun win probability graph:

Source: FanGraphs
Up Next
The final game of A-Rod's career is next. That's a bummer. The Yankees are going home to start a three-game series with the Rays. They're going to hold a special ceremony for Alex prior to Friday's series opener. That'll be neat. CC Sabathia and Chris Archer are the scheduled starters for that one. RAB Tickets can still get you in the door if you want to see A-Rod play one last time.