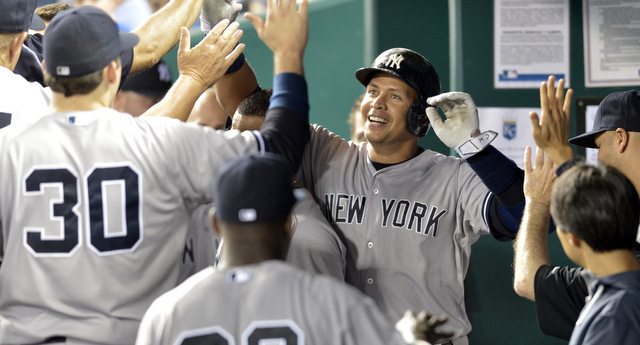 The Yankees had a much-needed off-day yesterday after playing 30 games in the previous 31 days. They have played just four of their last 17 games at home and will play two more games on the road today and tomorrow, against the Nationals. Then they're off again Thursday. Anyway, here are some thoughts.
1. The middle of the bullpen has been pretty shaky — the non-Andrew Miller/Dellin Betances relievers have a 3.76 ERA (3.61 FIP) in 88.2 innings — and I'm wondering when the Yankees will start to make some changes. Not even personnel changes, just role changes. Will Chasen Shreve get a chance in high-leverage spots at some point, or will he continue to be the last man out of the bullpen? What about Branden Pinder? I think Justin Wilson has been better than the numbers (5.56 ERA and 3.33 FIP) — his disaster outing this weekend really skewed things — but there's no reason for Joe Girardi to trust David Carpenter or Esmil Rogers right now. How long is the leash there? The Yankees should give Carpenter some more time to see if he gets back to being the reliever he was the last two years, but they can't wait forever either. Jacob Lindgren is ready in Triple-A and Adam Warren could be a bullpen candidate once Masahiro Tanaka and/or Ivan Nova return, so the team has options. If the non-Miller/Dellin relievers don't right the ship and really soon (like, before the end of the month), the Yankees should dip into their depth and try to find something that works. That's why they built it up in the first place.
2. Exit velocity is all the rage these days and it's easy to understand why. How hard a batter hits the ball is really important because yes, the harder a ball is hit, the more likely it is to drop in. That makes sense intuitively and the data backs it up as well. From Rob Arthur: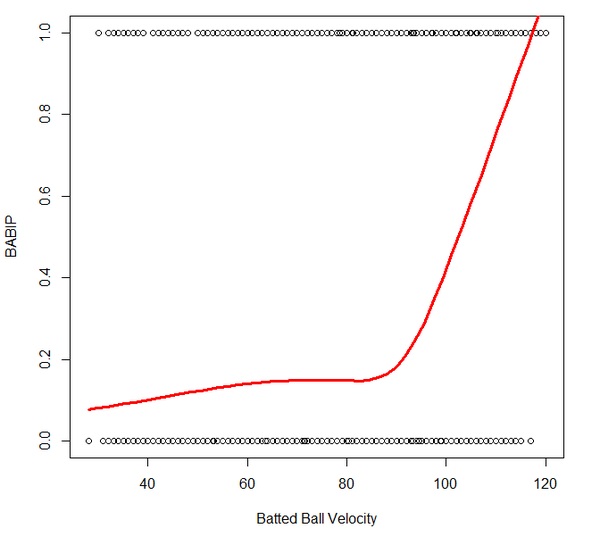 So yes, exit velocity is very important. I also don't think it's the be all, end all statistic either. Batted ball direction (opposite, pull, etc.) and angle (grounder, pop-up, etc.) are also important, especially the latter. Hitting the ball hard is good, but hitting the ball hard in the air is better than hitting it hard on the ground. At least I think it is. MLBAM made all this batted ball data available this year and it's a frickin' gold mine, but we've only scratched the surface and don't fully understand it yet. This stuff is simple yet complicated — hitting the ball hard is good, but is hitting the ball hard in X direction and Y angle as good as hitting it slightly less hard at X direction and Z angle? That's something that still has to be investigated. By the way, Garrett Jones has the second highest average exit velocity on the Yankees.
3. We're now 669 plate appearances into the Brian McCann era and he's hitting .233/.287/.405 (94 OPS+) with the Yankees. His production this year (92 OPS+) is basically the same as last year (94 OPS+), except he's walking less (5.9% vs 3.8 %) and hitting for a little less power (.174 vs. 161 ISO). That's … not encouraging for a 31-year-old catcher. McCann's defense has appeared to slip a little as well, at least when it comes to blocking balls in the dirt, and he acknowledged that the other day. "Absolutely. Definitely, I take pride in what we do. It has to get better," he said to George King when asked his passed ball/wild pitch issues. I'm not really sure where I'm going with this. I was all for signing McCann two offseasons ago, the Yankees needed power and they needed a starting caliber catcher, and he was by far the best available option at the time. But so far he's been a disappointment with the Yankees. The offense hasn't been there (especially away from Yankee Stadium) and now there are signs the glovework is slipping as well. It'll never happen, Girardi seems content to ride McCann as hard as possible, but giving John Ryan Murphy a little more playing time could help. McCann may benefit from the extra rest at this point of his career.
4. Aside from all the spring injuries (Luis Torrens, Ty Hensley, Domingo German, Ian Clarkin, etc.), things are going pretty well in the farm system so far this year. Aaron Judge and Eric Jagielo are mashing, Tyler Wade is breaking out, Jorge Mateo is holding his own following an aggressive assignment to Low-A Charleston, and both Rob Refsnyder and Gary Sanchez rebounded from slow starts in April. Luis Severino has been up and down, which could be the result of his blister, but either way it doesn't make him unique among 21-year-old pitchers. They're all up and down. Those are the guys the Yankees needed to take a step forward this year. The only top prospect having a subpar year is Greg Bird, who hit an un-Bird-like .226/.351/.419 (121 wRC+) before landing on the DL with a shoulder issue, but what are you going to do. Not every prospect is going to have a great year, and if the one who disappoints is the no-defense first baseman, so be it. Not the end of the world. I don't know if the Yankees will have a top ten farm system at the end of the year, but they're definitely moving in that direction, especially if they actually take first round players with their two first round picks this year. We should start seeing some of these top prospects soon, within the next calendar year, with Refsnyder first in line.
5. Tommy John surgery really sucks for Chase Whitley. The success rate of elbow reconstruction is going down and it hurts guys like Whitley the most. The fringe players. Others like Matt Harvey and Stephen Strasburg have much more margin for error, so even if the surgery robs them of some stuff, they can still be really good pitchers. Whitley is starting from a much lower baseline. He's more like, say, Scott Baker, someone with a useable pitch mix and command who is living on the edge more often than not. Whitley's a marginal big leaguer who had a tough time cracking the MLB roster as it is. Now he's going to spend a year, year and a half away from the game rehabbing, which is long enough to fall out of the picture. If one day Masahiro Tanaka needs Tommy John surgery, he won't need to worry about his job when he comes back. Whitley doesn't have the same luxury. This is potentially much more than a speed bump in his career.