By

Via George King: Alfonso Soriano is considering retiring following the 2014 season. He is only 12 steals away from becoming the fifth player in history with 400+ doubles, 400+ homers, and 300+ steals. "It depends on how I feel," he said. "If I am healthy I will play [in 2015]. If not, I will let it go. It depends how I feel."

Soriano, who turned 39 last month, has been one of the most durable players in baseball these last few years, missing only 18 games due to injury since 2010. He is up there in age though, and that alone brings injury concerns. Soriano will spend the year splitting time between the outfield and DH and it is way too early to know if the Yankees are even considering re-signing him after the season, when the mammoth contract he originally signed with the Cubs finally expires. · (25) ·
When position players reported to Spring Training yesterday, the competition for the final bench spot officially got underway. We all know Mark Teixeira and Derek Jeter will start if healthy, and earlier this week the Yankees and Joe Girardi declared Brian Roberts and Kelly Johnson the starters at second and third base, respectively. The competition is for the backup infield spot alongside Brendan Ryan.
Needless to say, an infield built around Roberts and Johnson doesn't inspire much confidence. The Yankees are said to be done signing Major League free agents, but even if they were open to signing another player, there aren't many available who fit what they need. Stephen Drew is pretty much the only option at this point and they don't have interest in him. They did earlier this winter, however. From Joel Sherman:
Early in the offseason, the Yankees – with so many holes to fill – used a strategy of making many offers at one time, letting agents know that with each signing, they would re-assess and pull some bids. The Yankees actually made Drew an offer at that time, believed to be for two or three years, when the shortstop was still looking to do considerably better – four or five years.

And, as it happened, the Yankees spent more than they anticipated on players such as Brian McCann, Jacoby Ellsbury and Masahiro Tanaka and, at some point, rescinded the offer for Drew. And once Tanaka was signed and the $189 million dream was crushed, Hal Steinbrenner put a clamp on going any further. That means they are not bending for Drew, a decision they believe is made a tad easier because they were worried about the condition of his ankles and hips anyway.
The Yankees basically put a bunch of offers out there and said first come, first serve. The first player to say yes got the contract. Maybe that's how they wound up with Jacoby Ellsbury instead of Shin-Soo Choo, who they offered seven years and $140M. Same thing with Matt Thornton over Javier Lopez, who they also had interest in. I'm not sure if they could have used the same strategy with Masahiro Tanaka and Brian McCann though. Whatever.
Anyway, Sherman goes on to say Scott Boras' current asking price for Drew is a two-year contract with an opt-out after the first year. So it's basically a one-year contract unless he has a really bad year, in which case you're stuck with him for 2015 as well. The Yankees have already forfeited three top draft picks, so signing Drew would only cost money and a second round pick, which might turn into a supplemental first rounder if he opts out and rejects a qualifying offer next winter.
The Yankees do not want to pay that money and surrender the pick for Drew right now, but in all likelihood they're going to have to pay for infield help at some point this year. If they don't give up money and a pick for Drew now, they'll have to surrender prospects (and probably take on salary) to trade for someone at midseason. Roberts is a huge health risk and the chances of Johnson getting exposed as an everyday player are high enough that an in-season trade feels like an inevitability. Heck, they might have to make a trade even if they sign Drew.
"There are areas of concerns and we're going to keep plugging away, but we've got to see how big of a concern they are," said Hal Steinbrenner to Bryan Hoch yesterday. "They're not problems yet because we haven't even started playing. They're areas of concern; I get it. Every team has them and every team works through them. We're going to do the same thing. We got pretty good at it last year, I thought."
Of course, the problem with standing pat and waiting for a midseason trade is that the Yankees will play a ton of games with a weak infield. Signing Drew or making a trade now improves the team on Opening Day, not on July 31st or whenever. Considering how tight the race for a postseason spot figures to be, the longer New York waits to get infield help, the tougher their road to October will be. The Yankees don't want to pay for infield help now and that's fine, as long as they understand they'll have to pay for it later if they want to have the best possible chance to contend.
By

Baseball America published their list of the top 100 prospects in baseball tonight (no subs. req'd), a list that was predictably topped by Twins OF Byron Buxton. He's been on top of every top prospect list this spring. Red Sox SS Xander Bogaerts and Cardinals OF Oscar Taveras round out the top three.

The Yankees landed two players on the top 100: RHP Masahiro Tanaka at #4 and C Gary Sanchez at #35. It's silly that Tanaka is considered a prospect considering all his time in Japan, but Baseball America has always stuck with the Rookie of the Year rules and that makes him eligible for their list. Whatever. Sanchez, the team's real top prospect, ranks second among catchers, behind only Padres C Austin Hedges. OF Mason Williams, OF Tyler Austin, and OF Slade Heathcott all dropped off last year's top 100. · (34) ·
Position players reported to Spring Training today, but the day was all about Derek Jeter. He discussed his plan to retire following the season during a press conference this morning. You can watch the video right here if you haven't seen it yet. Jeter said exactly what he wrote in his initial statement: things that used to come easy are a little more difficult, and he's looking forward to starting the next chapter of his life. Here's the rest from Tampa.
As always, Chad Jennings has the day's mound assignments. David Robertson, Matt Thornton, and David Phelps threw bullpen sessions while Manny Banuelos and Shawn Kelley were among those to face hitters in live batting practice. Adam Warren had been on the same schedule as Phelps, but he didn't throw today and will instead throw live batting practice tomorrow. Seems like they are being lined up for some early Grapefruit League starts.
From what I can tell, all the position players reported today with no issue. No visa holdups or anything like that. The first full squad workout is tomorrow but Eduardo Nunez was already out taking ground balls at third base. [Bryan Hoch]
And, just in case you were wondering, Joe Girardi confirmed everyone has made it through Spring Training healthy so far. It has only been a week, but still. Health is good. [Jennings]
This is your open thread for the evening. Both the Knicks and Nets are playing, plus the Olympics are still on as well. You folks know how these things work by now, so have at it.
As expected, Derek Jeter discussed his decision to retire following the 2014 season during a press conference in Tampa this morning. He said he wanted to make the announcement months ago, but people advised him to wait just to make sure he didn't have any second thoughts. Also, the announcement was made on Facebook because Jeter wanted to draw attention to his Turn 2 Foundation. Here's the video:
Three offseasons ago, just weeks after winning the World Series, the Cardinals let Albert Pujols walk as a free agent. They made a substantial offer but reportedly held the line at five years, so it was no surprise that he left when another club blew that offer out of the water. The Cardinals wanted Pujols back but on their terms and their terms only.
This past offseason, just weeks after missing the postseason for only the second time in the last 19 years, the Yankees let Robinson Cano walk as a free agent. Like St. Louis with Pujols, the Yankees made Cano a substantial offer but held firm, topping out at seven years and $175 million. When another team blew that offer out of the water, Robbie was gone. New York wanted him back, but again, only on their terms.
The Cardinals' situation with Pujols and the Yankees' situation with Cano were very similar and in more ways than the ones I just laid out. Not only did the two teams hold a hard line during talks with their homegrown star, but when that homegrown star left, both clubs turned to the same player to replace the lost offense: Carlos Beltran. St. Louis signed Beltran soon after Pujols left and plopped him in the middle of their order. The Yankees signed Beltran hours after Cano left and are counting on him to anchor their rebuilt lineup.
Beltran, who will turn 37 in April, is certainly no stranger to New York. He spent parts of seven seasons across town with the Mets and he has flirted with the Yankees on numerous occasions. Beltran famously offered to sign with the Bombers at a discount during the 2004-05 offseason, and he also gave them a chance to match the Cardinals' offer three winters ago. The Yankees passed both times but decided now, with his best years almost certainly in the past, was the time to bring him. Cano's departure was a big reason why.
With Brian McCann, the Yankees addressed a very specific short and long-term need behind the plate. Jacoby Ellsbury was signed mostly because he was the best non-Cano free agent on the market, but he gives the team a dynamic leadoff hitter who has been through the AL East wars and knows all about playing in a huge market. Beltran is sorta like a combination of the two. He's a middle of the order bat like McCann but he's also familiar with playing in an intense market with big expectations.
At the same time, Beltran is nearing the end of his career, so it's tough to know exactly what to expect at this point. His defense has already declined to the point where he needs a late-inning replacement and his production against lefties has slipped as well, so these next three years will be interesting. I've said before that the signing gives me a Randy Johnson vibe, that the Yankees acquired the right player only nine years too late. I really hope that isn't the case and considering how much money they sunk into him, the team is confident Beltran will remain a very good hitter for another few seasons.
"I look at the team, I look at our situation, the players we have and we have a pretty good chance," said Beltran to Dan Martin yesterday. "Last year, I experienced being in the World Series with the Cardinals and it was a great feeling. Once you play there, you want to go there every year … Hopefully we can help this team win a championship. I know [Derek Jeter] has a lot of championships, but I don't have [any]. Hopefully, I can win one."
During his two years with the Cardinals, Beltran essentially matched Pujols' offensive output with the Halos (128 vs. 130 OPS+) while doing a better job of staying on the field (296 vs. 252 games). I would be very surprised if Beltran hits anything like Cano these next few years, nevermind play a similar number of games. The Yankees don't need him to do that though. They improved several lineup spots this winter and should have a deeper lineup overall. Beltran doesn't have to be The Man for New York the way Cano was, but he does replace him as the team's best all-around hitter and likely number three hitter. That's a role Beltran is very familiar with.
There is nothing quite like the first few days of Spring Training, before position players even show up to camp. Pitchers aren't doing much more than throwing in the bullpen or facing hitters during live batting practice, yet they all seem to look great and are poised for a big season. Just the other day Blue Jays manager John Gibbons told John Lott that Brandon Morrow "looks like a good, strong, starting, durable pitcher." If that's not a sign of early Spring Training optimism, nothing is.
The Yankees, of course, are no different. John Ryan Murphy (weird) told Andrew Marchand that Masahiro Tanaka was "very impressive" during his second bullpen session yesterday and that's great. It doesn't really mean anything though. Hitters will tell us how impressive Tanaka is once he gets into an actual game in a few weeks. But still, this is the time of year when everyone gets excited about everything and so far the team's new high-priced right-hander looks as good as advertised.
Tanaka is not the only pitcher in camp who is something of an unknown. Not even close, really. In fact, I consider Michael Pineda an even bigger unknown after missing two years due to major shoulder surgery. At least Tanaka spent the last few seasons pitching against a reasonably high level of competition. Pineda has thrown two bullpen sessions since Spring Training opened last Friday — including 35 pitches on Monday — and he has looked great, because of course.
"I thought the ball was coming out easier [than last spring]," said Joe Girardi to Chad Jennings on Monday. "I know he's had time to clean up a couple things too, mechanically, in this two-year span. He just looked like it came out free and easy to me. Didn't look like he put a ton of effort into it, or that he was overthrowing it. … To me, it looked different than what I saw a couple years ago when he got hurt and was pitching in games. I'm anxious to see him obviously get in some games in the next 12 days or so."
Pineda is the perfect example of how this time of year lends itself to getting excited about a player, no matter what hurdles they have to clear. He hasn't thrown a Major League pitch in two years and he wasn't exactly a finished product before he got hurt either. Remember how he needed to develop a changeup and was fly ball prone? Those issues didn't disappear as he rehabbed from shoulder surgery. Pineda says he's the same guy he was before the injury — "I'm feeling so strong. I'm feeling good power … I'm throwing the same. Mechanics the same. Everything is the same. All pitches are the same. I'm the same Michael Pineda," he said to Jennings — which means there is still development to be done before he lives up to his potential.
And yet, there are plenty of reasons to be excited about Pineda in 2014. He is finally healthy, first and foremost. He turned only 25 just last month. During that 2011 season with the Mariners, he became the only rookie pitcher in baseball history with a 9.0+ K/9 and sub-3.0 BB/9. That's really impressive. Michael Pineda finally being healthy and in position to help the Yankees this year is exciting even if so many questions remain.
There will be plenty of time to worry and fret about Pineda and every other part of the Yankees over the next few months. Trust me, it'll happen. Pineda will have back-to-back crappy starts at some point and we'll all wonder if he's breaking down again. The Yankees will lose like four games in a row and we'll all worry things will never turn around. That's just the nature of the beast. This time of year is different though. This is the time of year when everything is a reason to be excited, including Pineda's early bullpen work.
The complex in Tampa is going to get much more crowded when position players officially report to Spring Training on Wednesday. Sure, a bunch of them are already in camp working out, but everyone will be there tomorrow. The Yankees will play their first exhibition game one week from today (vs. Florida State) and one week from tomorrow will be their first televised Grapefruit League game (vs. Pirates), so hooray for that. Here's the latest from Tampa:
Here is your open thread for the evening. The Knicks are playing, plus the Olympics are still going on as well. Talk about that stuff, Spring Training, Jeter, or anything else right here. Have at it.
The whole "Robinson Cano is lazy because he doesn't run out ground balls" thing has been beaten into the ground and I really hoped we would never hear about it again once he signed with the Mariners, but apparently that is not the case. Over the weekend, hitting coach Kevin Long declined to take the high road when asked about Robbie's tendency to jog to first. From John Harper:
"If somebody told me I was a dog,'' Long said here Sunday, "I'd have to fix that. When you choose not to, you leave yourself open to taking heat, and that's your fault. For whatever reason, Robbie chose not to.''

…

"We all talked to him,'' Long said. "I'm pretty sure [Derek Jeter] talked to him a number of times. Even if you run at 80%, no one's going to say anything. But when you jog down the line, even if it doesn't come into play 98% of the time, it creates a perception."

…

"But he just wouldn't make that choice to run hard all the time. The reasons aren't going to make sense. He might say his legs didn't feel good, or he was playing every day and needed to save his energy. To me there was no acceptable answer.''
Joe Girardi was asked about Long's comments yesterday and the interview was ended abruptly by the team's public relations people according to Brendan Kuty, so this is a thing now. Everyone is talking about the hitting coach trashing the former star player when they should be talking about bullpen sessions and batting practice and how great everyone looks. It's an unnecessary distraction.
Regardless of how true any of this is — we all know Robbie doesn't run hard to first — Long was wrong to talk about it publicly. Doesn't matter that Cano is no longer on the team and frankly that only makes it worse in my opinion. This is like the Red Sox talking about Terry Francona's use of pain medication after he was let go*. Criticizing a former player after he leaves town is the ultimate low blow.
* Joe thinks Dan Duquette's comments about Roger Clemens entering the "twilight of his career" are a more appropriate comparison. I agree.
On Tuesday, new Mariners manager Lloyd McClendon defended his new star and fired back at Long. From Jerry Crasnick:
"Last time I checked, I didn't know that Kevin Long was the spokesman for the New York Yankees," McClendon told ESPN.com. "That was a little surprising. I was a little pissed off, and I'm sure Joe [Girardi] feels the same way. He's concerned with his team and what they're doing, not what the Seattle Mariners players are doing.

"I'm a little surprised that Kevin Long is the spokesman for the New York Yankees. I wonder if he had any problems with Robbie when he wrote that book ("Cage Rat") proclaiming himself as the guru of hitting."
The Yankees spent all winter talking about their "family" and the importance of having strong character guys in the clubhouse whenever they signed a new free agent. That shouldn't stop at the players. Long is a high-profile member of the organization and he threw a former player — a former member of the "family" — under the bus on his way out of town. It was a classless move and everything the Yankees claim not to be. Dan Martin says Long has already reached out to Cano to offer an apology, but at this point the damage has been done. This became something when it should have stayed nothing.
The new Yankee Stadium has been open for five full seasons now, more than enough time to definitively say it is a hitter's park, especially for left-handed hitters. The short porch in right is shorter than it was across the street, so we've seen plenty of balls that looked like routine fly outs go over the fence for the cheap homer. Anecdotally, I think the short porch has benefited the Yankees much more than it's hurt them since 2009.
Because of that potential for the cheap homer, the Bombers have emphasized getting ground balls since the new park opened. The staff has gradually progressed from a 42.3% ground ball rate in 2009 to a 44.9% ground ball rate last year. Ground balls will again be a focus this year, and pitching coach Larry Rothschild has his staff focusing on the bottom of the zone early in camp. From Joel Sherman:
In bullpen sessions this year, pitching coach Larry Rothschild has introduced a technique he used in previous locales, but not with the Yankees — he has a yellow string that crosses the bottom of the strike zone and he actually is encouraging his pupils to hit the string.
Pounding the bottom of the zone should lead to more ground balls just because it's tough to lift a ball at or below your knees, though the occasional golf shot is unavoidable. Whether this new drill actually leads to an increased grounder rate during the regular season remains to be seen, but hey, at least they're trying.
In addition to an increased ground ball rate, emphasizing the bottom of the zone may also have a side effect: more called strikes. In a long but must read piece, Jon Roegele explained last month that the shape of the strike zone has changed during the PitchFX era. The zone is increasing in overall size but the corners are coming in while the bottom of the zone has expanded downward. Here are two heat maps from his post: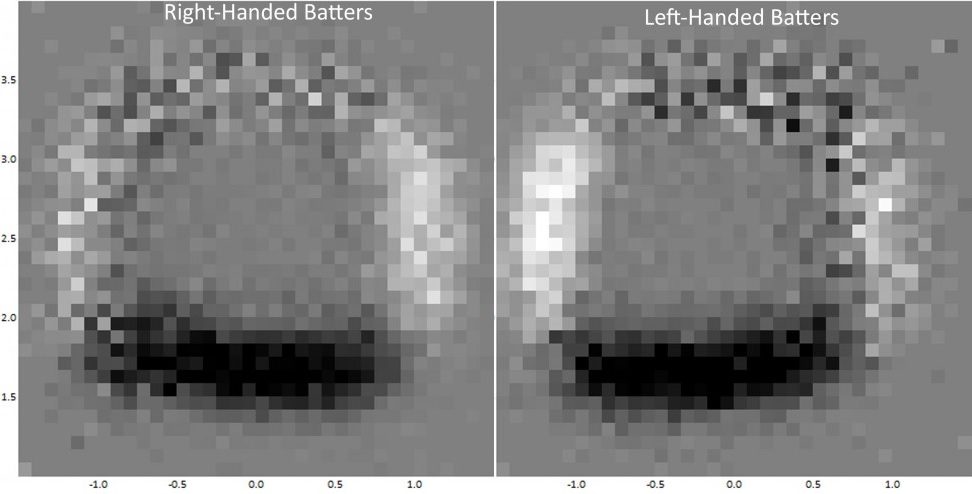 Grey means no change in the percentage of called strikes from 2008 (first full year of PitchFX) to 2013 while white means fewer called strikes and black means more called strikes. Again, the corners are coming in while the bottom of the zone gets bigger and bigger. You can click the image for a larger view, or, even better, click the link and read Roegele's post for the entire analysis. It's great stuff.
Anyway, Rothschild has emphasized the bottom of the zone this spring and it figures to help the Yankees both get ground balls and called strikes. Throwing strikes is hard though, especially to precise locations. It's unlikely the entire pitching staff will suddenly start throwing everything right at the knees, but all it takes is one pitcher taking advantage of the bottom of the zone for this work to be worth it.