You're not going to believe this, but the Yankees struggled to score Wednesday night. I know. Crazy. Yet another lifeless night from the bats resulted in a 3-2 loss to the Rangers in the series finale. The Yankees won the first game and still managed to lose the series. Good job, good effort.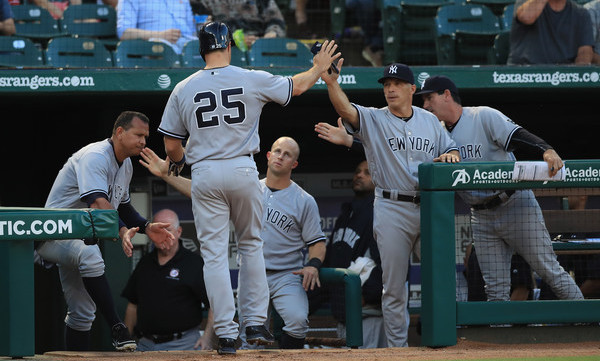 Two Token Runs (Again)
For the ninth time in the last 14 games, the Yankees were held to two runs or fewer. Nine times in 14 games. That's truly pathetic. The Yankees are playing garbage baseball right now. It's the opposite of exciting. It's boring as hell and I find myself spending more time clicking around MLB.tv than actually watching the Yankees whenever they bat. Five or six games is a slump. Fourteen? Nope.
The Yankees scored their first run in the second inning — they did hold a lead, believe it or not — when Starlin Castro came through with a two-out single to score the runner from third. The Yankees had men on first and second with no outs earlier in the inning, but Brian McCann banged into a first pitch double play to throw a wrench into things. They almost wasted another opportunity, but Castro took care of business.
The second run? An A-Bomb from A-Rod. Alex Rodriguez clobbered a Martin Perez changeup into the left field seats in the fourth inning. That knotted the game up at 2-2. Alex also snuck a ground ball double inside the first base bag in the sixth. That was the team's final base-runner until the ninth inning. Ten of the last eleven and 15 of the last 18 men they sent to the plate made outs. Gross.
I suspect we're going to hear a lot of talk about the Yankees struggling against left-handed pitchers Thursday — seven of the last nine starters they've faced have been lefties, and they have two more coming this weekend — but you know what? A Major League team needs to hit southpaws once in a while. There have been too many weak at-bats lately. In fact, 12 of the 34 men they sent to the plate saw no more than two pitches. Yuck. This offense is offensive.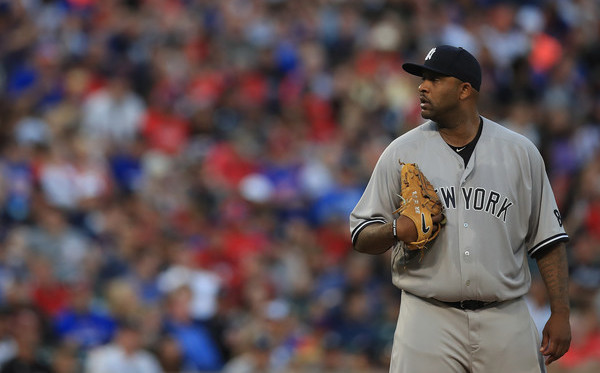 Just Good Enough
After failing to complete five innings in his previous two starts, CC Sabathia gave the Yankees the bare minimum quality start Wednesday, holding the Rangers to three runs on five hits and three walks in six innings. That's about as good as it can get for Sabathia these days. He struck out five and actually retired nine in a row at one point. That was probably his best stretch of the season.
The Rangers scored their first run because of some fundamental mistakes by the Yankees. Ryan Rua led off the second inning with a single, then went first-to-third Rougned Odor's single to center. Jacoby Ellsbury tried to throw Rua out at third for some reason — he was safe by a mile — allowing Odor to scamper to second. Ellsbury has to hit the cutoff man to keep the double play in order there.
Then, with one out, Hanser Alberto tapped a weak grounder back to Sabathia, who glanced at Rua before tossing over to first for the out. Two mistakes there. One, Sabathia did not look Rua back long enough, then he flipped a lollipop throw over to Mark Teixeira at first. As soon as CC turned around to throw to first, Rua took off for home and scored. The good news is McCann was able to get Odor at third on the play, but yeah. Bad fundies, guys. Ellsbury didn't keep the double play in order and Sabathia played the weak grounder way too casually.
The other two runs Sabathia allowed were the result of walks. He walked the No. 9 hitter on four pitches to lead off the third inning, then allowed the run on Adrian Beltre's two-out single. Sabathia walked Odor on five pitches with two outs in the sixth, then Elvis Andrus tripled him in on a ball Carlos Beltran couldn't cut off in the gap. I know Beltran is not what he once was in the field, but geez, that looked like a makeable play. Just knock it down and keep Odor at third.
Well, anyway, I would happily take three runs in six innings from Sabathia all season long. As long as he keeps the Yankees remotely in the game and doesn't burn out the bullpen, I'm happy. What more could you ask at this point?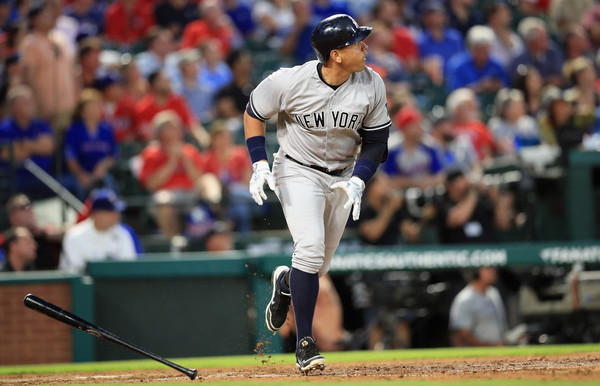 Leftovers
A-Rod returned to the lineup after spending a few days on the shelf with an oblique issue, and he went 3-for-3 with a double and a homer. He also drew a walk. Al's batting line went from .145/.242/.273 (44 wRC+) to .190/.288/.379 (89 wRC+) in four plate appearances. Not too shabby.
The bullpen was good, as usual. Johnny Barbato got five outs and Chasen Shreve got one out, and they did not allow a base-runner. It would be nice if they could hand these guys a lead once in a while, you know? There's too much "try to keep it close so the offense has a chance to come back" going on.
Castro had two hits while Beltran and McCann had one hit apiece. The top four spots in the lineup went a combined 1-for-15 (.067) and the wrap-around 8-9-1-2 portion of the lineup went 0-for-14. This is getting ridiculous. I look forward to hearing Joe Girardi say they were hitting the ball hard but weren't getting breaks again.
And finally, A-Rod's fourth inning homer was his 1,000th run as a Yankee and his 100th home run in what is now called Globe Life Park. It was also his 690th career dinger, so he's ten away from 700. Does that qualify as a marketable milestone?
Box Score, WPA Graph & Standings
Head on over to ESPN for the box score and MLB.com for the video highlights. Here are the updated standings. Also make sure you check out our Bullpen Workload and Announcer Standings pages. YES has used six different booth combinations in seven series so far. Here's the loss probability graph:

Source: FanGraphs
Up Next
The Yankees have an off-day tomorrow, then they begin a three-game series with the Red Sox on Friday. Masahiro Tanaka and Henry Owens is the scheduled pitching matchup for the series opener at Fenway Park.