Wow are the Yankees bad. I mean really, really bad. Not like 2013-14 bad. Legitimately bad. They haven't been this bad since 1992. Maybe 1991. The Blue Jays finished the sweep with a 7-0 rout of the Yankees at Rogers Centre on Wednesday night. The Yankees have lost six of their last eight games — they were one-hit in one of the two wins! — to fall four games under .500. Again.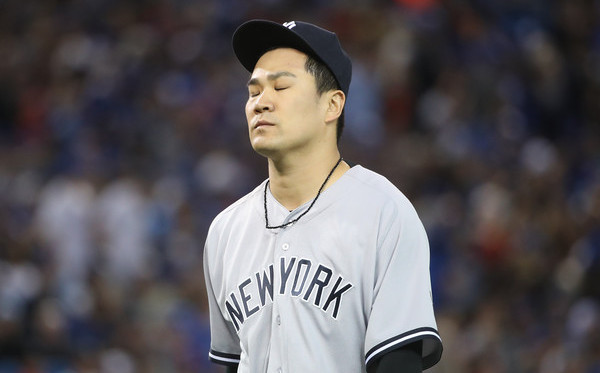 Tanaka Deserves Better
Masahiro Tanaka was definitely not at his best Wednesday night, but he wasn't terrible either. Two runs (one earned) on seven hits and one walk in six innings is a winnable game. Even his bad starts are pretty good. Tanaka did not seem to have his splitter working — only two strikeouts and six swings and misses out of 104 total pitches — which led to some deep counts and long innings. So it goes.
Tanaka kept the Blue Jays off the board until the fifth inning, when a fielder's choice sandwiched between two singles gave Toronto a 1-0 lead. Josh Donaldson drove in Darwin Barney. The Blue Jays scored their second run the next inning thanks in part to a Jacoby Ellsbury error. He straight up dropped a catchable fly ball. Actually, he dropped it, bobbled it, then juggled it for good measure.
The Yankees seem to be good for one or two plays like that a game these days. That fly ball should have been the first out of the inning. Instead it gave the Blue Jays runners on first and second with no outs. Tanaka was able to limit the damage to one run with a double play grounder. A subpar start for sure, but like I said, this wasn't even that bad. Tanaka's been pretty awesome.
Stranded Runners
The Yankees struggled offensively, again, and they left a bunch of runners on base, again. Earlier this season I was pointing out that hey, the Yankees were getting guys on base and that's good. If they keep doing that the runs will come.
Well, they're still doing it and the runs aren't coming. Seven hits, two walks, no runs on Wednesday. They went 1-for-8 with runners in scoring position and of course the one hit didn't score a run. You can measure this team's speed with a sundial. Let us recap the blown run scoring opportunities:
Second Inning: Chase Headley struck out with runners on second and third and two outs.
Third Inning: Brian McCann struck out with runners on the corners and two outs.
Fourth Inning: Didi Gregorius and Headley struck out with a runner on second.
Fifth Inning: McCann lined out with runners on first and second and two outs.
Seventh Inning: Brett Gardner flew out with runners on first and second and one out, then Carlos Beltran flew out to end the inning with runners on the corners.
That's about it. The Yankees were nice enough to go quietly in the eighth and ninth innings to get this game over quickly. Ellsbury and Beltran each had two hits to pace the offense. They've been the team's two best hitters for a few weeks now. Alex Rodriguez doubled, Gregorius singled, and Ronald Torreyes singled as well. Gardner and McCann drew the walks. Even with nine baserunners, Wednesday's game was about as uneventful as it gets offensively.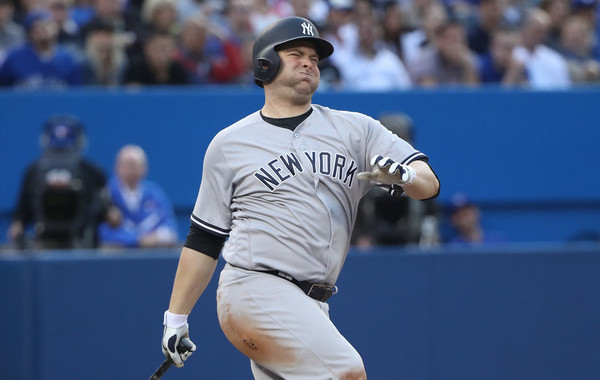 Blown Open Late
Kirby Yates finally has Kirby Yates numbers. He went into the game with a 2.25 ERA (3.17 FIP) and left with a 3.98 ERA (3.36 FIP). He faced five batters in the seventh and retired one. Nick Goody came in and allowed two inherited runners to score plus one run of his own. The offense has been struggling big time but two runs is doable, you know? A bloop and a blast and the game is tied. Yates and Goody then put the game out of reach by allowing five runs on four hits and two walks in that seventh inning. I wasn't looking forward to another teaser comeback attempt in the ninth anyway.
Leftovers
That … seems like everything, doesn't it? Richard Bleier tossed a scoreless eighth inning in his second big league appearance. Tanaka made a rare error when he threw away a pickoff attempt, allowing the runner to get all the way to third. He did managed to escape the jam though. Headley, who had a solid month of May, started June with a Golden Sombrero. Did I miss anything else? I think that covers it.
Box Score, WPA Graph & Standings
Here are the box score and video highlights, plus the updated standings if you need a good cry. Check out our Bullpen Workload and Announcer Standings pages too. Here's the loss probability graph:

Source: FanGraphs
Up Next
The Yankees are going to Detroit for a one-game series with the Tigers. They're making up that rained out game from earlier this season. Michael Pineda and lefty Matt Boyd will be the pitching matchup. That's a 7:40pm ET start for whatever reason. Lot of weird start times of late, no?