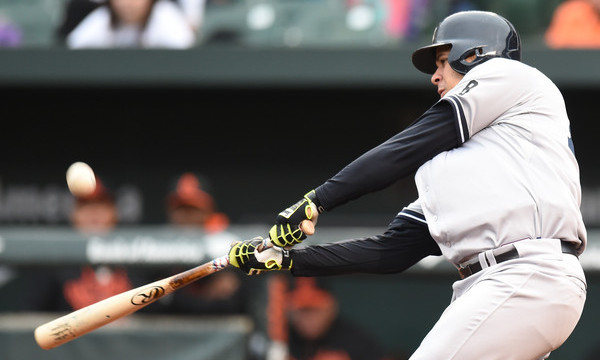 Last month, when the Yankees shipped John Ryan Murphy to the Twins for Aaron Hicks, it created a clear path for Gary Sanchez to get Major League playing time. If not right away next season, then at some point in the near future. Murphy is no longer around representing an obstacle. A big league roster spot is Sanchez's for the taking.
"I really like Gary Sanchez. I'm hopeful with his high-end ability he can be a big positive impact on (Joe Girardi's) lineup choices on a weekly basis, as he chooses when to rest (Brian McCann)," said Brian Cashman to reporters at the Winter Meetings earlier this month. "And we face so many left-handers that it's nice to have that type of power bat. I'd like to unleash the Kraken — which is Gary Sanchez — on our roster in 2016 if I can, and see if he can do some real positive damage for us."
Sanchez, who turned 23 earlier this month, had a big regular season between Double-A Trenton and Triple-A Scranton, putting up a 137 wRC+ with 18 homers. (He's averaged 19 homers per 120 games in full season ball in his career.) He reportedly did some growing up and put himself in position to be a big league option. That definitely was not the case at this time last year. Sanchez's maturation and development made Murphy expendable.
As with Murphy this past season, getting Sanchez playing time will be a bit of challenge because McCann is going to start. Eh, challenge probably isn't the right word. I think a veteran like McCann can be very beneficial for a young catcher like Sanchez — "I'm extremely excited to work with him and see his tools on a daily basis and try to help him get better," said McCann to Jack Curry recently (video link) — but going from playing everyday to playing once or twice a week can be a tough adjustment.
The Yankees do, however, need to start paying some more attention to McCann's workload. That isn't to say Girardi has been oblivious to it — Girardi's an ex-catcher, after all, he know when McCann needs a rest — it's just that McCann will be 32 in February and he's been a starting catcher for eleven seasons now. He's been behind the plate for nearly 11,000 regular season innings. That's a lot of wear and tear.
McCann may have started to show some of that wear and tear this past season, when he hit .200/.306/.395 (91 wRC+) in the second half and .174/.301/.279 (64 wRC+) in September. He started 43 of 55 games in May and June — that's a 127-start pace across a full 162-game season — before Girardi started to scale back and give Murphy a little more playing time in July and August. McCann was a workhorse early in the season.
"You know, you try to keep it around somewhere between 100-120 games, 120 is pushing it a little bit," said Girardi when asked about McCann's 2016 workload at the Winter Meetings. "He wants to play every day, and sometimes I've got to tell him, 'You're going to take a day here.' But I think you see how he's doing … I know his bat is important to us and I have to keep him healthy."
Sanchez is a natural platoon made for McCann just like Murphy was this past season. Starting Sanchez against southpaws next season — assuming he and not someone else is the backup catcher, of course — ensures McCann regular rest and puts Sanchez in position to do the most damage. It also gives him something of a set schedule, which all players appreciate. Sanchez can look at the upcoming pitchers and get an idea of exactly when he'll play.
Girardi has also been known to use personal catchers at times — Jose Molina and A.J. Burnett is the most notable example, but he also used to pair Frankie Cervelli with CC Sabathia — and Sanchez could get playing time that way. Luis Severino's the obvious candidate here. Severino threw to Sanchez with Double-A Trenton the last two years and again with Triple-A Scranton this year. There's familiarity there.
Either way, Sanchez now has an obvious long-term role with the organization, and his arrival coincides perfectly with what figures to be the back-end of McCann's career. The Yankees can begin to scale back on McCann's workload — an inevitability for all veteran catchers — and incorporate Sanchez into the lineup at a comfortable pace. In 2016, that could mean platoon work against lefties and perhaps a stint as Severino's personal catcher.