The last three times the Yankees have won a game, they went out and got clobbered the next day. They followed Thursday's win over the Indians with a lopsided 10-2 loss Friday. I'm not joking when I say this game was over in the first inning. The Yankees fell behind by four runs early and that was that.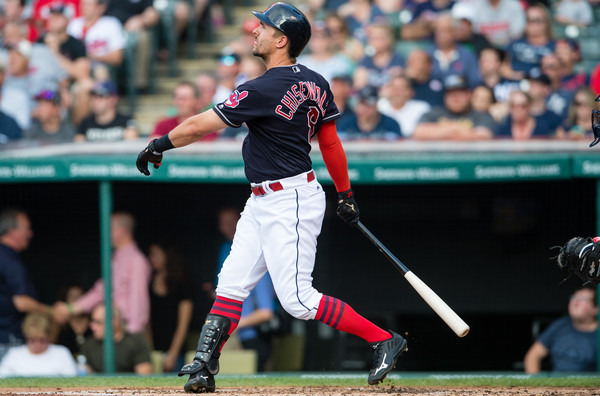 Hangers, Chad
Not a good start for Chad Green! I mean that in both the small (first inning) and big (the start overall) picture sense. Carlos Santana hit Green's fifth pitch out of the park for a leadoff homer, then Jason Kipnis hit his eighth pitch out for another homer. Back-to-back shots to open the game. Neat. Cool. Rad. Lonnie Chisenhall tacked on a two-run homer later to give the Indians a 4-0 first inning lead. The game was over before it even had a chance to begin.
I suppose the good news is Green kinda sorta settled down and was able to take the ball into the fifth inning. He didn't completely melt down and get knocked out in the second inning or something like that. Mike Napoli hit a two-run homer in the third, and good gravy, it was one of the longest home runs you'll ever see. Look at this thing:
Not even mad. I'm impressed. Statcast says that traveled 460 feet and came off the bat at 107 mph, and I dunno, that seems light. Napoli destroyed that ball. He destroyed another ball earlier in the at-bat too, but that one hooked foul. Made up for it later in the at-bat.
Green finished the night having allowed seven runs on five hits and two walks in 4.1 innings. He struck out six and has now allowed seven homers in his 15.1 big league innings. That is: bad. Five of the seven have been hit by lefties. Earlier today I said the Yankees should send Green down after the game for an extra reliever, and boy, did he make the decision easy. Hopefully they don't bury him and actually give him another start soon after the All-Star break. I'm not holding my breath. Not everyone gets Ivan Nova's leash.
Offense Not Included
Solid work by the offense not making this game any longer than necessary. The Yankees struggle to score four runs a game anyway, and against a guy like Corey Kluber, that four-run bottom of the first pretty much clinched the loss. I know, I know. Never say never. You'll have to forgive me for not having much faith in this team though. Friday night the Indians did to the Yankees what the Yankees used to do to everyone else.
Anyway, Brian McCann put two token runs on the board. First he hit solo homer in the seventh — it was an opposite field homer, only his second with the Yankees — then he doubled in a run in the ninth. McCann had three hits, Sir Didi Gregorius had two hits, and the rest of the offense had two hits. The Yankees had four runners in scoring position all night. That's it. Kluber shut them right down, though it doesn't exactly take a Kluber caliber pitcher to shut this offense down.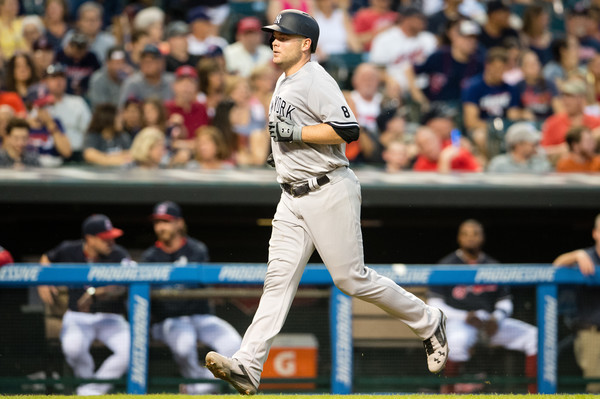 Leftovers
Richard Bleier and Anthony Swarzak, the only when losing relievers, combined to allow three runs in 2.2 innings after Green. Bleier threw 36 pitches in 1.2 innings and might find himself in Triple-A for a fresh arm tomorrow. Chasen Shreve struck out one in a perfect eighth. You could tell Joe Girardi was planning to use Swarzak for two innings, but that went out the window when needed 30 pitches to get three outs in the seventh.
(Late Update: Shane Hennigan says Nick Goody is on his way to join the Yankees, so there you go. Someone's getting sent out, probably Green.)
Mark Teixeira left the game in the sixth inning with soreness in his knee, Girardi said after the game. He's planning to sit Teixeira Saturday and play him Sunday. My guess is he sits out the entire weekend. We'll see. Also, for some reason Carlos Beltran and his not 100% hamstring hit for himself — and doubled! — in the ninth. Why not let bench player Alex Rodriguez hit there instead of risking more damage to Beltran's hamstring? He's valuable trade fodder, you know.
And finally, the loss guarantees the Yankees will be no better than .500 at the All-Star break. The last time the Yankees were .500 or worse at the break was … 2014. I thought it was going to be much further back than that. They were 47-47 at the break in 2014.
Box Score, WPA Graph & Standings
The box score and updated standings are at ESPN. The video highlights are at MLB.com. We have Bullpen Workload and Announcer Standings pages. Here's the win probability graph:

Source: FanGraphs
Up Next
This four-game series is halfway complete. The Yankees and Indians will play game three Saturday afternoon. That's a 4:10pm ET start. Former Indian CC Sabathia and current All-Star Danny Salazar are the schedule starters.