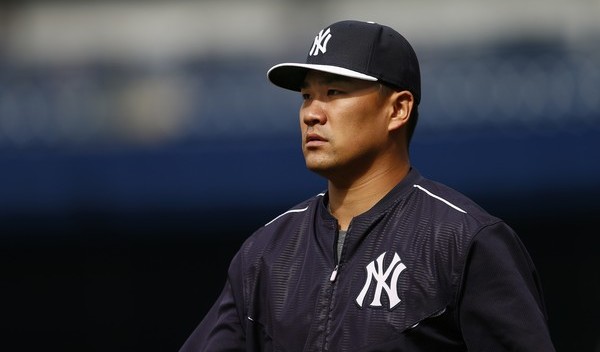 Oh man, there is a lot going on tonight. For starters, Masahiro Tanaka is making just his third home start of the season and his first in almost exactly two months due to his wrist/forearm injury. Secondly, Tanaka is squaring off against Max Scherzer in what will probably be the best pitching matchup of the season. Third, the Yankees have a six-game winning streak and need to keep that sucker going.
And finally, future Yankee Bryce Harper is playing his first game in his future home ballpark, Yankee Stadium. He'll get to take aim at that short right field porch and then go to bed tonight dreaming about all those future home runs he'll hit. Harper's not as stupidly hot as he was the last time these two teams played, but he can still flick his wrists and hit the ball into the second deck. Hopefully it doesn't happen these next two days. Here's Washington's lineup and here's New York's lineup:
It has been cloudy and kinda rainy most of the day, but the sun came out not too long ago and it's turned into a nice night. Tonight's game will begin at 7:05pm ET and can be seen on YES. Enjoy the game.
Injury Updates: Ivan Nova (elbow) is going to travel to New York to throw a bullpen session for pitching coach Larry Rothschild, then he'll make a rehab start with Triple-A Scranton. The Yankees will then determine if he's ready or needs another rehab outing.
All-Star Voting Update: MLB released their weekly All-Star Game voting update yesterday, and no Yankees are close to leading their respective positions. A-Rod is third among DHs and he's closest. Fans in Kansas City are stuffing the ballot box, so unless MLB steps in or there's a sudden shift in the voting, the All-Star Game will be Mike Trout and the Royals against the NL.