By

Mini-mound? That's a new one to me, but apparently it's just a mound that's only 5-inches high. Anyway, Ian Kennedy threw 25 pitches off one today, and plans to do it again on Friday. "Another hurdle cleared," Kennedy said. "I felt really good. I'm happy with that. I'm happy with the progress. I'm still on schedule and haven't had any problems yet. " IPK also said that he saw a doctor last week and that everything is going well. He hopes to get into a game before the minor league season ends, and will head to the Puerto Rican Winter League one way of the other.

Imagine if he ends up taking Mitre's place in September. That would be something. · (93) ·
Buried at the bottom of this piece from SI's Tom Verducci is an interesting little note: Alex Rodriguez now has more at-bats with the Yankees than he did with the Mariners. That kind of surprised me at first because it seems like Alex was with the Mariners for an eternity, but yep, he had 3,126 official at-bats with them and right now sits at 3,136 with the Yanks. He must have passed his Seattle total sometime during Saturday's game (I'm guessing, I didn't bother to look). Plate appearances is a bit of a different story, because A-Rod has almost two hundred more of those with the Bombers than he did in the Great Northwest (197 to be exact). He's also appeared in 51 more games with the Yanks than M's, but I digress.
Since he's officially had more at-bats with the Yanks than any other team, let's take a second to look at how Alex's stats compare with the two clubs.
With Seattle: .309-.374-.561, 17.5 K%, .252 IsoP, .335 BABIP
With New York: .299-.400-.568, 18.9 K%, .269 IsoP, .322 BABIP
There's a rather significant difference in his counting stats like homers and RBI and stuff like that because he was playing his games in different parks with different teams and different lineups in different divisions, and frankly it was a different era as well (pre-PED testing vs. post). Overall, A-Rod's been basically the same player. He's hitting for slightly more power now, which is what you'd expect considering he's older and spent most of his prime-aged seasons with the Yanks. He's also sacrificed 10 pts of batting avg for 24 pts of on-base percentage, a tradeoff I'll take every day of the week.
The biggest difference is that Alex's numbers with the Yanks are coming from third base, whereas with the Mariners he was manning the middle infield. Those numbers coming from a shortstop aren't just great, they're historically great.
The question is this: let's say A-Rod retired right now, today, for whatever reason. What hat does he wear in the Hall of Fame? All the PED stuff is irrelevant here, this is just a hypothetical. A-Rod's production warrants unanimous selection into the Hall of Fame if you ask me. What do you think, Yankee cap or Mariner cap? Discuss.
By

While we wait for Yankee baseball following the long off-day, check out this piece by Sky Andrecheck at The Baseball Analysts. We know it's good for batters to work deep counts for several reasons, including get the pitcher out of the game earlier and increasing the likelihood that he'll make a mistake and leave a pitch out over the plate, but Sky shows that after fouling a few pitches off with a full count, the hitter does gain an advantage as evidenced by their triple-slash performance. However that advantage doesn't last forever, apparently. Check it out, it's a short but interesting read. · (34) ·
One major difference between this season and last is the Yankees improved defense. It seems that Robinson Cano is making plays on everything near him. Derek Jeter, as we've discussed, is experiencing a defensive renaissance. But most importantly, the Yankees have a real first baseman in Mark Teixeira. It seems that every night he makes a spectacular play, one that his predecessor, Jason Giambi, would not make. As I've said more times than I can count this season, it feels great to have a real first baseman.
In discussing the infield defense, many have lauded Teixeira for his ability to scoop bad throws and prevent throwing errors. That can be huge, as it helps out pitchers and helps the team get out of innings quicker. It saves an unknown number of runs, because who knows what happens if that runner is safe and the pitcher is throwing with men on. Teixeira, we can see, is excellent at scooping balls out of the dirt. Yet for all his defensive shortcomings, Giambi was rather proficient at this, too.
Just how proficient was he? John Dewan, publisher of The Fielding Bible, takes a look. In the new volume of TFB, he discusses Defensive Misplays and Good Fielding Plays. Once of those Good Fielding Plays is scooping a ball out of the dirt, so we can see how Giambi and Teixeira rate.
The numbers are a bit skewed, because Tex plays first far more than Giambi did during his tenure in New York. Based on the numbers, Tex has scooped 22 throws in 95 games started. Last year Giambi picked 29 in 112 games started. The difference is marginal: 0.23 scoops per game for Tex, 0.26 for Giambi. So really, there's not that much of a difference in their abilities to scoop balls out of the dirt. Then again, this data assumes a few things, and then leaves out a few things.
First, we're assuming that they would both face the same number of opportunities per game. This might or might not be true. Over the course of a 162-game season one would think that the data would even out, but that's not always the case. For instance, if Jeter's range was poorer while Giambi was around, he might have a hard time getting to a ball, thereby rushing the throw and forcing a scoop. This would give more opportunities to Giambi. So while he would have a slightly larger number of scoops total, he would probably have a worse percentage.
In fact, this does leave out missed scoops, data I'm sure is available with Defensive Misplays. How many balls did Giambi fail to scoop vs. Teixeira? Even more importantly, how many times did a throw take Giambi off the bag, where Teixeira would have stayed on? These are tough questions to answer even with available data. We know Giambi wasn't a bad scooper, but it seems that Teixeira is a bit better.
Where Tex is most proficient, of course, is fielding grounders. As Dewan notes, Tex has saved his team 18 runs over the past two years by fielding grounders, while Giambi has cost his team that many runs, a 36-run swing. That's almost four wins right there, which is significant because it's just one aspect of defense. I don't think many would argue that Tex's ability to field grounders might bring the Yanks an additional two wins over the course of the season.
This is a guest post by Rebecca from This Purist Bleeds Pinstripes.
His .322 average leads all Yankees, and small sample size doesn't apply — only one other player has amassed more plate appearances this season.
His .396 OBP is by far the highest among starters.
Okay, so the .456 slugging is comparatively low, and brings down his OPS, but Derek Jeter isn't Derek Jeter because he hits for tremendous power.
Jeter's 132 hits lead the Yankees, and only Robinson Canó, at 126, is anywhere close.
He's stolen 19 bases and only been caught four times — the 19 are more than he stole in the entire years of 2007 and 2008.
We've been saying that 2009 has been a Jeterian Renaissance, but this is not just a Renaissance. This is the type of season that an MVP has, and in a league where no one's doing anything Pujols-like, Jeter deserves some serious consideration.
It's not just Jeter's offensive numbers, either.
Jeter's .984 fielding percentage is the best he's had since 1998. 1998. There are three Yankees with a UZR that is positive — both center fielders and Jeter. Say what you want about UZR as a statistic, but the statistics bear it out: 2009 is one of Jeter's best defensive seasons.
In a Major League career that started fifteen years ago, that says quite a bit.
Of course, there are the intangibles, too.
He's batting a Cabrera-like (yes, I went there) .375/.435/.518/.953 in situations described as "Close and Late", and his highest BA comes in games that have a difference of one run or less.
It's kind of funny, right now, to think that at the beginning of the season we were, largely to a man, arguing that Jeter should bat lead-off to avoid grounding into so many double plays, as he seemed to do all of last year.
Some of us cast a wary eye towards 2010 — including 2009 Baseball Prospectus, which, in its write up argued that by the end of 2010 Jeter's defense wouldn't play in the infield and his bat wouldn't play anywhere else.
I'm not quite sure anyone quite expected this.
By WAR, Jeter is the fifth best position player, and trails only Ben Zobrist (?!) in the American League in 2009.
The best part, of course, is that Jeter is doing all of this not just for a contending team, but for one that has one of the best records in all of baseball. Sure, the Angels have gone crazy again, but as of tonight, only the Dodgers have more wins than the Yankees.
So for all the muck about swinging at the first pitch, now would seem a good time to attempt to start to campaign for Jeter to get that MVP award….
With the trade deadline behind us, teams are limited in the players they can acquire. Rather than having unrestricted trading access with the other 29 clubs, each team is restricted to players who clear waivers, or on whom they make a claim. Yankees GM Brian Cashman harkens back to earlier in this decade, when he, using the Yankees financial might, put in claims on nearly everyone in order to block trades to rivals. This year, with many teams at or above their target payroll, putting in a claim leaves a team at risk of absorbing a poor contract.
Cashman says he expects more activity in August this year than in years past, but considering the lay of the land, that might not be the case. As it stands the Red Sox are behind the Yankees in the standings, so they have a chance to put in a claim first. When the Jays place Roy Halladay on waivers — and they certainly will — the Sox will almost certainly put in a claim. Even then, a team like Texas or Detroit might place their claim first, effectively cutting out the Sox. The pickings could be slim by the time it gets to the Yanks and Sox.
Still, there are some extraordinarily bad contracts out there and not even the Sox, with their relatively low payroll, will dare put in a claim. That could open the negotiating table for the Yankees to acquire that fifth starter they sought last week. Problem is, few if any of the potential options do the Yankees much good. Jon Heyman breaks down the players who will clear and who might clear. He adds those who won't clear but could be dealt to a claiming team, but the Yankees aren't in a position to be dealing with those players.
The pitchers include Bronson Arroyo, to whom we should just say no; Aaron Harang, who is pitching like a No. 5 but is being paid like a No. 2; Miguel Batista, who is 38 (!!), hasn't started a game this year, is walking 5.2 per nine innings, and despite the M's stellar defense has allowed 10.1 hits per nine; Juan Cruz, who is pitching horribly (and people wanted to kill Cashman in April for not signing him); and Ron Mahay, whose walks would make us want to throw a brick through the TV.
There are still some who could clear waivers. With the Red Sox behind the Yankees in the standings, it's not likely. As Heyman writes, "The Yankees need a No. 5 starter, and the Red Sox know it." Yet, let's not forget that the Red Sox could use another starter themselves. The question, of course, is of whether they'd jettison Brad Penny or John Smoltz for a better option. The further question is of whether any of the might-clear names represent any kind of significant upgrade.
Of the players who might clear waivers, Heyman calls Jon Garland dependably mediocre, while I call him dependably crappy — his K rate continues to decline despite a move to the sissy league; Doug Davis, who leads the NL in walks — and the Yankees already have the AL leader; and Gil Meche, who like Harang is pitching like a No. 5 but is being paid like a No. 2. It doesn't help that Meche hasn't pitched a game since July 11 and has basically been pitching hurt to some degree all season. Oh, and don't forget Uncle Ronny Villone, whose 1:1 K/BB ratio just isn't welcome back in New York.
With Sergio Mitre holding down the fifth spot, there is plenty of room to improve. But look at the names above. Do any of them represent a true upgrade? Perhaps marginal, but even then you have to factor in the cost to acquire the player. At that point even a marginal upgrade might turn into a long-term downgrade. All that just for a few runs saved. Given what we know about Brian Cashman's M.O., it's safe to say that he'll stay away from this crop.
The best thing that could happen to the Yankees is for some improvement in the bullpen. If Brian Bruney finally regains his form (and he was pretty good in the first 1.1 innings he pitched on Saturday), if Mark Melancon keeps throwing like he has his last three times out, if Damaso Marte can come back strong, and if Al Aceves is really only suffering from shoulder fatigue, the Yanks will have a strong bullpen even without Phil Hughes. While some think it's too risky to put him back in the rotation after a long stint in the pen, he's clearly their best option to fill the fifth starter hole. He can always return to the bullpen for the playoffs (though at that point you might see Joba in the pen and Phil in the rotation).
That's a lot that has to go right, though, including the transition of Hughes back to the rotation. It's not at all likely, and the Yankees face the prospect of Sergio Mitre or, gasp, Kei Igawa filling the fifth spot in their rotation for the rest of the year. There's always the Jason Hirsh experiment, but that's just as unlikely as the above scenarios. The Yankees are not in an easy spot with their pitching staff right now. They can, however, take solace in knowing that every other team in the AL has similar problems. It's just a matter of whose are more exposed down the stretch. The above-mentioned players aren't going to turn it around for any staff.
Josh Towers was named International League Pitcher of the Week, while David Adams and Adam Warren were named Hitter and Pitcher of the Week in their respective leagues. Paul Bush also ended up on the disabled list with who knows what.
Triple-A Scranton (2-1 win over Pawtucket)
Ramiro Pena: 1 for 2, 1 2B, 2 BB, 1 K, 1 CS
Colin Curtis, John Rodriguez & Eric Duncan: all 0 for 3 – Curtis drew a walk & K'ed … J-Rod walked … Duncan K'ed
Austin Jackson: 0 for 4, 1 K – 7 for his last 34 (.206) … another game or two like this, and his avg will drop below .300
Shelley Duncan: 2 for 3, 1 R, 1 BB
Juan Miranda: 1 for 4, 1 R, 1 HR, 2 RBI, 1 K – 6 for his last 13 (.462)
Yurendell DeCaster: 1 for 3, 1 BB, 1 E (fielding)
Frankie Cervelli: 0 for 2, 1 BB
Zach Kroenke: 5 IP, 2 H, 1 R, 1 ER, 1 BB, 3 K, 7-5 GB/FB – 42 of 64 pitches were strikes (65.6%)
Mike Dunn: 1.1 IP, 2 H, 0 R, 0 ER, 1 BB, 3 K, 0-1 GB/FB – 19 of 33 pitches were strikes (57.6%)
Edwar Ramirez: 1.2 IP, 0 H, 0 R, 0 ER, 0 BB, 2 K, 1-2 GB/FB – 12 of 15 pitches were strikes (80%)
Jon Albaladejo: 1 IP, 0 H, 0 R, 0 ER, 1 BB, 1 K, 2-0 GB.FB - 11 of 20 pitches were strikes (55%)
A couple of weeks ago we took a look at which players have been most valuable to the Yankees in terms of wins over replacement, or WAR. We've been using that stat for a while now, so I'm sure you're famiiar with it. Although we're not quite at the two-thirds point of the season, I needed an open thread topic figured now was a good time for part two of this three part series since the team won't have another off day for two weeks or so.
Last time around, CC Sabathia and Derek Jeter were the most valuable pitcher and position player on the team, and not much has changed. Let's take a look, starting with the arms.
Top Five Pitchers
CC Sabathia, 3.5 WAR
AJ Burnett, 1.9
Andy Pettitte, 1.9
Joba Chamberlain, 1.5
Mariano Rivera, 1.5
For the sake of comparison, Tim Lincecum (6.6) and Zack Greinke (6.3) are far and away the most valuable pitchers in the game this year while Sabathia checks in at #13. It's no surprise the team's four regular starters top the list because a big chunk of their value comes from all the innings they soak up. The superhuman Mariano Rivera is just that damn good, trailing only a handful of other relievers. You can see the rest of the pitchers here, but Phil Hughes is only other member of the staff worth more than one win.
Top Five Position Players
Derek Jeter, 4.5
Mark Teixeira, 3.3
Robinson Cano, 2.5
Alex Rodriguez, 2.3
Jorge Posada, 2.2
The four most valuable position players in the game this season are Chase Utley (5.5), Ben Zobrist (5.4), Albert Pujols (5.2), and Hanley Ramirez (5.0), with Joe Mauer (4.6) a distant fifth. Derek Jeter check in as the sixth most valuable position player in the game thanks not only to his offensive production at a premium position, but also because of his absurdly awesome defense. Yeah, I said defense. Only Jack Wilson, JJ Hardy, and Elvis Andrus have been better at short, and I don't think any of us expected that coming in to the year.
Jeter is a legitimate MVP candidate this year, and a strong finish backed by a late September playoff push could be enough to get him the first MVP trophy in his otherwise decorated carrier. The campaign starts now, get behind it.
* * *
Use this as your open thread for the night. The Mets are finishing up their series with the Diamondbacks, while the Cubs and Red are on ESPN. Talk about whatever you like here, just be cool to each other.
By

Remember in June when A-Rod was slumping pretty hardcore? Buster Olney wrote a blog post on him, noting how slow and old he looks. Oh, and how a lack of PEDs might hurt him going forward. Of course, he foisted all of the criticism on baseball writers' best friends: anonymous scouts. Yet all on his own, Olney wrote: "The question is this: Is Rodriguez, a month from his 34th birthday, much less of a player because he presumably no longer takes performance-enhancing drugs?" In a recent SportsNation chat, Michael from Maryland asked Olney about A-Rod. Says Buster: "Give him credit — he's worked through all the physical and emotional stuff, and is back to being among the most dangerous hitters in the game." So I guess the answer to Olney's original question is no. As Ben noted in conclusion, Olney should know better. At least he's not trying to make an excuse for his poor foresight.

Thanks to Tampa Yankee for sending this in. · (34) ·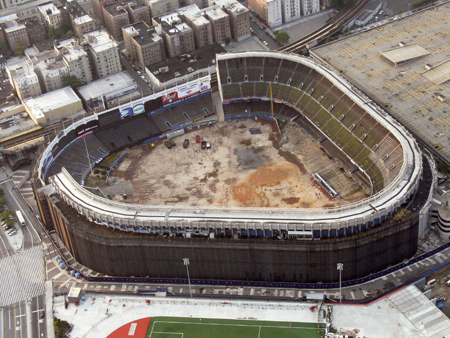 Tom Kaminski of WCBS 880 took a bunch of aerial photos of the ongoing demolition at the Old Yankee Stadium this morning. The seats are all gone as are most of the field level sections, but the dugout is still intact. Head on over and check the pictures out, just make sure no one at work will laugh at you if you cry.
(h/t Sliding Into Home)