By

Last Wednesday in Baltimore, Mark Teixeira made a great diving stop on a scorched ground ball and jammed his wrist in the process. He has missed the last three days with what the team is calling tendinitis but sounds to me like a mild sprain. While Nick Swisher has filled in admirably at first, the Yanks got some good news on Teixeira yesterday. His MRI came back negative, and according to Bryan Hoch, Teixeira is planning on playing tonight. As Nick Swisher has done nothing but hit, Teixeira's return should push either Hideki Matsui or Xavier Nady to the bench. However, if Brett Gardner or Melky Cabrera don't show signs of offensive life, the Yanks may begin to consider Swisher for center. · (67) ·
Nick Swisher once won a game of Connect Four in three moves.
When you go to see Nick Swisher play, you have to buy two tickets. One for the game, and one for the gun show.
Nick Swisher's intangibles are tangible.
Nick Swisher let the dogs out.
Carlos Delgado stood for the National Anthem because Nick Swisher told him too.
I would go on, but we only have so much bandwidth. Once again Swisher the best player on the team last night, hitting his team leading third homer while being the only pitcher to not allow a run. Forget chasing the MVP trophy, Swish is going after the Cy Young too.
Here's a look at his pitch trajectories, via Pitch f/x. Remember to click on each graph for a larger view.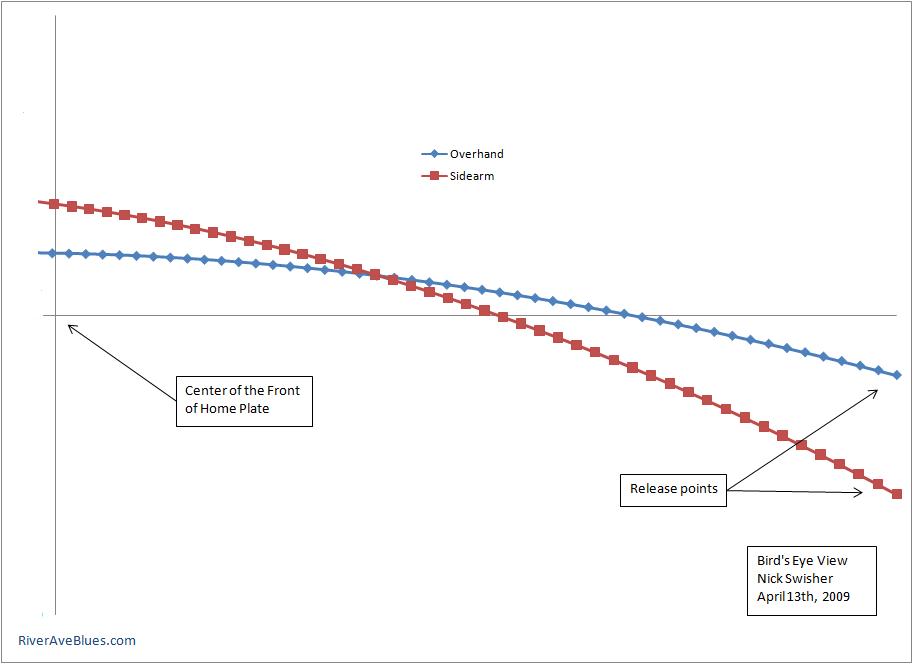 I always wonder what a team thinks after losing a game like this. Sure, they talk to the media about how much it hurts, but they're likely holding back from their true feelings. Can you imagine being a professional athlete and being utterly decimated by your opponent? What happened tonight was pathetic, and every single player in the Yanks clubhouse feels it. The only question we can ask now is of what they're going to do about it.
There's no reason to break down this game. It all came undone in the first two innings and only got worse throughout. The only way to properly recap this game is through bullet points.
Not only has Chien-Ming Wang been a problem over his first two starts, but he could be a major, major problem down the road if this isn't just some dead-arm period. Guys weren't tattooing him like this in Spring Training, so we can still hold out hope that there's an underlying issue and that Wang will overcome it. To those who think that his lack of strikeouts are catching up to him: Do you think he succeeded over the past few seasons by throwing belt-high sinkers with no movement?
Once Wang left after 1+ innings, we all knew the bullpen was in for a horrible night. We got just about the worst case scenario. Albaladejo threw 60 pitches and Edwar tossed 51, meaning they're both unavailable for at least tomorrow, possibly Wednesday. Phil Coke used 38 pitches to get through one inning — though it was prolonged by the miscommunication between Cano and Pena. — so after the past two days he can't go tomorrow. Things could get rough over the next few days, without a day off in sight.
Chances of the Yanks making a roster move to call up a reliever: basically 100 percent. The bad news is that the prime candidate for promotion, David Robertson, pitched three innings yesterday, so he won't be of much help. Coke will almost certainly be demoted, with Anthony Claggett or Stephen Jackson taking his place. We could see both if they demote Jon Albaladejo, too (not because of performance, but rather because of the pressing need for bullpen arms).
From the "there has to be a bright side" dept.: Of 10 Yankees baserunners, five scored. Nady's DP meant the team left only four men on base.
Is Nick Swisher everyone's favorite Yankee yet? Not only did he put the Bombers on the board with a fourth-inning homer, but he nearly hit another later on. Oh, and the whole pitching thing was pretty cool — despite the fact that I'm pretty sure nothing good has ever come from a position player pitching. He was their most effective arm, for whatever that's worth.
Since homering in the 9th in Baltimore last Wednesday, Jeter is one for his last 20 with just one walk. The hot start didn't last too long. Not helping matters is Johnny Damon, who is 2 for his last 16 with two walks. That's not how you want to lead off your lineup. Swisher and Jorge need men on base.
The Rays only failed to score in two innings. Nick Swisher pitched one of them. That is all.
We get to do it all over again today when A.J. Burnett tries to give the bullpen a break. He'll face off against Matt Garza. Bold prediction: it will be a better game than last night.
RHP Jairo Heredia, LHP Wilkins DeLaRosa and 1B Jorge Vazquez were all placed on the 7-day DL according to BA's minor league transactions. It's a shame how far LHP Greg Miller, who was released by the Dodgers, has fallen. He and Scott Kazmir were the two best lefty pitching prospects in the game back around '03-'04, but injuries did Miller in and he never was able to get back on track.
Juan Miranda was named International League Hitter of the Week thanks to his four game, eleven RBI binge against Lehigh Valley.
Triple-A Scranton (6-5 win over Buffalo)
Kevin Russo & Shelley Duncan: both 2 for 5, 1 RBI – Russo K'ed … Shelley homered, scored a pair of runs & K'ed twice
Eric Duncan & Justin Leone: both 1 for 3, 1 R, 1 BB – Leone hit a three run homer & K'ed
Todd Linden: 0 for 5, 2 K
Juan Miranda: 1 for 5, 3 K
Austin Jackson: 3 for 5, 1 R, 1 RBI, 1 K – .500-.560-.591 in five games so far
Angel Berroa: 2 for 4, 1 R, 1 K
Chris Stewart: 1 for 4, 1 K
The Ghost of Kei Igawa: 5 IP, 4 H, 5 R, 5 ER, 3 BB, 2 K, 5-8 GB/FB – 46 of 73 pitches were strikes (63.0%) … served up three homers, one to the Mets' top prospect … Mets fans should be proud
David Robertson: 3 IP, 1 H, 0 R, 0 ER, 1 BB, 7 K, 0-1 GB/FB – 27 of 42 pitches were strikes (64.3%) … they really should call him up, he's got nothing left to prove in the minors
Brett Tomko: 1 IP, zeroes, 1 K, 1-1 GB/FB – 9 of his 13 pitches were strikes (69.2%) … nails down his first save opportunity of the year
As the uproar over yesterday's performance starts to calm down, another issue comes to the forefront. Mark Teixeira will not be in the Yankees lineup for the third straight game. The Yankees continue to claim that it's just soreness, but one can't help but be at least a little worried at this point. Thankfully, his MRI has come back negative and there's hope that he'll play tomorrow. Then again, they said that on Friday, so there's no reason to believe it right now.
Even without the team's two best hitters, the lineup doesn't look all that bad tonight. There isn't a major power threat in there, but it's pretty solid one through seven. The last two spots are going to be black holes for the time being, at least until A-Rod gets back and bumps Ransom out and everyone else down a spot. Perhaps that will even spur some production from Gardner. For now, though, the Yanks will have to settle for seven solid hitters and no real superstar.
I'm a bit surprised that Girardi didn't move Cano up in the order. Matsui's down batting seventh, but Cano remains in the sixth spot. Sliding Cano into the cleanup spot would not only take advantage of his hot bat, but it would set the order nicely: R, L, S, L, S, R, L, R, S. Melky, despite his two double plays yesterday, gets the start in center. With Kazmir on the mound it seems like a good a day as any to sit Gardner, though I suspect he'd fare no worse than Melky despite the platoon advantage.
On the pitching side, Chien-Ming Wang looks to rebound from his shaky start to 2009. In 13 appearances against the Rays in his career, Wang has held them to a .255/.303/.350 line, going 7-4 with a 3.35 ERA. In two stars last year Wang pitched 13 innings and allowed just one run. That's the kind of performance the Yanks are going to need out of him tonight. He's opposed by Scott Kazmir, who has a 2.51 career ERA against the Yanks in 68 innings. Last year he held the Yanks to two runs in 17 innings over three appearances. Maybe we'll get an old-fashioned pitchers' duel tonight.
We end today's game thread on a sad note. Phillies broadcaster Harry Kalas passed away while preparing for his job today. What a way to go. He was 73. Even those not in the Philadelphia area probably know Kalas's voice. He did the voiceovers for NFL Films and the Campbell's Chunky Soup commercials. RIP, Harry. Broadcasting just lost a great talent.
And as if that's not sad enough Mark Fydrich was found dead at his home today. He was 53. Many of us are too young to remember The Bird, who retired from baseball in 1980 at age 25. He made his mark on the league by pitching 250 innings of 2.34 ERA ball at age 21 in 1976. Alas, he managed just 27 starts for the rest of his career. Fydrich will always have a special place in my heart; I did a biography report on him in the first grade…I believe my parents still have a photo of me in my homemade Tigers jersey.
The lineup:
1. Derek Jeter, SS
2. Johnny Damon, LF
3. Nick Swisher, 1B
4. Jorge Posada, C
5. Xavier Nady, RF
6. Robinson Cano, 2B
7. Hideki Matsui, DH
8. Cody Ransom, 3B
9. Melky Cabrera, CF
And on the mound, number forty, Chien-Ming Wang.
By

A few weeks ago, Ross at New Stadium Insider wondered why bloggers never pursue original stories. It's a great thought, and one that we've been bouncing around at RAB for a while now. While we're bouncing, Ross is out doing. He spoke with Linda Ruth Tosetti, Babe Ruth's granddaughter, about her family's treatment by the Yankees leading up to the opening of the new Stadium. Her family hasn't been much involved since the new Stadium groundbreaking ceremony, in which the team declared that it's time to "say goodbye to the House That Ruth Built and hello to the House that George Steinbrenner Built." Ross does a great job framing the story, and asks a crucial question about a third of the way through: "After all, how far down the lineage of the great Babe Ruth should the Yankees cater to their every request?" Definitely a quality pre-game read. · (16) ·
Yesterday's loss gave Yanks fans a chance to vent on the bullpen, and Phil Coke in particular. Yes, it was a horrific performance, and yes, Coke blew the game. That doesn't mean, as one friend emailed me, that he's a bad pitcher. It means that he's been tattooed in two out of three appearances so far. That might prove to be the first signs of Coke's ineffectiveness, but taken in isolation it doesn't mean much at all.
Relievers are the most volatile players on a team in terms of results. One year a guy will be lights out, and the next he'll struggle to record an out. Not only does this fluctuation happen on a year-to-year basis, but it happens from month-to-month, week-to-week, and even game-to-game. There's just so much randomness that comes along with their individual one-inning samples that it's tough to get a true grasp of a reliever's true ability.
So far we've seen Coke toss up two stinkers and one brief but stellar performance (striking out the only two batters he faced) after dominating Spring Training. That's far too small a sample to make a reasonable judgment. I liked what I saw from him in Spring Training, and clearly the Yankees did, so it's best to let this one continue to play out, withholding judgment until Coke gets a few more appearances under his belt. After all, as Pinto notes, Phil might just have been the victim of insanely poor luck: "My problem is that the more a manager goes to the pen, the more likely he is to bring in someone having an off day."
In reviewing the first six games, there doesn't appear to be any evidence to counter the preseason notion that the Yanks bullpen is a strength. They've allowed eight runs in 17 innings this season, but the bulk came in just two of their six games (there was that one throw-away run in the ninth of a KC blowout). So in two thirds of their games the bullpen has turned in a scoreless performance (caveat added). Of course, this isn't evidence in itself that they are and will be a strength for the team. It does, however, help strengthen the preseason hypothesis, even if two bad performances stand out.
As the title says, no team will have a bullpen ERA of 0.00. Even Toronto, with their 2.94 team bullpen ERA, allowed 148 runs in 2008. Again, this is because of the inherent volatility of relievers. There's still a chance that Phil Coke does, in fact, stink and that the Yanks need to replace him. Thankfully, they have a slew of live arms in the minors waiting for a chance. That's the sign of a quality bullpen.
In an effort to keep our readers up to date with our most direct rivals, RAB has gotten together with a number of AL East bloggers to produce a weekly AL East roundup. Every Monday you'll get a capsule of each division rival's past week. It's a basic summary of the week's happenings, followed by team record, injuries, and a look at the week to come. If you've got some free time, be sure to check out the blogs we've partnered with. They're passionate fans of their respective teams and provide excellent coverage.
---
Boston Red Sox
–
Surviving Grady
Tough going out of the gate for the Sox, dropping 2 of 3 to the Rays at Fenway to kick off the season, then hopping a flight to the left coast where they dropped another 2 of 3 to the Angels. Hey, it's only the first week, but a couple things have us concerned: After Josh Beckett's stellar performance in the season opener, Jon Lester, Daisuke Matsuzaka and Timmy Wakefield struggled. Brad Penny didn't fare much better in his Sox debut against Anaheim, but was saved by some timely offense. Speaking of hitting, the team's first full season of Life After Manny may be tougher than we'd imagined; through the first six games, the team is averaging just 3.4 runs per game, and some of the big guns we're counting on — Dustin Pedroia, David Ortiz, JD Drew and Mike Lowell — are a wretched 10-for-65 combined.
On the bright side, Youk is tearing it up at .526, and Rocco Baldelli has been a pleasant surprise thus far, legging out a key hit in Saturday's game against Anaheim and flashing some pretty imrpessive leather in the field. This week it's on to Oakland for three games, then back home for Baltimore. Things should be getting better fast. Or so I pray to the Gods of Baseball.
Week's record: 2-4
Season record: 2-4
Injuries: None
This week: Mon – Wed @ Oakland; Fri – Sun BALTIMORE
By

Kary Booher at Baseball America checked in on Phil Hughes and Ian Kennedy following their season debuts with Triple-A Scranton over the weekend. Hughes struggled early with the fastball, but overcame it later and also worked on his change. Kennedy outdueled Carlos Carrasco, the Phil's top pitching prospect, and showcased the improvement he made on his curveball during his winter ball stint. Even with the Yanks' greatly improved rotation, I'm willing to bet these two get at least fifteen big league starts between them. · (63) ·