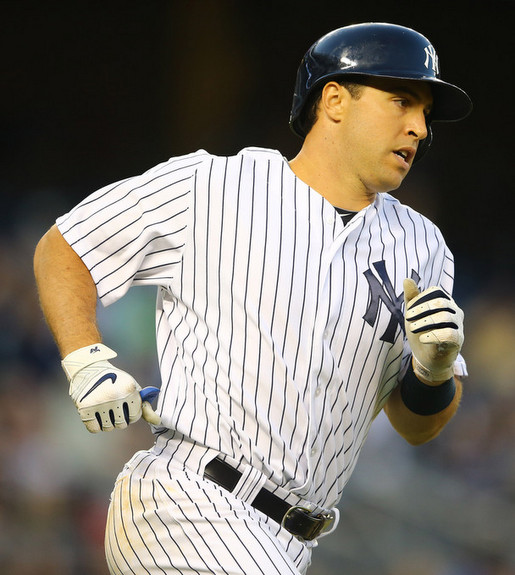 The Yankees made a huge splash in the free-agent market back in 2009, landing CC Sabathia, Mark Teixeira, Nick Swisher (via a trade), and A.J. Burnett. Each player contributed in a huge way and helped the team bring the 27th World Series Championship back to New York. Teixeira, specifically, had a monster year in 2009 as he batted .292/.383/.565 (.402 wOBA, 142 wRC+) with 39 home runs. FanGraphs valued him at 4.9 WAR (trailing only Miguel Cabrera and Kevin Youkilis among AL first baseman).
Since then, Yankee fans have watched Teixeira steadily decline. Over the past few seasons he's become increasingly one-dimensional offensively even though his defense has remained very reliable. He's been far more prone to hitting the ball down the first base line (presumably aiming for that enticing short porch), which in turn, has made him increasingly more susceptible to the defensive shift. Consequently, his batting average has ticked downward by about 40 points from where he has historically hovered prior to coming to New York. Discouragingly, we've also seen Tex struggle against right handers the past few seasons as well (last season he batted .239 as LH batter verse righties, .224 in 2011, .244 in 2010, and .282 in 2009), and then show an unwillingness to adapt his approach.
Fortunately for the Yankees, they haven't exactly been hurting for offense for the last decade or so. During Tex's tenure in pinstripes alone, the Yankees have been among the top three teams in all of baseball in terms of wOBA and wRC+. At least until now; 2013 is a new animal altogether. For the first time in what seems like forever, the offense is most certainly not the strength of the team. The Yankees rank 21st in AVG, 19th in wOBA, 24th in wRC+, 19th in K%, and 19th in BB%. Ironically, the only offensive category that the Yankees favorably crack the top 10 in this season so far is in home runs (68 in total, eighth best in MLB — so much for the #toomanyhomers meme).
This is where Tex steps in, and where I personally think he could play a huge role if he can rebound a bit. Immediately, he (and Youkilis) will provide some additional patience to the lineup. As of now, the Yankees have averaged 3.79 pitches per plate appearances – for perspective, 2012's squad averaged 3.89 Pit/PA, 3.92 in 2011, 3.92 in 2010, and 3.88 in 2009. Power and patience. That's the Yankees model. It works, and Tex knows how to do it.
With Vernon Wells cooling off and Travis Hafner always one step away from injury, Robinson Cano has been forced to shoulder much of the load in the power department. Home runs are always a good thing and one part of Tex's game that has always been solid is deep out-of-the-park hits. With a little luck, it may help stem the tide a bit further until the rest of the Walking Wounded return. A few consecutive singles are nice. They're even nicer when a 4o0-foot blast brings them home.
Additionally, Cano, Lyle Overbay, Brett Gardner, Ichiro Suzuki, Curtis Granderson and Hafner are really all the Yankees have for left-handed threats. Gardner's been better of late with the bat, but he's not the guy who'll be driving in runs nor is that his role. Given Ichiro's struggles, Granderson's injury, and Hafner's durability concerns, it'll be very nice to add another guy capable of batting left-handed. Even if Tex's splits this season are similar to his last few, he'll also still likely be an offensive upgrade over Overbay (despite the fact that Overbay is having a great year by his standards thus far). Moreover, having another switch-hitter available provides that much more lineup flexibility for Girardi.
Defensively, Tex provides some options too. As we've seen the last few days, Overbay could get some opportunities in right field, which will help mitigate Ichiro's exposure. When Overbay is at first, Tex can give Pronk a spell at DH which provides him rest and aligns him closer to the situational hitting role he was originally hired for. This also limits the need for Youkilis at first on the depth chart, which can only help given his injury tendencies. Third base and shortstop are still points of concern, but that was basically always the case. At least with Tex at first, you know some of those inevitable throwing errors to first may have a chance of being erased.
The Yankees have done a fantastic job of not just staying alive, but staying competitive with role players while some of their headliner names have been side-lined. However, some of these role players (i.e. Jayson Nix, David Adams, Wells, Overbay) are clearly playing above their norms, or in some cases, have already begun to be exposed. Who knows how long the team can continue to win with these guys starting all the time. Now that some of the marquee players are beginning to return from their various injuries, it's time for them to step up and contribute. Hopefully they'll be able to sustain the success, and be a lot less likely to falter down the road. I hope Tex gets the ball the rolling.