By

As the Yanks limp away from their 16-11 defeat to the Red Sox, how about some good news for a few hours? According to the AP, A-Rod is just days away from a rehab assignment. A-Rod ran the bases again on Saturday, and he reportedly increasing the intensity of his work outs. The Yankees have to tread carefully over the next few weeks with A-Rod though. With Cody Ransom out and Angel Berroa filling in at third, the Yanks are playing with less than a full deck, and the tendency would be to rush A-Rod. I still think he'll be back before May 15th, but the team will proceed carefully. · (77) ·
By my count, the umps have cost the Yanks five runs today. The home plate ump blew a third-strike call to J.D. Drew, and thus, Jason Varitek was able to hit a grand slam. Had the call on Drew been made, Varitek isn't up.
Then, just now in the bottom of the 8th, Posada throws Jacoby Ellsbury out by a foot, but the ump is in no position to see it. Ellsbury scores. While I know this sounds like sour beans, the truth is that baseball has instituted instant replay in a ridiculously arbitrary way.
Anyway, the Yankees were going to need to score 13 to win. Let's see if they can hold the Sox at 13 and come back. Again.
When do we get to see Mark Melancon? Yanks clinging to a 10-9 lead in the bottom of the seventh with no one and Kevin Youkilis on second.
Girardi was perfectly content with letting this one get out of hand before removing Burnett.
6-0 lead and AJ's cruisin'. Life is good.
They say the best way to get over an ex is to find someone else. In the same manner, the best way to forget about a loss is to see a win the next day. Hell, even watching a new game is enough to quell the feelings from last night's game. After all, it hurt a lot more emotionally than it did in the reality of baseball.
Before we get into the highly-anticipated pitching matchup, let's catch up with the injuries. Cody Ransom has been placed on the 60-day DL with a quad injury. This opens up a 40-man spot. Brian Bruney has been placed on the 15-day DL with a "strained flexor mass" in his elbow. It's a muscle injury, rather than a ligament one, so that's decent news. He'll start therapy on the elbow with hopes that he'll start throwing again next week. We can be optimistic now, but remember that Ben Sheets was optimistic all winter about his elbow, which had sustained an injury to the flexor tendon. Hopefully Bruney's isn't nearly as severe. Finally, Chien-Ming Wang is on the DL with "weakness in his hips." You can see the news on Wang and Ransom here, while the bit on Bruney is here.
Onto the replacements. David Robertson is up for Chien-Ming Wang. Angel Berroa is up for Cody Ransom. They had to add the former to the 40-man roster, but didn't have to make a move since Ransom was placed on the 60-day, thus temporarily removing him from the active 40-man. Mark Melancon has been recalled to replace Bruney in the bullpen. To clear 40-man room for him, they have straight-up released Humberto Sanchez. Since he was not designated for assignment, which would expose him to waivers, my guess is that he'll sign a minor league deal to return to the Yanks and continue to work back to health. We'll see on that, though.
Finally, onto the pitching match ups. In his career A.J. Burnett has tossed 56.1 innings against the Red Sox to a 2.56 ERA, striking out 53 to 21 walks, and allowing just 44 hits. Last year he pitched 27.2 innings against them, allowing nine runs (eight earned) and 21 hits while striking out 24 to 13 walks. The walks won't help out all that much, but if Burnett can keep the Sox to two runs over seven innings that would be superb.
The Yanks' drubbing of Josh Beckett in 2006 really hurt his career numbers vs. the team. His ERA stands at 5.33 in 74.1 innings pitched. His strikeouts are relatively low against the Yanks: 59 in those 74.1 innings, against 29 walks. Like Burnett against the Sox, Beckett pitched 27.2 innings against the Yanks last year. He allowed 10 runs in those innings, striking out 20 to 5 walks. Over the past few years, as opposed to 2006, Beckett has come out of the gates throwing strikes, hence his low walk total against them last year.
Lineup:
1. Derek Jeter, SS
2. Johnny Damon, LF
3. Mark Teixeira, 1B
4. Nick Swisher, RF
5. Robinson Cano, 2B
6. Jorge Posada, C
7. Hideki Matsui, DH
8. Angel Berroa, 3B
9. Brett Gardner, CF
And on the mount, number thirty-four, A.J. Burnett.
Note: Make sure to check out New Stadium Insider about a cause to preserve a portion of the old Stadium.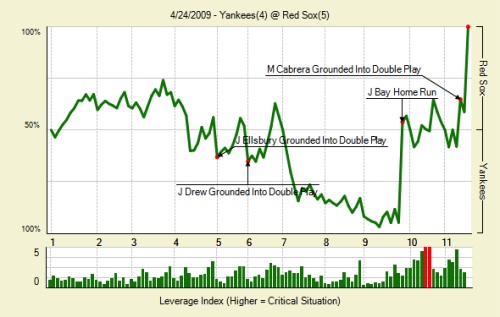 Five-point-three percent. Those were the Red Sox odds of winning the game when Jason Bay stepped to the plate last night. If WPA were more advanced and took the pitcher and batter into play, I'm fairly certain that it would have been a tick lower. We all know what happened, so it's pointless to belabor the point.
The homer was clearly the biggest WPA swing of the game, followed closely by the walk-off. Let's look at some of the other big WPA swings:
Melky, -22.8%, double play in the top of the 11th, men on 1st and 2nd with one out.
Teixeira, -15.3%, strikeout in the top of the 10th, 2nd and 3rd with two out.
Jeter, 10.4%, double to lead off the top of the 7th
Ransom, 17%, RBI double to tie the game in the 4th.
So the Yanks had their share of ups and downs, but so did the Red Sox:
Nick Green, 11%, RBI single to tie the game in the bottom of the 6th.
J.D. Drew, -17.1%, double play to end the 5th, 1st and 3rd with one out.
Jacoby Ellsbury, -19.2%, double play to end the 4th, bases loaded with one out.
While Joba's stuff didn't overwhelm the Sox hitters, his ability (or was it luck?) to induce a grounder and get the double play absolutely devastated them. He might have lasted only 5.2 innings, but the night could have been a whole ton worse for Joba Chamberlain. Hopefully he can continue to use that two-seamer with guys on base. Then again, the further hope is that he just doesn't put that many men on base in the first place.
In a game with this many dramatic swings, it starts to feel like the outcome is almost random. You can pick through any of the above swings, plus the two home runs, and see infinite possibilities for alternatives. Unfortunately for the Yanks, they're stuck with the iteration of history we saw last night. Thankfully, they probably won't turn out like that all the time.
By

Chad Jennings reported a short time ago that Angel Berroa and David Robertson have been summoned to Boston for tonight's game. Berroa will replace Cody Ransom on the roster, and his call up requires a corresponding 40-man move. We'll update this post as soon as the Yankees announce it. Robertson replaces Chien-Ming Wang on the 25-man, and either he or Steven Jackson will be sent down on Tuesday when the Yanks call up what I am guessing will be Phil Hughes to make a start.

I wonder if the Yanks considered Eric Duncan for this move as well. While Duncan is no longer considered much of a prospect, he's hitting .326/.400/.419 in the early going. The Yanks would have had nothing left to lose, and Berroa, 31, is what he is. On the flip side, with Ransom out, by summoning Berroa now, the Yanks can send Ramiro Peña back to the minors when A-Rod is activated in May.

Update 11:37 a.m.: Here's a great useless number: Angel Berroa has played a grand total of 0.1 innings at third base in his career. It came in this game, and Berroa did not need to field a single baseball. My mini-case for Eric Duncan just grew stronger.

Update by Mike (11:54am): Word from Scranton is that Mark Melancon is also heading to Fenway. Sounds like they found something in Bruney's MRI this morning. The team will need to make a 40-man move for him as well as Berroa now. We'll keep you posted. · (156) ·
We could sit back and blame Mariano Rivera or Damaso Marte for last night's 5-4, 11-inning fiasco, but that wouldn't be fair. We could blame injuries or Joe Girardi for some highly questionable bullpen moves, but that too wouldn't be accurate.
We should though look very carefully at what happened in the top of the 9th when Robinson Cano came up with the bases loaded and no one out. At that point, the Red Sox had a win expectancy of three percent, and Cano could have put the game out of reach. Javier Lopez had just walked two Yankees in a row, and he seemed primed for a meltdown.
Cano took a pitch outside for ball one, and then, on the next pitch — the first ball thrown near the strike zone in that AB — Cano hit into a 4-2-3 double play. Melky would then foul out, stranding two of the six runners he left on base, and the Yankees would rue a golden opportunity to seal a much-needed victory. It wasn't in the cards.
In fact, it wasn't in the cards from almost the first inning when the game started out with a single, a balk, a stolen base, a passed ball and a run before Joba Chamberlain could retire even one Red Sox hitter. For Chamberlain, it would again be that kind of night. He threw 91 pitches — just 49 of them for strikes — and walked away with a very ugly line. He allowed 9 hits in 5.1 innings; he walked four and struck out two. That he managed to leave the game in line for a no decision is hard to believe.
For Joba, it was the second straight wild start, and for the Yankee starters, we're starting to see a trend. Pitchers with pinpoint control are having trouble in the early going locating their pitches. At some point, we'll have to start questioning Dave Eiland's ability as a pitching coach and stop blaming anything else. It's still early, but it's not that early.
The other alarming aspect of Joba's game was his velocity. As the ol' pitch f/x numbers tell us, Joba never got above 94.6 on his fastball and averaged around 92 miles per hour last night. That's not good enough to get Major League hitters out, and it continues a trend we've seen since Joba left the game with a tight shoulder in the Texas heat last summer. I'm trying not to worry, but it's hard to ignore it.
By the time the 11th inning rolled around, the Yanks had few options. Phil Coke and Jonathan Albaladejo had been used, and Brian Bruney was, as we later found out, unavailable. With Jose Veras mostly unavailable after his three-inning outing Wednesday, the Yanks could have thrust Steven Jackson into the fire or they could have used Edwar. After making the decision to bring Mariano into the game in the middle of an inning, Girardi stuck with Marte beyond the lefty, and Kevin Youkilis sent everyone home.
Of course, beyond the pitching, the Yanks hardly played a tight game. They managed 13 hits and eight walks against the Red Sox and could plate just four of those 21 base runners. They hit into three double plays, left 15 runners on and managed a 4-for-19 line with runners in scoring position. To this, I say but one thing: Give me A-Rod or give me death. Tonight, the Yanks' offense and their pitching chose death.
Game Notes: Melky Cabrera followed up his heroic performance on Wednesday with a 1-for-5 night. He left six runners on base, once again reminding us why he can be both inspiring and infuriating in a span of about 55 hours…David Ortiz looks utterly lost at the plate. He went 1 for 6 with 4 Ks, and teams will continue to pound the zone on him until he can hit again…Where have you gone, Nick Swisher? After hitting .458/.536/1.208 in his first eight games as a Yankee, Swisher has gone 5-for-29 (.172). While he's still getting on base at around a .350 clip, his slugging percentage over that time is .276.
By

We've got a couple of roster moves late tonight via the postgame. Chien-Ming Wang has been placed on the DL following an appointment with the team's rehab specialist in Tampa, and has been replaced on the roster with David Robertson. Cody Ransom pulled his quad in the later innings of tonight's game and has also been placed on the DL, but no word on his replacement yet. I'm guessing they'll end up DFAing someone (coughHumbertoSanchezcough) so they can add Angel Berroa to the 40-man and have another infielder available.

Brian Bruney is also on the shelf, having been sent back to New York to have his elbow checked out tomorrow morning. That sucks.

Update (12:33am): The official word on Wang is "weakness in his hips," which will require just physical rehabilitation. Phil Hughes is the far too obvious candidate to replace him in the rotation, and me thinks he'll make at least four starts in Wang's place.

Ransom has some sort of tear in his quad and that could be kinda serious, so he may end up missing a good chunk of time. Bruney wasn't worried about his elbow and didn't want to see a doctor, but the team ordered him too. There's a chance he'll be back with the team in time for tomorrow's game. · (116) ·