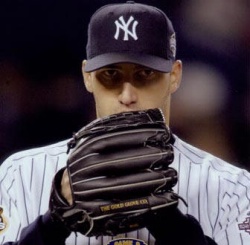 When Randy Johnson won his 300th game earlier this season, many pundits wondered whether any current pitcher would accomplish the feat. The state of pitching has changed considerably over the past decade, and pitchers just don't put themselves in positions to rack up wins like they used to. Just look at the recent dearth of 20-game winners. Since few active pitchers are feasibly within striking distance, many determined no, we would not see another 300-game winner.
Yet one of my favorite baseball minds, Dave Pinto, wondered whether Andy Pettitte could win 300. The path wouldn't be easy, but with 226 wins and a competitive streak, Pinto thought it possible. Well, that and a number of other factors, including his ability to induce ground balls and the Yankees presumed willingness to continue bringing him back if he remains effective. There was a thought that he would move his family back to Houston after this season, but given his effectiveness on the mound — not to mention his recent hints of wanting to play another season — we could see Pettitte again in 2010.
At this point last year, Andy looked cooked. He had just given up six runs to the Red Sox, and would give up six to the Blue Jays in his next start. His ERA rose from 3.86 on July 20 to 4.52 by the end of August. By season's end, many wondered if it would be wise to bring him back, even if only to be the fifth starter. After protracted off-season negotiations the two sides agreed to a deal, though one laden with incentives, rather than a hefty guarantee. It was clear that the Yankees weren't convinced Pettitte could produce again.
He has steadily erased those doubts this season, especially of late. Early on he had his struggles, including battling a sore back. It came to a head right before the All-Star Break when he allowed six runs over 4.1 innings to the Angels, bringing his ERA up to 4.85. Both he and Joba Chamberlain had struggled for a few starts leading into the break, and there was much concern over the Yanks ability to compete in the second half with such big question marks at the back end of the rotation — especially because Sergio Mitre was the guy charged with the fifth spot.
Since then Pettitte has been nothing but gold, outside the sixth inning on Friday against the Sox. He's never been a guy who racks up the strikeouts (other than his first year in the NL), but he's been doing that in the second half, fanning 54 in 51.2 innings. Not only that, but he's done an excellent job of keeping the ball on the ground, a circa 1.50 GB/FB ratio, far higher than he achieved in the first half (1.19). This has further helped him keep the ball in the park, as Daniel Murphy's home run last night was the first Pettitte surrendered since July 20.
How is Pettitte achieving this newfound success? Quite simply by mixing his pitches well. He's talked a lot about how having his cutter working has been the difference. That certainly makes sense, because Pettitte really has two variations of the pitch. One is traditional cutter, a fastball-type pitcher that breaks hard and in to righties. But then he has a more traditional slider, which travels a bit slower but has a sweeping break toward righties. Less frequently he throws a slow curve and a changeup, meaning he has a bag of five pitches from which to choose.
That Pettitte has both the slider and the cutter working, even though they're variations of the same pitch, is huge. He can use the harder cut fastball inside against righties, and the slider away to lefties. He also used the slider last night to nip the outside corner against righties. Having both pitches working also makes his slower stuff even better, and even can induce some swings and misses on bad fastball, as we saw from a few Rangers, including Mike Young, last night.
Clearly, Pettitte will not sustain his current 2.79 second-half ERA. Not for the rest of the season, and certainly not into next season. Yet he's shown that he can have incredible stretches like this. Remember how he started the 2007 season? He carried the staff through April and part of May while the team struggled. Now, with Joba struggling he's stepped up and provided the Yanks with a go-to guy after Sabathia and Burnett.
With Chien-Ming Wang's status in question — at best he'll be back next July, at worst he'll never wear pinstripes again — the Yankees could certainly opt to retain Pettitte and slot him into the rotation with Burnett, Sabathia, Chamberlain, and Hughes next year. Yes, there are younger guys who are going to need a shot sooner or later, but as the Yanks, among other teams, have proven this year, you can never have enough depth. Injuries happen. By retaining Pettitte, the Yankees are hedging against injury. Rather than sticking a young guy in the rotation and hoping for the best, they'd do well to go with a vet and plug in a young guy when they need another arm. Lord knows it will happen.
Will Pettitte win 300 games? Highly unlikely. Can the Yankees still get some use out of him? It appears that is the case. It's far from a guarantee, but as we've seen over the past month and change, Pettitte has enough left to help this and future Yankees teams.