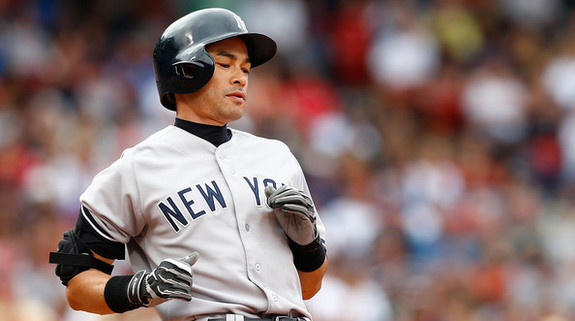 The first two games of this three-game series in Boston have gone about as poorly as can possibly be expected. The worst case scenario has played out in the sense that the Yankees lost both games and also lost ground in the wildcard race. The only positive — and this is a really flimsy silver lining — is that David Robertson and Mariano Rivera have gotten two straight days off.
Considering how Joe Girardi has used his top two relievers this week, you have to think he'd be willing to get nine total outs from that duo tonight. Remember, there is an off-day tomorrow. All Ivan Nova and the offense need to do is get through six innings with a lead. After that, it'll probably be up to Robertson and Rivera. Here's the starting lineup:
CF Curtis Granderson
DH Alex Rodriguez
2B Robinson Cano
LF Alfonso Soriano — his thumb is okay, apparently
1B Lyle Overbay
3B Mark Reynolds
RF Ichiro Suzuki
SS Brendan Ryan
C Chris Stewart
And on the mound is Nova, who is coming off a start shortened by a triceps issue. He threw his usual between-starts bullpen session and is supposedly good to go, but you have to wonder if it will affect him on the mound. Hopefully not.
The sky is clear in Boston and there is no threat of rain. Definite playoff-type weather, with that October chill in the air. First pitch is scheduled for a little after 8pm ET and can be seen on ESPN. Enjoy.